Welcome!
If you had been wondering whether the Omlet newsletter was a figment of your imagination, produced bi-annually or rarer than a full set of hens teeth you're in for a nice surprise!  From now on you can look forward to a whole host of goodies.  Every week, Barbara our chicken expert will be handing out topical tips and advice, you can catch the lastest forum gossip and of course all the Omlet news and special offers. We hope you enjoy it.
A bad joke to cheer you up
Q: What do you call a mischievious egg?
A:  A practical yolker!
Barbara's Weekly Diary!
The Summers Coming
It didn't last long but the spell of hot weather certainly had an effect on my chickens the other week. While it was lovely for dustbathing, the girls found they were beginning to overheat during the afternoon and stood around panting and lifting their wings to cool themselves down. When the days are hot, it is vitally important to make sure that they have plenty of fresh water to drink because they can dehydrate rapidly and to provide somewhere shady for them to rest when things get too hot. It's a good idea to keep the water in the shade so that it doesn't warm up too much as well – chickens don't like drinking warm water!
Barbara at Omlet
This Weeks Star Photo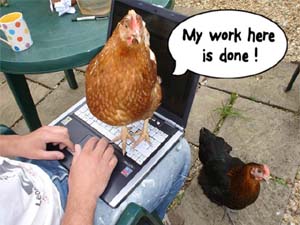 Finding the right work / chicken balance is always hard!
Send your photos to info@omlet.co.uk
Whats on the forum?
Question:
A visiting guest to the forum asked about adding Omega 3 to the chickens' diet…..
"A recent article on radio 4 had an interview with someone who fed her chickens sunflower seed hearts, to add omega 3 to their eggs. Does anyone else do this? and if so, are these something special and where might I get some."
Answers:

"I give mine sunflower seeds and you can buy big bags from any health food store. Holland and Barrets, GNC etc. You can also buy mixed bags of sunflowers, pumpkins seeds and linseeds. At the moment, I'm just putting some in a plastic bowl for them to peck at. I think some people mix them in with oats and bio yogurt, or just water as a treat in the afternoon." –  Gina
"I started giving linseeds a few weeks ago when I'd read on this forum about the omega 3 benefits.  I had no idea what they looked like before even, they're small like sesame seeds. I only sprinkle a few in, just either with their feed or treats, or handfeed just a small amount, and they eat them readily. I give whole sunflower seeds which they love." –  Sheila
"Throwing linseeds into the run could keep ours quiet for hours." –  Lesley
Trial Access To The Forum
You can have a weeks trial access to the forum by clicking this link here -> forum
Featured Product
Keeping Pet Chickens
What could be better than walking to the bottom of your garden and collecting the freshest eggs every day courtesy of your own hens?
This is the fastest selling chicken book on Amazon, and has been their number one pet book for the last three months reaching number 258 in the overall book rankings at one point!  Infact people who bought Harry Potter also sometimes bought this book!  Beyond all the hype its a brilliant new guide to chicken keeping showing just how simple it is to enjoy the pleasure of raising chickens. It's fun and it's rewarding – and the added bonus is that chickens come with a lifetime's supply of free eggs. They make great pets – low-maintenance and easy-going, a pair of chickens will thrive even in small urban gardens and backyards.
You can find out more here -> shop
Highly recommended read!
Have an eggcellent day,
Johannes and the Omlet team!
No comments yet - Leave a comment
This entry was posted in Pets on June 8th, 2005 by admin
---