Omlet Newsletter June 16th 2005
Hello!
The big event last weekend was the Grand Designs exhibition in London.  Omlet took a selection of eglus down for the three days of the show but James and Will weren't quite prepared for the level of interest as thousands of people descended onto the stand opening eggports, pulling out dropping trays and trying to decide whether to have a pink or green eglu!  Reinforcements were called for the weekend and by Sunday evening most of Hertfordshire, Kent and Essex had seen an eglu and were just going back to measure up that space next to the greenhouse to check that it would fit!
Thanks to everyone who came, it's always great to meet people who care about their animals, we will keep you updated of the other shows we are going to throughout the year.
The Omlet Stand at Grand Designs
More of James' bad jokes to cheer you up…
Q: How does an egg get to work?
A: It drives a yolkswagen!
Sent in by Rachel
(Do you know any good jokes? Please, please send them to james@omlet.co.uk)
Barbara's Weekly Diary!
Layers Pellets for Starters, bread and sweetcorn to follow and for desert…
When you think about it, there is a wide range of treats that you can give your lucky hens in the afternoons. Grapes and sweetcorn seem to be universally popular with my girls while lettuce is also gobbled down enthusiastically. Bread soaked in milk or water is considered very appetising with a little drizzle of honey on top (blimey Barbara what lucky chickens! – Ed) while sunflower hearts and pumpkin seeds are also very popular, especially if they are sprinkled on the grass which makes them harder to find and all the more tasty for the effort! For the non-squeamish, maggots bought from a fishing tackle supplier are a real treat. They are also good for making sure that they don't get crop problems thanks to all that wriggling! My chickens will keep the garden weeds down for me by tucking into dandelions as well as the slugs they find on their expeditions through the flower beds. There are certain things that should never be fed to chickens though – meat, citrus peel, banana skins, uncooked potato peelings, chocolate, fish bones and salted foods. Things like bread, pasta and potato should really be fed in moderation because tubby chickens don't lay as well!
Barbara at Omlet
This Weeks Star Photo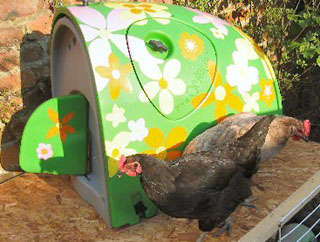 No prizes for guessing which decade
the artist Jane grew up in!  It's a groovy look for the eglu – has it inspired you to customise yours?
Send your photos to info@omlet.co.uk
Whats on the forum?
The forum has been busy celebrating the first anniversaries of eglus and chickens arriving in gardens all over the country! Leanne and Andy were the first forum members to receive their eglu so they put pen to paper and wrote a poem to commemorate the great event.
Ode to Omlet
The eighth of June, two thousand and four
A van pulled up at our front door
"The Omlet van, its here, its here!"
Now we can't believe its been a whole year!
Two little hens peeped out at us
As we waited, excited and nervous
As Johannes got the eglu ready
We cannot claim our nerves were steady!
A little brown chicken, and a shiny black hen
Were ushered into their eglu pen
After three days in the run we let them run out
And smiled as they happily scratched all about!
Many happy days have passed since then
Out in the garden, not confined to a pen
We learned how to care for our dear little chooks
Hands-on experience you don't find in books!
And as for the eggs they are simply the best
Once you've tasted home-laid, you forget all the rest
The ultimate fast-food yet wholesome and pure
Eat one of our eggs and you'll come back for more!
Our little hens really opened our eyes
To healthier food and much 'greener' lives
All hens deserve care- no battery cage here
Just freedom and love, with no pain or fear
For Betty and Ruby the future is bright
Sun-shiny days and fox-safe at night
Two happy hens, spared a dire prison cage
Who'll live happy lives until their natural old age!
by Leanne and Andy
"Get your bubbly or other celebratory drink ready because it is now a year since eglus started taking over UK gardens (and French and German). (Well strictly speaking it is a year and a day, having had a lovely email from Omlet HQ, but they forgot to celebrate on the 7th – too busy masterminding Eglus taking over the world – so I think the 8th is about to become official Eglu day) " – Motherhen
"Well, it's exactly a year ago today that Jenny and Clarry joined the family and what a fantastic year of ups and downs! We've had so much pleasure from the girls and their antics (and gorgeous eggs!) and have learned so much." – Kate
"What is new for me is having hens as pets. With only 2 of them living a few feet from our backdoor and glass walled kitchen they couldn't be anything but. If it weren't for the eglu I couldn't have my girls. Even with a small wooden henhouse, you need lots of room for the annual dismantle and clean and creosote. I love my washable eglu." – Jane
Trial Access To The Forum
You can have a weeks trial access to the forum by clicking this link here -> forum
Featured Product
Horn Spoon
My grandfather tells me there was a time when even the panes in the windows were made of horn!  Nowadays glass is the norm for windows but horn is still the traditional material for an egg spoon.  I always think that producing your own eggs entitles you to being a bit of a connoisseur of these marvelous little oblong food packages.  You will be able to appreciate the delicate way in which the horn doesn't cool the egg or tarnish the flavour like a metal spoon would.  It really is the supreme way in which to enjoy a perfect boiled egg!
You can find out more here -> shop

Highly recommended for
the real egg connoisseur!
Have an eggcellent day,
Johannes and the Omlet team!
This entry was posted in Pets
---