Hello!
Next stop Fruitstock for the Omlet eggspress…
Come and have Fun with a capital F at the Fruitstock festival !  We had a fantastic time last year. It's in Regents Park, London on the Saturday the 6th and Sunday the 7th of August – so just round the corner.  Omlet's chickens are already looking forward to a day out in the Royal Park. We'll be there with eglus on show and you can come and have a chat about the joys of chicken keeping. And of course this year we will also have the rabbit eglu to show.  You can find out more information about Fruitstock at www.fruitstock.com.
See you there!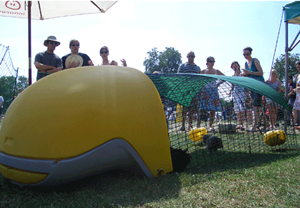 Last Year at Fruitstock
This Weeks Star Photo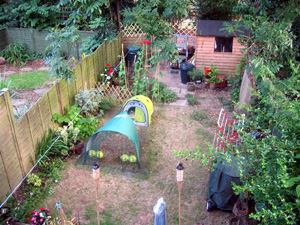 Andy from Birmingham shows
off a perfect garden composition
Send your photos to info@omlet.co.uk
Barbara's Weekly Diary!
Experimenting with compost
I grow various different fruits, vegetables and herbs in the garden and this year I've tried a little experiment. All the droppings from the chickens go straight into a compost bin and have been making the most wonderful compost over the last few months along with additional peelings from the kitchen, weeds and some garden clippings. I planted half of my runner bean seedlings in large tubs on the patio and the rest in the garden. Those in tubs have had a generous amount of this wonderful homemade compost while the garden ones have been left to grow in our rather ropey soil. The difference a couple of months on is quite staggering. The runner beans in pots have lush green foliage and many bright red flowers waiting to be pollinated by the visiting bees while the garden ones look rather sparse and to be honest, a little weedy. I'm looking forward to a bumper crop from the tubs this year! Several of the keen gardeners on the Omlet forum also make a liquid feed by filling a bucket with water and adding the droppings to it. This is then sieved after a while and watered onto the plants which apparently show outstanding results too. Not only do the hens provide us with the most wonderful eggs on the planet but they also save us a fortune by providing us with free garden fertilisers and compost! Never underestimate the value of chicken poo!
Barbara
Whats on the forum?
"Help I'm a chicken virgin!"
Mary joined the forum this week and posted her worries about the chickens that are soon to arrive in her garden:
"I'm a nervous wreck! Bubble & Squeak will be arriving on the 18th July and I would be really grateful for answers to the following questions:-
How easy is it really to clip a chicken's wing – should I get the vet onto this when the time comes?
Can foxes scale 6ft garden fences and, if so, how much of a problem is this likely to be during the day?
If I let them free range will they completely destroy all my plants? I'm not a fanatical gardener but I do prefer my fuchsias with blooms than without!
When I let them out for the first few times I plan on doing it an hour for so before dusk – will this really make a difference or will I be spending hours chasing them round the garden trying to get them to go to bed? Any help/advice would be very welcome at this nerve-racking stage!!"- Mary
Reassuring words soon arrived from forum members
"At first my girls did do a bit of "weeding" but they seem to be more interested in rough ground, scratching, grass and soil. They are partial to Lobelia but I still have lots of beautiful plants in my garden and the girls have been here for around six weeks. Foxes will scale a six foot fence easily so if unsure keep the girls in the run (they will be quite happy). You won't have a problem getting them to bed as long as you keep them in the run for at least one week when they arrive. Ours knew exactly where to go and went in the Eglu at approximately the same time every night. Clipping the wings is easy (if you're getting your chickens from Omlet the nice bloke will show you how to do it)" – Jane
"The best way to learn how to look after chickens is the hands on way when they arrive so start getting excited – it's a wonderful thing to do and I think none of us have stopped smiling yet" – Kate
"The thing to remember when reading the forum is that nearly everyone was in the same position as yourself when they started. They very quickly become chicken eggsperts. Chickens really are just like any other new pet – just without all the technical equipment needed for tropical fish". – Jane "Motherhen"
"Mary don't worry. It is the best thing I ever did. The chickens will guide you and you will soon get the hang of it, they thrive on routine so are very easy to look after……………….Have fun and be excited about the chooks arrival." – Nicola
"Thank you for such encouraging replies – I know it can't be that difficult but it is lovely to hear from people who have already done it – I shall sleep easy tonight!!"
– Mary
Featured Product
The Full Run Cover – £20
(also known as the winter shade)
Have you noticed that there aren't many frogs about? According to tradition this means that August will be hot, good news if your off to the beach but don't forget your chickens! This full cover for the run will provide your chickens with complete shade whilst they are in the run ensuring their comfort. And if it does rain they won't get wet – spoil your chickens? You'd never do that, now where are those grapes it's time for their afternoon treat!
You can find out more here -> shop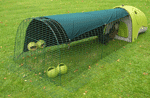 Keeping your chickens cool!
Have an eggcellent day,
Johannes and the Omlet team!
No comments yet - Leave a comment
This entry was posted in Pets on July 20th, 2005 by admin
---