Omlet Newsletter October 20th 2005
Hello,
On a recent visit to Berlin to sample cake we spotted this majestic 1880's egg cooker in a museum.  Designed by the electrical company AEG it was designed to make "housework easier!"  You can just imagine a terribly fashionable Lady inviting her friends to tea and amazing them, not with yet another spread of daintily decorated fairy cakes, but by removing a perfectly cooked egg from this futuristic new silver cooking contraption.
Nowadays it's getting harder and harder to impress people but a gift of some of your chicken's eggs can melt the hardest heart, especially if you also include a novelty egg cup.  Browsing the egg gallery on the omlet forum you can find quite a collection, it's like a virtual museum of egg cups!
On another note we have prepared an "all you need to know" fact sheet about the current avian flu situation which you can find by either clicking the above link or  in the Club area of the Omlet website.
And don't forget the pumpkin carving competition, dozens of entries have arrived in the omlet mailbag already.  The closing date is the 31st of October so still plenty of time and the prize is a £20 Omlet voucher to spend in our shop – yippee!  Send your entries to johannes@omlet.co.uk. (don't worry he's not easily scared so make them as spooky as you like).
Barbara's Weekly Diary!
Chickens, ethics and feeling good…
I've been buying free-range eggs for as long as I remember. I think it comes from reading as a teenager about the appalling conditions that poor battery hens have to endure which made me want to buy my eggs more ethically. However, since my lovely hens came into my life, my thinking has changed even more. We're not vegetarian because the rest of my family would starve within a week faced with vegetables only but I suddenly twigged why the shrink wrapped chickens on the supermarket shelves were so cheap – they were battery hens too. That really upset me so I now only ever buy free range organic when we want meat on the menu because that guarantees that the animal has at least seen sunshine, felt the rain and had the wind ruffle its feathers or skin before it died.  Somehow the thought that it had a happy life as opposed to being cramped in a tiny, artificially lit cage makes me feel better about eating it – if that makes any sense!
We also grow more of our own fruit and vegetables now than we ever did before we had hens. I think the lovely fresh eggs every day make you want to have a better way of life. Why eat carrots and apples which are covered in chemicals when you can go out and pick your own, fresh from the plot for a little effort and the pleasure of watching them, grow or buy tasty organic ones from the Farmers Markets. I've noticed that so many Omlet forum members have also started to want more of The Good Life now that they have chickens brightening their lives and that is such a good thing.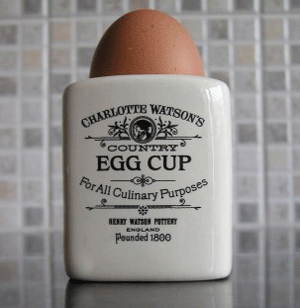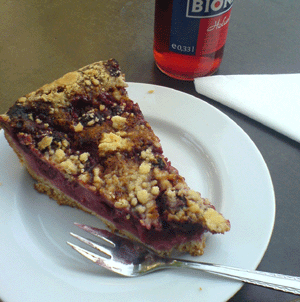 Barbara
This Weeks Star Photos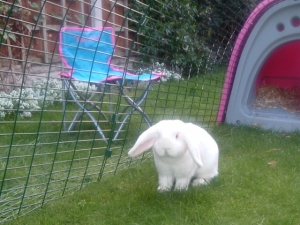 Is it me or do my ears look big in this?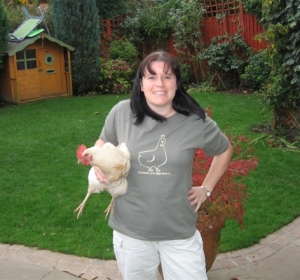 Got the eglu, got the chickens, now collect the t-shirt!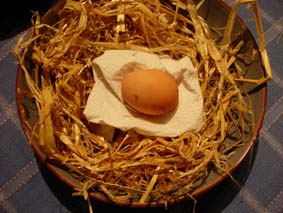 Gingers First Egg!
What's on the forum?
What do you use to clean the Eglu?
Dawn (Peckham) asked "I wondered what cleaning products people are using on their Eglu?
"I tend to alternate – cleaning with hot water and Citricidal sometimes, but when I think its not strong enough I've get the bleach out, diluting it with water and scrubbing the Eglu and bars with it. I always feel better when I've done that. So what do people use and what do you think is the best?"
"I use hot water and fairy liquid and rinse it well and scrub the bars with a brush. I intend to wash it with Jeyes fluid every few months in order to give it a good clean. I hope it ok to use these products – no ill effects so far!" – Lavinia
"My Eglu gets a clean every 2 weeks. I take Eglu apart and wash down with hosepipe, then wash Eglu using hot soapy water with 20 drops of Citricidal added, or 2 drops of tea tree oil. The roosting bars get scrubbed (dry) and sometimes I spray them with a pet disinfectant" – Ali-s
"I do whatever I have time for; sometimes I just wash it down with hot water, others, I use a bucket full of Milton solution to scrub it with. I always allow it to dry (more of a challenge with the cooler weather) and then put Diatom in the grooves where the bars go. The girls always like to supervise!" – Clare Taylor
"Mine is cleaned once every week or two. I use a hose and an old washing up brush. As I've said before – they're chickens – it's not necessary to get the Eglu as clean as your kitchen" – Martin
"Weekly good scrub out with pet disinfectant wash and my magic sponge from JML (found the Magic sponge better than a brush and less scrubbing)
– Lyn (Tizzi)
I use a steam cleaner on every part of the Eglu -Fleata
My husband………….! – Mel Marvin
"Depends how my shifts fall – or how dirty it gets… I always use a drop of bleach and washing up liquid in hot water followed by a good hosing down…" –  John H
Egluowners of the Week
Maria Clegg
Age: 36
Occupation: Teacher
Where do you live? Coulsdon
What pets do you have? 4 year old staffordshire bull terrier and a 6 year old cat
If you were stranded on a desert island what luxury item would you have? my hair dryer!
How many chickens do you have? 2
What breeds are they?Rhode Island red cross

How old are they? 1 year
What are your chickens called? Thelma and Louise
How many eggs do you get a week and what is your favourite way of cooking them? Around 13 and we love to have them poached on toast
Do your chickens have a party trick? Both are very good at jumping onto the top of the garden gate – trouble is they haven't quite mastered jumping off so are quite easy to retrieve!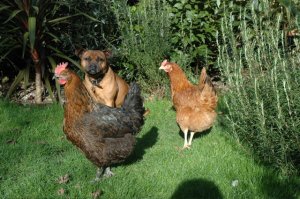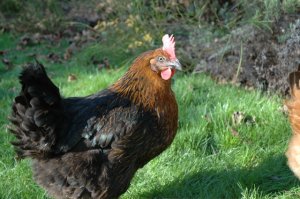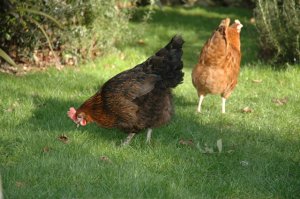 Featured Product
Winter shade

Find out more here
Have an eggcellent day,
The Omlet team!
This entry was posted in Pets
---