Omlet Newsletter 3rd November 2005
Hello,
We start this weeks Newsletter with the results of the Pumpkin carving competition -and what a competition it has been!  Judging was ridiculously difficult with discussions running late into the night.  However, on the stroke of midnight a conclusion was reached and we are delighted to announce the prize of Princess Pumpkin goes to Deborah Maclean.  There is also a joint second prize for Dave Spencer's scary witch and cauldron and Sian Thomas who managed to make a bunny look spooky, impressive stuff.   Everyone who entered but didn't win will be receiving a pack of Omlet Christmas cards because looking through all the brilliant entries we had it's fair to say, pumpkin carving was the real winner!
Pumpkin Competition
2005 Winners
1st Prize – Deborah Harris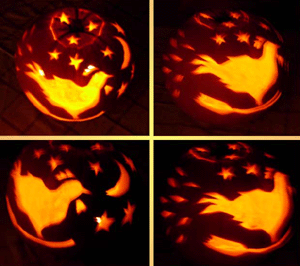 Joint 2nd Prize – Andrew Spencer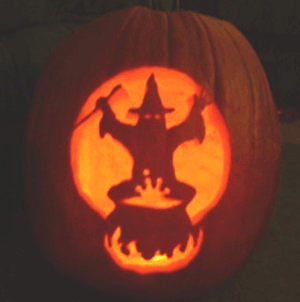 Joint 2nd Prize – Sian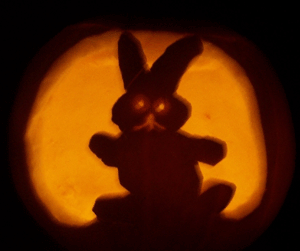 Pumpkin Competition Runners Up

You can see more runners up on our gallery here
Of course it's bonfire night this weekend which means sparklers, catherine wheels and maybe even a toffee apple or two.  Pets don't tend to look forward to the big night quite so much though.  All those explosions can be unsettling so it's a good idea to bring your pet into the quietest part of the house well before the festivities start.  Keep them in a dark, well ventilated box with water for the evening and they should be fine.
And finally, you may have been surprised to find the days seem to have suddenly shrunk to about half their normal size.    This is nothing to worry about and all will return to normal in March 2006.  Until then don't forget your chickens will need locking up earlier than usual and after which why not snuggle up in front of a fire drinking hot chocolate.
We hope you enjoy the newsletter and Mystic Peg predicts you will read right to the bottom,
The Omlet Team
Barbara's Weekly Diary!
Storing Eggs
You may find that eggs collected in the morning are all used up by the evening!  But occasionally some build up and the question arises of where to store them.  I've read so many different instructions about how to store your eggs that it can get rather confusing. As soon as your hen presents you with a fresh egg the contents start to slowly deteriorate. It doesn't matter what you do – you just can't stop this happening. This is because the egg is warm when it is laid and the contents begin to contract as it cools down causing an air space to form between the outer and inner shell.
As the egg gets older, moisture and carbon dioxide are drawn out of the egg and are replaced with air. You can tell a freshly laid egg because the albumen or white is cloudy and slightly jelly-like. As the egg gets older more carbon dioxide is lost through the shell and this causes the white to become more watery and transparent. When the egg is broken, the yolk in a very fresh egg is fat and appears well raised up from the white. In an older egg, the yolk is enlarged and has a flattened appearance. It's better not to use eggs which are cracked or have damaged shells as bacteria may have got inside.
So is a fridge the best place to store eggs?  Well, they'll be fine in a box in the fridge but using the egg holder in the door may not be so good as they will be exposed to condensation caused by large temperature changes every time the door is opened.
The Food Standards Agency suggests that the best place to store eggs is somewhere cool and dry.  So, a larder or store cupboard is fine and even a windowsill works at this time of year when the eggs won't be bombarded with sunlight. 
Here is a lovely savoury recipe that I make at home all the time, it uses up lots of eggs!
Egg and Bacon Pie
8oz shortcrust pastry
4 rashers smoked or unsmoked bacon
6-8 eggs
seasoning
Roll out the pastry and line the base and sides of an 8" round sandwich cake tin with ? of it, reserving the rest to use as a lid. Chop the bacon finely and fry gently until cooked. Break the eggs into the pastry case – you can use as many as you like. Sprinkle over the cooked bacon and seasoning. Roll out the remaining pastry to make a lid and use to cover the eggs and bacon. Seal the edges and cook in a pre-heated oven for 30 minutes at 200°C or GM5 until the pastry is golden and the filling is set.
Barbara
What's on the forum?
"Fox – 0, Eglu – 1″
An incredibly relieved HennyPenny posted
"Got up to let the girls into their run this morning and was surprised to see that the rug we put over the Eglu (to keep them warm at night – ahh!) seemed to have slipped to one side…….then realised that it was covered in muddy pawprints and a fox had obviously been digging at the ground near the Eglu – knocked down some of the log roll and scraped away some bark chippings where the Eglu and run meet. BUT Rita and Mavis were perfectly safe and happy inside their Eglu – thank goodness!
Mr H-P has repaired the damage and gone for the traditional fox-repellent around the garden so we're hoping for a quiet night. Well done Eglu designers!"
"It's quite a shock when you realise you've had visitors, isn't it!! The first morning after mine had been delivered, I went out to find that a fox had quite literally tried to dig a trench round the Eglu in an endeavour to get in, it must of scared the hens half to death. However, it's very reassuring to know it didn't work, and since then, he's not seemed to try again! Hope it all goes well!" – Liz Steed
"Good job it's an excellent design HP" – Lesley
"Glad your girls are safe HennyPenny, what a relief!" – Leanne
"Glad the chooks are OK HennyPenny, best to keep them in the run were they are nice and safe and don't forget to put the pin in the run door………." – Nicola
"Phew! Another close shave thwarted by the Eglu!! Good on you Omlet guys!! Thanks for keeping our feathery friends so safe!" – Kate
"Hi, I had the same thing yesterday Mr Fox had obviously been on the top of the Eglu and slipped off as there were foot prints and skid marks all over. Fortunately for my lovely girls not so good for my neighbour 3 doors up, as he also had a visit and lost all 8 of his hens I feel really bad for him. But so relieved I decided on the Eglu." – guest
"Gosh, wily Mr fox really is cunning isn't he? I've not seen our fox again, but I am extra careful now to make sure that the girls are in the run well before dusk." – Clare Taylor
Two Egluowners of the Week
Florence and Suzanne Sherwin
Age: 11
Occupation: School
Where do you live? Birmingham
What pets do you have? A cat (pickle) and two chickens (Henrietta and Egglatina)
If you were stranded on a desert island what luxury item would you have? A helicopter And pilot so i could fly away
What breeds are they? miss pepperpot and gingernut ranger
How old are they?  under a year
How many eggs do you get a week and what is your favourite way of cooking them? Including weekends 14 my whole family love souffles and omlettes
Do your chickens have a party trick? They undo shoe laces and chase you around the garden.
Florence (left) holding Henrietta and
Susanna (right) holding Egglatina
Featured Product
Art of the Chicken 2006
Ever wandered around the National Gallery and wished your home could look that? Then this calender is for you! It instantly transforms any wall into a world class gallery with a display that you can change monthly. You could even start to charge an entry fee to your new gallery.
Twelve highly colourful, expressionist pictures in 30cm(12inch) square format. Find out more here
Chickens 2006
A collection of photos of chickens being chickens – walking through flowerbeds, in the vegetable garden and running at full pelt across the lawn. Some months have pictures of handsome looking cockerels which you probably shouldn't show your chickens as they might start to wonder what they're missing out on. Calender measures 30cm (12inches) square. Find out more here
Bunnies 2006 Mini Wall
A finer collection of baby bunnies looking cute and fluffy you won't find. What's more, every month they seem to get cuter and fluffier!
Mini Calender measures approx 15cm(6in) square. Find out more here
Rabbits 2006
A great calender featuring photos of different breeds of rabbits, often looking caught out in the vegetable patch next to a big pile of carrots! Breeds featured include the French Lop, New Zealand and the Netherlands Dwarf.   Find out more here
Chicken Horoscopes by Mystic Peg
Omlet's very own spiritualist stares deep into the star filled heavens to tell you wattle happen…
Scorpio
Scorpios love a challenge so you will accept the chance to do something that defies the odds. You must be willing to persist if you want to accomplish your ambitions. If progress remains painfully slow, remember that Rome wasn't built in a day. As Venus moves closer to Mars you will feel the extra gravitational pull towards the nest box and all your hard work will be worth it.
To celebrate the launch of Chicken Horoscopes we are offering a fantastic opportunity to have a free consultation with our very own Mystic Peg. Anyone who buys an eglu in November will qualify for their own one to one session who knows what the future may hold!
Have an eggcellent day,
The Omlet team!
This entry was posted in Pets
---