Hello,
The Bake me Happy competition is in full swing with lots of people rising to the challenge.  Chickens have been doing their bit by popping eggs out at an eye watering rate, whilst kitchens have been whirring to the sound of whisks and Sainsbury's has reported shortages of icing sugar.   Not since Delia Smith first showed the nation how to boil an egg has there been such culinary excitement.
The Omlet mailbag has been full of photographs of beautiful looking cakes accompanied by tantalising descriptions.  One lovely lady also sent in a carefully wrapped piece of cake, which arrived in perfect condition and definitely impressed the judges.  So, if you want to make the judge's job easier don't hesitate to pop a piece in the post.  And don't forget that there's a fabulous Omlet Apron up for grabs and the prestigious title of Baroness Bake!
Later in the newsletter, Barbara has some good advice on how to keep your garden looking neat and tidy over winter.  The forum members have been busy discussing who has the friendliest chickens and the eglu owner of the week is an absolute corker.
Can you help?  We are reviewing our list of breeders so if you have any feedback – good or bad on the places you have visited to buy chickens from or you have discovered new ones then please let us know.  You can do this by emailing penny@omlet.co.uk please also include the name and telephone number of the breeder as well as an address if you have it.
And finally, the Omlet Christmas cards have been flying of the shelves, which is great because for every pack sold the Battery Hen Welfare Trust gets 50p to help them in their excellent work of rehoming hens so that they can live out their days as free ranging pets.  So if you haven't yet sent your cards why not stock up on some of these.
Enjoy the newsletter and good luck in the competition!
Some cakes are so good you just can't resist giving them a little kiss!
The Omlet Team
Barbara's Weekly Diary!
How to keep chickens and keep your garden too…
One of my most frequently asked questions is what damage will the chickens do to the garden? Well, if you're prepared for them, not that much! The hens may peck or scratch at plants so it's a good idea to separate anything delicate off to prevent damage. This can be done really easily using fruit cage netting and bamboo poles or even better, the chicken netting we sell in the Omlet shop which is tough, comes in two lengths and is so easy to put up and take down again without getting into a terrible tangle. It's very easy to section off vegetable gardens or bedding plants and the advantage of the chicken netting is that it doesn't have to be a permanent feature which leaves you free to enjoy your garden when the hens are in their run.
Hens can't be toilet trained but the droppings can be scraped up very easily and popped onto the compost heap where they will make the most wonderful compost. In summer, droppings on the lawn dry out quickly and can be raked in where they will act as a fertiliser and make your grass grow lush and green. Chickens actually carry less health risks than cats and dogs and as long as they are wormed twice a year, it is perfectly safe for children to be around them, so long as a sensible handwashing regime is followed.
During winter it is a good idea to keep them off the lawn where possible because the grass becomes dormant and any damage will not recover until Spring which can result in unsightly bald patches. This is a good time to build a permanent bark run which is incredibly easy to maintain and the chickens won't suffer from being kept off the garden if they are given daily treats of raw green vegetables. There is a guide showing how to build one on the Omlet website. The bark can be raked out once a month and changed for fresh and the hens will be perfectly happy scratching around in it and will even find areas which they can use to dustbathe within it!
Paddle stones on top of plant pots will prevent little feet from uprooting the contents and leave the pots looking stylish. The hens love it when you move the pots about the garden because you can guarantee that there will be something tasty lurking underneath for them to gobble up! Watching your hens free ranging is one of the most pleasurable pastimes and with a little foresight, you can relax and enjoy them without worrying about your garden.
Barbara
Star Photos
Somebody who didn't eat their greens
finds the perfect way of destroying the evidence!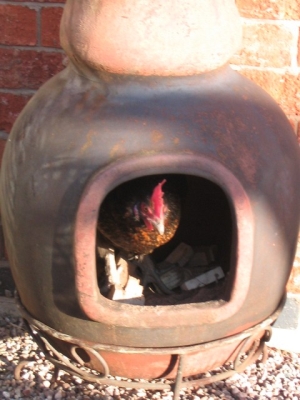 "On second thoughts – I think my eglu is safer"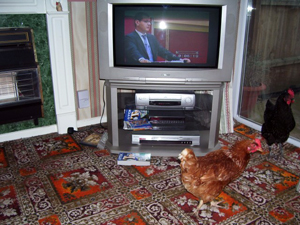 Eastenders Shock:
Ratings plummet as chickens walk out!
You can see more photos in the gallery
What's on the forum?
Friendly Chickens
"If we do decide to get a couple of chickens, which do you think are the friendliest? I'm determined to have the kind of girls who I can make a fuss of and who will be real pets, as well as a talking point for the neighbours! We were originally thinking of one of each of the Omlet chooks, but reading the messages here, I'm not so sure any more. The world seems full of amazing chickens! Any recommendations?" – HennyPenny
Both our Bluebelle and Starlight are very friendly, and always come running to meet you when you go outside. They are both happy being handled (even when it is by a 6 year old!), and are both good at laying double yolkers! We also have a White Star and an Amber Star who are both friendly enough, but not as tame as the other 2. – Chookiehen
Well the Gingernut and Pepperpot are lovely!! – Buffie
Goes without saying! Our two Amberstars are lovely, but more nervous than the Black stars. Now just have to find more chooks who are not only friendly but lay coloured eggs (don't want much do I) – Mel and Paul
My Gingernut Clarry is the most wonderful hen. We love her to bits! – Kate
Both our Omlet hens – a Pepperpot and a Bluebell are very friendly. The Speckledy doesn't like being picked up – the Sussex star is friendly and cuddly – the Cream Legbar is OK if you can catch her and the Whitestar is fine if you can ever catch her – she will do anything for food though so is quite amenable! – Lesley
My Gingernut is the friendliest chook she will always let you pick her up, the Pepperpot allows you a cuddle when she feels like it and there is just no catching the Cream Legbar……….. – Nicola
Well I used to say AMBERSTAR … but now ….. Ebony, the Starlight is contending for the friendliest chook award in our garden. Ginger is good …. but I would say the Amberstar and Starlights in my experience are the most amenable. Also, remember the chook will be more friendly, the more she is handled, so as I have been pretty hands on with Ebony, as she is new, maybe she is just a tad friendlier at the moment. Mrs Snowy is good too … and does not resist a cuddle. – SarahJo
My girls are both Omlet Gingernut Rangers. They are fab. They come running to you like a dog, sit with you like a cat and follow you round the garden like a friend, chatting away to me. I say Gingernuts are the best. – Clare*
Yes, I'd have to go with the Gingernut Ranger too. We love our Louise to bits (but don't tell Thelma I said that, as I love her too) as she is a real character and is never far away from me wherever I am in the garden to give me a helping hand or just to sit and chat. She'll quite happily sit on my arm or shoulder, and very often leave little presents behind. She's very thoughtful like that – Gina
When comparing all the hybrid breeds, I think the most important thing to determine how tame and friendly they are is their training. If you train them like dogs using treats and give them lots of handling then they will be really tame. Even my Pollo, who is a shy hen in personality, was easily trained to go up the ramp onto the platform to be given her antibiotics twice a day. – Motherhen
My bantam babes are great; they come running up swanking when I open the back door. Layla and Sadie like cuddles, and Sadie (the little hussy) will 'stand' for you with her tail in the air if you tread her back like a cock! Ruby is more wary – probably due to visits to the vet when we first got her. I love my bantams and wouldn't swap them for anything! – Clare Taylor
I love my two Omlet girls to bits…had them 6 weeks now and I think they were pretty young (still no eggs, they are quite small birds and the Pepperpot's comb is still tiny). They are both really tame – come tearing up to me like little puppies whenever I call them. The Pepperpot is the tamest – she climbs on my lap whenever I sit down. This morning she started drinking the cup of tea I was holding! They really have got personalities of their own.  Tell us what you choose when you do! – Deborah
Egluowners of the Week
Amy Roberts
Age: 20
Occupation: Student
Where do you live? South Devon
What pets do you have? 2 beautiful bantum chickens also 3 spoilt guinea pigs!
If you were stranded on a desert island what luxury item would you have? laptop with internet connection!
(Presumably so you can keep in touch with the forum – Ed)
How many chickens do you have? 2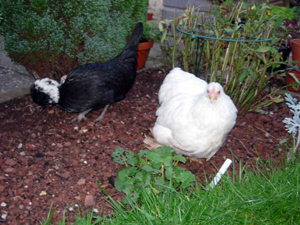 What breeds are they? Both bantums, 1 white-crested black Polish and 1 white Pekin
How old are they? Just over a year
What are your chickens called? Betty (Polish) and Penny- Gwen (Pekin)
How many eggs do you get a week and what is your favourite way of cooking them? None at the moment!!! Ermm well when i do get them theyre tiny so usually fried n put in a bacon sandwich
Do your chickens have a party trick? They're great at 'follow the leader'(me!) Also Betty has managed to get onto the roof several times…. :-s (Yes her wing IS clipped!And my house is more than 6ft high!)Oh and between them they destroy mum's plants.
Would you like to be egluowner of the week?
Each week we will be featuring an elguowner of the week.  If you would like to be featured then read our questionnaire here and email your answers to james@omlet.co.uk . Photos will increase your chances!
Featured Product
Flapjack Seat – Nesting Box
Isn't it amazing how chickens take themselves to bed every night? Do you ever wish your children would do the same? Well you could start encouraging chicken like behaviour by giving them this nifty little seat to sit on. Decorated to look like a chickens nest complete with eggs these seats are great for posture and are rigid and tough enough to be used outside. They are really versatile and fold flat for storage or for taking with you when you go on holiday.
£14.99 – click here to order
Chicken Horoscopes by Mystic Peg
Mystic Peg stares deep into her crystal egg to tell you wattle happen…
Sagittarius 23 November – 21 December
The planet Jupiter is exerting its full force giving you the chance to explore new territories and come into contact with some new faces.  Sagittarius' have a generous nature and this, together with your positive outlook on life, makes making new friends easy.  If you embrace each new opportunity with an open mind and an open heart you will surprise yourself with how high you can fly – with practice 4 feet is achievable.
Have an eggcellent day,
The Omlet team!
No comments yet - Leave a comment
This entry was posted in Pets on November 27th, 2005 by admin
---