Hello,
Happy New Year! We"ve been letting the suspense build up so long that we are positively bursting to tell you all the news. Firstly, did anyone see the Christmas Lectures? Food was the main topic this year.In the same room where Faraday first demonstrated electricity, Professor Krebs introduced a pink eglu and chickens as a demonstration of evolution and selective breeding. For all the train spotters -James was the Chief Chicken Handler and you could just make him out in the audience.
We are hoping to add awebcam service in the coming weeks – so you can broadcast your chickens live on the internet. You may have bought or received a Christmas card with a difference this year. Omlet's first ever festive card collection was not only suitably chickentastic but we also pledged to donate some of the proceeds to the Battery Hen Welfare Trust (www.thehenhouse.co.uk) a cause close to our hearts. By buying the cards you raised a fantastic £191 and we'll keep you updated as to how the money has been spent. We have also produced some improved feeders and drinkers – called Grub and Glug. These hold more water and feed and are generally easier to use.
You can find out more about them at the bottom of the Newsletter. Elsewhere, Barbara finds time to let her eye wander over the new breeds section on the website but will some of the more extraordinary looking chickens on offer be enough to tempt her away from her beloved Gingernut Ranger? Find out in this weeks thrillinginstallment of Barbara's Diary… Enjoy the newsletter and looking forward to an eggcellent year.
Kew Gardens Meeting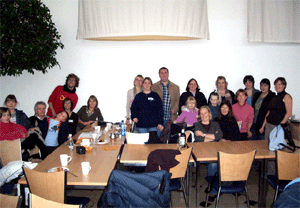 Left to Right- lots of people. Sorry if we haven't mentioned you.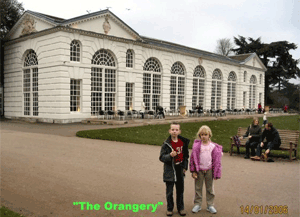 The Venue for the get together was the suitably grand Orangery at Kew Gardens.
Clare, Buffie and Mel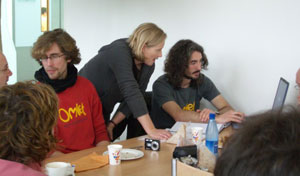 William and Hanns from Omlet meet the eglu owners and reveal some excitingnew projects.
The Omlet team
Barbara's Weekly Diary!
I was looking through the new Omlet breed directory the other day and have to admit to having fallen for some of the rather showy members of the chicken family.
There's something pretty wonderful about the extraordinary frilly Vivienne Westwood look sported by the Frizzle whose feathers stick out all over the place in true punk rocker style.
The amazingly feathery knickerbockers and beautifully rounded appearance of the Cochins makes them look just like walking duvets while the spectacular headgear sported by the Appenzeller Spitzhaubens, Polands and Houdans would not look out of place on Ladies Day at Ascot.
There is such variety in the poultry world. Sebrights, for instance, have the most beautifully laced plumage where each feather is edged with black which is so striking and the Sussex with their smart black and white outfits come straight out of My Fair Lady. You can't fail to be impressed by the abundantly feathered Orpingtons and the sweetly comical Silkies with their pom-pom hats bring a smile every time.
The stately, statuesque Brahmas are wonderful to behold and stand nearly knee high. They have the most delightfully feathery feet and heavy eyebrows and yet will happily stay behind low fences as they can't fly! Despite all these fantastic and beautiful hens, my heart still lies with the hybrids though.
I have a real soft spot for the Gingernut Ranger with her beady eye and friendly nature. The ginger feathers glow in shades of gold, brown and red in the sunshine making her anything but a plain little brown hen.
Barbara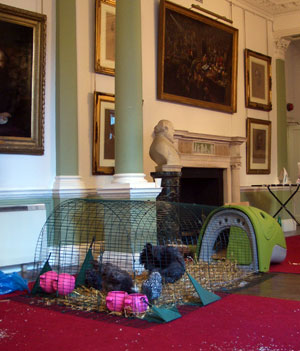 Red carpet treatement for the chickens that starred in this years Christmas Lectures at the Royal Institute – Mayfair, London.
Star Photos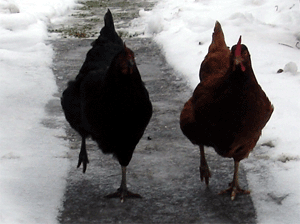 Did anyone else see Betty and Elsie performingat Holiday on Ice over Christmas?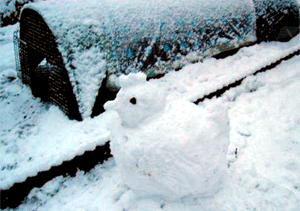 Met Office claims "Severe weather warning being ignored by chicken population"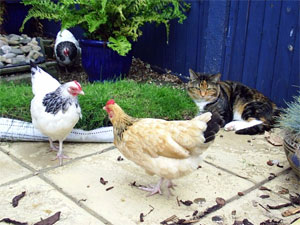 "Okay, you two distract her and I'll wait behind the flower pot and pounce" You can see morephotos in the gallery
What's on the forum?
First Eggs
Big celebrations this week as Lesley-Jean's first egg finally arrives! "Hooooraaaaaay! At last Harriet has laid an egg. I have waited and waited and waited. I've shown her the oven, nice cookery books and still had to wait. When the chooks arrived from Omlet on 1st September I was told they were about 13-15 weeks old and that Harriet was probably a little older than Gertrude. This would make her about 31-33 weeks old now. Perhaps she was building her career before having a family. Has anyone else had to wait sooooo long for their first egg." – Lesley-Jean
"Well done Harriet and admirable patience LJ. Delayed starting is most likely in the autumn as the days are getting shorter, although you have been unlucky with the length of your wait. Hopefully she'll now be laying well into her old age." – Motherhen
"Excellent news. Well done Harriet. My Pepperpot was much later laying than the Gingernuts, although she is huge physically. She has only laid every other day since starting, but is showing signs of laying more regularly now. Mine were all about 17 weeks on 16th September. Maybe they're related???" – Ginette
"4 weeks so far, hope it doesn't run into 15 weeks! People at work say we should send them back as they're not working properly! Well done to your chicken. Did you do anything that helped shortly before?" Chocchick
"Hi Chocchick, I give them poultry drink in some warm mash every day. I don't put it in their water as I resent throwing 80% of it away every day! I have also been keeping them in their run for most of the day (to save my garden). I think this means they are eating a more nutritious diet at present. There is not much in my garden for them to free range (eat) on at present" – Lesley-Jean
"Well done!! Ah now wait for times when you can't think what to do with eggs. Charlie has started laying more frequently after she heard Mikey say he was getting a pie machine for the shed. With just two of us it's a good job Lottie hasn't started yet and won't be a frequent layer." – Buffie
"Hi everyone. You must have been delighted when your first egg came Lesley-Jean. I got my three girls (French Copper Black Marans) on 21st August and no sign of any eggs yet. Is that a record? Never mind though, I love my girls to bits and they are so entertaining – eggs will just be a lovely bonus when they do come." – Sal the Gal
If you are an egluowner then you can access to the forum. Evening if you haven't got chickens yet you can have a weeks trial access to the forum by clicking this link here -> forum
Egluowners of the Week
Sonja Russell
Gwendolin, Henrietta and Victoria
Age: 39
Occupation: fulltime mum and wife
Where do you live? Switzerland
What pets do you have? 3 cats, fish, 2 rabbits, 9 guineapigs and 3 dwarf chickens
If you were stranded on a desert island what luxury item would you have? Sun cream (surely you meanIce cream!? – Ed)
How many chickens do you have? 3, all about a year old
What breeds are they? Chabo (Nagasaki)
What are your chickens called? Gwendolin, Henrietta and Victoria (Posh and vain)
Do your chickens have a party trick? Gwendolin has been attacked by a hawk or something similar she was defending herself with the most bloodcurling scream I ever heard. It would work well for Halloween.
How many rabbits do you have? 2, 1 mixed breed and one dwarf rabbit
How old are they? 5 years and 1 1/2 years
What are your rabbits called? Fluff and Goldie
What are your rabbit favourite food? Apples
Trish Fearnley
Age: 42
Occupation: Admin worker
Where do you live? Garforth Near Leeds
What pets do you have? Two Chooks, Two cats, A snake and a lizard, three boys
If you were stranded on a desert island what luxury item would you have? knitting needles and yarn
How many chickens do you have? 2
What breeds are they? A Bluebelle and a Black Rock
How old are they? About a year
What are your chickens called? Maddy is the Bluebelle and Ruby the Black Rock
How many eggs do you get a week and what is your favourite way of cooking them? in the summer one each per day, winter about 4 each per week
Do your chickens have a party trick? standing on the top edge of the bench on lookout duty
What's best about having chicken's, them or the eggs?The chickens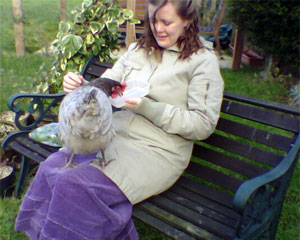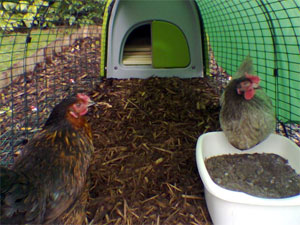 Ruby and Maddy taking it easy
Featured Product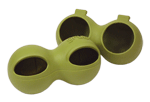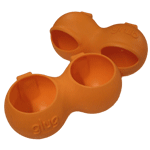 Grub and GlugThe new glug water container holds a thirst quenching 4 pints (2.2 liters) and is easier than ever to fill. The Grub food container will keep 4 chickens fed for 2 days. They fit onto both the mark 1 and the current eglu run and can be put in the dishwasher. £16.45 – click here to order
Chicken Horoscopes by Mystic Peg Mystic Peg stares deep into her crystal egg to tell you wattle happen…
Aquarius21January –19 February If people tend to eggspect a lot of you maybe it is because you are so eager to please. But be careful about setting a standard that you will find difficult to live up to. With the way the galaxies line up this month you need make time for yourself so that you don't peak to soon as with a soufflé – timing is everything.
Earth Sign of the Month – Grit This rare mineral has special meaning and will give you strength from within. Have an eggcellent day,
The Omlet team!
No comments yet - Leave a comment
This entry was posted in Pets on January 24th, 2006 by admin
---