Omlet Newsletter February 18th 2006
Hello,
It's hard to believe that it's already that time of year again when frying pans get oiled up, batter is mixed and the height of a ceiling is measured in the International Unit of Flips. Yes, we are talking pancakes and Omlet will be running a competition to find the 2006 Pancake Person of the year with marks awarded for the highest toss, number of complete flips and the most convincing accidental pancake in the shape of a chicken!
It's on the 28th of February this year and to enter all you have to do is send in your pictures or video clips to johannes@omlet.co.uk ( a fully qualified pancake judge having trained with the celebrated French specialist Philipe Filop) The winner will take home an Omlet apron and there will be two runners up prizes of Good Life DVD's. All entries accepted until Thursday the 2nd of March. Flipping good luck to everyone!
A Big Thankyou! Jane Howarth from the Battery Hen Welfare Trust has written to say that the money raised from the Omlet Christmas Cards is going to be put towards improvements to the hospital wing at the rescue centre which will make sure poorly chickens are given the best possible treatment. Jane asked that we pass on her thanks for all your support, they have already rescued 500 chickens this year with many more rescues planned for the rest of the year.
With spring just around the corner, the Omlet tour bus is undergoing final checks before setting out on the road again. After a sold out tour last year the Omlet team have added more dates in 2006 (complete list of venues to follow soon) and the opening event will be at the One Life show in London on the 3rd of March. It's going to be a great show for anyone interested in getting the most out of life. We'll also be unveiling Omlet's Hen Parties as well as it being an opportunity to see an eglu and talk to the eggsperts so come along, we'd love to see you there.
In the rest of the newsletter Barbara has found an ideal solution to her fear of maggots and the forum chat is about how to make your chickens love you (a little hint – it's just a question of finding the right bribe!)
We hope you enjoy the newsletter,
The Omlet team
Barbara's Diary!
No longer a wriggly problem!
My girls go absolutely mad for maggots to the point where they will mug me for them and leave little chicken footprints all over me in the rush to get to the bait box. I can't stand the things though. They make my flesh creep and it's always been a case of get someone else to feed them or throw the maggots out of the bait box towards the girls and run in the opposite direction in case any crawl towards me!
Well not anymore as I've discovered a non-wriggling way to keep the girls and me happy – dried mealworms! I found some in our local pet shop where they are sold for the wild birds. Apparently Robins go crazy for them too so I like to put a few on our bird table for my little friends whenever the hens will let me. The mealworms I buy come in a re-sealable pouch so no danger of accidental spillages to scare the living daylights out of me and the girls think they are the best thing since……maggots! They are very high in protein so make a really good, healthy treat for them and once the packet is opened, it should last for ages – given half a chance!
I'm a little embarrassed to say that my buying habits have gained me a reputation in the pet shop and whenever I go in, I am now met with the greeting "Hello Mrs Mealworm – how are your chickens!" To which I reply "My chickens are very well indeed, thank you!"
Barbara
Star Photos
If you're wondering were all the pictures of chickens have gone maybe this little chap knows…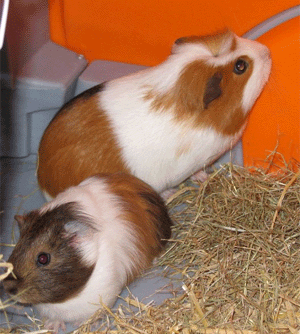 The first image in the gallery of guinea pigs in an eglu deserves a special mention!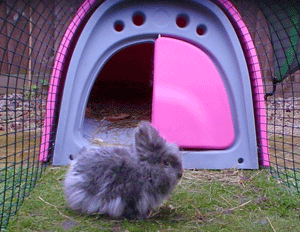 Rolf's experiments with the hair dryer
proved quite successful !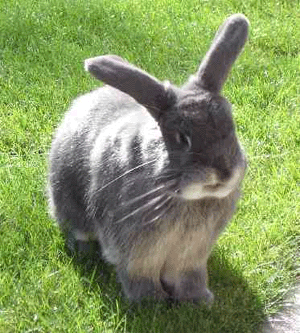 Rabbits also ponder the meaning of life.
You can see more photos in the gallery
Love thy chickens!
Two Ladies joined the forum recently and asked the rest of the regular members for a little advice…
– Hi there! Got my lovely ladies two weeks ago, still no sign of eggs but not really expecting any just yet….bit concerned that they sleep and poo in the nesting area and Florence always seems to have a mucky tail (actually, her tail feathers look oily but I'm assuming it's poo, she hates me looking at her bum!!). Also Emily absolutely hates being picked up, have tried several times but she seems to get very stressed and I don't want to frighten her. Should I keep trying? I lure her over for a quick stroke with treats which always seem to go down well!! Must say, they are beautiful and I do love that soft clucking noise they make when I get them up each day, also the way they squeeze through the door together!!
-It does get easier to pick your girls up when they start laying – they will squat when you approach (ready for 'a good time' if you see what I mean!), and then you can scoop them up! Also, keep trying to hand feed them – it all helps! My lot all sleep and poo in the nesting box – the only drawback is that you really need to change the straw (or whatever you line the box with) every morning once they start laying or else you end up with pooey eggs. – Chookiehen
– Hi, and welcome twoladies, nice to have you on the forum. This was my first, and is still my fave, forum, it's so friendly here, so don't worry about being new to forums, plenty of reading and posting and you'll very quickly be in the swing of things, And we have a great team of moderators and site admin who'll quickly put you right if you have any problems. The chickens, much like any pet do take time to become tame, and they all have different personalities, so some will become supertame and cuddly whilst others prefer to remain a bit aloof. You'll soon get to know yours very well. I'd advocate trying to stroke and handle them as much as they will tolerate, treats work very well as a form of bribery, mine will do anything for a handful of sweetcorn. – Alpefamily
This forum is great, everyone here is so helpful and friendly don't be afraid to ask anything however silly you may think it is, someone on here will have an answer or know of someone who will. As for the picking up, they will get used to you eventually, bribery goes a long way, mine will mug me for sweetcorn and pasta. – LadyLucan
– Thank you for the warm welcome! Tried the girls with sweetcorn today and they seem to be rather partial, Florence is desperate to get out of her run and explore but haven't plucked up courage yet to let her roam in case I can't get her back! Strangely enough there was no poo in the straw today so maybe they have decided to use the roosting bars instead, hopefully they are building up to the great lay! Anyway, thanks again for the welcome, sure I will be back with some more daft questions soon! – TwoLadies
– Hi we have had our new girls for about 3 weeks after a terrible disaster. They have just started to be friendly it takes time and perseverance. I go out get a chair and sit in their area and put food around me. They now trust me and come rushing over to feed. We are now managing to cuddle them all except Aunt Sally who protests so much you would thing I was hurting her! I think you will be ok to let them out now they must be going stir crazy. I let mine out within 2 days. Obviously I hung around them and watched what they were doing but they are as stupid as people think. Hope you have as much pleasure as we do. They have been the best money I have ever spent. Oh we got out 1st egg yesterday it soooo exciting when you do. Take lots of piccies!! Good luck – TheSmeeeths
Egluowner of the Week
Jazz Basma
Jazz's chicken impressions are so much better now she has the real thing.
Name: Jazz Basma
Age: 28
Occupation: Science Teacher
Where do you live? Bristol
What pets do you have? Cats, Tatiana, Iris and Miko
Chickens, Penny, Peggy, Milly and Martha!
A loach called Flash.
4 goldish in the pond…no fixed names.
If you were stranded on a desert island what luxury item would you have? My pets!
What breeds are your chickens? 2 Pepperpots (Penny and Peggy) and 2 Gingernuts (Milly and Martha)
How old are they? 24 weeks…approx…
How many eggs do you get a week and what is your favourite way of cooking them? None so far (still!)…but the first will be fried sunny side up! 🙂
Do your chickens have a party trick? Chasing grapes down the garden like they are hockey pucks entertains me massively.
The chickens soon get used to the idea of being photographed…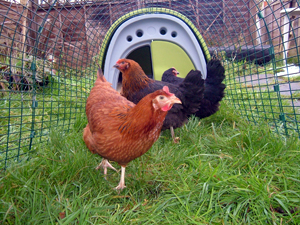 … now they are positively posing for the lens!
Featured Product
Meal Worms
Mealworms (Tenebrio molitor) are the number one choice for treating your chickens. They are the larvae of the Flour Beetle, a native British insect which eats flour, meal, grain and other related crops. Their bodies are made up of over 48% crude protein and 40% fat making them an excellent, proven food for all insect eating garden birds.
You can order them live (still wriggling) or dried (still tasty but without the wiggle).
Three 40g tubs of live worms costs £5.50 inc del
click here to order
Chicken Horoscopes by Mystic Peg
Mystic Peg stares deep into her crystal egg to tell you wattle happen…
PISCES – February 19th – March 20th
Strong urges to travel dominate your dreams this month. The Full Moon on the 13th is the optimum time to make your move so make sure your crop is full on the 12th – you have a long journey ahead. When you arrive the voices will sound familiar but the accents may be different. Your presence is sure to generate much curiosity and excitement and if you play your cards right you could become a star.
Spectral colour of the Month – Red
This intense colour has enormous power attracting attention from far away. Just remember that with great power comes great responsiblity.
Have an eggcellent day,
The Omlet team!
This entry was posted in Pets
---