Omlet Newsletter March 7th 2006
Hello,
Controversy surrounded this years Pancake Competition, but it wasn't doping allegations or illegal frying pan dimensions that forced the judges decision. The judges had a very easy time awarding the gold medal to Paul Hardy as his was the only official entry! So congratulations Paul you are the Pancake flipper of 2006, a great victory!
Spot the Pancake
johannes@omlet.co.uk with your best guess of which square the centre of the pancake is in.  The first three correct entries will each win a fabulous pack ofmeal worms for their chickens. Good Luck!
National Science Week

This year there is a special emphasis on colour. Brilliant we thought, the perfect opportunity to answer a question on every eglu owners lips,  "does the colour of my eglu affect how many eggs my chickens lay?
To answer this question of national importance we need your help!  Taking part is really easy just visit this page, where Professor Penelope has prepared a lab sheet for you to fill out.
And Finally,
Omlet USA is now liveand if you live in America you can now order an eglu and chickens to be delivered direct to your backyard from our base in Iowa!  The new website iswww.omlet.uswe hope you enjoy it, any comments as ever gratefully received.
Enjoy the newsletter and good luck in the competition!
The Omlet Team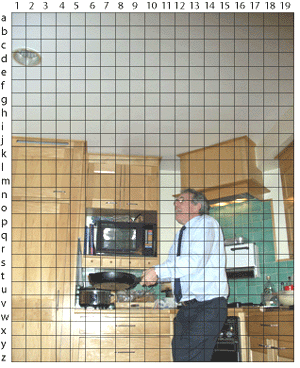 Spot the pancake – can you guess where Mr George has flipped his pancake?
The default winner of this years controversial Pancake competition
James seems genuinely surprised to see the silhouette of a chicken in his pancake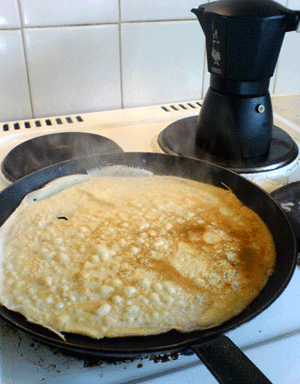 For all those people who didn't enter – this is how to cook a pancake!
Barbara's Weekly Diary!
There's no denying it. Chickens are the pets to have. Browsing the magazines in the newsagents, you can pick up agardening magazine or even the odd cookery one and find regular articles about the benefits of keeping a few hens in your back garden. Looking around the books section in garden centres, amongst the horticultural volumes and cookery books, you can usually find at least 5 books about backyardchickens there too. On the internet there are dozens of forums dedicated to chickens and there is an incredible wealth of information forbeginners and old hands alike.
I was researching breeders clubs a little while ago and soon found that the appeal for all things feathered isn't limited to the UK. America in particular as well as Australia, Holland, Germany and France all have specialist clubs for the various breeds of chicken and interest there is as high as it is here for our little feathery friends. I discovered that in the States, there is a group of over 200 chicken enthusiasts who arrange to meet up at least once a month in coffee shops, backyards and parks to talk about their pet chickens. Members of the Omlet forum have also had informal meetings on a smaller scale but which have proved immensely popular and this is something which will no doubt continue and grow over the years. The bond of friendship between chicken keepers is a warm, friendly one which just goes to show that nice people keep hens!
Barbara
Star Photos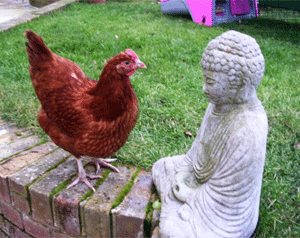 Why did the chicken cross the road to enlightenment?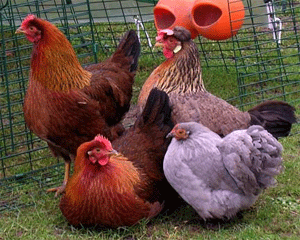 Vogue invited four of the world's top models to pose for the camera.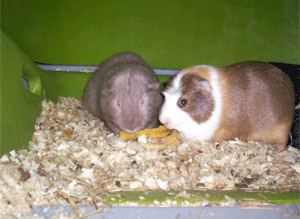 Bill and Ginger discuss tactics before being tested in the maze.
You can see more photos in the gallery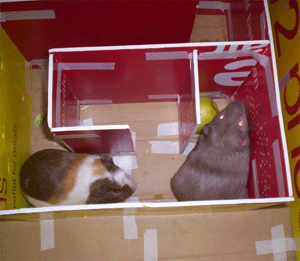 "easy peasy!" A triumphant Bill and Ginger navigate the maze to claim their prize.
What's on the forum?
The forum celebrates 1000 Members!
Lizzy and Cathy cement themselves in the forum Hall of Fame as the 1000th members of the forum but their fame is short lived when another member mistakenly deletes themselves….
"Hello, We are Lizzy & Cathy, the 1000th member and this is our first post on the forum! Our mum Linda got us into chickens and stuff when she joined and we recently got some chickens ourselves. Thank you Lara! Mum has been telling us that everyone has been celebrating us being the 1000th member, sorry we are a bit late to answer but we had some trouble getting logged on! hehe! All we wanted to say is hello to everyone and let you know we are here!!" Lizzy & Cathy x x
"Hi …. and congrats on being the Milleni-eglu" – SarahJo
"A Big Congratulations from me to Lizzy & Cathy 1000th club member" – Lesley-Jean
"Whey Hey Fame at last. 1000th – you will be made a fuss of on here" – Kooringa
"You're made a fuss of what ever number you are – you're special " – Mel and Paul
"OK so we are not the 1000th member anymore we are 999th now because someone before us deleted themselves!" – Lizzy & Cathy
"Sorry – that might have been me I registred twice and I think Kate deleted my unused username. " ali-s
"You will always be the 1st 1000th member." – Lesley-Jean
"Well, that doesn't really count. You were 1000th when you registered and I'm sure Ali wouldn't take away your new found Omlet fame on purpose. Besides, it means we can have a double celebration now!  Drinks all round – congratulations girls." – Gina
"Hi Lizzie and Cathy welcome and well done" – Louise
"Welcome to our big happy hen loving home!" – Buffie
Featured Product
Extend your run!
The run converter adds a further 1m length to your run, and then allows you to add as many run extensions as you want. These extra panels increase the size of the area that your chickens and rabbits can explore in safety. It is made of the same strong steel weldmesh coated with the durable PPA coating and has the anti tunnel skirt.
It's called a converter because the panels are specially shaped to convert the angle at the end of the run into a straightended tube (see side view bottom left). Your existing end panel with the door in it will fit on the end of the longer run.  You can then add more space with the run extension panels.
£47 – click here to order
The run extension kit featuring the converter on the left and the extension panels on the right.  Note the different angles.
Chicken Horoscopes by Mystic Peg
Mystic Peg is staring deep into her crystal egg so that she can tell you wattle happen…next time!
 Omlet Team
This entry was posted in Pets
---