Omlet Newsletter June 6th 2006
Hello,
So many things to announce in this newsletter, so here goes…
In the last newsletter we told you that we were going to adopt four battery hens from a group the Battery Hen Welfare Trust.  Well the new hens have been rescued and are now enjoying life at Omlet HQ living in a beautiful blue eglu.  As you would expect they are being spoiled rotten to such an extent that they soon won't eat anything but peeled apple, alfalfa sprouts and organic grapes…but after the tough time they have had a little bit of luxury is well over due.  You can read all about the trip to devon and how the hens are getting on over on www.eglu.co.uk,
Unloading the rescued hens
For some of the chickens the emotions got too much and they had to cover their eyes.
Each hen was given a pedicure before being placed in the barn
Jane and Johannes seal the partnership with a ceremonial exchange of t-shirts.
There was another reason for our trip down there.  Over the last year we have followed the work of the BHWT and have been moved and enthused by the determination of all those associated with it to end this form of egg production.  We wanted to do something to show our support for the Trust.  We are as proud as punch to say that we will make a donation to the Trust of £15 for each eglu sold which is stocked with rescued chickens.  There will be a special page appearing on the website soon with all the details.
The Omlet tour bus has been clocking up the miles as it takes our merry band up and down the country.  A big thank you to all the fans who have been coming out to see us, especially the ones who buy souvenir eglus, we couldn't do this without you!  You can find out about upcoming appearances on the Daily Egg which is on the front page of our website.  Our next gig is at the East of England Show, there are still tickets available, click here for more info.
In the star photos you can see one of the first eglus to arrive in the US, this one is in Los Angeles, the new owners tell us that the movie offers are already starting to flood in. Hey kid if ya wanna make it in this town you gotta keep up with the Cruises!  To become a star of the big screen (maybe) click here  www.omlet.us
Elsewhere in the newsletter Barbara has writen a moving piece about the affection her boys have for the families brood of chickens and what it means to them.  There are more stunning photos from the Club Gallery and the bad jokes continue by unpopular demand just after Mystic Peg's predictions.
And finally…
Congratulations and celebrations to eglu owners Gina and Diana who have both been sitting on the nest for the last 9 months.  Diana (who is the lady on the frontpage of the website sitting with her two girls infront of their pink eglu) gave birth to Archie Fredrik and Gina also has a new baby boy called Stefan.  Obviously, Omlet had nothing to do with these deliveries as we only supply female hens and never cockerels.  Still, both mother hens are justifiably proud of their new hatchlings and we wish them the best of cluck.
We hope you enjoy the newsletter
The Omlet Team
Barbara's Weekly Diary!
Chickens and Children
Having chickens as pets in the garden is a wonderful thing for children as it not only teaches them where their eggs come from but they also learn about animal welfare. I have two young lads who understand why it is important to have happy hens and how different the eggs look and taste when they come from a chicken which has felt the breeze and the sunshine and been allowed to graze on fresh grass.
Both my sons help to look after our chickens as they don't require a huge amount of attention. They know what to feed them and how to keep them safe from foxes at night. They love to watch them and understand why the hens enjoy dustbathing in the sun and digging amongst the flowers in the borders. They enjoy taking them treats in the afternoons when they come home from school, picking them up and giving them a cuddle, collecting still warm eggs from the nest and they are both passionate about our hens being allowed to have their freedom.
They have read about battery hens and the terrible conditions they are forced to live their short lives in. They won't ever buy cheap eggs when they leave home as they know that they will have come from battery hens nor will they consider eating the shrink wrapped, cheaply priced chicken portions from the supermarkets either as they know that they come from hens which have never seen daylight and which have spent their short lives in cramped, miserable conditions.
I'm sure that they will both want their own chickens in the future as they get such pleasure from watching them in the garden all year round and there really is nothing to beat a fresh egg from one of your own hens for breakfast.
Barbara
Star Photos
eglus have landed in america!
"Just hanging out the washing dear"
"I wish I could fly"
Agnetha Fältskog and Anni-Frid Lyngstad were in ABBA at the height of their fame.
You can see more photos in the gallery
Bettie and Ellie take a break from egg laying to practice their pouts
What's on the forum?
Dustbaths!
236 OCU is unsure what to use in their dustbath so has asked for advice from the forum members-
"Does anyone have any tips on what a chook can use for a dust bath? My garden soil is primarily clay, which although fertile does not break down into a fine tilth that the chicks could use. At the present time I have supplied them with a tray filled with soil used for potting pond plants (non-fertile and very fine) which they all use. Needless to say it is now beginning to be spread all over the place and needs replenishing. Pond plant soil is relatively expensive; so any suggestions as to what else could be used?"
Louise – "I use sand and depending on how generous I am it is either play sand (pricey) or sharp sand (they get a bit orange looking) Mind you they have made their own area in the bark and seem to enjoy that too."
Claret – "Potting compost is fine, any loose stuff really. I add some ashes from the fire too (after they've cooled down) as they're really fine and they seem to love that. It must get right in all the nooks and crannies, but they do look a bit grey for a while afterwards "
236 OCU – "Thanks Louise,. Is it best to use builders sand or lawn sand?"
Louise – "I started with posh sand and then the budget dropped after they scattered it everywhere. I think the builders stuff should be okay mine eat all sorts of grit and stones from the ground so why would builders sand be a problem I wouldn't give them anything that had an additive though."
236 OCU – Thanks Louise and Clare. Off to the Garden Centre tomorrow then.
Gina – "Thelma caught me out at the weekend. She was dust bathing in a big plant pot for ages…. Some time afterwards, I came out with a some grapes, and I was their best friend. Thelma jumped on my lap in excitement, and shook herself like a wet dog. I was covered in dirt. It went everywhere, ears, eyes, mouth nose….ugh!"
Lesley-Jean – "If you use a deep tub 236 OCU, for their dust bath. (I got one from Wilkinsons for about £1.50), you will find that more stays in the tub and less is flung around."
Egluowner of the Week
Jayne Cox "Buffie" on the forum
About You
When and where were you born? Leicester, Bond Street Hospital 25th January 66
When and where did you find love? Met Mikey at school, so known him since I was 12 (1978) and we're now married!
What is your greatest extravagance? Make up and Henorabilia
Do you have a hidden talent? I'm told I'm funny!! Hopefully Ha ha!
Who or what inspires you? Jane Howorth founder of The Battery Hen Welfare Trust and Sunshine
Who would play you in a movie of your life? My mum used to say Bette Davis, when I was a teenager
What's your most annoying habit? I'm loud!
Is there anything you regret? Wasting time and not having pet chickens sooner
It's Sunday morning, what song do you most want to hear? Anything by Frank Sinatra
You can go anywhere in the world, where would you go? To live on a smallholding!
About your chickens
How many do you have? 4
How long have you had them? Pepperpot and Gingernut for  just over a year. 2 Bantams for a few months
Do they have names? Of Course…Harrie , Charlie, Lottie and Buff (the Buff Pekin!)
How many eggs do you get a week? When Lottie isn't broody about 20
Do you get lots of double yolkers? No, but they are hard work to make, so I prefer single yolkers
Do you bake more cakes now you have your own chickens? Yes, I've become Barbara from the Good Life
What do your chickens like more than anything else in the world? Grapes and being with us, so they say!
What's the funniest thing your chickens have ever done? Working with clients in the garden room they've knocked on the door for attention. Also dust bathing on the kitchen rug.
Would you like to be egluowner of the week?
Each week we will be featuring an elguowner of the week.  If you would like to be featured then email  johannes@omlet.co.uk. He will send you the questionnaire
Which do you prefer, your chickens or your children and why? We don't have children of the human kind so our chickens live a happy loved life with our 2 cats and daisie the Boxer Pup!
If your chickens could speak, what would they tell you? Love you mummy and thanks for our lovely houses
Can you imagine life without chickens ever again? Never
Have the chickens changed your life? In so many ways. We appreciate, even more, good food and greener living, I've made lifelong friends and not far to walk for the best tasting eggs!
Buffie with Charlie
Harrie having a bath.
Buffie's namesake, Buff the Pekin bantam and Lottie
Featured Product
The new thriller from Charlotte Popescue has arrived!
Best Hens for You
You want to gather your own fresh eggs. You want a different kind of pet.  You want to keep hens.  But where do you begin? (How about the Omlet website? – Ed)  Well, this new book from the bestselling author of Hens in the Garden, Eggs in the Kitchen promises to talk you through all the merits of different breeds, including both pure and hybrid hens.  Each breed comes with a description of behaviour, characteristics, egg laying as well as a personal anecdote from someone who has kept the breed, which is a thoughtful spin on this type of book and makes it more readable and less like a reference manual.  There are also true stories sent in to the author about peoples experiences of hen keeping, including a couple about rescuing battery hens. A central section has a selection of colour pictures of different breeds and better still elsewhere in the book the eglu gets a mention!
£6.50 – click here to order
"More plot twists than a bad case of tangleweed on my allotment" Robert Ooster
"Popescue has established a new pecking order" D.R. Oppings
Chicken Horoscopes by Mystic Peg
Mystic Peg stares deep into her crystal egg to tell you wattle happen next.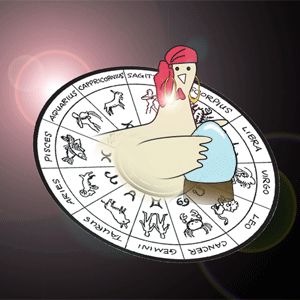 Gemini (The Twins) 21 May – 21 June
Geminis are charming and ingenious, and they know it but mostly they don't do any damage apart from to the occasional petunia.   What's more they are adaptable and so this month could be their chance to do something dramatic.  With Mercury currently very prominent in the night sky don't be surprised if you come out to find a double yolker in the nest.
And now I predict a bad joke
Q. Why did the rubber chicken cross the road?

Omlet Team
This entry was posted in Pets
---