Hello,
Welcome to the first newsletter of 2007.
Bake Me Happy!
If this is your first Omlet Newsletter, you're in for a treat as we get the year going with the results of the Bake Me Happy Christmas competition.  As regular readers will know, all competitions are hotly contested but none more so than when their cake baking skills are called into action.   After much deliberation the judges decided that Penny MacMillan's Night before Christmas was an outstanding piece of cake.  In joint second place were Lauren and Jake with a scandinavian gingerbread house and we think yule agree Elizabeth's cake is such a convincing log that its a wonder no one put it on the fire.  Omlet Goodybags are on their way to you lucky winners and thank you to everyone who entered, we hope you enjoyed it.
Organic Garden for Schools
It gives us great pleasure to announce that Omlet has been selected as a member of the prestigious Duchy Originals Garden Organic for Schools scheme. This fantastic initiative has already attracted 3,000 primary schools across the country.  The idea is simple, Garden Organic will provide you with all the help your school needs to start an organic garden.  Omlet has always been a fan of eggducation so we didn't hesitate when they asked us to to be their official chicken house supplier …  and we have a certificate to prove it.   If your school has an area that's ripe for sowing with juicy veg then click here for more information.
Omlet is now the official supplier of chicken houses for Duchy Originals Garden Organic for Schools.
Elsewhere in the newsletter Barbara gives some timely tips on encouraging hens to start laying, the forum discuss how best to clean roosting bars and egluowner of the week is our very own Jan who many of you will have had the pleasure of talking to on the phone.  Find out all about her chickens and an unusual request for a new type of eglu.
So without further ado, welcome to 2007 and a very happy New Year to you all!
The Omlet Team
PS.  The club section of the Omlet website has been updated so that the Gallery runs smoother and faster. It's a great place to share photos of your pets and the forum is the place for tips and a good gossip!  Click here to have a look.
We have a Winner!
"Star-tling" The judges reaction to Penny's Winning Christmas cake entry.
Lauren and Jake take a slice of the winnings with their gingerbread house in joint second place.
At first the judges thought Elizabeth had sent in a picture of a log, but closer inspection revealed it to be a cake.
Laura Hardy was a close runnerup with this traditional entry.
Barbara's Weekly Diary
Happy New Year!! Goodness me, what a rush up to Christmas! I think I blinked and missed most of it this year as it went by like a flash! In the run up to the festive period, we'd been having some building work done and the workmen had stored some of the building materials on the lawn. Now they've finished, packed up and gone, we're left with huge bald patches where the grass should be! It won't grow back until Spring now and we'll probably end up having to reseed it. My poor hens are completely deprived of anywhere to graze until it returns, poor dears. As a result, I'm back to buying cabbages and broccoli to tie up in their run so that they have something green to eat! They strip the stems completely of any leaves and leave the stems hanging like green octopus skeletons! It keeps them occupied and happy for ages and more than makes up for them being unable to free range properly at the moment.
I've been getting a lot of e-mails from people who aren't getting any eggs from their hens at the moment. The strange weather we had over the autumn has caused many hens to undergo a very late moult so they are at their most "ready plucked" when it's coldest and the stress of regrowing new feathers tends to stop the egg laying process for a while until they are fully feathered again. If your hens are losing feathers right, left and centre, nice bowls of layers meal mixed with warm water in the mornings or a warming mixture of boiled and mashed vegetable peelings late in the afternoon will warm their tummies and keep them happy on these cold winter's nights. Do keep giving them Chicken Spice in their layers meal or some Chicken Tonic in their drinking water as it really does help get them back into shape so they can lay eggs again after they have completed their moult. One of my hens hadn't laid me a single egg for months as she'd been going through a particularly long and drawn out moult. I'd just about given up on her ever laying again but now she's fully feathered and gorgeous again, she's rewarding us for our patience with eggs again! It's shown me never to give up hope!
Star Photos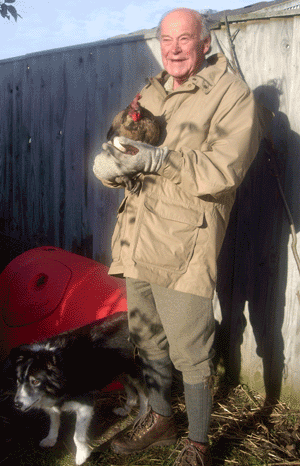 Algy Groombridge's sheepdog Jan was useful for rounding up the chickens.
"If anyone comes just lay an egg, they won't suspect a thing."  Suspicions that chickens are carrying out top secret research seem to be confirmed by this picture.
"Dave, how many times do we have to tell you?  You're a cat not a chicken."
An unusual christmas cake
Kate's obviously fruit and nuts about cake.
You can see more photos if you click this link:  gallery
What's on the forum?
Lesley R recently asked…..
Hello Peeps.  Any tips out there on how to clean the wooden racks? The plastic droppings tray is easy but my racks are getting a bit manky!
…..and as usual, the forum folks were quick to offer her plenty of tips and good advice….
Martin B – Take the tray out and scrape all poo etc into compost bin without washing it clean. Put the plastic tray in the Eglu again and then get a hose on the fastest setting and power blast the roosting bars and the poo comes off with ease. Then take the tray out and the water drains into the ground and then dry the tray in the sun. All is done. Well that is how I do it.
Tina C – I scrape them, then use plain water and a washing up brush to scrub them. Then I leave them out to dry in the sun. I bought a spare set of bars – it always seems to be raining when I clean out the eglu.
Martin B – It would be a wise decision to purchase a spare set of roosting bars, it must be so much easier to leave them in the rain!
Gallina – I would also strongly recommend a spare set of roosting bars. I no longer dread washing them. I used to worry that I wouldn't get them dry and back in quickly enough if one of my hens wanted to lay an egg; or that I would forget to put them back by bedtime.
I just leave the washed set in the window of my shed to dry and forget about them until I next need them. It makes life so much easier. We are in the Thames Water area and still under a hosepipe ban, so I keep the hose out of temptation. I scrub the bars with my old scourers and then throw them away. I try not to make the bars too wet, as I suspect they will last longer that way.
Red – I stole Hubby's special brush for cleaning the spokes of his alloy car wheels! It's brilliant for cleaning the roosting bars – you can scrub in between all the bars and it didn't cost very much either (he's had to buy himself another one now) You can get them from Halfords etc. They're very robust and also great for cleaning my teak garden furniture
When I get the kitchen re-done I am going to save my big butler sink and install it in the garden because it's an extra big one – I can get my big barbeque grill in it and so I reckon it will make cleaning the roosting bars easier too. I can't believe it hasn't occurred to me to get a spare set because that whole drying thing is such a hassle.
Martin B  – Hi Gallina – Somebody posted a while ago that they were also in a hosepipe ban area, but they contacted the local council and were allowed to use the hosepipe because of Agriculture, Livestock and Hygiene something or other.
Claret – I scrub mine in Ecover washing up liquid and a drop or two of tea tree oil, use an old washing up brush and they come up dandy. Now just got to get round to painting them.
Chelsea – I also take mine out – plaster them in Ecover and give them a scrub with a hard brush and then blast them off with the hose – not had any problems. Just invested in a spare set of bars so when the ones are drying I can put the fresh ones in and rotate them, at just over £6 for a new set – it's a bargain.
Purplehen – Mine only get a scrapping from week to week – then occasionally they get blasted with the pressure washer. It works a treat. We live in an area with plenty of water though – and no hosepipe ban that I can ever remember…..
Claret – I press Diatom onto the ends of the cars (easiest when they are still damp) and sprinkle it along the ledges that they rest on. I add some Barrier red mite powder (omlet shop) to the nest as it smells lovely and keeps mites at bay.
Eglu Owner of the Week
Jan Barrett
Where do you live? I used to be a real city girl but now I live in Warmington a sleepy village in Oxfordshire and I love it!
Occupation: I am part of Omlet's customer service team.  If you call Omlet there's a good chance you'll speak to me although I originally applied to be one of their delivery drivers!
What do you do at Omlet?   I help people with questions about their chickens, rabbits and guinea pigs and I also make sure orders are delivered on time and with a smile.
What is your greatest extravagance? –  My Husband, Matti.
Who or what inspires you?  – West Ham United on a good day (which are few and far between)
Who would play you in a movie of your life?  – Marilyn Monroe
Do you have a hidden talent?  – I love salsa dancing!
It's Sunday morning, what song do you most want to hear? – I'm forever blowing bubbles (thats a West Ham song for anyone who's not a fan – Ed)
If you were stranded on a desert island what luxury item would you have? Gino my Salsa teacher.
About your chickens
How many do you have?  – Seven
How long have you had them? – 2 years
Do they have names? – Balti, Biriyani, Nugget, Noodle, Rita, Ziggy, Marley
How many eggs do you get a week and what's your favourite way of preparing them? –  20 (unless they are on strike, which they are at the moment so 6!) Putting them in a box and giving them to Neighbours!
Do you get lots of double yolkers?  – I have had one
Do you bake more cakes now you have your own chickens?  If only I could bake a cake!
What do your chickens like more than anything else in the world? – Me
What's the funniest thing your chickens have ever done? – Escaped to the village green, then marched back following their treats bowl.  The whole village knows about me and my chickens.
If your chickens could speak, what would they tell you? Struth, a talking chicken!
Can you imagine life without chickens ever again? No, I love my chooks
About your guinea pigs.
How many do you have? – 2
Do they have names? – Derek and Clive
What's the best thing about them? – They are bonkers
What do your guinea pigs like more than anything else in the world? – Carrots
If your guinea pigs could speak, what would they tell you? – Isn't the punk/retro look a bit dated now??
If you could ask Omlet to design an eglu for another animal what would it be? –  A Giraffe
Jan and Derek the guineapig have been going to the same hairdresser for years.
With 3 eglus to choose from it's no wonder the chickens have difficulty choosing where to lay an egg.
Ziggy, Noodle and Rita do a bit of early morning yoga.
Clive thought that if he stayed in the eglu long enough he might lay an egg as well.
The chickens were getting really good at pulling the wool over Matti's eyes.
Featured Product
Cock-a-doodle-do!
Cock-a-doodle-do your way out of bed in the morning with this alarm clock.  It makes a really realistic noise so be careful not to put it where your hens can hear it, they'll get all confused.   Or if you prefer to wake up to the sound of a duck quacking then we have an alarm clock for you too!
£12.00 each – click here to find out more
Wake UP!
Omlet team
No comments yet - Leave a comment
This entry was posted in Pets on January 30th, 2007 by admin
---