Omlet Newsletter February 21st 2008
Hello! 
It's been a fantastically busy start to the year with eglus and chickens popping up all over the place. If you're a fan of local radio you may have heard Omlet customers talking about their chickens on BBC Cambridgeshire, Merseyside and Teeside and if you're a fan of Radio 1 you can't have missed Chris Moyles telling everyone about Omlet and how much he would like to keep chickens in an eglu.
It all started when he saw an Omlet van delivering an eglu for the Alan Titchmarsh show. The pink eglu and chickens performed brilliantly and Alan, who keeps chickens himself, was thoroughly impressed with the eglu although he did say he would prefer it in green to match his fingers.
Chicken Cryptic Crossword Competition

The clues are as follows:
Across






Down










If you're a bitbamboozled then here's a bit of help from the late DS McNutt "I may not mean what I say, but I say what I mean."
Invitation to a Hen Party!
here
Run You Own Hen Parties

Elsewhere in the Newsletter Barbara moves further down the road to self-sufficiency, the forum discuss chickens and dogs and eglu owner of the week is ex police woman Maria Stableford. We hope you enjoy it and if you have any questions, funny photos or just want to tell us your chicken laid a double yolker this morning we'd be delighted to hear from you.
The Omlet Team
Ps. Did you miss Valentines Day?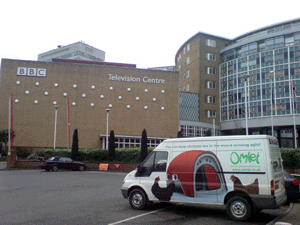 Because of the unique way the BBC is funded it doesn't allow advertising.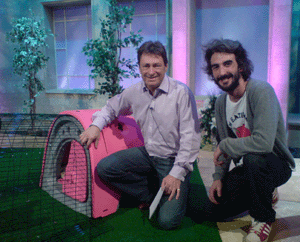 Alan Titchmarsh says "keep chickens!"
Winner of the Omlet Oscars!
You may remember that in December's Newsletter we launched the inaugural awards ceremony for films directed by, starring or written by chickens. Unbelievably this coincided with the screenwriters strike which you may know brought the whole of Hollywood to a standstill for the last three months.
However all was not lost as we managed to find a loophole! Chickens aren't union members and were therefore allowed to cross the picket line. We had a fantastic response but the judges felt that in the year of the Olympics this entry was the clear winner. The only problem is it was sent in anonymously – please get in touch we need to give you your prize and the award ceremony isn't complete without an emotional acceptance speech.
Winner of the Omlet Oscar for best motion picture!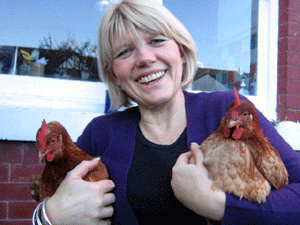 Lynda gets her chickens ready for the party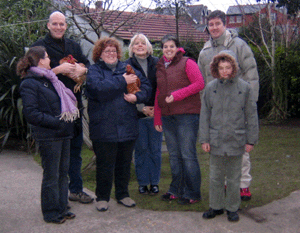 Lynda's hen party in full swing – can you spot the bride?
Star Photos
Isn't it amazing how keeping a few hens in your garden can change your attitude towards the way you shop? Since my first hens arrived a few years ago, I've thought far more about the meat I buy and especially the way it was raised. From my earliest days of married life, I'd bought free range eggs as the battery system had always appalled me but as soon as my own hens arrived, I realised that the chicken portions I'd been buying for dinner had been intensively farmed and was determined to only buy free range chicken from then on.
My own hens are obviously happy out in the fresh air, dustbathing and digging for worms so why shouldn't the chickens I buy for Sunday dinner have had a good life too? After not eating chicken at all for months, the first completely free range whole bird we bought was for Christmas the year that my hens arrived in the garden. It was a cockerel bought from a local free range farm. I know the farmer well so was happy in the knowledge that the cockerel had been running around in his fields beforehand and as we sat down to our Christmas dinner, we were all amazed at the difference in taste between this delicious, juicy bird and the tasteless, watery turkey we'd bought from the frozen food section in the supermarket the year before.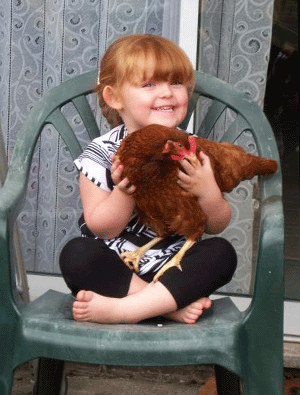 Two gingernut rangers up to no good!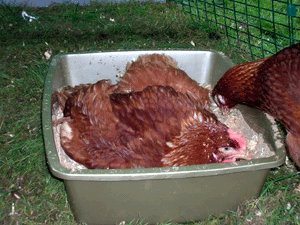 The chickens were always arguing about who should do the washing up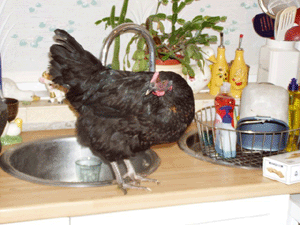 Hens that do dishes…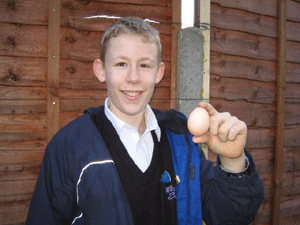 Totally converted, chicken is now back on the menu but it is treated as something special now and a whole free range bird is bought every couple of months rather than our old regime of two or three cheap chicken portions a week. After watching my lovely hens sunbathing on the lawn with a wing and a leg out to catch the rays, the extra pennies spent on a lovely free range chicken for Sunday dinner every few weeks is money well spent knowing that the bird we're eating has probably done exactly the same thing.
We've been growing fruit, herbs and vegetables for years in the garden but now also have an allotment so although we're no strangers to the "Good Life", we're now really thinking about where our food comes from. For the first time this year, we're also helping to raise a pig with friends who have a farm and will end up with half a pig in the autumn. We're planning to make our own bacon, sausages, hams etc and are really excited as the pigs are kept in wonderful conditions and will have led an extremely happy life and will be spoiled rotten in the months before they go for slaughter and this will undoubtedly make for very tasty pork.
So, with the arrival of a couple of hens a few years ago, we've gone from being aware of the plight of battery hens to thinking about the way everything we eat has been raised – from the fruit and vegetables we are growing organically at the allotment to the meat that we eat every night. The taste is worth the switch but the peace of mind that the animals have had a good, free life is even better.
You can see more photos if you click this link:  gallery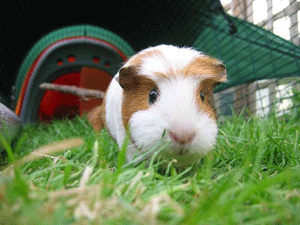 Since when did worms know how to take photos?
What's on the forum?
The big question on the forum this week is "Dogs and chickens! Can they live together in harmony?"
New member "Dogs and chickens" asked this very question this week and as always, the forum members have plenty of suggestions.
Dogs and chickens – "Hi All, Finally ordered my Eglu and so excited about its arrival at the end of Feb I am however really worried about how my new feathered friends will get on with my 2 doggies!?! We have a cocker spaniel and a flat coated retriever, both gorgeous but both gun dogs, although untrained gun dogs, do chase birds on walks – help!!! I have ordered the Omlet netting with my Eglu so they will be separate – will that be enough

Little Chickadee – Hi and welcome to the forum. We have a greyhound who got very excited (in a kind of I'm going to eat you way) when we got our chickens, but she seems to have calmed down now. We use the Omlet type netting to keep the chickens in a certain part of the garden and move it around to give the grass a chance to recover. Holly the greyhound is not one of life's bright sparks and has never tried to get over/ under the netting. The chickens have pecked her nose when she poked it through and she doesn't try anymore – they also gave my brother's Labrador a good peck on the nose and she left well alone. Netting would have been my suggestion if you weren't getting any, certainly at first, although I don't know how slightly cleverer dogs will be with it. We'll find out soon, as we will be looking after a guide dog puppy for a year! Good luck and enjoy chicken keeping.
Stevef – I've got two dogs a mad spaniel who I won't trust alone with them even though he's been pecked right on the nose, and a border collie who is extremely protective and guards them like a lion! She chase off foxes other dogs cats and squirrels.
Ain't Nobody Here – My dog (also indeterminate parentage) was very excited when my girls first arrived. We took him into the garden on a lead for the first few days but then his attempts to play with them were met with lots of flapping and pecks. He now gives them a very wide berth.
Mr and Mrs G – Hi Dogs and Chickens,
Snap! I too have a Flat Coated Retriever and a Westie, Blue and Angus. We've had our chooks for just over a month now, but today was the first time I've had the dogs and the chooks roaming around the garden together. Initially Blue the Flat Coat did have a little bit of a swipe and one of my chooks, but he was told off and after that he was as good as gold – Angus my Westie is totally indifferent to them; actually between you and me he's a little bit frightened of them as they're bigger than him – but he's not aware that I realise the fact that he's a little girls blouse!
Just gradually introduce your dogs – At first I had my dogs on leads each time I went into the garden and of course a pocket full of treats that I kept on giving them while they checked out the chooks – Also in that 1st week, every time I spent time with the chooks i.e. cleaning the Eglu and feeding them, I put Blue on a lunge rein and tied him to the washing line. But after that 1st week he was fine and was just really curious as Flat Coats are, and then today was brilliant, however I do think it will be a little while before I fully trust him. Blue still loves to chase pheasant, rabbits etc but I think he knows that chasing chickens is not good!

Chelsea – we have a big German shepherd who hates anything fluffy but she is absolutely brilliant with the chickens! She was rather inquisitive at first and sniffed a lot, after a few stern "no's" she got the point that the chickens were staying and they are all best pals…she even lies next to them when they dustbathe! Just take it slowly with gradual introductions and you should be fine. In my chicken encyclopaedia it says "some dogs become protectors of chickens" !!
Dogs and chickens – Thank you all so much for your comments. I'm not so worried now. I will keep them in their Eglu run to start with, as suggested, then add the netting when they all look happy and settled! One of our dogs is really stupid, but the other one really clever, but lucky enough it's the smaller one who is clever so hopefully a swift peck from one of the new girlies will do the job. Any other advice gladly received. Many Thanks
Eglu Owner of the Week
Maria Stableford
About You:
Your occupation: Your occupation Housewife – In order to meet the criteria for this post I have had to show competency in the following: cooking, cleaning, being able to answer immediately to most names, taxi/car provider, decorating, peace keeping and anything else that know body else wants to do. I also write a monthly chicken diary for my local newsletter the Bradley Bugle.
Prior to this I was a police officer for 10 years.
Where where you born? Rushgreen, Romford.
When and where did you have your first kiss? Whilst on a job in the police when my police officer hubby asked me out. We were in a very romantic location – a parcel force depot.
What is your greatest extravagance? My eglu-cube ! – No, it would have to be everything horsey – living in Newmarket we all seem to have caught the horsey bug. My extravagance include horse paintings, books and photos as well as riding
Do you have a hidden talent? I can wiggle my nostrils and touch my nose with my tongue. I am a keen watercolour painter and specialise in painting portraits of peoples homes. More recently I am trying to (and failing) to get a childrens book which I wrote published. )
Who or what inspires you? It would have to be J K Rowling. As well as admiring her writing I think that she is a great person .
Who would play you in a movie of your life? Probably – Meryl Streep as it has previously been said that I look like her. I can't see it somehow, I would prefer to be likened to Angelina Jolie !
What's your most annoying habit? I am a bit of a snacker if that counts. I just can never stop nibbling.
Is there anything you regret? We moved to the countryside 4 years ago, having previously lived in a very busy town. I just wish we had been brave and made the move sooner.
What was the last film you saw and was it any good? My husband and I watched Adrift. It was very depressing. I have recently made a string of bad film choices so my husband has banned me from choosing any more.
 It is Sunday morning, what song do you most want to hear? The Redlands Palomino Company – Coastland
You can go anywhere in the world, where would you go? I have backpacked in Egypt so it would have to be sailing along the Nile with my husband whilst drinking wine and watching the sunset.
About your chickens.
How many chickens do you have? Six.
How many eggs do you get a week and what's your favourite way of preparing them? About 22. We love to eat them scrambled. The yokes are so bright it makes the scrambled egg appear to almost glow.
Do you get lots of double yolkers? Probably about one a week. This event always causes a lot of excitement in my household. My two young daughters argue as to whom will eat it.
Do you bake more cakes now you have your own chickens? Yes – I do. I usually tend to use the eggs in cakes when we have a glut of eggs (not that often).
What do your chickens like more than anything else in the world? Spaghetti – they run around the garden chasing each other with long bits dangling from their beaks which is hilarious.
What's been the most surprising thing about keeping chickens? We initially got the girlies as a learning experience for my 4 and 7 yr old daughters but my husband and I have found the whole thing really enjoyable and can't imagine life without our little feathered friends.
What's the funniest thing your chickens have ever done? We have a bridge which goes over a pond in our garden and when I call them they stampede over the bridge as if they are having a race. It is also very funny when one of them falls into the pond. They always seem to be able to fish themselves out, fortunately.
Can you imagine life without chickens ever again?Never !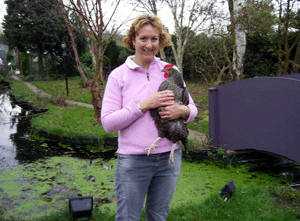 Ex-Policewoman Maria demonstrates her chicken restraint technique.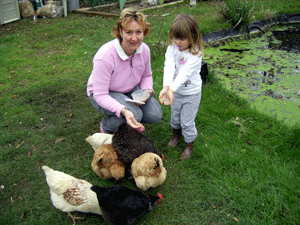 Its quicker just to feed the kids layers pellets.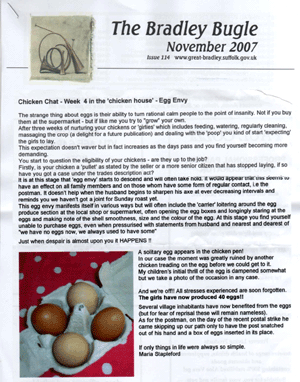 Maria's blowing her own trumpet in the Bugle
To say Maria was proud of her hens eggs was a bit of an understatement.
Featured products
Lots of fantastic new chicken products in the Omlet shop!
Here is just a small selection go online to see the full range.
Chicken Bookends
Keep your collection of chicken books in order with these beautifully arranged wooden bookends.  Made from laser cut wood and brightly coloured too they will look brilliant on your shelf.   And what's more you can say goodbye to holes in your books as the chickens will make sure there are no bookworms hiding in your library.
All this for just £17.50  Click here to find out more.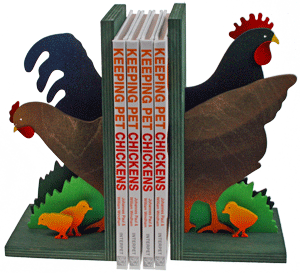 The chickens spent ages looking for any bookworms
Wooden chicken clock
Countdown the time to your next egg with this wooden clock. Features a chicken scene cleverly built up from layers of brightly coloured laser cut wood.  This would look great in the kitchen.  The clock face diameter is approximately 22cm and it requires one AA battery (not included).
All this for just £17.50  Click here to find out more.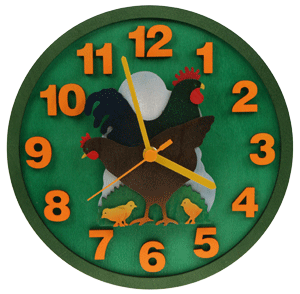 Clock a doodle do!
Cube Winter Shade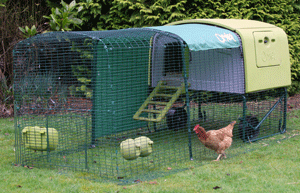 The new cube winter shade
Cube Wind Shade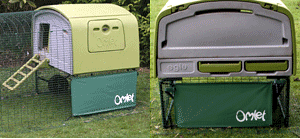 The new cube wind shade
Get the morning off to a good start.
Face the day ahead with a spring in your step thanks to a good breakfast and there's no better way to do it than with an soft boiled egg and soldiers.  These delightful eggcups are just the thing for serving the egg and the campervan toast rack is sure to amuse any wannabe surfers out there.
Egg cups set of 4 – Order now  for £6.50
Camper van toast rack – Order now for £7.5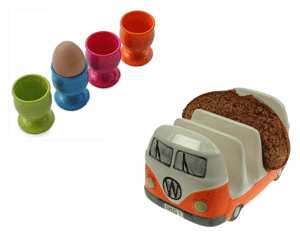 Egg cups and toast rack
Omlet team
This entry was posted in Pets
---