Hello!
In the Omlet shop now – Plastic Roosting Bars!
Possibly the most hotly awaited accessory for this summer, but don't just take our word for it – here's what some of our customers had to say:
Plastic Roosting Bars – 19 Jun 2008
by Cath
100% better than the wooden ones…the plastic ones are brilliant. Easy to clean, hardwearing, durable…. This is one of the best additions to the Eglu. I would highly recommend you get a set of these plastic ones – you won't need your wooden set any more.
And if that wasn't enough they are also available as a refresher kit with a new matching shade…
Pink refresher kit – excellent! – 12 Jun 2008
by Emma Roberts
I've been waiting ages for plastic roosting bars! These new ones are just brilliant! Less place for red mite to hide. I love the egg shaped grips. They are just so much more practical & make the eglu look so much cleaner, as the poo just slips off! I'll be able to dry them with a cloth too, no waiting for wood to dry out! Absolutely love the pink sun shade. Makes the eglu look like brand new. A fantastic idea & it brightens up the garden. Ordered yesterday, came today. You can't get better than that! Thanks Omlet!
Details of how to get your own set are at the bottom of the newsletter, now on with the rest of the news…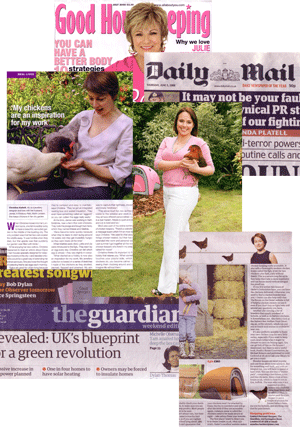 Anne Shooter proves keeping chickens and being glamorous go hand in hand.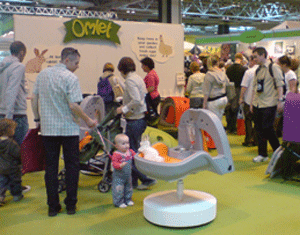 It seems that toy rabbits are far more appealing than Eglus.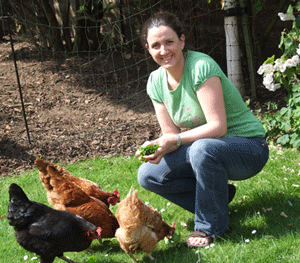 Suzanne's chickens love to show off at her hen parties.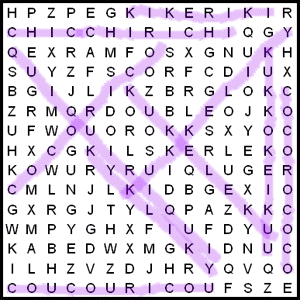 Nicola Oldham's winning entry.
While the caption editor's away the Newsletter readers get to play. Send us your entry for this months competition.
Henmania
Normally at this time of year we're all tuning in to see Henman start his Wimbledon campaign and Omlet takes the opportunity to make numerous eggscruciating puns involving chickens and tennis but now Tiger Tim has retired we won't be doing that. It hasn't stopped newspapers and magazines serving up all sorts of hen related stories though. Chickens have been cropping up all over the place because they are becoming so popular. Anne Shooter, pictured left, wrote a smashing piece about her hens in the Daily Mail. Next up was The Guardian which recommended that anyone courting the idea of keeping chickens should make a line call to Omlet asap. Good Housekeeping made it 3 sets to love with a feature on a lovely eglu owner called Christine Kaltoft who has her given her jewellery designs a new spin since she got her chickens.
As all eglu owners know, chickens don't make a racket, lay a volley of eggs every week and play well on grass. The balls in your court but why delay when you could join the club right now!
Beauty Queen
In last months newsletter, inspired by the eglu and chickens in Marie Clare, we asked you to send in pictures of you looking glamorous with your chickens. Although we're still awaiting the first official entry we've decided to award Anne Shooter with one of the 10 beauty products we have waiting for the winning entries. We're sure that you all look fabulous when you feed your chickens so go on – take a photo and send it to stephanie@omlet.co.uk for your chance to win.
Eglus on Display
Shows are great fun as they give us the chance to meet loads of people and chat chickens.
The Omlet stand is always busy with people keen to inspect the eglu and our eggspert Omleteers can answer any questions you have so it's worth popping along. Thank you to all those who visited us at Gardeners' World Live, our next show is The Royal Show at Stoneleigh Park on the 3rd-6th July we have stand 76A-2-8. After that its the RHS Flower Show at Tatton Park from the 23rd to the 27th of July. Hope to see you there!
New look for Hen Parties
If you are looking for something a bit different to do this summer why not go on a Hen Party? The pages online have had a revamp and are now easier to navigate with better pictures. Of course the actual Hen Parties are still brilliant fun and informative too. The beginners course gives friendly guidance on how to look after chickens, and the advanced course advises on health and physiology, a fun way to benefit both you and your chickens. If you are interested in attending a party visit the courses section.
Had your first egg?
If you've had your first egg, experienced a broody hen and can empty the dropping tray blindfolded then why not run your own Hen Party. You could show other people what a delight it is to keep chickens at home. All you need to do is The beginners course is a really informal and , if you are interested in becoming a hen party host then click here to find out more.
Cock-a-doodle-wordsearch-winner
May's cock-a-doodle-do wordsearch obviously had you all scratching your heads for answers. All those c's and k's were so ccconfusing, it's amazing any of you cccrackkked it at all. No doubt there are some chicken language experts out there by now. Congratulations to Nicola Oldham who was randomly selected by Dr Egghead as the winner. The door hanger is on it's way to you! If you weren't a winner this time don't despair, we have another competition ready for you to enter…
Caption Contest
The Captions Editor is on holiday next month so we need your help coming up with witty captions for the next newsletter. We love this photo of Alfie the Pekin and Mickie the Birman, sent in by Debbie. Send your entries to stephanie@omlet.co.uk. The best caption will win a new eglu refresher kit, including a set of plastic roosting bars and a funshade in the colour of your choice or a set of plastic cube roosting bars. Good Luck!
And finally…
Chickens may help relieve us from severe allergic reactions. Scientists have discovered a molecule in chickens that seems to have been locked in a 160 million year time warp. Dr Alex Taylor, one of the researchers, said: "This molecule is like a living fossil – finding out that it has an ancient past is like turning up a coelacanth in your garden pond." Couldn't agree more, its been ages since we last spotted a coelacanth. Read the whole story here.
We hope you enjoy the newsletter,
The Omlet Team
Barbara's Weekly Diary!
The warm weather we've been enjoying over the last few days has certainly had an effect on my hens. I've just had two go broody and as we rely on the eggs so much, a broody hen blocking the nest for a minimum of three weeks isn't on as there's nowhere for the other hens to lay. We've come to recognise the signs that a hen is going broody very quickly now and if we act as soon as we spot these signs, we can usually snap them out of it in a day or two, thank goodness. Both broody hens exhibited the same signs. They both spent far too long laying their eggs and when we peeped in through the eggport, they made the most awful screeching noise and puffed their feathers up from the tops of their heads to the tips of their tales as they flattened themselves in the nest. Someone on the forum used the term "feathery pancake" and it's so very apt! This is usually accompanied by the urge to give you a nasty peck if you dare to reach in and move the hen and both of my girls took extreme exception to me removing them from the nest – ouch!
Broodiness is triggered by a rise in body temperature and it's amazing how hot they feel when you pick them up. One had already stripped the feathers from her breast to line her nest and her flesh was hot and clammy so the best course of action was a cold bath to cool her down. Fortunately, neither hen objected and they sat quite happily in a sink full of cold water while I talked to them and tickled their necks. They came out and were allowed to dry naturally in the sunshine while I blocked the nest to prevent them from sleeping in it. They get far too hot amongst the wood shavings at night and this just prolongs the broodiness, so I try to get them to roost on the bars instead so that air can circulate around them and keep them cooler. As they dried, they both wandered around the garden, making rather cross sounding "bok-bok-bok" noises every time I went to see if they were OK, and they were most put out to discover that I had stopped them from getting back into the coop by closing the door once the other hens had finished laying. By morning, the "bok-bok-bok" sound had stopped and they no longer felt the urge to get into the nest so quick action seems to have won the day – until next time!
Star Photos
"Day 15 in the Eglu. The chickens are arguing over food, again."
Hopefully somebody is ready with the safety net as this chicken is about to lay it on the line.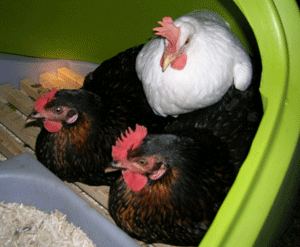 Having discovered the luxury of feather pillows she vowed never to return to roosting bars.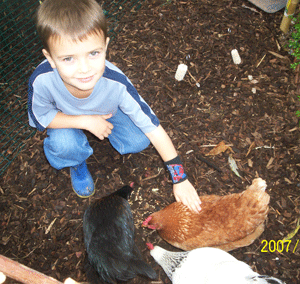 James practices his Vulcan nerve pinch on an unsuspecting gingernut ranger.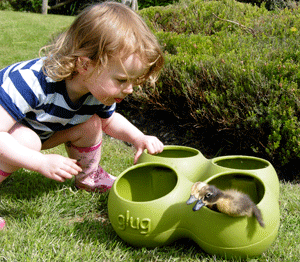 The glug makes a good paddling pool for these little ducklings.
You can see more photos if you click this link: gallery
 Tom's Recipe of the Week
Wasn't it an awful start to June? Barbara was so concerned about the hens getting trench foot, I caught her researching chicken wellies on the internet. Now that the summer solstice has been and gone the days are warmer and the chickens seem to be at peak production. We are regularly getting a 'full house' most days. With the warmer weather approaching two of the girls decided to go broody, I'm afraid I'm fairly strict with this sort of behaviour so a quick spell sitting in the kitchen sink filled with cold water soon snapped them out of it.
I am glad to say that the 'Cottage Eggconomy' is alive and kicking here. With so many revellers down this way to visit Stone Henge, we set up an honesty box type of arrangement at the front gate. Lettuce, radishes, the odd punnet of strawberries, some new potatoes and of course eggs, were all on offer. Barbara even made up some small posies of garden flowers and sold those for £2 a piece. That's my girl!
Time for another recipe. This one is a beauty, easy to make and delicious at any time of day. Ideal for picnics.
Watercress, Feta cheese and Sundried Tomato Scones
225g Self raising flour
1 tsp baking powder
pinch of salt
40g butter
1 egg (of course)
splash of milk
1 large handful of watercress, chopped (really large stalks removed)
75g feta cheese – crumbled
50g sundried tomatoes – cut into small pieces
1. Preheat oven to 220c
2. Sift the flour and baking powder in a large bowl and add the butter, rub until breadcrumb consistency.
3. Add the cheese, tomatoes, salt and watercress and mix well.
4. Make a well and add the beaten egg and a splash of milk.
5. Mix until it comes together to form a firm dough, adding more milk if needed.
6. Pat down on a floured board and using a 5cm cutter, cut out the scones.
(You can get 10 scones out of this recipe, but I get 8 as I make them 'deeper'.)
7. Brush with milk and bake for 12-15 minutes until golden.
No need for butter! (I still put lots on though)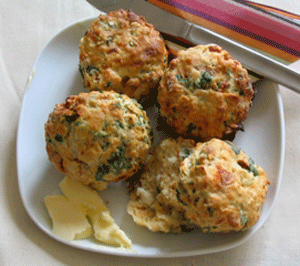 These wouldn't last long at Omlet HQ!
Eglu Owner of the Week
About You:
Your name: Fiona McGregor.
Your occupation: Optical Advisor (retired Practice Nurse and Midwife).
Where and with who do you live? Larkhall, Lanarkshire with my daughters.
What time do you get up in the morning? 8am.
What is your favourite outfit? Anything comfy like my favourite blue fleecy.
What would you choose as your last supper? BBQ Chicken Pizza.
What's your greatest extravagance? 3 Eglus, a Cube….and my Mercedes C240 CLK.
Do you have a hobby or a hidden talent? Chicken keeping and hatching.
What song do you most like dancing to? Something by Madonna or Girls Aloud.
If you won the lottery what's the first thing you would do? Drink a lot of Champagne!
About your chickens:
What are your chickens called? Iona, Belle, Jasmin, Wendy, Evie, Freya, Ness, Lulu, Katie, Annie, Eddie, Rosie, Bonnie, Alba and Heather!
How many eggs do you get a week and what's your favourite way of preparing them? Was about 70 but down to 50 at the moment – no idea why! I love scrambled egg in a croissant.
Do you get lots of double yolkers? Not that many.
Do you bake more cakes now you have your own chickens? Bake – what's that?!
What do your chickens like more than anything else in the world? Sweetcorn.
What's been the most surprising thing about keeping chickens? How little housework I get done.
Can you imagine life without chickens ever again? No.
Fiona's 15 chickens lay up to 70 eggs a week!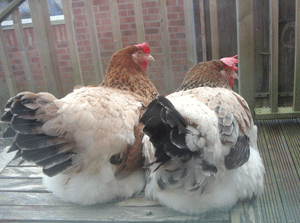 Did these two chickens hatch from a double yolker?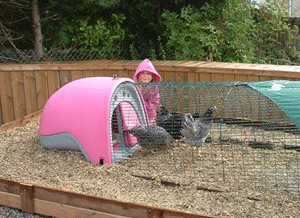 Is that a fourth chicken dressed in pink?
Lots of fantastic new chicken products in the Omlet shop!
Here is just a small selection, go online to see the full range.
Treat your chickens…
Roosting Bars Plastic – Cube
Keep your Eglu cube in great condition with a new set of roosting bars. Made from hardwearing plastic they are durable, easy to clean and long lasting. Complete with an egg design grip surface.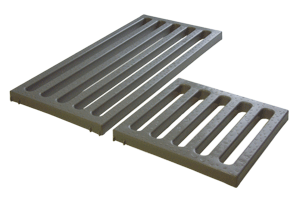 Roosting Bars Plastic – Eglu Mark 2
The same brand new roosting bars, but for the Eglu. Cheer up your chickens with a taste of designer living. Please note these roosting bars are for mark 2 eglus, which were supplied from Spring 05 to present.
Funshade
You've heard of buying shoes to match an outfit…well now you can buy a funshade to match your eglu! The brightly coloured shade will cover approximately half the eglu run, clipping easily on with bungees, and providing enough shade to keep your chickens cool throughout the Summer months. Available in all of the omlet colours.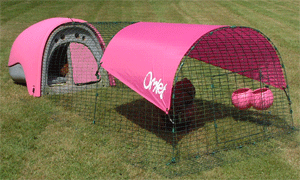 Give your eglu a makeover with the brilliant new funshade!
Refresher Kit
This kit is a great way to give your eglu a spring clean. Includes the plastic roosting bars for Eglu and a funshade in the colour of your choice, and it is cheaper than buying them seperately.
Treat yourself…
Wipe clean shopping bags
Be green, gorgeous and guilt-free when shopping with this stylish shoulder bag. Roomy enough for all your goodies you can easily cut down on your plastic bag usage, and the plastic coated cotton means it will last you a life time. Complete with an inside zip pocket to secure your essentials.
Packable Bag
Just as environmentally friendly and large enough for your grocery shopping, but here's the bonus: the 36 cm square bag folds up and slips into a 10 x 12 cm pouch that can easily fit inside your handbag. Carry it around wherever you go and unleash the roosters when you need a helping hand.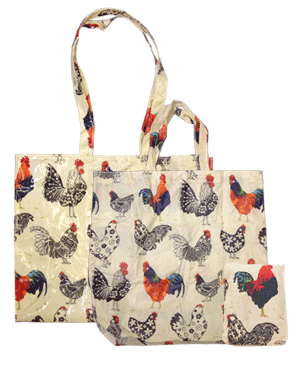 For all shopachickenholics
Omlet team
No comments yet - Leave a comment
This entry was posted in Pets on June 27th, 2008 by admin
---