Omlet Newsletter August 1st 2008
Hello!
There are lots of treats in this month's newsletter, including a new competition, a recipe for the perfect pavlova and an eglu owner of the week whose chickens steal his prize raspberries. Can he bring himself to forgive them? He's a bit of a Bond wannabe so will he use his licence to kill? By the sounds of it Barbara could sympathise with him because she's missing a few gooseberries… and she thinks she knows whose to blame. Make a cuppa and take five minutes to read the latest from the wonderful world of Omlet. Just one warning this newsletter also contains several references to chicken poo.
Beauty Queens
After Marie Claire included the eglu cube in a fashion shoot we wondered what eglu owners normally wear to collect the eggs and empty the dropping tray. We should have known you would be just as gorgeously glamorous. Thank you to Lisa Cains and Kathryn Evans for your eggcellent photos, and to make sure you always look radiant a chicken poop lipbalm is winging its way to you now.
We still have 7 of these rather alternative lip balms to give away so we've decided to open up the competition to men too. Morning suits aren't just for weddings and the more pin stripes on your doublebreasted the better. If you're a chap that's got what it takes strike a pose and send your pics to stephanie@omlet.co.uk.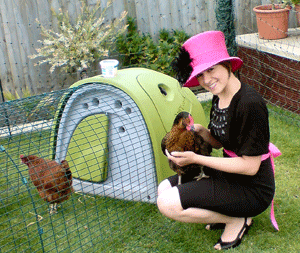 Lisa proves you don't have to be a chicken to look fabulous in feathers.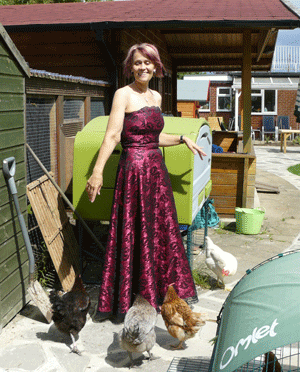 Kathrynella, you will go to the ball!
Chicken poop lipbalm – its great!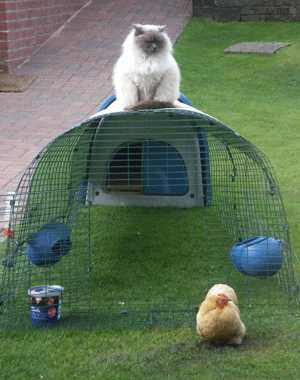 Cough cough – that was one hell of a fur ball
Can your crop compete with Medwyn's marvellous display?
Penguins in an iglu at the RHS Show Tatton Park
Caption Comp is a Cracker
In the last newsletter we asked for your help while the caption editor was away. Judging by the number of entries we received the Caption Editor was either sending in secret entries or you just can't resist a funny photo.
Mickie the cat and Alfie the Pekin bantam provided lots of opportunity for you to come up with some classic captions, here are some of the best.
"I hatched one. I AM a chicken!" – Victoria Lloyd
"Top of the Pekin order" – Sandra Hares
"This being broody lark is kinda purrrfect" – Andrea Hopwood
"A Pekin Tom!" – Nicky Flood
"If that's the new cockerel, I'm off!" – Jill Jackson
"Looks like the coast is clear, i'm off!" – Anonymous
But, there could only be one winner, and it was a cracker (see caption on right). Congratulations to Trish Hayman who wins a bright, new refresher kit for her eglu. What an imagination!
Another Competion Cropping Up
Omlet recently had a stand at the Tatton Park RHS Show where we saw the amazing vegetable display by Medwyn Williams who is a superstar on the veg growing circuit. Inspired by this we thought it would be fun to honour the fruit and veg growing in your backgarden. No doubt your patch has been nourished by that most nutritious of fertilisers, chicken poo, and you have grown some whopping lettuces, marvelous marrows and curious carrots.
Send in your photos of the weird and wonderful – Omlet's head gardener will choose the best. All entries should go to stephanie@omlet.co.uk for a chance to win the fantastic birdhouse pictured.
You can be as creative as you like with your eggshibiting technique or simply snap your beans and berries while they're still hanging. And don't panic, we are not eggspecting anything quite as impressive as Medwyns Tatton Park display shown on the right.
Touring Britain
Wow, that's a lot of competitions, now time for some news. The Omlet tourbus is racking up the miles, just as well it runs on environmentally friendlier LPG. The Omlet team may not sing as sweetly as your average boyband but they're certainly just as good looking (if not better). Thank you to all those that visited our stand at the RHS flower show, the scorching sun and the fabulous flowers made it a very popular show indeed.
Last weekend we were at the Innocent Village Fete at Regent's Park which was fun even if the rain did do it's best to dampen our enthusiasm.
In the near future you'll also find us at:
The Royal Berkshire Show, Saturday 20th – Sunday 21st September
The Malvern Autumn Show, Saturday 27th – Sunday 28th September
NEC Grand Designs, Friday 10th – Sunday 12th October
Say hello, ask some questions and take a good look at the Eglu!
Despite the rain people flocked to see the chickens at the Innocent Fete in Regents Park.
Cirque Du Poulet
And last, but certainly not least, we are proud to have launched the German and French Omlet websites. So if you live in either of these fantastic countries you can now buy your very own eglu. Could it be, we are slowly spreading the glory of keeping chickens throughout the world? It's an eggidemic! Visit www.omlet.de and www.omlet.fr to check it out, and if you cannot resist but to buy one then we would love to see your photos.
Have a good day!
Bonne Journee!
Schoenen tag noch!
The Omlet Team
Barbara's Diary!
Daylight Robbery!
To be honest, I'm a little miffed at the moment. I was looking forward to getting the jam pan out when our gooseberry crop was ready for picking, as home-made gooseberry jam on toast is one of my favourite things for breakfast.
The gooseberry bushes are at the bottom of the garden and were looking lovely a couple of weeks ago, although suspiciously lacking in leaves on the lower branches. However, colander in hand, I went to see if any were ready for picking yesterday, only to find that they had been stripped to chicken leaping height and only a handful of berries were still present, which were obviously out of reach from my "hungry" hens. To make matters worse, the rascals decided to give me a gooseberry stealing demonstration as I stood there with wide open eyes!
One by one, they showed me how cleverly they had mastered hopping up onto the branches of an old tree which we'd put in the run to give them something to sit on, and were then able to use the highest branch as a springboard so that they could leap higher, enabling them to grab a nice ripe berry on the way up and gobble it down as they landed on the ground. I had to laugh to see them doing this as they looked so comical queueing up to use the branches, but there aren't even enough berries for a small bowl of gooseberry fool, let alone several pounds of jam this year. Isn't it funny that they didn't touch the bushes at all last year and feasted on my blackcurrants instead!? Their tastes are as fickle as ours sometimes.
What with being forced to share gooseberries with the hens, and the blueberries, raspberries and strawberries with the blackbirds, we have had to resort to netting everything, as our lovely soft fruit is very much under siege. Never mind though, because the hens are more than making up for their gooseberry thieving with a steady supply of eggs now. We frequently have more eggs than we know what to do with, which is super after the winter months when we hardly had any and had to resort to…. (shock!)…. buying them. We're able to enjoy shortcakes, meringues, pies and tarts, all made with our own soft fruit and fresh eggs. Summer delights indeed!
Star photos
Dave demonstrates how easy it is to check a chicken's pulse.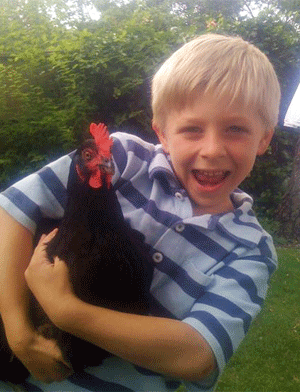 Three Cheers for Chickens… Cluck Cluck! Wahey!
The quick way to a beakini body.
Surely this should be an entry in the Glamorous outfit competition?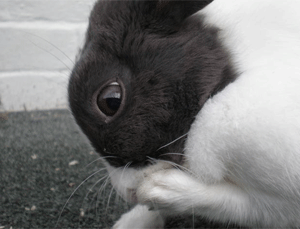 The new rabbit manicure.
You can see more photos if you click this link: gallery
Tom's Recipe – Berry Pavlova
The chickens have been laying like troopers. The longer days mean that we have an excess of eggs and we have been selling quite a few to passing ramblers.  It is wonderful every time the door bell rings, we have someone wanting to buy our eggs.
The few sunny days recently have really helped the fruit garden.  The raspberries, strawberries and even blueberries are doing well.  We seem to have a glut at the moment, something that is never a chore when it comes to such a versatile harvest. The gooseberries may have mysteriously disappeared, but I can't say I'm a huge fan anyway.
Barbara has been making some delicious tarts, cakes and flans, so I thought I would use the chicken's produce and combine the two!
For the meringues:
2 Egg Whites ( From your own chickens )


1) Preheat oven to 150 C/ 300 F/ Gas Mark 2.
2) Whisk the egg whites until stiff.
3) Gradually beat the sugar into egg whites until the mixture is thick and glossy.
4) Whisk the cornflour into the mix, and finally add the vinegar.
5) Whisk until the mixture is very thick.>
6) Pipe the meringue mix into small 'islands' or spoon the mixture into small 'blobs' onto a baking parchment lined tray.
7) Place in the oven and reduce the temperature slightly.
8) Bake for 45 minutes to 1 hour, until they are crunchy. Allow to cool.
For the filling:
170ml whipping cream


1) Whip the cream and orange flower water until it is thick and holds it shape.
2) Mash half the raspberries and add to the cream, mix well.
3) Sandwich the cream and raspberry mixture between 2 meringues and top with more cream and the remaining berries.
The meringues stay fresh for ages when kept in an airtight box.
Hope you enjoy!
Eglu Owner of the Week
About You:
Your occupation: Unintentional lawyer, aspiring writer
Where and with who do you live? Live with my girlfriend Mel in Edinburgh (technically they're her chickens as they were bought for her birthday) and two rescue cats (Bambi & Mecca – or Wee Man and Fatboy as they're more commonly known).
What time do you get up in the morning? About 7am – the cats won't put up with being fed any later…
What is your favourite outfit? Changes depending on my mood, but generally the ubiquitous 'smart casual' without any logos shouting to the world. I like nice quality clothes, but don't feel the need to let everyone know how much I spent.
Which is your favourite season? Winter if it snows, summer if it's sunny – so more likely to be Spring and Autumn these days.
What would you choose as your last supper? Oooh, tough one. I love whole roasted Sea Bass. Or homemade pasta. Or devilled crab. Am I allowed to mention a Sunday roast chicken here? But in all likelihood I'd go for the perfectly basic steak (done nicely rare) with proper big chunky chips.
Do you have a hobby or a hidden talent? I do a lot of cycling and run a monthly online magazine at www.citycycling.co.uk which is (hopefully) becoming a proper print mag sometime soon – it would be nice to have a hobby paying the salary!
Who would play you in a movie of your life? I'd love to say someone like Daniel Craig (I've got the blonde hair and blue eyes at least) but more likely to be Mackenzie Crook. Can I have Audrey Tautou as my co-star?
What song do you most like dancing to? Walking on Sunshine or the remix of A Little Less Conversation If you won the lottery what's the first thing you would do? And…. Relax…. (need to save the energy for all that spending).
About your chickens:
What are your chickens called? Margot (following the Good Life Cliché) and Miss Hennypenny (betraying my 007 movie geek side). Barbara and Princess Layer were discarded names.
How many eggs do you get a week and what's your favourite way of preparing them? 5 to 6 at the moment – they were put off for a while after a fox visit and a bout of gapeworm!
Do you get lots of double yolkers? Definitely more than from the supermarket!
Do you bake cakes now you have your own chickens? As if I needed the excuse for cakes…
What do your chickens like eating more than anything else? They go absolutely mad for blueberries, as well as stealing the raspberries growing behind our greenhouse.
What's been the most surprising thing about keeping chickens? The sheer comedy value as they chase each other for food. There's something about the way they move (especially at a run) that is endearingly comical.
Robson has always been a hit with the birds.
I've got my goldeneye on you.
One, two, three, four, I declare tail war.  Chickens in training work on their rear guard.
Lots of fantastic new chicken products in the Omlet shop!
Here is just a small selection, go online to see the full range.
For Mum…
Lip Balm Chicken Poop Whoever thought slathering your lips with chicken poop would make them so kissably soft and sweet smelling!? Now wait, before you go running into the garden to find your very own au naturale, organic stuff, just don't. The brown stuff will do nothing for your smooch factor. This 100% pure, free-range version contains lovely natural ingredients such as sweet orange oil and beeswax, making it a treat to put on and a pleasure to lick off. So pucker up and get pecking!
  Sounds so wrong, smells so good.
Click here to buy now for £1.95
For Dad…
BBQ Sword These days there aren't many things a man can call his own, but (and we know we're treading on hot coals here) the barbecue is one of them. Light a fire in the garden and no matter how reluctant he has been to venture into the kitchen a man will suddenly discover his culinary side. It has been said that the connection is as instinctive as a monkey and a nut.
However, the problem with barbecues has always been the choice of tool available, but now your style problems can be solved with the brilliant BBQ sword. Men pick up your swords, ladies stand aside. Of course we wouldn't be encouraging the use of a real sword, but this has no blade, just a twin pronged fork, for the perfect steak stabbing tool. More powerful than a regular fork this will make you look, and feel, every inch the alpha male. No one will dare complain that the sausages are overdone. Team with black clothes and the free cut-out mask to transform into a true musketeer, and prepare to battle with the burgers and defeat the drumsticks.
For Kids..
Gel Gems Let your imagination run wild with a pack of clingy, colourful gel gem. They can be stuck on any glass surface, whether it be a window, computer screen, mirror or even a drinking glass. These are aimed for kids and will keep them amused for hours, but, lets be honest, they can be fun for adults too! Create, decorate and when you're bored peel them off and start again. So much simpler than wallpapering! Choose from glitter eggs, rabbits or chicks. Suitable for ages 4+.
Babygrow Omlet Babies look cute whatever they are wearing, but there's something about a white, cotton babygrow that makes both babies and parents go goo-goo. This babygrow has all the qualities of the traditional whitie, but with an added green 'chickens are eggcellent' logo that will make your tiny tot stand out from the crowd. Made from 100% cotton and suitable for babies of 12 months.
Click here to buy now for £9.50
Omlet team
This entry was posted in Pets
---