Omlet Newsletter October 31st 2008
Boo!
Round about the caldron go;









Hope you had a happy Halloween!
Bake Me Happy Results
News just in from Tom:
Well what a competition it has been.  I had to dash off to the south of France with my pals Nigella and Delia to have a really good look at all the pictures and decide on a winner.  It was a tough job, but someone had to do it!

1st: Emma Roberts with her splendid coffee cake.
2nd: Aimee Hayward with her brilliant chocolate chicken biscuit.
3rd: Kathryn Evans with her glorious golden syrup Omlet cake.
Thank you to all those who entered, and if you've been baking anything spooky do send a photo.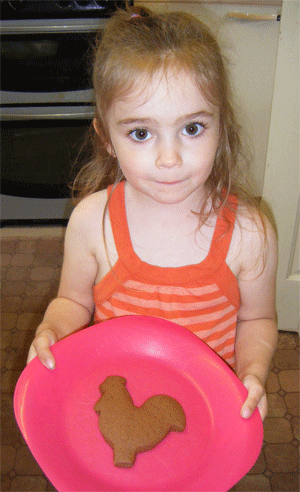 What she doesn't want us to know is there were actually 10 biscuits to start.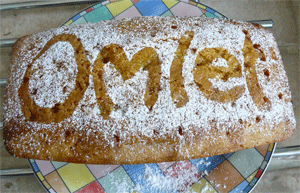 A  cake that says Omlet!? Why didn't we think of that?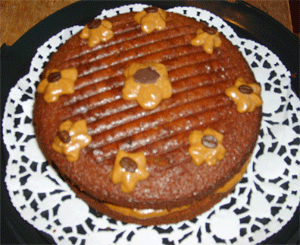 Emma's Prize Winning Coffee Cake
Pumpkin Carving Competition
Halloween is the busiest time of the year for witches, ghosts and ghouls, and it is a proven fact that pumpkins are the most effective way of scaring them off. But whether or not you believe in their protective skills, they are always fun, if a bit frustrating, to carve into spooky designs. We want to see scary faces, creepy cats and weird witches. The more spooktacular the better! And if we are amazed, impressed or just spooked out, you could win a very frightening prize…We have a bat house to give away to the overall winner – a particularly good prize for vampires (or nature lovers), and  frog king and queen  watering cans for  2nd and 3rd place – used commonly by witches (or gardeners with a sense of humour).
So what are you waiting for? Get those jack o' lanterns lit and take a pic! Send to stephanie@omlet.co.uk
Country Living
We have been eggcibiting at loads of different shows this year, meeting lots of people and showing off the eglu. The Country Living Christmas Show is one of the best of 2008. It's on now until the 15th of November, at the Business Design Centre in Islington, this show is a MUST for anyone that wants to get in the festive mood. A magical place full of Christmas crafts, handmade gifts, traditional toys, beautiful clothing and an abundance of festive food and drink. It really is a gorgeously exciting show for all.
So if you like the sound of drinking some mulled wine, eating a mince pie (or two) and doing some glorious Christmas shopping, book your tickets now to save! Adults £11.50, children £7.00, and under fives free. And if you see the Omlet stand, come and say hello!
Egg Skelter
We love a good story here, especially one with a happy ending, and if it involves eggs or chickens we love it even more. Our egg skelters have a lovely little background… one Christmas a gentleman was having difficulty choosing the perfect present for his wife. After receiving a terrible response to the toilet pan he had bought her the previous Christmas (a well justified reaction) he knew he had to get it right this time. So he made her an egg skelter. A brilliant device for storing their chickens freshly laid eggs, in the right order. It turned out to be a beautiful way of displaying the eggs, and it was really quite an ingenious idea! She loved the gift and they decided to make 100 more to 'share the joy'. It only took three days for them to sell out, so they have been making more and more ever since.
The egg skelter is really popular with chicken owners and we are privileged to now stock this wonderful item. It is available in cream or pearl, for hen or bantam eggs, and each one is handmade with love and care. You can buy it now for just £19.95.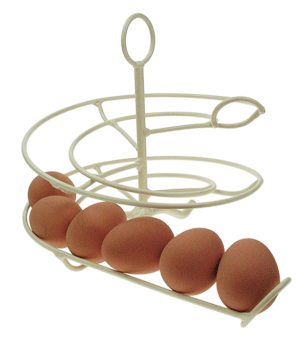 A family of eggs enjoying a day out at the fair.
Very Eggciting News for Americans
Well what a week its been in the USA, it started almost 2 years ago and we know a lot of people have been asking for it so it's with great pleasure, pride and humility that we announce the eglu cube is now available to buy in America!
The cube is a great way of keeping up to 10 chickens comfortably, and it is a brilliant choice for expanding your flock. And with up to 10 chickens just think of all those eggs…
If you would like to find out more then pleaseclick here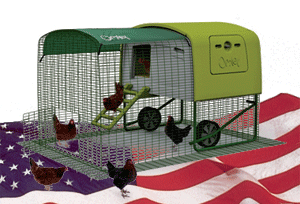 Chicken Art
We were recently sent a photo of a huge, metal cockerel on display in Dorking. A fantastic piece of art perched in an unusual location, by the roadside. Margaret drives past it everyday on the way to work and she thinks it's wonderful. Perhaps we should have something similar outside Omlet HQ…
If you know of any other art or sculptures based on chickens please let us know and send in a pic. The more bizarre and extravagant the better!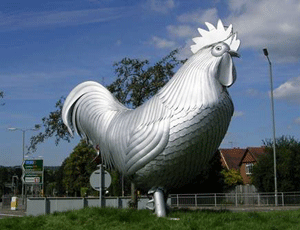 The councils attempts at getting workers up in the morning were getting more eggstreme.
The Omlet Team
Star Photos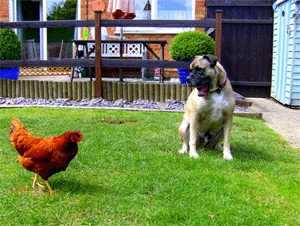 Now you're scaring me , if you come any further I think I'll have a heart attack.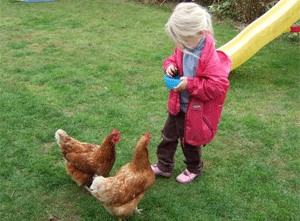 Meanwhile in another garden some chickens learn the value of saying please.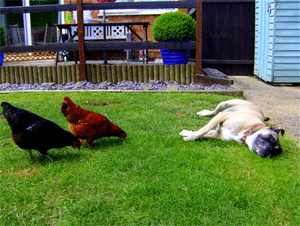 Blimey I thought he was joking.

Barbara's Weekly Diary!
Carving chaos….
Oh dear! Have you ever had one of those days when the bold ideas in your head don't quite match up to what you're able to do with your hands? I had big plans for our whopping great Halloween pumpkin this year. As the carved pumpkin would be on display out by the chicken run, I had this wonderful idea of a carving of a great big scary Were-Chicken with outstretched wings to frighten all of our Halloween guests! Tom gently told me that I was being a wee bit over-adventurous and advised me to stick to something simple like a spider or a scary face but no, I knew better. I drew out a design based on our biggest, fattest chicken doing her best bird scaring impression and started to carefully cut and carve out the image on the pumpkin. All went wonderfully well until I decided to make the design a bit neater around the edges and cut a bit too vigorously and ended up detaching the chicken part of the design from the pumpkin leaving a big gaping hole! Of course, Tom thought it was hilarious and after a great many "told you so" comments, he was sent off with what was left of the pumpkin and a request for soup instead!
At least the real hens aren't nearly as troublesome as poorly carved were-chickens! The poor dears are moulting at the moment. One of them has decided that she doesn't like the feather quills as they poke through the skin and has been pulling them out as soon as they emerge. Fortunately, we have plenty of anti-pecking spray which seems to have put an end to this habit for the time being. The run is full of feathers though and looks as if we've had a pillow fight in there! The start of the moult means that we're not getting nearly so many eggs at the moment though and production has gone from 5 or 6 a day to a mere 1 or 2. The shorter days aren't helping either as the girls aren't getting enough daylight hours to stimulate them into regular production. Unfortunately, it looks as though we'll be going without scrambled eggs for breakfast for a while until they get back into the swing of things when Spring has eventually sprung.
Happy Halloween, everyone. I hope your pumpkin carving efforts are more successful than mine!
You can see more photos if you click this link:  gallery
Tom's Recipe of the Week
It is getting much colder now. I was busy in the veggie garden, wondering what was eating my spinach and curly kale, Barbara was inventing new chicken porridge recipes!
A couple of tablespoons of layers pellets, 1 tablespoon of porridge oats, some tinned sweetcorn and a dash of poultry spice.  Add warm water and hey presto, a warming chicken breakfast!
I decided to leave her to it and busied myself with wrapping up the runner bean and courgette plants in fleece.  A frost warning was forecast and I didn't want to be caught out like last year.
We had been trying to carve pumpkins all morning, not as easy as it looks.  Due to 'artistic differences' I left Barbara in the garden, creating her 'squash masterpiece' for the Autumn village fete, whilst I picked up the battered remains of my pumpkin and headed for the kitchen.
Pumpkin and Nutmeg soup
1 small pumpkin (mine was about 1kg)







1) Cut the pumpkin in pieces and removed the seeds. Place on a baking sheet and drizzle with olive oil. Roast in an oven for 30 mins  – 180C.
2) When cooked, scoop out the roasted flesh and set aside.
3) Fry the onion with the potato (cut into small pieces) until the onions are opaque, add the herbs, salt/pepper and stock and bring to the boil.
) Add the pumpkin and nutmeg and simmer until the potato is cooked.  I then use a 'stick blitzer' to puree the lot, but you can leave it chunkier if you use a potato masher.
5) Cut the tops off the rolls and place in a hot oven for 5 mins.  When the rolls are done (they should be solid)!, scoop out the insides using a teaspoon.  Fill  the rolls up with hot soup and serve!
By the time the soup is finished, the roll should have absorbed the liquid and is delicious'!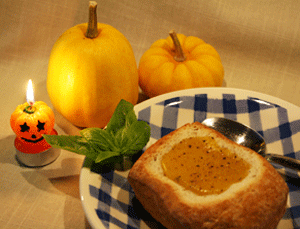 This is almost too scary to eat!
Eglu Owner of the Week
Your name: Josie Short
Age: 14
Occupation: Student
Where do you live? Strood Green, Brockham
What pets do you have? Hens and two cats
If you were stranded on a desert island what luxury item would you have? My lovely chicks of course!
How many chickens do you have? 9
What breeds are they? Buff polish, new hampshire, RIR, light sussex, pekins, marans, blue haze/aruacana.
How old are they? The polish is 4 months, lavender pekin is 7-8 months, new hampshire is 1 1/2 years and the rest are about 12-14 weeks.
What are your chickens called? Smudgy, Smokey Jones, Baby, Ginger, Mumble (after the penguin in Happy Feet!), Grey, Milly, Little Black Pekin (guess why), Lacey.
How many eggs do you get a week and what is your favourite way of cooking them?

Do your chickens have a party trick? When they are out in the garden and they want to be put to bed, they all jump into my arms, onto my head, onto my shoulders and make me walk them to their home. They are very heavy now they are older! Baby (the polish) makes me sit with her before she goes to sleep by fluttering to my arms every time I try and shut the egg-port.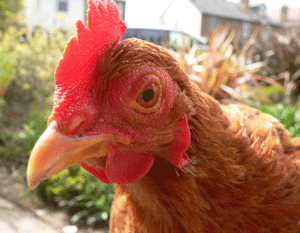 I know what you're thinking…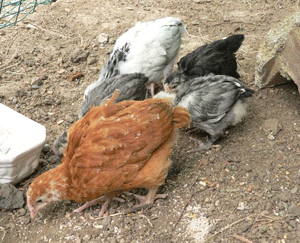 Formation feeding gives the worms no chance.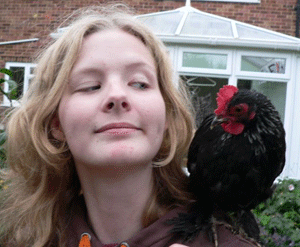 Pirates always used to carry a chicken on their shoulder.
Lots of fantastic new chicken products in the Omlet shop!
Here is just a small selection, go online to see the full range.
Trebimbi Puppet Club Table Set Green
Get your elbows off the table, hold your knife properly, stop playing with your food! …..Sound familiar? We all recognise the insensed ramblings of a parent trying to get their child to eat properly, after all, petit pois flying in all directions at 40mph can be a little frustrating to even the calmest of parents. What can be more frustrating  is children refusing to eat altogether. The problem with mealtimes is that they can be eggstremely boring for tiny tots, and when boredom sets in who blames them for not giving a pile of spaghetti hoops their full attention.
Dinner needs to be fun for it to be successful, and that's where these little fellas come in handy. Brightly coloured, puppet-style cutlery that connects to eachother as well as to a funky bowl, mug and egg cup. Hoorah, mealtime can be playtime! Set contains:  knife,  fork,  spoon,  egg cup,  bowl and mug. Made from plastic and stainless steel and dishwasher safe.
Doorstop Duck Autumn Spot
This retro duck doorstop is utterly charming.  Hand Made from tough cotton, it's just the thing to hold open a kitchen door or simply display wherever you choose. A strong duck, weighing around 2.5lb, which will last years and years.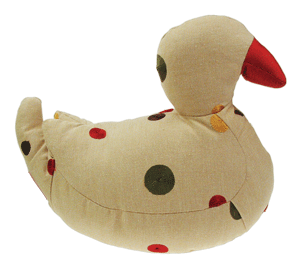 Apparantly spotty is the new black.
Earrings – Fried Eggs
Once upon a time, in a land far far away, a woman opened her eglu to let her chickens out. They ran into the garden, chirping and clucking as they always did. The woman was peering inside to see if any eggs had been laid, when she spotted something unbelievable: a tiny little chicken sitting at the back. And that wasn't all. The tiny little chicken had laid a teenie, weenie, little egg. The woman didn't know what to do with such a miniature egg. She could eat it but she would still be hungry. She could leave it in there but it would probably get squashed by the other chickens. Then she had an idea…
The next day, sure enough, the tiny chicken had laid another teenie, weenie egg. She fried both the eggs, put hooks through them and hung them from her ears like earrings. With such unique jewellery she was forever the henvy of all her friends.
Pocket Gardens
The pocket garden is available in a variety of different herbs, plants and flowers, making it the ideal option for growing your own, or giving as a gift.  The easy way to grow fresh, fragrant herbs to use for cooking and garnishing food, or the perfect alternative to giving flowers to say 'happy birthday', 'congratulations' or 'thankyou'. Everything you need comes in a simple, silver sachet; just add the seeds and some water, then leave on a window sill and watch it come to life. Easy!
Omlet team!
This entry was posted in Pets
---