Omlet Newsletter November 28th 2008
Hello!
Less than one month until Christmas now, can you believe it? The next few weeks are likely to be full of such joys as drinking mulled wine, listening to cheery carols and indulging in christmas shopping.
Omlet's christmas party is a bit different this year. We're Going Ape at an adventure park in Wendover woods. Should be a lot of fun and we'll try and get some pictures for the next newsletter of the team crossing rope bridges, climbing trees and then tackling the famous flying fox zip slide – look out chickens!
This newsletter has all the essential ingredients to get you through the festive season, including some great gift ideas, a gorgeous recipe for Christmas pudding and some health advice to keep your chickens happy and healthy during the cold weather. The egluowner of the week is a real Christmas cracker and the star photos are really brilliant. So without further ado lets find out who is this years Pumpking or Queen!
Spooky Pumpkin Results
We were spooked out by your entries for the annual Omlet pumpkin carving competition. There is obviously a lot of terrifically, terrifying talent out there which should be celebrated…Thank you to all those that entered, but there could only be three winners. In first place, with a sensationally scary spider design, was Krysia Rose. Unfortunately we don't have any spider houses to give away, but you will be receiving an almost- as- spooky bat house for your efforts. Perhaps it will inspire you for next year's competition. In second place, with a ghouly, gruesome ghost pumpkin, is Nick Rochowski, and Kathryn Evans' creatively carved chicken comes third. Prizes are on their way to all of you!
Cheap as Chicks
With the constant reminder of the economic crisis the news of VAT being reduced is a welcome change. And we don't have to wait much longer for it to occur…on December 1st the new 15% rate comes into action, just in time for Christmas spending. It may not seem like a huge difference, but just look how much you could save on a new eglu or cube! There's enough to buy another chicken…
Eglu package with chickens: £395, will be £387.
Cube with 2m run: £595, will be £583.
Cube with 3m run: £695, will be £681.
Don't forget as well as making an initial saving, with an eglu you will save money on buying eggs all year. Hooray! And if you want to order one as a Christmas present there is still time, but be quick to avoid disappointment.
Eglu Igloo
This week Linda Tye sent us a few photos of her eglu in Norway. Last time we saw it it was looking picture perfect with a backdrop of clear blue sky and green grass, well, it's a slightly different picture now. Completely covered in snow it is looking more like an igloo than an eglu. With the eglus insulated double walls the chickens are all snuggled up insided. Though our Winters don't usually look quite as wintery, December is set to be very chilly indeed and it's important to keep an eye on your hens. Make sure you check on their water regularly so that it doesn't freeze or become to cold for them to drink. Brrrrr!
On the Telly
Pssst…have you heard the rumour we have a celebrity in our midst? Many of you will know of Christian Lehman, frequent forum contributor, hen party host and big fan of chickens. Now he is a tv star too! He recently appeared on ITV's 'Village Voices', proudly showing off his chickens and explaining why they make fantastic pets. You can watch his starring role by clicking on his blog.
Win, Win, Win!
We have a cracking competition for you to enter this month. A Christmas crossword, inspired by chickens, of course. There is nothing cryptic about this one so we eggspect lots of you to have a go at completing it. There are three eggstraordinary calendars up for grabs, as featured later in the newsletter, perfect for seeing 2009 in with a smile. Simply send you answers to stephanie@omlet.co.uk for your chance to win!
Clues:
Across






Down








Eye spider with my little eye…Krysia Rose wins this years pumpkin carving competition.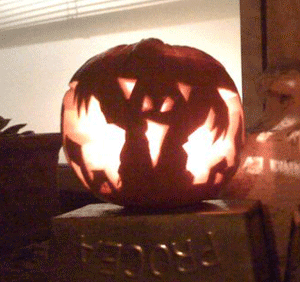 Second prize is Nick-ed by this frightening ghoul.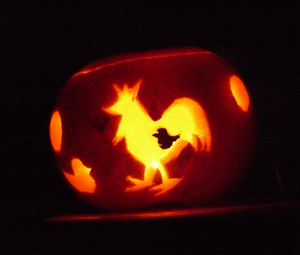 Kathryn's chicken seems to be in an X-Ray machine.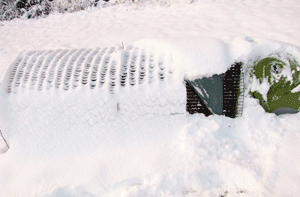 Collecting the eggs in the morning meant finding the eglu first.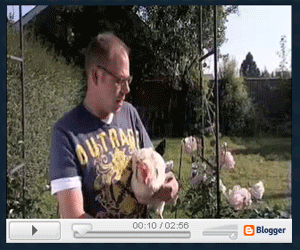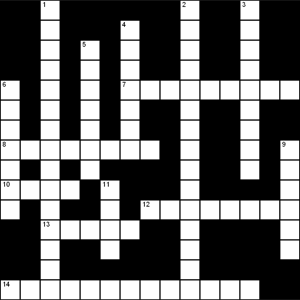 Can you complete our Christmas crossword?
Good Luck!
The Omlet Team
Rumours that Omlet were considering installing WiFi in eglus appear to be confirmed by this picture. Percy the chicken was heard saying "If they won't buy me an eglu I guess I'll just have to go online and order it myself."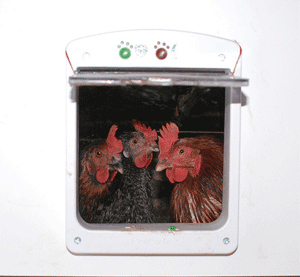 What? Don't your chickens sing carols to you at the cat flap?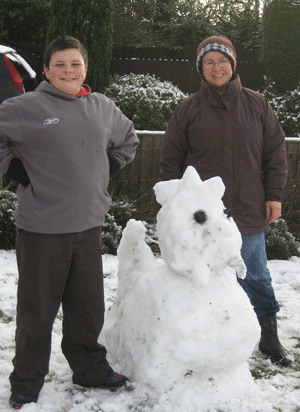 This is what happens if you don't make sure your chickens are in the eglu and it snows overnight.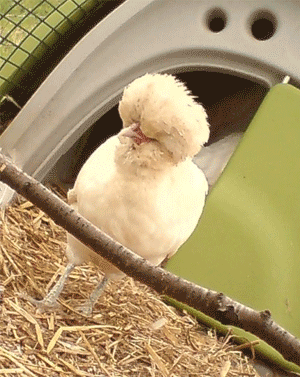 Why would you want to trip up your chicken? Omlet does not condone this type of hentertainment.
Barbara's Weekly Diary!
Book reviews
With Christmas approaching, I often receive emails from people asking me to recommend some books on keeping chickens, and these are a few of my favourites. One of my most thumbed books is "Hens in the Garden, Eggs in the Kitchen" by Charlotte Popescu. It's a lovely book with information on breeds and general aspects of chicken keeping such as feeding, health, housing and hatching, and the author combines this with some delicious recipes for all the eggs you'll be collecting once you've added some hens to your garden. It is a very useful addition to the bookshelf. Another super little book, particularly for beginners, is Johannes Paul and William Windham's "Keeping Pet Chickens". Each double page deals with a separate subject and the information is clear and easy to understand with lots of photographs and diagrams. This book is all you need to get you started. For more in depth information though, Victoria Roberts "Teach Yourself – Keeping Poultry" covers the care of chickens, ducks, geese, turkeys and other breeds in much more detail. It is a very well set out book with sections on buying birds, handling them, housing, health, broody hens,breeding chicks and more. It also has a really useful diseases, problems and troubleshooting section at the back for quick reference.
If you're interested in the myriad of different breeds, there are two excellent books which I'd recommend. "Best Hens For You", by Charlotte Popescu, is a lovely read with information about the breeds, and little anecdotes from people who have owned them, which is really helpful if you're looking for hens with real character. It's such a nice little book to dip into. Another more detailed book on breeds is "Poultry For Anyone" by Victoria Roberts. Full of beautiful photographs, it covers the history, characteristics and special requirements for common and some less common breeds, and it includes a guide to the number of eggs produced by each breed too.
Finally, a couple of coffee table books on hens. "The Big Book of Garden Hens", by Francine Raymond, is a stunningly beautiful book. It is a hardback and a real pleasure to browse as it is full of gorgeous photographs and line illustrations, and it is set out as a month by month guide to keeping hens. Each month has a delicious recipe and features a couple of different chicken breeds too. For a light hearted look at keeping chickens, Martin Gurdon's "Hen and the Art of Chicken Maintenance" is a collection of stories and practical information about chickens, from the tale of Mike the Headless Chicken to what to do with Egg bound hens. An entertaining read from cover to cover.
Happy reading!
You can see more photos in our gallery by clickinghere.

Tom's Recipe of the Week
Christmas is a time for reflection I always think. The ups, downs and general goings on throughout the year. For me it has been a good year. The tomatoes didn't do well but we have enough pumpkins to alst a few months. The spinach is surviving the chickens' onslaught and I often have to chase them out of the vegetable garden. I don't mind them really, they turn the soil and drop little 'presents' of their own , ready for next years planting.
I found three tubs of dried meal worms hidden in the wardrobe the other day. According to Barbara, the hens had asked Father Christmas for them. If she has been at the cooking sherry they will no doubt be wrapped and popped under the tree come Christmas morning.
We have both been busy with preperations for the festive season. Cakes made and hampers to be filled, as many of our friends appreciate the homemade touch. Barbara's jams and jellies look wonderful next to my sloe gin, mince pies and rhubarb vodka. A box of eggs, if the hens will bump up production, and a Christmas pudding as a finishing touch.
I hope Father Christmas gets my letter this year. A couple of goats would be perfect!
Below is my Grandmother's secret recipe for Christmas pudding. Made every year, it cannot be beaten. I soak the fruit in alcohol and orange juice/zest for at least 48 hours before making the pudding, adding more brandy if it looks dry.
Granny's Christmas Pudding
150g raisins


















1) Whisk butter and sugar until light and fluffy.
2) Add the eggs.
3) Fold in the flour and add the rest of the ingredients.
4) Transfer to a very large pudding basin and smooth the top with a spatula.
5) Seal with a double layer of foil and tie string around the rim.
6) Steam pudding for 8-9 hours. After 8 hours remove the foil and check to see if it is cooked. A skewer inserted should come out very slightly 'cakey'.
7) Leave to cool then wrap in foil until ready to reheat on Christmas day.
To reheat steam for 2-3 hours or microwave on medium power for a few minutes.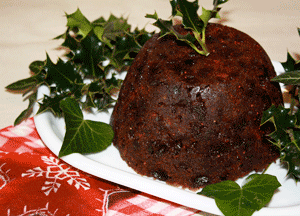 Tom's Christmas pudding – that's quite a mouthful.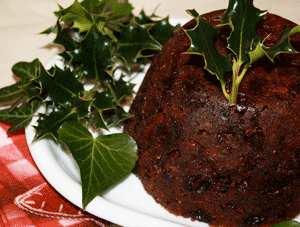 Recipe for the leaves in the next newsletter.
Eglu Owner of the Week
About You: Karen Ridley
Your name and age:

Your occupation:

Where do you live?

What is your favourite outfit?

Which is your favourite season?

Do you have a hobby or hidden talent?

Who would play you in a movie of your life?

What song do you most like dancing to?

If you won the lottery what's the first thing you would do?

About Your Pets:
What pets do you have?

What is you rabbit called and how old is it?

What breed is your rabbit?

What is your rabbit's favourite food?

Does your rabbit have a party trick?

What are your chickens called?

How many eggs do you get a week and what's your favourite way of preparing them?

Do you bake more cakes since owning chickens?

What is your chickens' favourite food?

Do your chickens have a party trick?

What's been the most surprising thing about keeping chickens?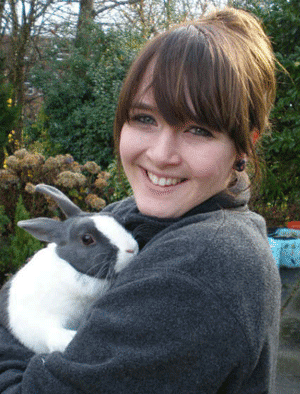 Hey there Delilah what's it like in Stockport city?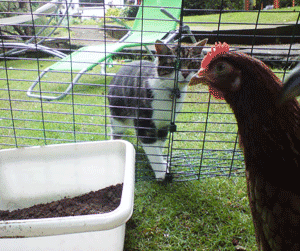 Time for some mistletoe…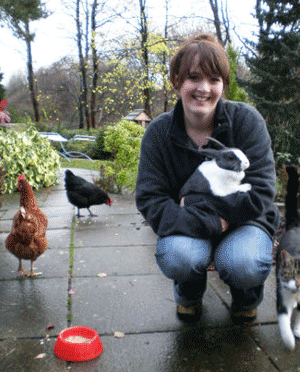 A rabbit makes a brrrrilliant hand warmer.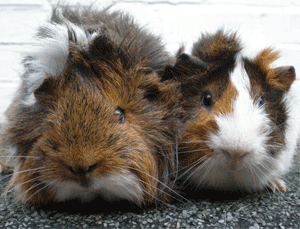 Come on how could you say no to these guys?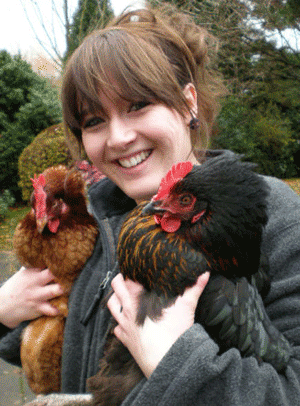 This picture just sums it up for chicken fan Karen.
Lots of fantastic new chicken products in the Omlet shop!
Here is just a small selection, go online to see the full range.
Egg Christmas Tree Decorations – Silver
This set of four egg shaped decorations is just the thing to add a unique touch to the Christmas tree. Handmade with silky, satiny fabric, sparkling silver ribbon and a single shiny bell, each hanger is a pretty alternative to traditional baubles, and unlike glass decorations they will not break. Presented in an egg box and tied with ribbon, these would make a gorgeous gift for someone, as well as a treat for yourself. Also available in gold.
Ladybird House
Encourage ladybirds into your garden with this nifty wooden house for them to shelter in. Not only are the little ladies cute and intriguing to watch, they are also very useful when it comes to getting rid of aphids, eating up to 100 a week. That's a lot of food for a tiny insect and they need somewhere to relax after all that work. The 22cm high house has a metal roof for protection for water and the hole in the back allows it to be hung easily. It has slots on both sides which are big enough for the ladybirds to crawl in, but small enough to stop other likely inhabitants, and the front can be opened for you to take a peek at your new pets. As ladybirds often hibernate in clusters, it is a good idea to put some leaves inside to make them feel at home.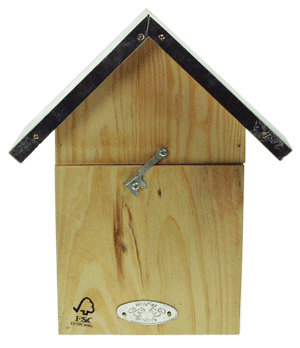 Calendar – Extraordinary Chickens 2009
This calendar will be appreciated by everyone for its extraordinary photographs of some of the world's most exotic breeds of chicken. It features many amaing birds such as the Polish Frizzle. Buy now ready for January or as a gift or stocking filler for someone who loves chickens!
Apron – Poule a la creme
Not only are chickens fabulous pets, they are also fantastic chefs! Well, not quite, but this quirky Poule a la creme apron shows a chicken in charge of the cooking. Perfect for someone with a sense of humour, a taste for french cookery, or a love of chickens. Made from 100% cotton, hard wearing and long lasting.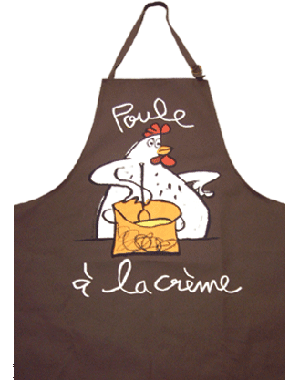 Omlet team
This entry was posted in Pets
---