Hello!
Happy new year! We had a bit of a problem with the newsletter last month; although it was sent out it seems that it didn't reach a lot of you, so to make up for it we have a very special, very romantic, very eggciting Valentine's issue for you this month. As it's our first newsletter of 2009 we've given it a bit of a makeover and have added even more hentertainment than usual.
There's a new addition to the Omlet team…a gardening guru that is showing us how to be a little bit more self sufficient this year. They will be giving advice each month on growing your own fruit, veggies and herbs, a great hobby that will have you saving money and keeping fit and healthy.
If you're less of a gardener and more of a chef, Tom has a love-ly recipe for you to bake fresh for Valentine's day, and we have a few suggestions for romantic gifts for any of you that need a bit of inspiration. With loads more to read, and an eggstraordinary competition to enter, pour yourself a cuppa, put your feet up (or maybe not if you're at work), and enjoy!
Love is in the Air
Whether you are a true romantic and celebrate Valentine's day religiously with gifts, roses and candlelit dinners, or a grab-a-cheesy-card-at-the-local-garage-last-minute type, you cannot ignore that with just a couple of weeks to go there is a definite feeling of love in the air.
This month's featured eglu owners are a couple so in love they could give Romeo and Juliet a run for their money. But we want to know your romantic tales. Did you fall in love over chickens? Did chicken keeping bring you together? Do you enjoy a breakfast of scrambled eggs together every morning? Let us know your heart-warming stories and you may receive one of the lovely gifts featured later on. Send to stephanie@omlet.co.uk.
Please note that marriages conducted by an eglu may not be legally binding.
Gallery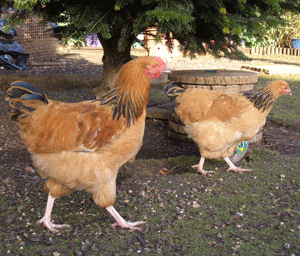 Hugh campaigns that hens are happiest when free-ranging…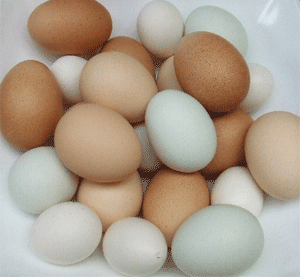 … and happy, healthy hens means extra tasty eggs!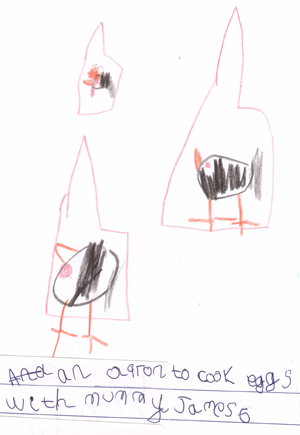 This chicken apron is the perfect prize for young artist James Evans
Can you design a funshade more love-ly than this?
Chickens, Hugh and Tesco Too
Now, less of the romance for a moment…A lot of you will remember last year's 'The Big Food Fight' on channel 4. Whether you watched the programmes or just heard about them, you were probably aware of Hugh Fearnly-Whittingstall and Jamie Oliver's campaign against intensively farmed chicken.
The famous chefs were successful at making us aware of where our food comes from, and the sudden demand for free range chicken meant that supermarkets nationwide sold out! Since the programmes there has been a big increase in in the number of people keeping chickens and using only free range eggs, but Tesco was still reluctant to join the free range revolution.
This year's 'The Great British Food Fight' kicked off on Monday the 19th, and with four brilliant chefs taking part it is set to be another successful and entertaining series. The programme we were most interested in was 'Chickens, Hugh and Tesco Too', which showed Hugh's ongoing attempt to convince Tesco to change their policy on selling intensively farmed chicken. By becoming a shareholder of the company can he finally tackle the issue? If you missed it, you can catch the repeat on Channel 4 at 8.00pm on Saturday the 31st January.
Sainsburys Ban Battery Eggs
Ok, so we're not too pleased with Tesco for being so stubborn with the chicken they sell. But we were really eggcited to hear that Sainsbury's, one of the four major supermarkets, has decided to ban battery chicken eggs. Although Marks and Spencer and the Co-op have already stopped selling battery eggs, Sainsbury's are the biggest retailer to make the move. From February 5th you won't see a single box of battery eggs in any of the 790 stores. Hooray! So if you don't keep your own chickens and still need to buy eggs, you can feel guilt free that the chickens that laid them were happy hens. Let's just hope that certain other supermarkets decide to follow the trend.
Winner of Kid's Comp
Last month's competition was just for kids. We gave all the young Omlet fans the chance to win whatever item they wanted from the online shop, by writing about it or drawing us a picture. The clear winner was a brilliant artist by the name of James Evans. At just six years old he has a great talent for drawing, and a passion for cookery it seems, as he chose the chicken apron. Under his fantastic picture he wrote 'an apron to cook eggs with mummy'. Well that says it all! Your prize is on it's way to you so you can do all the cooking you like. Well done!
Winner of Kid's Comp
We're sorry if any adults felt left out last month, but this month we have a very special competition to make it up to you. We are proud as punch of our products and we always try to offer you fun and eggciting items to enhance your chicken keeping eggsperience. But who knows what you want better than you do!? Do you fancy yourself as a bit of a designer? We want you to design us an eye-catching new funshade. Be as colourful and creative as you like, there are no limits. The best design, as judged by our eggspert panel, will receive a £50 voucher to spend in the Omlet shop. And that's not all, if we are really impressed with your idea we may decide to put it into print and sell it in the Omlet online shop. And if we do, of course you will receive a copy of your famous work of art!
All you need to do is download the funshade templates (here and here), fill in your design using whichever media you choose, and send along with your name, age, email and phone number, to stephanie@omlet.co.uk or Funshade Competition, Omlet Ltd, Tuthill Park, Wardington, Oxon, OX17 1RR. This competition is open to all ages. Good luck!
Happy Valentine's Day!
Egg cup of the month
Every month we will be giving you the chance to get your hands on our brand new featured egg cup, and this month's is a cracker! You just need to send us an egg cup for our museum to be entered into our draw. The collection is growing thanks to your help, but we still have some empty shelves that need filling, so please keep sending them in. The more bizarre the better! Send to 'Egg Cup Museum' at the above address.
Soldier Egg Cup
Everyone knows a boiled egg without soldiers is as disappointing as a cup of tea without a biscuit. With this clever little egg cup you can rest assured that there will always be soldiers by your side, but not of the bread variety…A three man plastic army, bearing swords, surround the boiled egg and stand strong to defend it from attack. As the toast soldiers invade one by one the fight will commence and things could get pretty messy. Eggspect yolkshed and crumb debris a plenty, but don't worry because a quick wash will make it all clean and ready for the next battle. No longer will breakfast be a dull eggsperience, this egg cup will never let you down.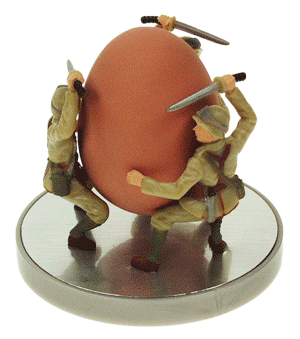 Let battle commence…
Gallery
First dates can be awkward for shy birds!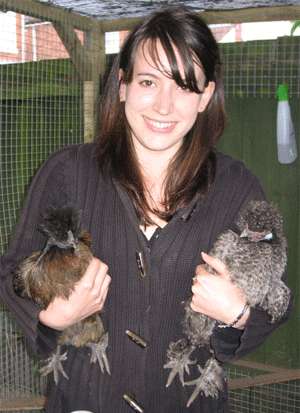 It's important to hold the ones you love close to your heart.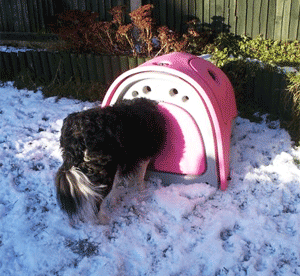 Instead of relying on the royal mail, this year the old dog delivered his valentines pawsonally.
Barbara's Monthly Diary!
Valentine's Day
Valentine's Day I remember moaning bitterly some years back, to a chicken breeder I used to visit to buy layers meal from, because I was fed up with having to buy eggs over the winter months as my hens seemed to have forgotten what they lived with us for. The lady breeder and I were comparing notes on egg production and one thing she said to me stuck in my mind and it always gives me hope when there are only one or two eggs in the nest each day. She told me that her father always looked on Valentine's Day as the time when you could rely on all your hens being back into full or almost full production again after the winter break, and it's true!
As we've left Christmas and the New Year celebrations behind us, I've been keeping a careful eye on how many eggs my girls are producing, and the number is slowly creeping up and up and, as the weeks go by, we'll soon be back to half a dozen every day or two again. I can't wait! I've been baking cakes with as few eggs in as possible since the end of November and we've not been having eggs for breakfast either. Of course, it's always possible to adapt recipes to suit the egg situation and it's been so nice this year because the girls have worked their hardest to ensure that we've not had to buy a single egg. Roll on Valentine's Day though…I do miss my egg and toast in the mornings! Talking of Valentine's Day, I wonder if Tom's planning one of his delicious candlelit meals again? Something else to look forward to!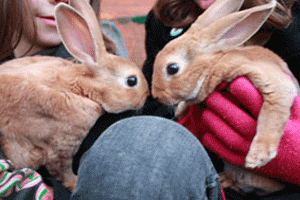 These romantic rabbits can't take their eyes off eachother..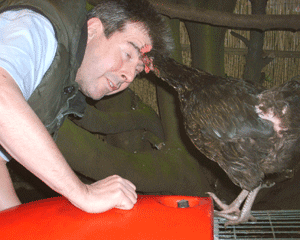 The things we do for the ones we love.
Cooking corner
I spent the week clearing up the vegetable garden with the chickens 'helping me'. They love digging over the raised beds searching for bugs and slug eggs. According to Barbara this enriches their diet and improves the taste of their eggs. The spinach they steal has something to do with it too I'm sure!
Valentine's day is fast approaching and traditionally it is the day that chickens should be back in lay after the winter break. I can't wait until they are back to full production again, although they haven't done too badly this winter. It means we can start selling eggs at the gate again and I might be able to have the odd one for breakfast. Barbara will be sitting by the door, expecting cards from her numerous admirers no doubt, oh and she will be hankering for new chickens, as always, but I have come up with a more suitable present…
Love Hearts Cakes
120g plain flour
120g soft butter
120g sugar
2 eggs (lightly beaten)
1/2 teaspoon bicarb
2 teaspoons baking powder
1 teaspoon vanilla extract
2 tablespoons milk
Cream the butter and sugar, until light and fluffy.
Add the beaten eggs and stir in the flour, bicarb, vanilla and baking powder.
Add a tablespoon of milk and mix well, the mixture should be quite light and drop from a spoon. If it is too thick add the other tablespoon of milk.
Fill the cases 2/3 full and cook in a preheated oven 200C for 12-15 minutes until they are golden brown.
Leave to cool on a wire rack.
Pink Butter Icing
70g soft butter
4 tablespoons icing sugar
a couple of drops of red food colouring
a few drops of water
To make the icing, cream the butter and icing sugar together adding a couple of drops of red colouring. Add a drop or two of water if the icing is too stiff.
Using a knife, spread the icing onto the cakes.
Tom used the silicone heart muffin cups that are featured later in the newsletter.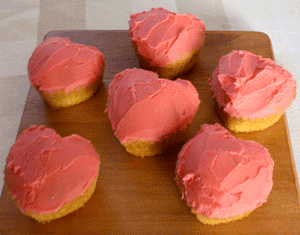 What's not to love about these heart cakes?
Vegging out
Wow, what an exciting time of year it is. Ok, looking out of my window it's wet, cloudy and miserable but in my head I'm full of the joys of Spring. Why? I'm planning to grow loads of lovely fruit and veg in my very own garden.
I've been doing this for a couple of years now and I know that I really have to wait until the frosts have passed and the ground's a bit warmer, but I'm like a big kid and I just want to get sowing. I have, however, been preparing the soil in my raised beds to work hard and provide lots of nutrients for my little seedlings to grow into large, scrumptious veggies. The best way for us chicken keepers to do this is to dig in all that lovely chicken manure that our girls have been providing us with all year. It provides my seedlings with enough nitrates to last until next winter.
I must say that all is not barren in my garden. I have started off a few veg in the late Autumn, early winter. I bought some garlic bulbs from the Isle of Wight, some onion sets (which are partly grown onion seeds) and some dwarf broad bean seeds. They're so easy to grow they need practically no care and in this weather no extra watering. These are all coming up nicely and have a couple of inches growth on them now.
I've had my head buried in seed catalogues for months. I've saved some seeds from last years crops and I've swapped my surplus seed with friends and Omleteers. Once you get going not only is it a cheap way to five a day, it's fun too!
It won't be long before I'm chitting my potatoes and sowing seeds in seed trays and pots just waiting for the warmth of Spring to pop them outside. It never ceases to amaze me how magical seeds are. These tiny seeds grow practically anywhere: the ground, in pots, in old tins and toilet roll insides. They really don't care as long as they have some soil, water and a little tlc. As long as you sow your seeds successionally you can easily have enough food to feed you, your family and half the street for the majority of the year.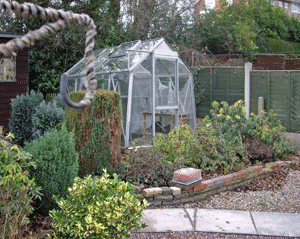 Welcome to our veggie guru's garden
Eglu owner of the week
Ben & Jade Murphy-Ryan
About You:
Your name and age:
Ben & Jade Murphy-Ryan
Your occupation:
Ben is a Recruiter for Amazon.co.uk, Jade is a Foodhall Manager at M&S
Where do you live?
Desborough, near Kettering in Northamptonshire.
What first drew you to each other?
Jade first noticed Ben's colourful stripy socks under his uniform! We're quite different really so was probably "opposites attract".
Was it a down on one knee proposal?
Yes – we went to Edinburgh to get engaged, staying at the gorgeous Witchery by the Castle. Ben proposed on one knee in front of a roaring fire in May (!) and we then went for dinner in their romantic restaurant which is only lit by candles.
What did you both wear on the big day?
We were married in July 2002 and Jade wore a fantastic dress with a lilac bodice top and full net skirt with lilac rose buds stitched on it. Ben wore a brown Valentino suit.
Where did you go on your honeymoon?
We spent three weeks in Thailand, visiting Bangkok, Phuket and going elephant trekking in the mountains in Chang Rai. W e had wedding rings made that were in the shape of Elephants to remember it by.
What is 'your song'?
It Had to Be You, as sung by Frank Sinatra, and that was our First Dance at our wedding.
What's your greatest memory as a couple?
Probably visiting Petra in Jordan a few years ago. We love travelling and had a real Indiana Jones moment when we arrived out of a long, hot walk through a gorge and were faced by the Treasury building carved out of the rock centuries ago. It was really magical.
Describe your perfect date?
Dinner in a really good restaurant, with a fantastic bottle of pink champagne!
Who does most of the cooking?
Ben, although we kind of share. Ben does a lot of baking, with our lovely eggs of course.
Who has the longest lie-ins?
Jade, although we don't lie in that often. We have to let the chickens out early after all :o)
Which celebrity couple are you most like?
A bit strange as a fictional couple – we're probably a lot like Charlotte and Harry from Sex in the City. We like to have a nice house and treat ourselves, and we're having a baby (Jade is 28 weeks pregnant!).
What pets do you have?
A full menagerie: 4 cats (Agatha, Audrey, Mr Stumpy, Major Tom), 1 rabbit (Elvis), 1 Russian Hamster (Poirot)? plus our chickens of course!
About your chickens
What are your chickens called?
They're the Pink Ladies – Zsa Zsa, Greta and Sophia. We kind of have a period theme to some of our pets names and chose them after celebrities from the 30s and 40s.
Was it a joint decision to keep chickens?
Yes – we saw an article about the eglu in the Times a few years ago and when we moved to a new house we decided to add to the family.
Whose job is it to clean the eglu?
Definitely Ben's – good job it's really easy. The girls don't like it though when he disturbs them whilst they're laying an egg to clean them out.
How many eggs do you get a week and what's your favourite way of preparing them?
Depends on the weather, we probably get an average of about 10 per week at the minute (although they were on strike over Christmas). Our favourite recipe is easy – waffles made in the waffle iron… mmmm!
What do your chickens like eating more than anything else?
They like it when we give them vegetable mash made from boiled up peelings – but most of all they love finding snails, then they smash them and destroy them!
Do your chickens have a party trick?
They have two – they tap dance when they want a stroke and fuss. When they're loose in the garden (which has a large slope to it) they will spot you coming out of the house and run at you really fast in formation, with Zsa Zsa as Squadron Leader – we call them the Dambusters. Then they tap dance!
What's been the most surprising thing about keeping chickens?
That they all have personalities and are very different in characters. They're very companionable too – always out helping us if were digging in the veggie patch, or just gently clucking away when you go to see them.
Can you imagine life without chickens ever again?
Absolutely not! In fact, we're thinking of getting an eglu cube now for more little cluckers!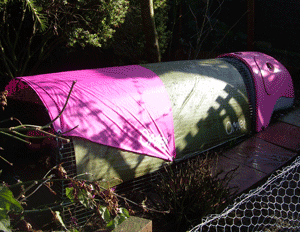 The pink palace, where celebrity hens just love to stay.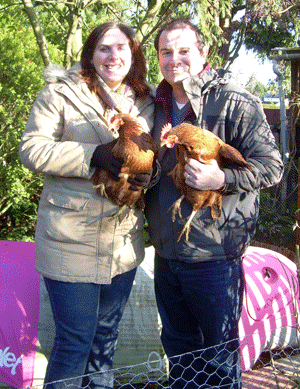 Jade and Ben love their chickens almost as much as eachother!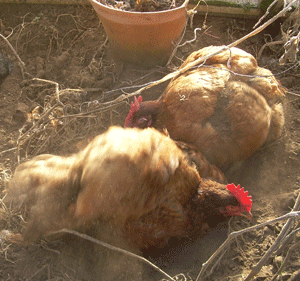 The ladies lie low as the search for snails commences.
A 10 year relationship is proof that stripy socks do have a purpose.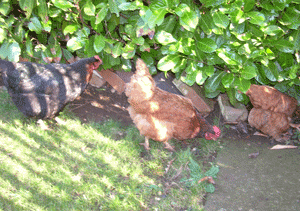 The search continues as Colonel Cluck leads her army into unknown territory.
Omlet Shop
Lots of fantastic new chicken products in the Omlet shop!
Here is just a small selection, go online to see the full range.
Egg Cosy Pair – Polka Dot Hearts
With one for you and one for your partner, this pair of egg cosies is just perfect for a romantic breakfast together. These have been handmade with love and care, decorated in pretty polka dots, appliqued hearts, and cute wooden buttons. They are large enough for the biggest eggs and the thick fabric and filling will keep your eggs wonderfully snug and warm.
Silicone Heart Muffin Cups
This sweet set of six silicone heart shaped muffin cups will make a lovely little gift for anyone that likes baking. Or if you'd like to treat the one you love to something sweeter, why not cook the cakes yourself? These cases are ideal for fairy cakes or muffins and they are really easy to use. Fill them with the cake mixture, pop them in the oven and cook. When you're finished eating they can be washed and re-used again and again. Suitable for use in the oven, microwave, freezer and dishwasher.
Love Biscuit Cutter Set
You don't need to be a chef to create a wonderfully romantic treat for the one you love. All you do need is this set of biscuit cutters. There are nine different shaped cutters in the pack, including letters to spell out 'love'. It doesn't take long to make some dough, stamp out a few shapes, and cook them, but the gesture will show just how much you love them. Please note, it is important to resist eating them yourself if they are intended as a gift.
Heart Cookie Cutter Set
Giving someone your heart is faultlessly romantic. However, giving someone a batch of heart shaped cookies is bound to get their pulse racing. A symbol of your love for them, in the form of something yummy and sweet, is the perfect way to say 'happy valentines day'. There are five different sized cutters in each set; enough to make lots and lots of lovely cookies. Serving suggestion: serve in large quantities with a cup of something hot.
Omlet team

No comments yet - Leave a comment
This entry was posted in Pets on February 1st, 2009 by admin
---