Omlet Newsletter 16th March 2009
Hello!
Did you all have a delightful valentine's day? There was a lovely, romantic atmosphere in the air at Omlet HQ. No trails of rose petals or anonomously delivered cards I'm afraid, but there was a very special cake we all shared, courtesy of Gwen. She knows the way to all our hearts is through our tummies. It didn't stay whole for long though, as Simon was quick to dive in for the first piece… what a heart breaker.
Anyway enough of the love talk for now because there is another special day coming up which is even sweeter and more eggciting. The one day of the year when the whole of the nation pick up their pans and and have some flippin' good fun. It's Pancake Day of course! Read on to find out the history of Shrove Tuesday , learn how to make the perfect pancake, and take part in our flippin' brilliant competition. There are lots of other goodies too so take five minutes to come inside the wonderful world of Omlet.
Pancake Competition
So let's kick off with a competition. Every year we challenge you to prove you are the best pancake flipper in the land, and this year is no different. With so many of you keeping chickens now, you have no excuse not to make a big batch of pancakes this Tuesday, what with all those lovely fresh eggs. So follow Tom's recipe, featured later in the newsletter, and practise your skills. When you feel a mighty flip coming on have someone ready with a camera to capture your special moment. Send your photos or videos to stephanie@omlet.co.uk and you could feature in our hall of famous flippers. Now don't be put off if you pancake flipping is more disastrous than impressive, it won't just be the highest flying that win prizes…
Let it Snow
Although Spring seems to be creeping up on us finally, it was only a couple of weeks ago that the country was white with snow. Life came to a bit of a standstill for a lot of us and while roads were absolute chaos and many chose to stay at home and make the most of the rare winter wonderland. The snow was perfect for making snowmen, and it seems, snow chickens. In fact building poultry is out growing the carrot-nosed, coal-buttoned, traditional gentleman in the popularity stakes. Your photos are proof of that, and are really quite impressive. We never knew there was such sculptural talent amongst you.Perhaps over Summer we'll be seeing some snaps of sand chickens!?
Nesting Box Offer
This month's featured eglu owners are the teachers and pupils from Carlton vc lower school. The have had great fun keeping chickens. Owning an eglu has really benefitted them and taught the children about where their food comes from, as well as giving them responsibility. If your school is interested in joining the chicken keeping trend we have a great offer for you. The next school to order an eglu will receive 35 Flapjack Nesting Box Seats for free! These portable, packable seats are perfect for using at storytime, in lessons or outdoors. They fold flat for easy storage, saving essential classroom space. Each seat is waterproof, hardwearing, comfortable to sit on and great for posture. This set is worth over £300 so if you want to bag it, be quick!
Funshade Competition
In the last newsletter we launched our 'Design a Funshade' competition. We have already had lots of entries but there are still a few days for you to get involved if you want to. The closing date for entries is 28th February. All you need to do is download the funshade templates (here and here), fill in your design using whichever media you choose, and send along with your name, age, email and phone number, to stephanie@omlet.co.uk or Funshade Competition, Omlet Ltd, Tuthill Park, Wardington, Oxon, OX17 1RR. The best design will win a £50 voucher, and if it's good enough we may put it into print and sell it in the Omlet shop!
Headline Hens
Chickens have been hitting the headlines again over the last few weeks. There was an article in The Observer about the effect the economic downturn has had on us, and how it has encouraged a lot of people to turn to self sufficiency and 'the good life'. It echoes what anyone that owns an eglu already knows, that keeping chickens is a great way of being green and saving money. Chicken food costs so little that you can save at least £100 a year on eggs. And the eggs you get will be extra tasty because they come from a happy, healthy chicken.
The eglu also appeared on the telly recently, on an episode of the Channel 5 documentary 'Wild Animal ER'. The programe is based on Tiggywinkles Wildlife Hospital, and it shows all the drama of rescuing wild animals and helping them to recover from injuries and illnesses. There were a number of eglus featured, which were used for baby rabbits to live in before they were let back out into the wild. They looked very happy hopping about in the runs, and they were kept safe, snug and warm in the eglus during the night. The programme is on every week day at 6:30pm.
Hen Party Host's Starring Role
Nikki Williams and Paul Heath run one of the Omlet chicken keeping courses. This couple are a popular pair of hen party hosts and they have years of experience at keeping chickens. As well as running courses they go to schools to give talks and their main passion is exhibition show poultry. Last year Nikki and her birds appeared alongside Jamie Oliver on the Great British Food Fight, but she is soon to have a starring role on Channel 5. Nikki and Paul will be featuring in the documentary 'Best in Show', on Wednesday 4th March, at 6:55pm. "A behind-the-scenes look at the quirky world of competitive animal shows." Don't miss it!
New T-shirt designs
Omlet are proud to launch its latest range of clothing, perfect for anyone that likes colourful fashion that's a little bit out of the ordinary. (It helps if you're a fan of eggs too!) Forget Gucci, Chanel and Versace; wear a new Omlet t-shirt down the red carpet and you will get a lot of attention. This range of t-shirts, for men and women, are based on the beauty of breakfast. In other words they have eggs on them! Whether you prefer your eggs fried, scrambled, boiled, or just 'freshly laid', you can choose a top to suit your taste. Available in navy blue or aubergine purple, the brightly coloured prints stand out eggcellently and look fun, fresh and funky. Not only do they look great but they are made of 100% organic cotton, so they feel strokably soft and will last for ages. So what are you waiting for? Buy one now to show the world just how you like your eggs. Send a photo of you wearing your t-shirt and you could win a mystery prize!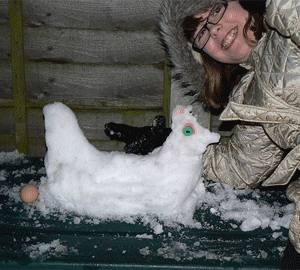 This egg may need some defrosting!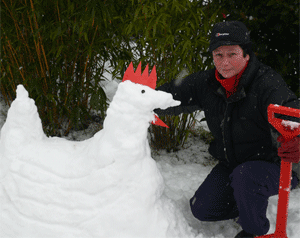 Hazel started the snow chicken trend…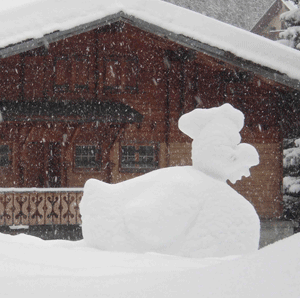 A masterpiece created by eggsperienced Jess.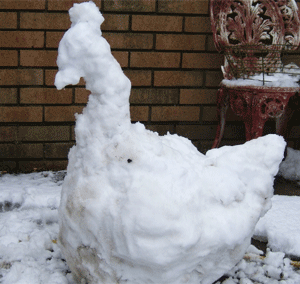 Liz's second attempt after the first hen's head fell off.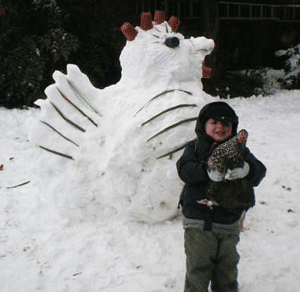 Blissfully unaware of the monster chicken approaching from behind…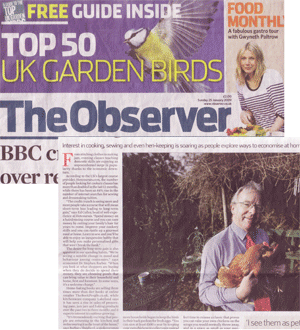 The value of eggs remains steady during the economic crisis.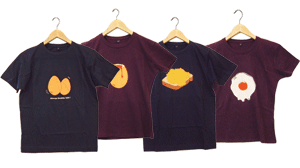 An egg for every occasion.
 Barbara's Monthly Diary!
Everything you ever wanted to know about Pancake Day but were afraid to ask…
I love Pancake Day although I am probably the worlds worst pancake cook so I usually leave this part to Tom who thankfully manages to produces marvellous ones for us! I'm a great one for following traditions though so this year, I decided to find out a bit more about why we all get the frying pans out each February.
Pancake Day is otherwise known as Shrove Tuesday and is celebrated in Britain on the Tuesday before Lent – 47 days before Easter Sunday. In the olden days, confessions were heard on this day and the word "Shrive" means to absolve in Old English hence the name Shrove Tuesday. It was traditionally a half day and children and adults were given the afternoon off as it was the last day to be frivolous, have fun and to feast before Lent. The idea for serving pancakes originates from the need to use up eggs, milk and butter in the house before Lent. In many houses, the cook used to set aside the first three pancakes made – "one for Peter, two for Paul and three for Him who made us all."
Chickens are associated with Shrove Tuesday in more ways than just the eggs that are used. Single girls would make a pancake and feed it to the rooster in the hen house. However many hens joined him to eat it would show how many years it would be before she was married! Cockfighting was a popular sport on Shrove Tuesday too. Fortunately now it has been banned.
Many games continue to be associated with Shrove Tuesday. There are several communal street football games played in many places throughout Britain. One happens annually in Cornwall and is called the Saint Colomb game while the Royal Shrovetide Football game in Ashbourne, Derbyshire has thousands of people kicking a cork filled football into goals which are 3 miles apart! Mass skipping takes place in Scarborough where long ropes are stretched across the road so that as many as 10 people at a time can join in. Pancake races remain extremely popular. Churches used to ring their bells to call the people to confession and apparently 600 years ago, a housewife was in such a rush not to be late for confession that she ran out of her house when the bell rang still carrying a sizzling pan and a pancake and this is where the custom of the Olney Pancake Races began and which are still practised today by housewives wearing aprons and headscarves. The church bell quickly became known as the Pancake Bell! The idea of the race is to toss your pancake in the air and catch it back in the pan again whilst running to the finish line. The winner has to have a complete pancake in their pan as they cross the line.
Enjoy your pancakes!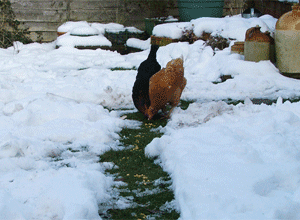 This pair follow the yellow corn trail in the hope of finding the emerald cube city.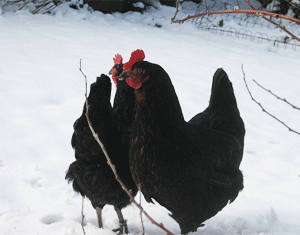 The eglu must be under here somewhere…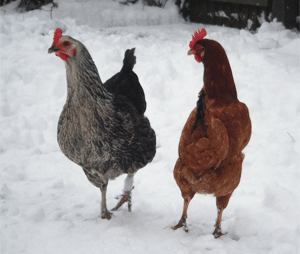 Torvill and Dean warm up for their big performance.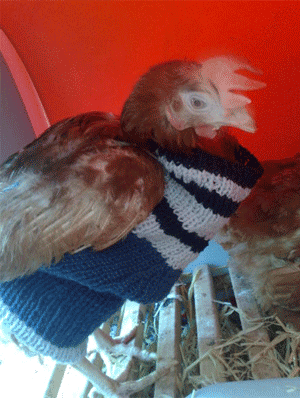 A woolly jumper is essential for keeping bald Bramble warm in the snow.
Cooking corner
Where is the time going? Seems like only yesterday it was Christmas and here we are with the seed catalogues, planning the summer vegetables! True to form, the chickens are starting to lay well again and we had a full house the other day. I even managed to smuggle half a dozen eggs out of the house to swap with our neighbour for a few of his seed potatoes!
It is that time again. PANCAKE DAY! Barbara is never too keen as my boyish enthusiasm hits an all time high when it comes to flipping the 'cakes! I have to admit at being the world's worst pancake flipper. Batter and fillings are more my forte!
The key to a good batter is to have the ingredients at room temperature. I always use butter to cook the pancakes, as I find that low calorie spray just doesn't do the job. The extra calories seem petty when you look at the fillings!
Pancake batter
110g plain flour 2 large eggs



Mix the ingredients together and whisk until all the lumps have disappeared.
Stand for 30 minutes to allow the mixture to settle.
Heat a non stick pan to a medium heat and add a knob of butter. Using a ladle, add a small amount of batter to the pan and 'swoosh' (a technical term) from side to side to get a nice thin layer.
Using a palette knife check to see if the pancake is evenly brown underneath. If so, stand back and flip the pancake (or get your wife to do it if you have no hand- eye coordination like me)!
The other side will only need a couple of seconds.
Ideas for Fillings
Classic lemon juice and sugar




For something a bit more unusual, try steamed asparagus and melted cheese, mushrooms and crème fraiche, or cheese and ham!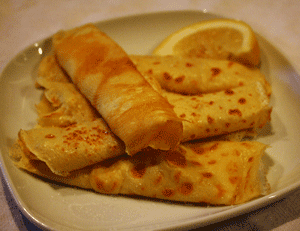 Tom's flippin' perfect pancakes
Vegging out
It's getting to that time of year that I just love. The anticipation of what might be the starting of a great harvest. I've just started my potatoes chitting (growing a few sturdy sprouts) by placing the seed potatoes in an empty egg box with the most eyes pointing upwards in a bright, cool place. Chitting isn't essential but gives the potatoes a kick start and can encourage an earlier crop. Once the shoots are about an inch long I'll plant them outdoors. Potatoes are so cheap and easy to grow. Most garden centres have got bags of seed potatoes in now for as little as £1. Why not start your own spud patch?
I've started a few seeds in an electric propagator too. Mainly the ones that need really warm temperatures and a long growing season, like aubergines, chillis and globe artichokes. I'll start some of the other seeds next month in the greenhouse. I've just discovered a really easy way to get a nice fine covering of compost on top of my seeds without burying them 3″ under the surface. I bought a flour dredger. It sieves the compost finely and is easy to control the amount. So simple, why didn't I think of it before?
I'm doing a bit of a comparison this year with tomatoes. I'm going to grow a couple of varieties from seed, as I do every year, plus I'm going to buy some plants. The company I'm buying them from call them 'turbo toms'. They're normal tomato plants but grafted onto a stronger root stock. I'll let you know how they get on later in the year.
If you're just thinking about growing your own, buying small vegetable plants is a great way to start, if a bit more expensive than starting from seed. Most garden centres will have some from March/April onwards.
My fruit patch is starting to come to life too. The rhubarb is growing fast and the soft fruit bushes are starting to leaf up. Roll on summer for the best fruit salad, ever!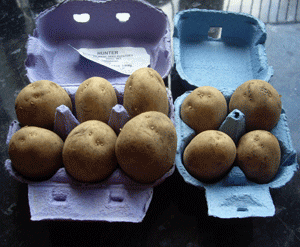 Omlet's latest breed of chicken are capable of laying anything.
Eglu owner of the week
About You:
Your name:

Your ages:

Where do you all live?

How many of you are there?

What pets do you have?

Whose responsibility are all the animals?

What time do you start school?

What is your most popular school dinner?

Are there any hidden talents amongst you?

Are there any teacher nicknames?

Which lesson is most popular?

Which lesson is least popular?

What sport are you best at?

What's your favourite playground activity?

If you were stranded at school for a night what luxury item would you have with you?

Has anyone secretly tried eating the chicken's food?

About your chickens
How long have you had your chickens?

What are your chickens called?

How many eggs do you get a week and who gets to eat them?

Do you do more baking now you own chickens?

What do your chickens like eating more than anything else?

Do your chickens have a party trick?

What's been the most surprising thing about keeping chickens?

Can you imagine life without chickens ever again?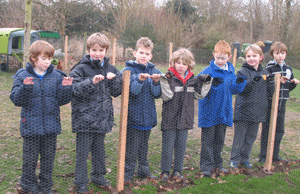 Chicken netting makes the perfect pen for Carlton pupils.
Maybe I can shake an egg out of her!?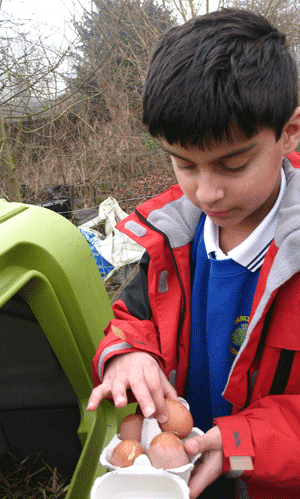 No one will notice if one mysteriously disappears up my sleeve.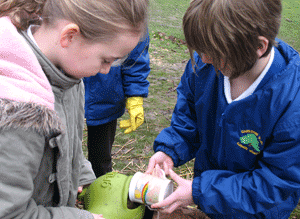 You never know… the grub might be thirsty!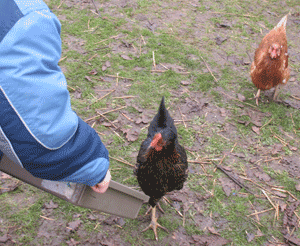 It's not only children that are easily bribed.
Omlet online shop
Here is just a small selection, go online to see the full range.
Silicone Chopping Boards – Set of 4
This set of four flexible, silicone cutting boards will make all your cooking clean, safe and simple. Each board is colour coded, with a different symbol, to show which to use for meat, poultry, fish and veg. This minimises the risk of contamination during food preperation. Each board is flexible, allowing you to easily transfer ingredients straight into your pan. They are lightweight and thin, so can easily be stacked together and put away, taking up little room. Brilliant!
Ultimate Cleaning Gloves Pink
This really is the only pair of gloves you will ever need for cleaning. Forget your old latex rubber gloves that are uncomfortable, tricky to put on and quick to wear out; these ultimate household gloves are cotton lined for comfort, latex free and extremely durable. Made from vinyl they will not fade or crack, and they are resistant to both hot water and household cleaners. The textured surface allows for good grip, and, the best bit…..they are machine washable! Not only are they perfect for your washing up, but we think they would be brilliant for wearing whilst cleaning your eglu.

Eggshell Egg Poachers Set of 2
You can't beat a perfectly poached egg, but it is easy, for even the best of us, to get it wrong. Chefs advise vinegar as the key to achieving the perfect egg…well, we advise this little gadget. Simply coat the silicone 'eggshell' with oil or cooking spray, crack an egg into it and float in a pan of boiling water for a few minutes. Use a spoon to pop out your cooked egg, et voila! The easy, peasy, mess-free way to beautiful eggs!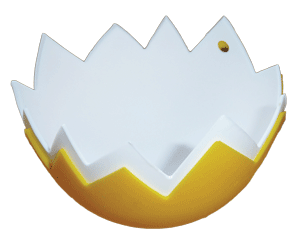 Egg Timer Crowing Cockerel
Make sure your egg is cooked perfectly every time with this crazy cockerel clockwork timer. His crowing will tell you eggsactly when your time's up and you can be sure that you won't fail to hear his call. A funny feature for every kitchen.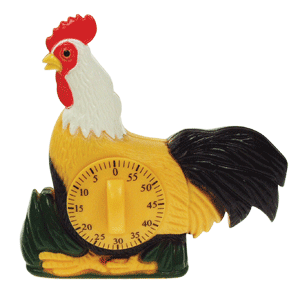 Omlet team
This entry was posted in Pets
---