Omlet Newletter April 21st 2009
Hello!
Can you believe it's almost Easter again? It is now officially Spring and it makes a refreshing change to have some warm, sunny days, compared to the snowy chaos we eggsperienced in February. Your chickens are probably back to their normal laying again, and you have may have been enjoying a few more boiled eggs than usual. Daffodils are popping up everywhere, hens are happily roaming gardens, and soon we will all have a few days off to celebrate Easter. Hooray! And if you're not already eggcited, this month's newsletter should put a spring in your step. With some cracking competitions, super star photos and great gift ideas, we hope to get you in the mood. So let's crack on shall we!?
Happy Easter!
Pancake Princess
We hope you all had a wonderful pancake day. Unfortunately we didn't receive as many photos from you as we have in previous years. Hopefully you can make up for that by sending in pictures of your Easter eggsperiences. There is a winner to declare though… Our 2009 pancake princess is Kate Solomon! It is obvious from the height of that pancake that her flipping skills are second to none. Well done Kate, not only can you be proud of your new title, but the perfect prize is on its way to you!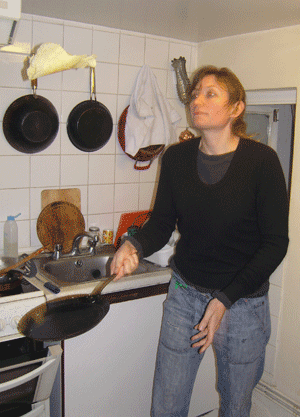 Colouring Competition
Easter means time off school for kids and after masses of chocolate has been consumed they may be stuck for what to do. This competition will keep them busy for an hour or two, and it will hopefully keep sugar hyped children calm and quiet for a little while. Jess has drawn us an Omlet Easter scene, complete with chickens, rabbits, eggs and even an eglu. To win a cracking prize all you need to do is some good old fashioned colouring in. Print off the image available here, bring it to life with some crayons and send it, along with your name, age, address and email, to Easter Colouring Competition, Omlet Ltd, Tuthill Park, Wardington, Oxfordshire, OX17 1RR. If you finished school years ago but you're still a big kid at heart, you can still enter, as this is open to all ages. Closing date is 14th April, 2009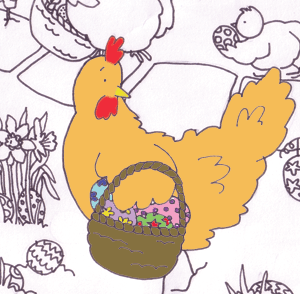 Get your crayons at the ready…
Upcoming Shows
Every year Omlet fires up the tour bus and loads the eglus and chickens onboard to visit shows where we tell people what a wonderful hobby keeping chickens is. These shows range from big, glitzy indoor events to agricultural shows, where you might bump into a prize winning hereford.
Our first show of 2009 is the Ideal Home Show, at Earls Court, London. This show runs from Friday 20th March to Monday 13th April, and it is open 11am-9pm during weekdays and 10am-6pm during weekends. It is a big show with loads to see, lots of brilliant advice and ideas and a range of items for the home and garden for you to buy. If you are considering buying an eglu or cube, it is the perfect opportunity for you to come along and see it in the flesh, to chat to our chicken eggsperts and ask any questions you have. Tickets can be purchased in advance via the website.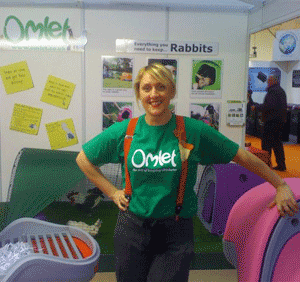 Visit the Ideal Home Show and Jess will demonstrate the eglu for you!
We often have enthusiastic eglu owners helping on the stand to demonstrate the products and answer peoples questions. So if you would rather help at a show than visit it, please get in touch by emailing johannes@omlet.co.uk. Please put in the email which show you could help at and which days you are available. Please note this is paid and we also cover travel expenses, car parking and lunch!
Upcoming Shows
Ideal Home Show– Earls Court, West London


Grand Designs Live– Excel, East London


Spring Gardens Show– Malvern


BBC Gardeners World Live– Birmingham NEC


Guess the Number of Eggs in Jar
Easter is a great eggscuse for one thing… Chocolate! And we have a great range of cheap and cheerful choccie treats for sale if you're looking for a gift that's a little bit different. But chocolate tastes so much sweeter if it's free, and that's why we have a lovely big jar of scrumptious speckled eggs to give away. To win this terrific treat just guess how many eggs there are in the jar. Email your answer, along with your name and address, to stephanie@omlet.co.uk. There are also a few smaller sweet prizes up for grabs, so get guessing! Closing date is 14th April, 2009
How many eggs does this jar hold? Guess to win!
Magazine Articles
The eglu has been hitting the press yet again! Any readers of 'Yours' magazine may have spotted the eglu cube in the 'Carers in touch' section last month. The article features 80yr old carer Jo Mills who lost her husband two years ago. She had always wanted to keep chickens, and the grief of her loss encouraged her to take the plunge. Her four chickens Henrietta, Chloe, Minty Chicken and Georgina have helped her to feel happy and relaxed again and they provide her with companionship.
Chickens don't just make great companions, they can also provide an extra source of income. Omlet's first ever hen party host, Karen Patrick, appears in an article called 'Living the Good Life' in this month's issue of 'Heyday'. It describes how what started as a hobby four years ago has turned into an income boost. Her 10 chickens live in an eglu cube and they are very cheap and easy to look after. She sells the eggs to friends, neighbours and local dustmen, and she also runs hen parties which she gets paid for. How eggcellent!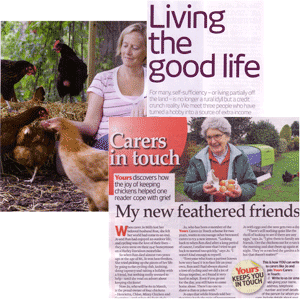 Two more articles support that hens = happiness.
If you like the sound of using your hobby to make a bit of eggstra cash, or if you fancy attending a hen party to learn all the basics of keeping chickens, just visit the courses section of the website.
Funshade Competition
Thank you to all of you that entered our 'Design a Funshade' competition. With such fantastic entries our eggsperts haven't quite reached their verdict yet, but we will be announcing the winner in next month's newsletter, so hold on to your hats.
T-shirt Review
It's not just the eglu that gets all the press you know, or the chickens for that matter. This month's star is the boiled egg t-shirt for women, which you can buy for £15.00 on the online shop. An American t-shirt review website has featured our terrific top and given it a sterling write up. Kay even described it as "as strong a design as I've seen since the Rolling Stone Lips first turned up on T-shirts." Wow, we certainly didn't eggspect that kind of comparison. Read the full review here.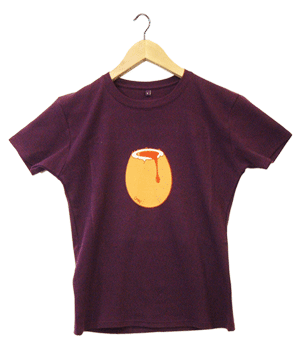 The fairest t-shirt of them all
Egg Cup of the month
Every month we will be giving you the chance to get your hands on our brand new featured egg cup, and this month's is a cracker! You just need to send us an egg cup for our museum to be entered into our draw. The collection is growing thanks to your help, but we still have some empty shelves that need filling, so please keep sending them in. The more bizarre the better! Send to 'Egg Cup Museum' at the above address.
Ladybird Egg Cup with Chocolate Eggs
An adorable Easter gift for every lady! The foil wrapped, chocolate ladybirds probably won't last more than a few minutes because they're just so tasty, but the white egg cup, covered in lovely, little ladybirds, can be used over and over again. Wrapped in cellophane and finished with red raffia.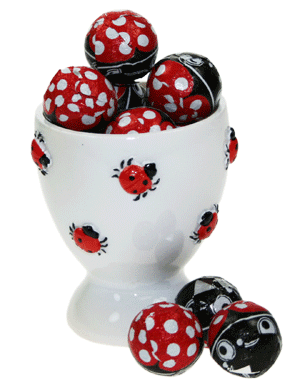 One for the ladi
Omlet Gallery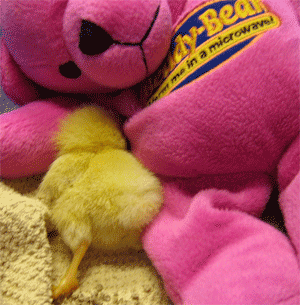 It's a hard life for a little chick…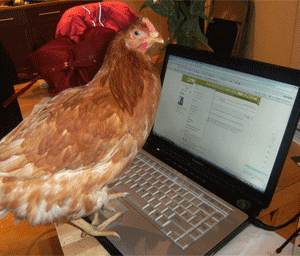 The Easter bunny is so unreliable these days, hens just have to take the shopping into their own hands.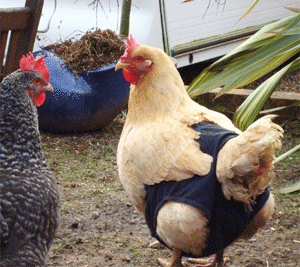 This week in fashion, hen pants make a comeback.
Barbara's Monthly Diary!
Easter Eggs
Did you know that the Araucana is sometimes known as 'The Easter Egg Chicken' because it lays greeny blue eggs? Now that little fact got me thinking about how nice it would be to give away boxes of different coloured eggs to friends and family for Easter. This is purely hypothetical, of course, as Tom really doesn't want me to get any more hens and rolls his eyes when I go "Chicken Broody", as he calls it, when I start talking about getting a couple more. He says we have enough but I think there's always room for a few more! I think he's only worried that they might break into his vegetable garden en masse and eat everything in sight. As if my well behaved girls would do anything of the sort. Anyway, I wonder whether this lovely idea about coloured eggs in boxes might just persuade him to have a rethink.
If you're lucky enough to be able to find the various breeds, creating a wonderful palette of coloured eggshells could be a possibility. As I've mentioned, Araucanas are greeny blue egg layers, and wouldn't these look pretty sat next to the soft blue eggs of a Cream Legbar or one of the new hybrid blue egg layers like a Heritage Skyline? For a white egg, I'd need to find a Leghorn, Appenzeller or a Poland, and for a soft creamy coloured shell I'd choose an Ancona or maybe a Faverolle. Moving on through the palette, I think I'd need a tea-tinted shell next, and what could be better than some more lovely Sussex girls or maybe a Wyandotte? My brown egg would come from a Barnvelder or a lovely ginger hybrid as I love little red hens, but for an even darker brown egg I'd love to get a Welsummer or a Maran.
Well, I think my dreams are already in tatters when I look at that list because I can't see any way in which Tom will let me get away with adding even a couple of new hens, let alone enough to lay me all of these lovely coloured eggs I'm dreaming of in my Easter Egg boxes. Oh well, it was a nice thought while it lasted. Back to reality, I suppose. I'll have a go at dying some of our hens' eggs instead, with beetroot, onion skins, red cabbage leaves, grape juice and turmeric, like I used to do when I was a child. I think that could be just as satisfying and as pretty in a display of Easter eggs, don't you?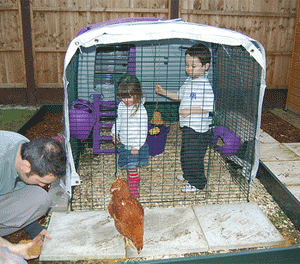 One Dad's solution to half-term child care.
Cooking Corner

With the longer days and warmer weather, there are signs of life in the vegetable garden. In February I placed forcing pots over the rhubarb crowns and there are definite signs of young stems starting to emerge. It won't be long until I plant out the potato tubers that have been chitting in the green house for the past few weeks. The spring greens are coming on a treat and I am over run with perpetual spinach, which the chickens are grateful for.
True to tradition, the chickens came into lay around Valentine's day and we have had a full house of eggs nearly every day since. The 'garden gate shop' is back in business with regular passers by, wanting half a dozen fresh eggs.
Barbara mentioned that Easter is the time to add some more point of lay chickens, to make sure that we get more eggs through winter this year. I am not convinced if that has more to do with her wanting more girls to fuss over, or for 'gate' commerce. The former more likely!
Talking of Easter, it won't be long until the Bunny arrives loaded down with chocolatey treats. Barbara has mentioned that I am not to buy her an Easter egg this year. She mentioned chicks, so I am hoping she meant the foil wrapped variety! She isn't the only one who is broody; one of our hens has been sitting on the nest for a while today, looking decidedly comfy! Will have to turf her off later.
When it comes to recipes for Easter, you can't go wrong with fairy cakes!
Cake Mixture
270g plain flour







Topping
2 Tbsps cocoa powder



Mix the melted butter, eggs, vanilla essence and milk together. and add to the sifted dry ingredients.
Add the dry, sifted ingredients and mix to a smooth batter.
Fill the cake cases ¾ full and bake in an oven at 200C/gas mark 6 for 15 minutes, until the tops are cracking slightly.
Leave on wire rack to cool while you the make the topping.
For the topping
Cream the icing sugar, butter and cocoa together adding a teaspoon of cold water at a time if too stiff.
When the cakes have completely cooled down, top each one with a dollop (technical term) of the icing and add eggs for decoration.
Makes 24 cakes.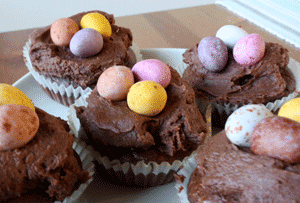 Tasty choccy treats from Tom
 Vegging out
At last Spring is here! All the plants are starting to wake from their Winter snooze and the days are definitely longer and a little warmer. It's time to get out into the garden and do some work. The seeds I planted in the propagator last month are now lovely seedlings with a couple of leaf pairs. Now they're ready to be transplanted into pots. I'll fill these pots with a seedling compost and gently lift the seedling out of the propagator cell using the end of a pencil, making sure not to damage its root. Then I'll make a small hole for it to sit in its new home and make sure the compost sits securely around it. Give them a good watering and keep them warm in the greenhouse until they get a good root system established.
The ground's now warm enough to start sowing some seeds directly into the ground. This week I've sown my beetroot, carrot, parsnip, cabbage and cauliflower seeds into my raised beds. These have a long growing season and won't be ready until late Summer, early Autumn. I try not to waste the space taken up by these slow growers. In between their rows I sow "catch crops" such as radishes, spring onions and lettuces. Veggies that grow fast but don't cut out the light to the other seeds.
In the greenhouse I've sown some faster growing seeds in old toilet roll inners. I've got two types of cucumber, a standard green and a crystal lemon, sweet corn (usually for the chickens benefit) and pumpkins. These will be planted out still in their tubes to minimise root disturbance. The tubes will rot down once in the ground.
I'm definitely feeling like I'm growing for the whole street. I always grow far too many seeds but they always find new homes. I'm getting enquiries from friends already about collecting some young plants! It's nice to feel I'm helping others to become more self sufficient.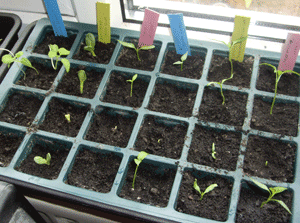 Spring sees growth in seedlings.
Eglu owner of the week
About You:Your name and age:

Where and with who do you live?

Your occupation:

What is your favourite outfit?

Which is your favourite season?

What would you choose as your last supper?

What is the most important thing you have ever lost?

What is the most daring thing you have ever done?

Do you have a hobby or a hidden talent?

Who would play you in a movie of your life?

What song do you most like dancing to?

If you won the lottery what's the first thing you would do?

If you could be anywhere else in the world right now where would you be?

About your chickens:
What are your chickens called?

What do your chickens like eating more than anything else?

How many eggs do you get a week and what's your favourite way of preparing them?

Do you bake more cakes now you have your own chickens?

Do your chickens have a party trick?

What's been the most surprising thing about keeping chickens?

What is the best thing about owning an eglu?

Can you imagine life without chickens?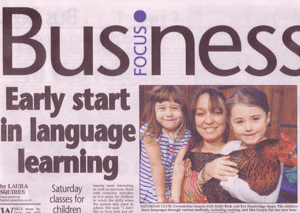 A recent article featured Gwen's weekend language club for children. Très Bien!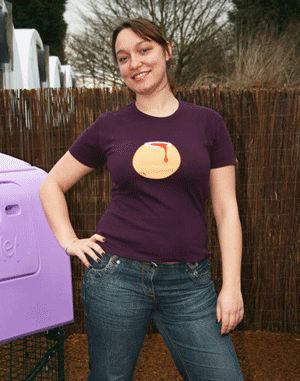 Gwen boasts her boiled egg beauty.Eve shows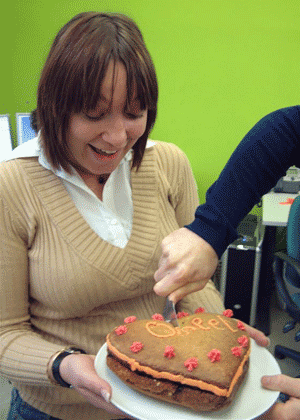 Shock horror as Simon breaks Gwen's heart!.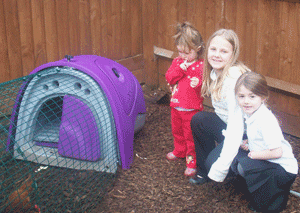 Sergeant Scarlet suspects there is more to these chickens than meets the eye!
Omlet online shop
Star Products!
Here is just a small selection, go online to see the full range.
Flower Chick Egg Cup with Chocolate Eggs
This egg cup would make a unique addition to any collection. In fact, they're so crazy and colourful they may just need a shelf of their own. They cannot help but to brighten up your breakfast, and you may find yourself eating a boiled egg every day just to have the eggscuse to see your funky new friend. And let's not forget the very important fact that each chicken arrives filled with yummy chocolate eggs.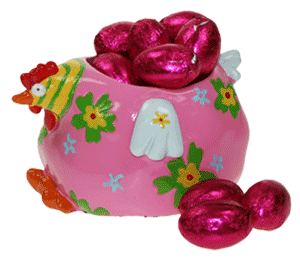 Polka Dot Egg Cup with Chocolate Eggs
Breakfast will never be boring again with this snazzy little gift set. Although boiled eggs are tasty you can't beat a bit of chocolate on Easter day. After devouring all the little foil wrapped chocolate eggs, the colourful, polka dot egg cup will be all ready to use for your next breakfast. Makes a cool alternative to a traditional Easter egg.
A gift set far more eggciting than an Easter egg! Includes a rabbit hand puppet, a packet of rabbit gel gems and a small jar of chocolate speckled eggs. £1.15 cheaper than buying the items separately!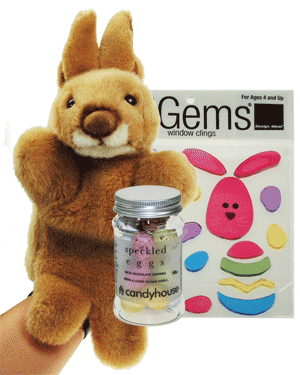 Easter Gift Set for Women
This gorgeous gift set includes four of our most popular items: A chicken egg cosy, a chicken poop lip balm, a pair of fried egg earrings and a chocolate egg cup. £1.75 cheaper than buying the items seperately!
This entry was posted in Pets
---