Omlet Newletter April 22nd 2009
Hello!
Easter's flown by quickly and it's looking more like Summer each day. Your chickens will be loving the sun as much as you, with longer, brighter days to roam around looking for worms, and lots of bright green grass that they can peck at. And before you stop them from biting a bald patch in your lavish lawn, remember that it will do them good and it will make their yolks a lovely, rich colour.
While hens are happily eating grass, a lot of us are still finishing the last of our Easter eggs. In fact, we keep discovering more at Omlet HQ, following the annual Easter Egg Hunt. Never mind the Easter Bunny, it seems that our chickens are eggstremely good at hiding things!
So now it's back to school and work for a couple of weeks, but there's another bank holiday just around the corner so we can all enjoy the sunshine.
Happy May Day To You!
And the Winners are…
We were astounded by the number of entries we got to our Easter competitions. You guys must REALLY like chocolate because hundreds of you had a go at guessing how many chocolate eggs there were in the jar. Amazingly, five people guessed eggsactly the right number…drum roll please…128! That's a lot of eggs. And unfortunately we could only award one person with this cracking prize, and that was Helen Webber. We couldn't forget our four runners up though; Nicola Beech, Paul Crawford, Kate Ward and Natalie Hart have all received some chocolatey treats too. So well done to all of you!
Our colouring competition wasn't quite so straight forward. With entrants from ages 2 – 42 there was a range of talent and creativity that was tricky to judge. So we split the bright and bold beauties into four age ranges and voted on four winners: Thomas Jennings aged 6, Abigail Barnes aged 8, Hannah Westrup aged 12 and Karen Ridley aged 21. Congratulations to you awesome artists, prizes are flying over as we speak. And well done and thank you to everyone that entered, your colourful pictures have brightened up Omlet HQ a treat and everyone has had a good old nosy at them. We're green with henvy that you're all so talented…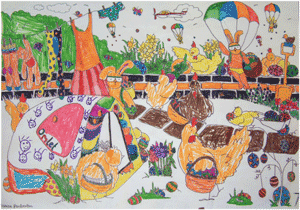 An eglu with smiley faces? Pure genius by Thomas!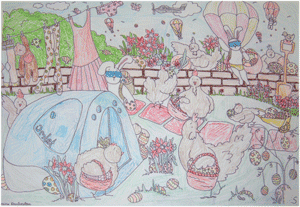 Abigail's picture is pretty perfect
An eggcellent effort from Hannah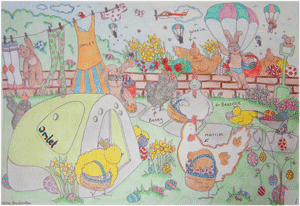 We think Karen's chickens would be proud of this!
Ready, Steady, Cook!
If you weren't lucky enough to win one of our Easter competitions don't panic because this month's is a cracker. We might have mentioned before, but we are fanatic about eggs, nice and fresh, straight from the eglu. Our speciality is omelette, but we like all sorts. We want to see just how skilled you lot are at cooking with our favourite ingredient. Do you have a delightful dish that you rustle up for dinner every week? A recipe passed down through the generations that cannot be beaten? A sneaky midnight snack that always hits the spot? Send your signature recipe, along with a photo, to stephanie@omlet.co.uk, and our favourite will win some kitchen goodies. This competition closes on Tuesday 12th May, so get cooking!
Grand Designs
Grand Designs Live kicks off this Saturday, 25th April, at ExCel London. It runs until Monday 4th May, and we will be there showing off the eglu in all its glory. This is always a popular show, with all you could ever need for your home and garden, lots of eggciting demos, and celebrities (such as ourselves). Ok, we're not eggsactly famous, but our products are, and we will be happy to show you the eglu and have a chat about keeping chickens so come and say hello! Find out more info on the website.
The London Marathon
What have you got planned for this weekend? A nice lazy day or two, chilling in the sunshine with a glass of Pimms? Maybe you'll flick on the tv to check how the runners are doing in the London Marathon? Perhaps some of you might even be running it…just like Omlet's very own James Robinson! There will certainly be no relaxing for him this weekend as he prepares for running 26 miles around London, on Sunday 26th April. Yes, he is nervous. Yes, he feels awkward at wearing skin tight vest and shorts. But we know he can do it.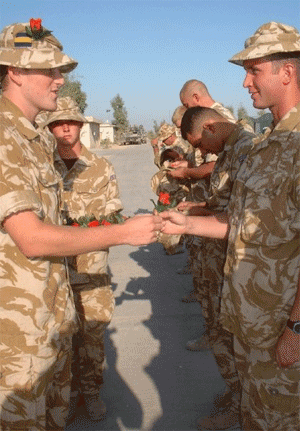 James' army eggsperience should make the marathon a breeze!
He is running to raise money for the Army Benevolent Fund, which supports serving soldiers, former soldiers and their families in times of need. So far his sponsors total over £900, and he has just under £100 to go until he reaches his target of £1000. Click here if you would like to support his cause. And be warned, the photo had been taken just after a gruelling training session, so he's not looking his prettiest!
Good luck James!
Cooking corner
Egg Cup Tea Cups
If you love a cup of tea with your boiled egg you will adore this pair of egg cups. On first glances you might think these would take pride of place at a doll's tea party, when in fact they will be most happy upon the breakfast table. Dinky and divine, they will bring a touch of quintessentially British class to breakfast time, providing a much more elegant egg eating eggsperience. If you would prefer to use them to sip tiny cups of tea feel free, we won't tell… if you don't.
Made from porcelain and comes boxed.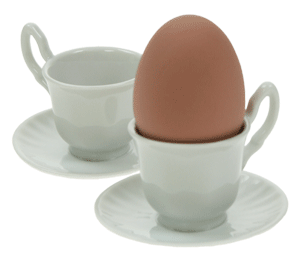 Time for tea
Barbara Diary
Vegging out
I love old superstitions and traditions and May is full of them! Sadly, I couldn't find any to do with chickens, which was disappointing but there are some interesting old proverbs concerning the weather in May. "March winds and April showers bring forth May flowers" and as it has been pretty damp for the last few days in this neck of the woods, hopefully that is a sign that the garden will be overflowing with flowers throughout the month of May! I hope so! Apparently "a hot May makes a fat churchyard" which is ominous but on a more cheerful note "a wet May brings a load of hay" so if May is a washout, at least the harvest should be a good one. One proverb which causes a little confusion is "Cast not a clout till May be out" because the May in the proverb could be the month but is more likely to be Hawthorn blossom, otherwise known as May blossom. We have a lovely Hawthorn called "Paul's Scarlet" in the garden and I know not to pack away my warmer winter garments until the blossoms have opened to grace the garden.
The Celtic fertility festival of Beltane was celebrated overnight between April 30th and May 1st. Huge bonfires were lit on hilltops and the whole community gathered around and watched as the fire burned throughout the night until the sun rose on May Day morning. Leaping over the flames ensured a prosperous and fruitful summer. Each family took a piece of smouldering wood back to their home to re-ignite their own hearth fires which had been put out the night before. Hawthorn branches were used to decorate the outside of their houses as May blossom has been a symbol of rebirth for centuries. May Day was also the first day of the Celtic summer when livestock were let out to graze in the fields for the first time. Beltane is supposedly when witches make their new broomsticks and anoint themselves with flying ointment! Women often wore green dresses or pinned a green ribbon to their hats or clothing on May Day and dancing took place around the May Pole in the centre of the village and afterwards, the prettiest girl in the village was crowned May Queen.
Dew gathered on May Day reputedly kept the skin free from freckles and from being tanned by the sun. "The fair maid who on the first of May, goes to the fields at the break of day, and washes in dew from the Hawthorn tree, will ever handsome be". Queen Elizabeth the 1st was a strong believer in the beautifying properties of May dew and would have it collected so that she could bathe in it as did Catherine of Aragon, King Henry VIII's first wife. Samuel Pepys also documented in his diaries that his wife used it with good results! So, if you want to be forever beautiful, get up early on May Day and gather lots of dew!
One superstition which tickled me the most concerns kittens. Kittens born in May are considered to be unlucky as they are no use whatsoever as mousers and will bring snakes into your house!! It is also supposed to be unlucky to wash blankets in May for fear of "washing your love away". Well, I think that's as good an excuse as I'm going to find for cutting down on the laundry so I'm sticking to it!
 Barbara's Star Photo of the Month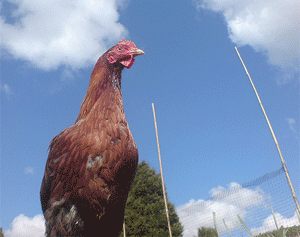 Chicken olympics is quickly becoming the new craze
Course host of the week
Rachel Gowshall
Your name and age: Rachel Gowshall, age 46
Where and with who do you live? I live in a small village six miles from Swindon called Winterbourne Bassett, with my husband Richard and children Matthew, Ellie and Sam.
Your occupation: Veterinary Nurse and website owner www.petvetcare.co.uk
What pets do you have? A dog called Scally, a hamster called Lela, a tortoise called Kevin, some fish and a hedgehog called Brenda who we nursed back to health and released. She may or may not still be living under the shed (we had to stop feeding her as she was just coming out once a night for a feed and getting extremely fat, worried she would not be able to squeeze out of garden if she got any fatter!)
What is your favourite outfit? I keep trying to look smart and sophisticated but always end up getting dirty walking the dog, cleaning chickens out and cooking, so I guess it has to be what I am most comfortable in which is jeans and t-shirt.
What would you choose as your last supper? Beef Wellington with dauphinoise potatoes as this is what my husband cooked for me the night he proposed, ahhh.
What is the most important thing you have ever lost? The gold bracelet that my husband gave me when my youngest son Sam was born. It was found about three years later by builders in the garden when they were doing our extension and thankfully they gave it back to me.
If you could be anywhere else in the world right now where would you be? I am happy wherever I am as long as I am surrounded by the ones I love. We went on a great cycling holiday in Lake Garda and cycled up a mountain one day where we stopped ½ way up for a bowl of delicious pasta. The view was spectacular, pretty much my perfect setting.
What are your chickens called? Minerva is the guardian of the garden, she is the only one to beat Scally at staring matches, and she is the layer of the famous Double Yolkers. Ermintrude (Trudy for short) is the smallest of the chickens but she's very speedy and gives herself an added boost by using the low flapping wing technique. Monica is the piggy of the bunch, always pinching food off the others and she sometimes crams so much in that she can barely swallow. Ellie was worried when we first had her that she had a growth and I had to point out that the 'tumour' was a huge crop full of food! Hilda is mine and is quite a shy girl. Very sweet but can make quite a racket when she tries to tell off the other birds.
How many eggs do you get a week and what's your favourite way of preparing them? Eggy bread is my fav way of using them. Richard is the king of eggy bread and try as I might I can't make it as good as him. Denis, my saxophone teacher, tells me that our eggs are the best he has ever tasted and he always buys free range. I take him a box of four most weeks when I have my lesson. He and his wife now plan his week's meals around them.
Do you bake more cakes now you have your own chickens? Actually no, we have always made a lot of cakes but we do eat more other eggs things. We have just found out that they now don't think eggs are harmful for your cholesterol levels so I am very happy!
Do your chickens have a party trick?Spontaneous chicken races across the garden.
What's been the most surprising thing about keeping chickens? How comical they are and also how relaxing it is to watch and listen to them going about their business in the garden.
Can you imagine life without chickens? No! Quite a scary moment last week when we thought Minerva was very ill. She was very quiet and took herself off away from the other chickens. She wouldn't eat and was very wheezy. About 20 mins later she passed a huge double yolker (which Scally stole), flapped her wings and off she went! Even my husband who pretends he doesn't like the chickens got very worried!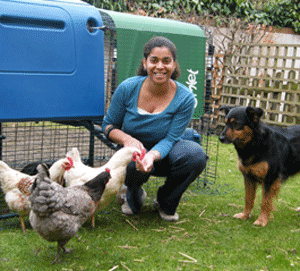 Mmmm… that corn looks far tastier than a bonio!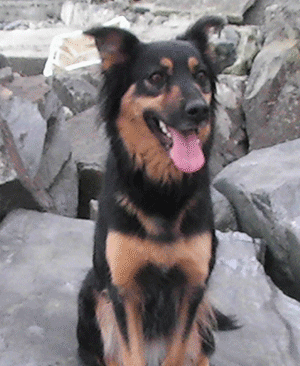 Scally likes nothing more than a trip to the seaside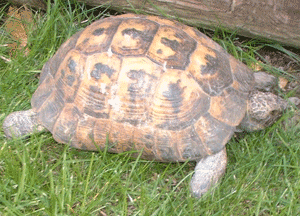 For some reason Kevin always loses the spontaneous chicken races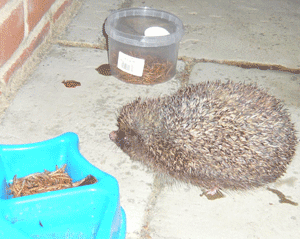 Brenda's been stealing mealworms again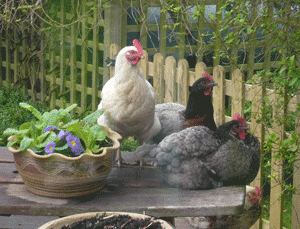 It's safest out of reach of the other pets
Omlet online shop
Star Products!
Here is just a small selection, go online to see the full range.
Set of Six Melamine Egg Cups
Breakfast is the most important meal of the day, but dragging yourself out of bed first thing in the morning to eat a plateful before rushing to work can seem like more of a chore than a pleasure. Put the fun back into breakfast with a couple of boiled eggs and some eggstra colourful egg cups. Not only are these melamine marvels bright enough to wake up the most tiresome of eyes, the bases resemble lego and they can be stacked into towers for early morning entertainment. Let's hope your soldiers have been trained to climb!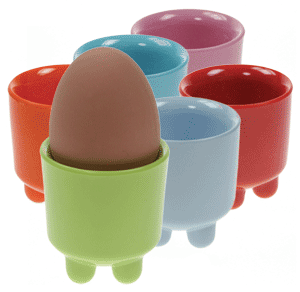 Golden Egg Money Bank
If you've ever heard the fable of the goose with the golden egg, you'll know that greed will get you nowhere in life. One golden egg is more than enough for anyone, and the real trick to get rich is to save all your pennies inside the precious, shiny egg. Once it is full you can release your hard saved cash through the stopper in the base so there is no need to smash the pretty, porcelain money bank.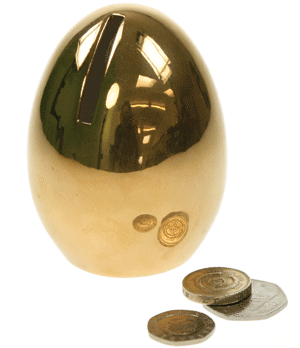 Bamboo Veneerware Picnicware
Picnics are a fun way of getting back to nature and enjoying the great outdoors. Food, friends and fine British weather equal a fantastic day out. But when you've finished your salads and sarnies and you're ready to head home you may find you're left with a lot of rubbish, and all those plastic plates and packaging are bad for the environment. Wouldn't it be good if you could use completely natural, renewable and disposable picnicware that can be thrown away without a pang of guilt?
The bambu veneerware is made from 100% organically grown bamboo, peeled straight from the stalk. It is much sturdier and stronger than plastic or paper picnicware, so it won't bend or buckle under the weight of food. And after disposal it biodegrades in 4-6 months. Good for you, good for your food and good for nature!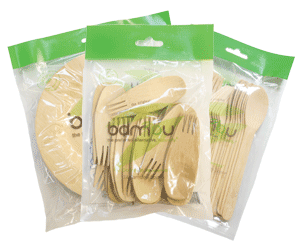 Set of Plates, Sporks or Cutlery from £6.00
Egg Cup and Salt Shaker Set
Have you ever sat down for breakfast, taken the top off your boiled egg and gone in for the dip before realising you forgot the seasoning? By the time you've gone into the kitchen, located the shakers and dived back to your plate all sorts of events could have taken place; the yolk's started to set, the soldiers have gone cold, or, worse, some greedy trespasser has gobbled it! You need to ensure you are prepared for all possibilities, and this egg cup will have you one step closer to safety. It may look like a normal egg cup, but the base holds a special secret – salt. As long as you keep it filled you will never again need to abandon your egg to find the seasoning because it's right under your nose!
Made from porcelain and comes as set of two, boxed.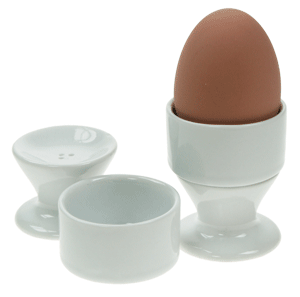 Omlet world
Holland will be celebrating a very special, very orange day next week. On the 30th April every year the nation has a day off work or school and unites to celebrate Queen's Day. Although Queen Beatrix's birthday is in January, she officially celebrates her birthday on this day as a tribute to her mother, Queen Juliana. People are allowed to sell things in the streets, in the 'freemarket', and there are games, concerts and parties to celebrate. And if you happen to be in the Netherlands on this day you may be surprised by the sea of orange, as people dress bright and sunny in reference to the House of Orange-Nassau!
Did you know you can now order the Eglu in the Netherlands?
Bezoek nu de Nederlandse Omlet website!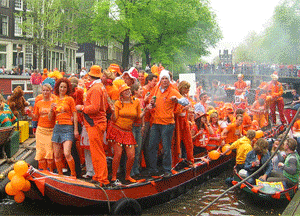 This crazy sea of orange shows that the Dutch know how to celebrate!
Omlet team
This entry was posted in Pets
---