Omlet Newsletter May 5th 2009
Hello!
With another Bank Holiday just gone we hope you're feeling relaxed, rejuvenated, and ready to read our wonderful newsletter. Eggs seem to be the theme this time, with news that eggs really are good for you, a new feed that will keep your hens laying for years and years and a recipe for a different take on boiled egg and soldiers. You can win some great prizes in our cooking competition, learn how to stop nasty slugs from spoiling all your veggies and have a sneak preview of the shop's latest goodies too. So pour yourself a cuppa and read on…
Organic Omlet Chicken Feed
Omlet are proud to introduce the new and eggciting Organic Omlet Chicken Feed. Think the bag looks cool? Well that's just the start. The food inside is not only delicious but a carefully balanced concoction of ingredients that will do wonders for your hens. There are over 20 natural vitamins and minerals for maintaining your chicken's immune system, carbohydrate and fibre to give energy and a healthy digestive system, and limestone and manganese to ensure eggshells are tough and strong. And the best bit is there is eggsactly the right amount of protein for hens to lay more consistently over a longer period of time. Eggsquisite! A 10kg bag is available now for £8.00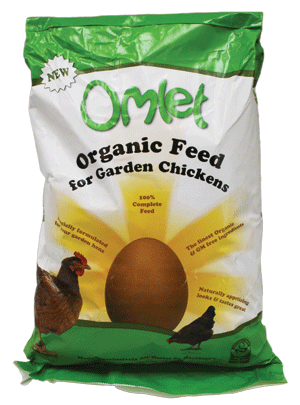 The Omlet formula for years of eggs
Three Cheers for Eggs
If you love eggs now there is a reason to love them even more. According to a recent article eggs are the perfect food! But what makes them so good for you? They have the highest protein rating than any other food, they have nutrients including vitamin A, B, D, E, folic acid, zinc, calcium, potassium and iron, and they contain essential fatty acids. And are they bad for your cholesterol? Apparently not…a new discovery suggests that egg yolks have the perfect balance of monounsaturated fat which has been known to raise good cholesterol. So go on, enjoy that boiled egg!
And now for more good news about eggs…this week coming to your screens is the first national tv advert to promote an egg brand in years. The Happy Egg Company has done a brilliant job of bringing free range eggs to our supermarkets, and it strives to keep its hens as happy as can be with farms that provide plenty of space for them to roam and forage. The advert features Happy Egg Producer John Michalski driving a quad bike with one of his hens on the back, to 'Born to be Wild'. A farmer and his rock chick? We think you will be hentertained!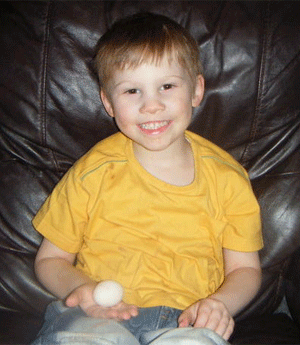 With news that eggs are great for health and happiness this fella holds his close to his heart!
Marathon madness
You may remember that a certain member of Omlet HQ was preparing to run the London Marathon a couple of weeks back. Well, did he succeed? … Of course he did! And we didn't doubt it for a second. Not only did he conquer the 26 miles in searing heat, with no sun cream (and a nice pink tinge to prove it), but he managed it in a smashing time of 4 hours and 48 minutes. The brave soldier even managed to make it into work at 9am Monday morning despite his sunburn and aching legs, for the good of the team.
Thank you to those of you that kindly sponsored him for the run. With your help he has achieved more than his target donations, with a total of £1,048.49 so far. This will go to the Army Benevolent Fund, which is a very good cause indeed. Well done James!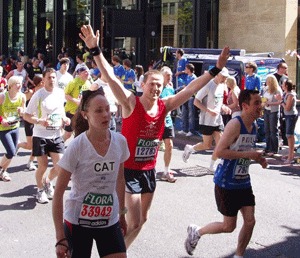 With enough speed and arm flapping, James believed he could fly… to the finish line!
Culinary Competition
In case you missed the last newsletter, here's a reminder of our latest competition. This month we want you to get your apron on, your wooden spoon out and get cooking! Our speciality is omelette, but we know that eggs can be used to create all sorts of super recipes and we want you to inspire us. Whether you're the master of victoria sponges or you like to create something more unusual (scrambled eggs on banana bread anyone?) tell us your recipe and you could win. Everyone that enters will receive a freebie, and the winner will get a cracking selection of kitchen goodies. So why not give it a try?
Simply send your recipe and a photo to stephanie@omlet.co.uk, or you can post it to: Recipe Competition, Omlet Ltd, Tuthill Park, Wardington, Oxon, OX17 1RR. The closing date is Tuesday 12th May. Good luck!
Cooking corner
After much negotiation, the deal was done. A dozen hens' eggs and a sponge cake for the Village Fete, in exchange for a few duck eggs. The Vicar drives a hard bargain, but explained his ducks weren't laying that well. I have it on good authority that he traded two dozen with the Postmaster for a jug of 'homebrew' cider! Perhaps that would explain his lack of eggs!
Duck eggs are available in most supermarkets and farm shops, and finding a local supplier will guarantee freshness. They are larger and richer than those of their land-based cousins, fantastic for golden sponges and cakes. I have decided to use them simply this time, using the first tender spears of fresh asparagus.
Boiled Duck Eggs with Asparagus Soldiers
Serves 2
2 duck eggs



Boil the duck eggs for 5 minutes.
'Snap' the asparagus at the base to remove the woody part and then boil or steam until tender.
Drizzle virgin olive oil and balsamic vinegar over the asparagus and use as soldiers to dunk into the soft boiled eggs.
Simple! Now if only I could make cider, I would never want for duck eggs again…
May is a great month for starting to sow some more delicate seeds directly outside. Anything that you may have forgotten to sow under cover can now be sown direct. The risk of frosts has now past (hopefully), so the chances of losing your seedlings to the cold is unlikely.
It's also the time of year when there are many more insects and molluscs in the garden. Some are beneficial, others are a garden's nightmare. It's hard for a 'grow your own' fan like me to have a balanced opinion on what to do about the unwanted pests in my garden. I like to use few, if any, chemicals on my soil and plants and I have to think carefully about the safety of my chickens.
So this is my plan of action, starting now. I've bought some slug nematodes from an online supplier which are a microscopic worm that uses slugs as a host and kills them. They're simple to use and very effective. You just dilute the packet with water and add to the soil. I also use slug pubs as a fall back.
To make a Slug Pub:
Take one empty, clean yogurt pot (the individual portion ones are fine).
Dig a hole so you can almost bury the pot, just leave a little proud of the surface.
Make sure the soil around it is securely packed in.
Add beer, lager or cider (cheap or out of date alcohol is fine).
Wait until slugs climb in and meet a cheery end. Empty frequently.
You may need to use several "pubs" around your garden for best effect.
Obviously, slugs and snails are not the only pest that can ruin your veggies. Later on in the year the dreaded Cabbage White Butterfly loves to lay its eggs on your brassicas so the hatched caterpillars can devour your cabbages, caulis and broccoli. There are some great insect nettings on the market which act as a physical barrier to the butterflies but I also plant nasturtiums in the garden. These are very attractive to the Cabbage White Caterpillars and are eaten in preference to your brassicas. The petals of the nasturtium are also lovely to eat in salads.
Aphids are also a huge pest, especially in the greenhouse amongst your tomatoes and peppers. I like to plant French and pot marigolds and dill in close proximity to my tomatoes. The dill attracts hover flies which predate the aphids and the marigolds' scent deters the aphids. Just like the nasturtiums, marigold petals are delicious added to salads.
I don't want to deter all insect life from my garden though. Bees and other pollinating insects do an excellent job of pollinating vegetables for us. It's important to attract as many types of bee to our gardens as possible by planting scented and brightly coloured flowers. I always have lavender around my garden as its scent is lovely and can be used in many sweet dishes in the kitchen. I also love sunflowers, bees adore them and they are so beautiful to look at. At the end of the season the birds love the seeds…if I don't get there first!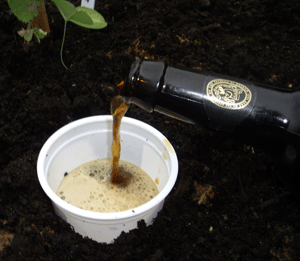 One man's heaven is another slug's hell.
Our range of Pocket Gardens are the perfect way to get you growing some lovely plants quickly and easily, and the edible narsturtium, sweet smelling lavender and colourful sunflower are all available at £3.92 in the online shop. We also have a few to give away, and all you need to do to have the chance to win one is send a photo of your Slug Pub to stephanie@omlet.co.uk.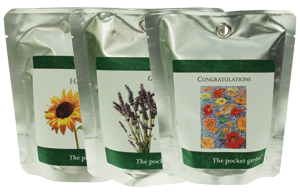 A pocket full of pocket gardens for you to win
Course host of the week
Cathy Howells
Where and with who do you live? I live with my husband and three sons in Fleckney, a small village in South Leicestershire.
How long have you been keeping chickens? Two and a half years.
What made you decide to keep chickens? I read the blog of a lady who was getting an eglu and three chickens and just loved the idea of productive pets for the children and myself! (I've never been into bunnies!)
How many chickens do you have and what are their names? Hmm, OK, you did ask! 14 chickens: Big Bertha, Florrie, Pom, Bella, Rosie, Little Bo, Roley Mo, Bambi, Sugar, Spice, Pepper, Cinnamon, Nutmeg and Clove. Is that 14? Did I forget anyone?
What's your favourite thing about the eglu? I'am very aware that we have close neighbours, and the eglu cube is perfect as it is quick and easy to clean and keep sweet smelling!
What do you like doing when you're not hosting hen parties? The emphasis here is on doing – as long as I am doing something I am happy! Workwise I make and sell bags from recycled fabrics via my website and work part time as a self employed Occupational Health Nurse Specialist. I also run a toddler group in the village. Any spare time is spent with the boys gardening and on our new allotment!
Why did you decide to become a hen party host? Because my friends got fed up with me talking about chickens and I needed a new audience!
When was your first course and how did it go? I did my first course in December 2007. It went really well! I like to encourage attendees to ask lots of questions – after all the course is about what they need to know, not what I want to tell them.
What do your courses include? Over tea and coffee I do a brief intro about myself, then spend time answering questions and trying to squeeze in the information that they need to know. I encourage them to browse through my selection of chicken books and magazines so they know what sources of information are available. Then we go outside and play with the cube and do a bit of chicken wrangling. I try to make sure that everyone has had the opportunity to catch and hold a chicken at least once as that is often a big concern for people. Then we go back inside for homemade fresh cream victoria sponge, final questions and they all go home with a goody bag and a fresh egg.
Have there been any course disasters? I'm too organised for disasters! Although one of my girls did poop all down a guest's smart jacket once!
What's the best thing about being a hen party host?

Why should people attend a course? Because it's important to see how chickens actually fit into a domestic garden environment and to be made aware of the pitfalls as well as the bonuses. I would rather someone decide against keeping chickens than to get them and decide six months down the line that chicken keeping is not for them.
Course Review
"Had a wonderful morning talking to Cathy who is soooo knowledgeable (what she doesn't know about chickens isn't worth knowing). It was great to see the eglu cube in situ and the hens obviously love it……Being able to handle the hens was a joy and we were surprised at how big they are. The course overran somewhat with all of us asking questions but Cathy was the perfect host and did not appear to be in a rush to get rid of us. The morning was rounded off by being offered a slice of the most delicious victoria sponge sandwich cake, complete with jam and fresh cream (yum yum). The sponge was bright yellow due to the fresh eggs that her willing hens had laid for her which made an EGGCEEDINGLY good cake!" – Neil & Sharon Windram.
Upcoming Course
Hen Party for Beginners

Click here to book now.
Omlet online shop
Star Products!
Here is just a small selection, go online to see the full range.
Greeting Cards
Our new range of greeting cards by Minter Kemp are sure to make both you and the lucky recipient chuckle. Based on play on words and puns, they are cheeky, fun and out of the ordinary, and the characteristic cartoon artwork is really rather amusing. Lots of colour and individuality make these a favourite for chicken fans!
Egg Cup Set Farmers Market
If all you've ever dreamt of is a farmhouse country kitchen, this set of ceramic egg cups could get you one step closer. There are four different designs, featuring farm animals and retro style slogans, that will look perfect displaying your chickens' fresh eggs. A great set for an idyllic British breakfast!
Felt Farmyard Coaster Set
These coasters are perfect for protecting surfaces from marks and stains left by drinks. When you're having dinner the last thing you want are circles of red wine staining your sparkling pine table. Not only will these farmyard, felt coasters look fabulous on the table, they will also soak up spillages and can be washed afterwards.
Ethically sourced and designed in England.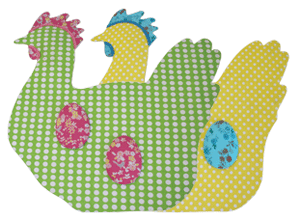 Magnetic Chicken Board
Chicken keepers are usually list keepers. Egg tallies, recipes, shopping lists…the kitchen can easily become a site of crazy chaos with pieces of paper scattered all over. Yet, when you need to locate one very important note, it seems an impossible task. Just like you keep all your eggs in one basket you need to keep all your lists in one place. And we think you'll agree this magnetic chicken board is an eggcellent choice.
 Omlet world
The eglu has featured in the April edition of the European magazine Only You. This popular lifestyle magazine describes the eglu as being easy to use, safe, fun and most importantly very cool. It stars in a spread of products that are stylish, modern and eco friendly – just what we like!
Keeping chickens is a great step towards leading a more self sufficient lifestyle and if you live in France, Germany or Holland you can now buy your own eglu. Click on the sites below to find out all about it!
This entry was posted in Pets
---