Omlet Newsletter May 20th 2009
Hello!
May's a great month isn't it!? The sun is shining, the birds are singing, the hens are laying whoppers that make for a darn good breakfast, and there are two bank holidays. What's not to love about Springtime? In this newsletter you'll find some great new products for the breakfast table, the world's fastest omelette, and some advice from Barbara on what chickens can and cannot eat in the garden. There are lots more goodies so read on, enjoy, and have a wonderful bank holiday weekend!
Market Kitchen
The eglu will be making an appearance on UKTV food's 'Market Kitchen' this Monday and it will be joined by the equally famous celebrity presenter Kay Burley. The Sky News presenter is a great fan of Omlet, she will be on the show talking about her eglu cube and the chickens that live in it. The programme will be shown at 7pm on Monday 25th May so whether you're a fan or a foodie, don't miss it!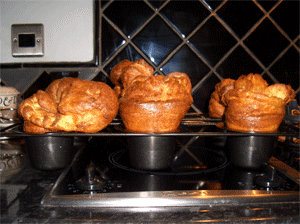 Just look at the size of Cathie's yorkies!
Recipe Results
Speaking of food, we received some eggcellent recipes for our cooking competition. The variety you came up with just goes to show what a versatile ingredient eggs really are. Thankyou to everyone that entered, but there could only be one winner, and the recipe that caught our eye the most was sent in by Cheryl Pasquier. Her 'Eggstremely Nice Turtle Sandwiches' speak for themselves…and here's how to make them:
Per sandwich:
1 pitta bread,







Directions:
Preheat the grill.
In a saucepan, melt the butter over a low heat. Add the milk to the beaten egg, mix and pour into the pan. Heat for a few minutes, stirring constantly, then add the bacon/ham, cheese and spring onion and continue to cook, stirring constantly, until the eggs are firm and cooked through. (In other words, make scrambled eggs !!)
While the eggs are cooking, cut the pitta bread in two halves to make two pockets and warm under the grill for a couple of minutes.
Cut a strip off one pitta pocket, then cut the strip in half, to make a smaller pocket (the head) and four squares for the feet.
Fill the pockets with the scrambled egg mixture (it needs to be quite firm and not runny otherwise this could get messy !!) and put them both on a plate next to each other (the head and the body). Use a tiny dab of cheese spread or mayonnaise to stick the raisins on the small pocket as eyes and arrange the four "feet" around the body. (You can get artistic and sprinkle some chopped chives on the plate to make grass or add some salad leaves!)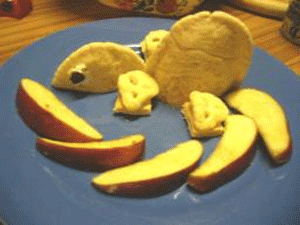 With a pitta imagination you can make this turtle sandwich too.  Don't forget to sea son it.
The Hamilton Omelette
Is it a car? Is it a plane? No, it's the worlds fastest omlette!  The last thing we were eggspecting to see just three days before the Spanish grand prix was Lewis Hamilton cooking omelettes in the hills above Barcelona but that's exactly what the ace formula one driver was doing. Could it be his secret weapon in the fight for this years championship?  Did he enter it in the cookery competition only to be disqualified when we found out his team had helped him with the recipe?  Does Lewis Hamilton even keep chickens?  Email Stephanie@omlet.co.uk with your idea and we'll print the best in the next newsletter.
Egg on your Face
Thought painting and decorating eggs was only for Easter? Wrong! One artist in Bournemouth paints eggs day in day out, as a professional egg artist. (Yes, we'd like that job too!) But what is even more unusual is what it is she paints on them…clown faces. There is in fact method to this madness, and the story starts over 60 years ago.
In 1946 a member of Clowns International, Stan Bult, had a hobby – he liked to paint images of clowns' faces on blown chickens' eggs. No yolk!! He kept his collection at home, loaning to exhibitions for show. After his death the collection was still lent out until an accident destroyed most of them. When Clown Bluey became chairman of Clowns International in 1984 he chose to continue the tradition, and hired a professional artist to register new clowns and reproduce the destroyed eggs.
Kate Stone is now the artist to create miniature clown portraits to update the collection. She uses bits of fabric, paint and even clippings of the clown's wig to decorate the eggs, and each finished piece acts as a record of that individual. The eggstraordinary collection is on display in The Clowns Museum in London.
Decorate an Egg Head
If you're feeling inspired by the clown egg register and you think you could do a pretty good job of creating some eggcellent artwork yourself, get your paintbrushes at the ready for this month's competition. Decorate your own egg to look like a face and you could win a £20 voucher to spend in the online shop. Just think, you could buy an eggstra special egg cup to display your prize portrait egg! Whether you create an egg like a clown, like a tiger, or even a self portrait, just take a snap and send to stephanie@omlet.co.uk, or if you want to really impress us send your carefully wrapped egg to Decorate an Egg Competition, Omlet Ltd, Tuthill Park, Wardington, Banbury, Oxon, OX17 1RR. The closing date is 9th June. Good luck!
Featured product
Egg Cup Set of 2- Lexicon Stoneware
Just in case you weren't sure what that strange shaped object is that you crack open and dip your toast into, this will spell it out for you. Made from cream stoneware, with colourful 'boiled egg' text, these egg cups are traditional but fun and they'll brighten up your morning eggcellently.
You'll receive two cool egg cups so you can invite someone to enjoy breakfast with you if you're feeling generous, but if you're in an indulgent mood you can eat the lot yourself.
If you like this then you'll love the matching items!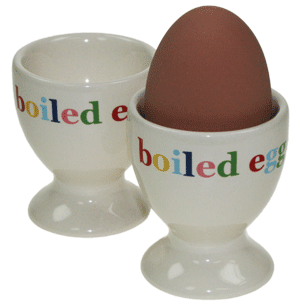 Classic egg cups for the breakfast table.
Vegging out
Chickens are funny creatures. I'm afraid I get very envious to hear other chicken owners telling me that their hens tuck enthusiastically into slugs and snails while my girls won't touch them, to the detriment of our poor cabbage seedlings which seem to be disappearing to slugs daily. And yet they fight each other over earwigs, spiders and worms which don't trouble the veggie seedlings at all! Most days we are entertained by a "tug of war" over a wee beastie which one of them has managed to catch in the run, and these tussles always seem to be accompanied by indignant squawks and high speed dashes with the tasty morsel held high in a tightly clamped beak as the others try to wrestle the treat away from its finder!
It is so funny to watch but it's hard not to think about what they have been eating when I have boiled eggs for breakfast the following day! They can be ruthless killers though and I get emails from chicken owners who have been horrified to find their hens consuming frogs, mice and even baby birds! They are omnivores and I'm afraid this means that they will eat just about anything which happens to get in their way and isn't able to escape quickly enough.
Sometimes chickens will eat the strangest things though. I remember seeing one of my hens gobble up a big piece of silicone sealant which she'd unearthed in the run one day. It didn't do her any harm at all and she's still around several years later. A couple of years ago, we were all amused on the forum to hear about a hen that used to eat all of the Mastick around one owner's door frames! I can't imagine that it would taste nice but this particular hen seemed to think that it was a real delicacy.
What surprises me is that hens do seem to be quite sensible when it comes to poisonous plants in the garden though. They seem to know what to avoid, so I wonder if the really dangerous plants taste unpleasant and that's why they give them a wide berth? The only things to avoid letting hens eat are spicy or salty foods, meat or raw potatoes in any form, and avocados which are supposed to be toxic to pets. Anything else goes…usually as soon as it hits the ground…and doesn't run fast enough!
Barbara's Star Photo of the Month
Free cardboard play house…
Course host of the week
Joshua Webster
About You
Your name and age:
Joshua Webster, age 12.
Where and with who do you live?
I live in Esher, Surrey, with my mum, dad, nan and one of my 3 brothers – Alex.
Your occupation:
I go to school at Hinchley Wood secondary school.
What pets do you have?
17 chickens,1 duck, 2 turtles – Matt and Jenn, 2 tortoises – Shelley and Sheldon, 1 rabbit – Twix, and my latest addition which I picked up yesterday is an 8 week old cocker spaniel puppy called Joey.
How many eglus do you have?
I have 2 eglus and one eglu cube.
What is your favourite subject at school?
My Favourite subject at school is science.
Do you have a hobby or a hidden talent?
My hobby is caring for my animals and buying more.
What would be your perfect meal?
My perfect meal is a Thai dish which I have when I visit my other brother who has a diving school in Koh Tao in Thailand ( it is minced pork, basil, garlic and soy sauce.)
What song do you most like dancing to?
My favourite song to dance to is Lady Gaga.
If you won the lottery what's the first thing you would do?
If I won the lottery the first thing I would do is buy a farm.
About Your Chickens
What are your chickens called?
Polo, Poet, Pluto, Penny, Pip, Paprika, Pepper, Paxo, Phyllis, Amy, Clarice, Lottie, Rose, Poppy, Daisy, Comet and Columbus.
What do your chickens like eating more than anything else?
They like eating sweetcorn fresh spinach grapes.
How many eggs do you get a week and what's your favourite way of preparing them?
I get approx 80 eggs a week and I love scrambled eggs made with cream.
Do your chickens have a party trick?
My chickens party trick is to jump over my head when i put their feeders in the cage and then try to escape. They can also jump up when i hold out a cane for them.
What's been the most surprising thing about keeping chickens?
The thing that has surprised me most is that they are all different and seem to have different personalities.
About Your Duck
What is your duck called?
My duck is called Delilah.
Why did you decide to keep a duck?
I really wanted to have a duck for ages so my mum bought me 2 but sadly one died.
Does she lay eggs regularly?
She lays approx 5 eggs a week.
What does she like eating more than anything else?
She likes eating sweetcorn and anything else the chickens have as she doesn't like to be left out.
Does she get on well with the chickens?
She lives in an enclosure with some of my chickens and gets in the cube with them at night.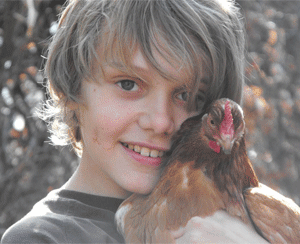 Josh is a hit with the chicks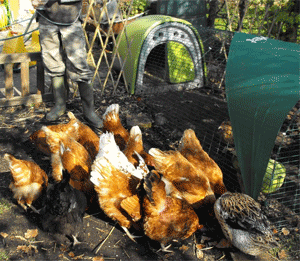 I wouldn't like to be that worm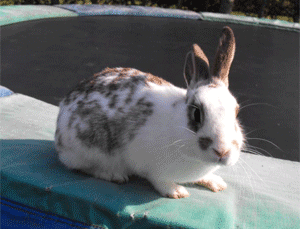 Not quite chocolatey enough to be a real Twix.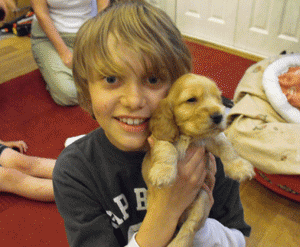 Do Josh and Joey use the same shampoo?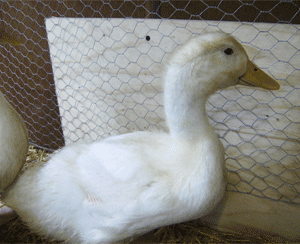 My, my, my Delilah…
Omlet online shop
Star Products!
Here is just a small selection, go online to see the full range.
Egg Cosy Union Jack
Boiled eggs for breakfast is a very British tradition, but what better way of showing you're proud of your nation than with this union jack egg cosy. Hoist the flag and watch as your soldiers make their final salute before being dipped, dunked and decapitated. Tasty!
Ethically sourced and designed in England.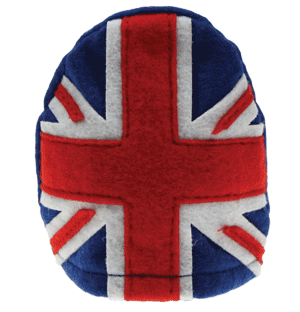 Omlet Badges
If you love your eglu and chickens so much you find yourself telling complete strangers all about it, our badges are ideal for you. Fun, funky and retro, you can wear them with pride, stand out from the crowd, and when people ask you about it you can tell them just how great keeping chickens is. Perfect for proving you're part of the eggsclusive Omlet club!
Teapot – Lexicon Stoneware
A cup of tea is the perfect British antidote for numerous problems. A hard day at work can be soothed by a comforting cuppa, an early morning can be tackled with a mug of strong stuff, and when life just all gets too much the solution may be in an extra sweet cup of tea.
Now, anyone that loves their tea knows that nothing beats it fresh from the pot, and there are times when dunking a bag in a cup of boiling water just won't cut it in the tea break stakes. Every household should possess a decent teapot, and tea aficionados might say it's criminal not to.
Not only is this a teapot of cracking quality, it also looks the part; Its cream, stoneware body, and bright 'one for the pot' text make this a beauty. You will be proud to serve a cuppa to guests from this pot, and there is nothing 'Eastenders' about it.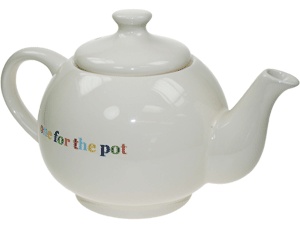 Matching items available.
Matchstick Garden – Mixed Greens
These days everyone seems to be growing their own food to live a healthier lifestyle and save money at the supermarket, but any kind of gardening can be daunting for the beginners amongst us. Loads of different packets of seeds, large and threatening tools, and…how many different types of compost!? It can be very confusing to begin with so you need a cheap and simple, no mistakes method to get you started. Cue the magic matchstick garden…
What appears to be a book of matches is actually 10 strips of card, bearing seeds. Tear off a strip, stick in a plant pot, and watch your mixed greens grow in front of your very eyes. You don't need a big garden, a swanky greenhouse or fancy gardening skills, and it is easy peasy. So not quite magic, but really nifty nature!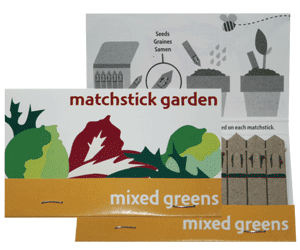 Also available in Italian Garden.
Omlet world
The eglu is becoming ever more popular in France…so popular, in fact, that it is soon going to appear on French tv! We have had the cameras into Omlet HQ filming eglus, chickens and the Omlet team putting on their best accent and saying "Bonjour". Luckily Gwen was here to act as our translator!
The programme, '100%mag', is going to be a ten minute documentary about Omlet, and it will be shown on channel M6 (the equivalent of our channel 4). We don't know when it will air yet, but we will keep you updated!
If you live in France you can now buy an eglu too.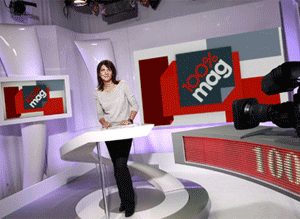 Omlet finds fame in France.
Omlet team
This entry was posted in Pets
---