Omlet Newsletter June 16th 2009
Hello!
The last couple of weeks have been dull and dreary, but do not fear, we have brought you another newsletter fresh from Omlet HQ to brighten your day. In this issue an eglu owner from Hutton tells us how happy hens make her, a boy from Brum shares his eggsperience of hatching chicks, and another brilliant competition for you to enter. And with Father's day just around the corner one of our star products may be just the gift you were looking for to treat your Dad.
But first, for some celebrity eggs…
Decorated Eggs
Last month we asked you to send us photos of your decorated eggs, in celebration of the great Clown Egg Register. Although no clown designs were received, the entries you did send were much funnier.
In third place was Lewis' take on the 118 men; it was the hairy chest detail that won it for him and we won't be forgetting that number in a hurry. Second place went to a dustbathing chicken by Alexander; we fear this beauty may have turned into a pancake soon after. And the winning entry…the one and only pop princess Britney Spears, who doesn't seem to have cracked the art of miming yet. Well done Anna!
Caption Competition
Our star photo this month is a real beauty and it had us cracking up. There's something missing though; our king of captions has vacated his throne for a few weeks so Baby Mikey, Ash and chick have been left with no comedy one-liner. They are well deserving of a cracker of a caption and we think you might be able to help. In fact, in the past our caption competitions have been so popular with you lot that we know you will come to the rescue. And there's a great prize on offer for the best one.
The closing date is Tuesday 7th July, so you've got a few weeks to think up your caption and send it to stephanie@omlet.co.uk. Good luck.
Hatching Chicks
Keeping chickens is great, but have you ever thought about eggspanding the family and hatching chicks? It's not as tricky as you might think, as Lewis eggsplains later in the newsletter, and it can be a very special and eggciting eggsperience. Ok, enough of the egg puns for now. If you love the thought of having a few fluffy chicks hopping around your eglu there are a few bits and pieces you will need to get you started.
Visit our new 'Chicks' section of the online shop to find all the products you will need; a state of the art incubator that makes hatching eggs simple, a feeder and drinker specifically for small birds, and a special set that transforms your eglu into a home that's safe and sound for chicks. You'll be playing mother hen before you know it!
Eggshell Speakers
Japan is renowned for its weird, wacky and wonderful inventions, always one step ahead of the rest of the world, and when we heard about this little creation we couldn't believe it! A man by the name of Gomhi has performed the impossible…turning a pair of delicate, little eggshells into a working loudspeakers.
Gomhi says "they sound narrow, but I'm pleased about the result", and apparently classical guitar music sounds the best. Don't try listening to heavy metal or the shells may crack and the sound will scramble.
Keeping Bees
In the last newsletter we asked if any of you are keen beekeepers. We had a good response and it is great to know that lots of you are doing your bit to help prevent their decline, and enjoying honey along with your fresh eggs.
Lynne Dare emailed us about the arrival of her bees. Her and her husband, Tim, have kept chickens in an eglu cube for over a year and love them. After thinking about keeping bees, the experience of keeping hens geared Tim into finding out more. He did his research and attended a "Beekeeping for Beginners" course. The two of them also joined the Gloucester Beekeeping Association and Lynne says "Beekeepers seem to be a bit like Chicken lovers – once you start them talking about bees – you can't stop them!" Their bees were ready to collect on June 6th and they took them home in their nucleus box . Due to the damp weather they had to transfer the frames from the nucleus to the hive quickly. Although Lynne hadn't been around bees before she felt confident in her protective bee suit, with Tim's guidance and the smoker at hand. She says "It was a success and now our bees are safely installed in their new home. So far so good!"
Simon Guest told us he keeps bees too. He said "they never do exactly what you want them to" and he thinks they are fascinating to watch, especially while bringing in the pollen. Apparantly the only problem is not having enough time in the day to enjoy watching them.
And newly qualified bee keeper Mark Dewey was called two days after the last newsletter to be told there was a swarm ready for him to collect. He couldn't believe it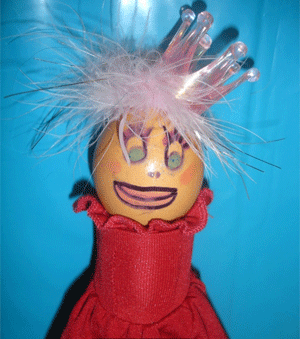 Pop Princess' identity poached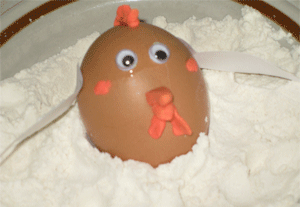 The first self stirring pancake mixture
118's new service for chickens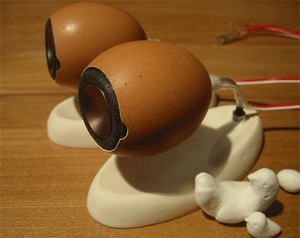 The ultimate sound eggsperience for hen keepers!
Lynne and Tim know it's important to bee prepared
Cooking corner
Set of Four Blomus Easy Egg Cups
Eggs should be given the respect they deserve through perfect cooking, delicious accompaniments, and, of course, magnificent presentation. And these stainless steel egg cups will make your all important egg seriously stylish. They stack together for easy storage, are simple to wipe clean, and look cool and classy upon any plate. Comes as a boxed set of four.
Hatching chicks is an amazing experience for people of all ages, but not to be undertaken lightly. A lot of thought has to go into the planning of the incubation and working out what you will do with the birds after they hatch.
I've been surrounded by chicks for quite a few years of my life as I've grown up with them visiting children's farms where I later got a job, where we hatched many different rare and pure breed chickens every day of the year amongst other poultry; both under broodys and in incubators. Last summer I helped to raise 650 free-range turkeys from day old poults – it was fascinating to see how fast they grow and watch their massive personalities develop.
After 2 years of keeping chickens in the garden and being surrounded by chicks at various farms, I decided that I wanted to hatch some chicks of my own. I knew I'd need an incubator and after reading about many different models I chose to build my own as I had the flexibility of making it to my own specifications. After weeks of planning and building, I went and collected the eggs from a local breeder. 18 days after putting the eggs in the incubator I successfully hatched 9 quail chicks. Within minutes of the first egg starting to pip the house was full of neighbours, family and friends who'd come round to watch them hatch.
Incubating is a complex science, and to have a 100% successful hatch is a rare occurrence. Things that have to be taken into consideration when hatching are temperature, humidity, turning the eggs, how eggs are transported and stored; all of these things need to be carefully monitored and controlled to give eggs a chance and to have a hope of hatching chicks. There are some amazing digital incubators on the market which will control all of these things with the press of a button, but I prefer the hands on method and it makes the end result a bit more special. It's really a personal choice with which incubator you use, with the main deciding factors being how many eggs you want to set and how often you'll use it; if you think you'll hatch more than once it's worth spending a little bit more. An automatic incubator is much easier but they're often one of the more expensive options. You could hire a new model incubator each time and the company it comes from will often take back any unwanted chicks.
Eggs can be sourced from local breeders, magazines or can be ordered online and posted to you. You should leave the eggs next to the incubator for 12 hours to acclimatise, after which you can "set" them in the incubator. The day you set your eggs is day 0 meaning large fowl should hatch on day 21 (bantams taking 18 days). If you have a manual incubator you will need to turn the eggs 3 times a day to stop the chick from sticking to the shell. You'll also need to provide humidity by placing some water in the incubator. You should stop turning your eggs 3 days before they're due to hatch, top up the water reservoir and then do not open the incubator for the next 3 days (if you do you could lose vital humidity). All being well the chicks should hatch by themselves. When fluffy they should be placed into a brooder (a plastic storage box/old fish tank with a heat lamp hanging above it, with a non-slip mat in the base) where they will stay for a few weeks before they can be moved outside into an eglu with a chick base.
The next thing for me is to hatch some Crested Cream Legbar chicks at school. They will be going into an automatic incubator, and then hopefully 3 weeks down the line we will have some little chicks running around to entertain us in Biology, sorry educate us on variation and genetics. After a few weeks in school I'll be keeping them at home in their eglu which arrived this week, the Cockerels will be going off to local farms to start little families of their own. We're looking forward to the blue and green eggs already!
Lewis has chosen this month's brilliant star photo and we want you to write a funny caption for it. Send to stephanie@omlet.co.uk to win!
Lewis' Star Photo of the Month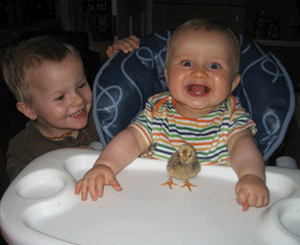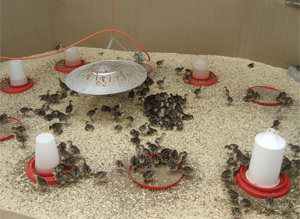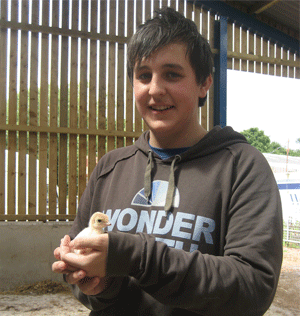 Course host of the week
Sarah Denham
About You
Your name and age: My name is Sarah Denham and I'm 42.
Where and with who do you live? I live in Hutton, Brentwood, Essex with my husband Buzz and our children Izzy (age 12) and Tom (age 10).
Your occupation: I am a Dog Groomer.
What pets do you have? We have four dogs called Archie, Poppy, Daisy and Frankie, and two chickens.
What is your favourite outfit? I'm normally found in jeans and wellies but love heels and a bit of sparkle once in a while!
What is your favourite season? My favourite season is Spring as I look forward to longer sunny days.
What is the most important thing you have ever lost? Our son Tom in Customs at Gatwick airport earlier this year. Fortunately he eventually appeared through the 'nothing to declare' channel.
What is the most daring thing you have ever done? Run away from Tom at Gatwick airport…only joking! Selling doughnuts on a nudist beach in the South of France as a teenager. Or sliding down the roof of the marquee at the school summer ball aged 41.
Who would play you in a movie of your life? Catherine Tate. Tho Buzz would quite like Cameron Diaz for a wife!
What song do you most like dancing to? I don't need much encouragement to get up and dance – the cheesier the song the better!
If you could be anywhere else in the world right now where would you be? With family and a bunch of friends on a beach in North Norfolk on a hot sunny day would be pretty perfect.
About Your Chickens
What are your chickens called? Our girls are called Flora and Marvel.
What do your chickens like eating more than anything else? They go crazy for cooked spaghetti and are partial to a few mealworms.
How many eggs do you get a week and what's your favourite way of preparing them? Flora started laying while we were on holiday recently and we get an egg most days. Marvel has yet to produce although we think she is younger than Flora. Izzy is a great omelette maker so she's in charge!
Do you bake more cakes now you have your own chickens? I'd like to say yes but baking's not my strong point! I'm sure Izzy will when Marvel starts laying.
Do your chickens have a party trick? Dead-heading the geraniums!
What's been the most surprising thing about keeping chickens? How quickly they became tame and friendly and their individual characters. We all adore them.
Can you imagine life without chickens? No! They are great fun to have around and are already part of the family.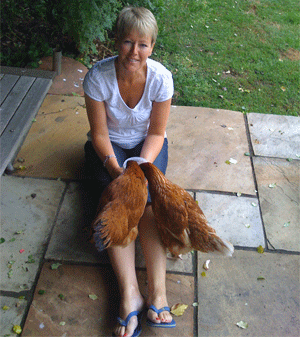 It's a tough life being a Denham hen, you get fed…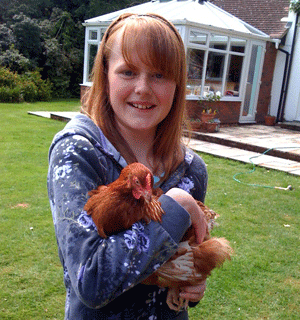 …cuddled…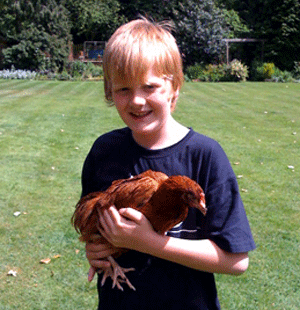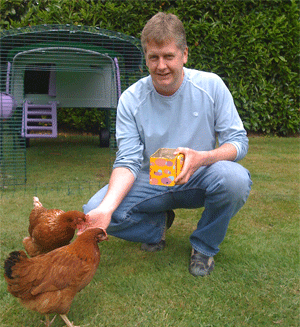 Omlet online shop
Star Products!
Gifts just for Dads…
Egg Cup Set of 2 – Robots Gear / Explorer
This is one for the boys. Well, for the Dad's that are still kids at heart. Futuristic yet retro, geeky but cool, these egg cups will conjur up memories and stir imaginations. With robots at the ready, breakfast is guaranteed to be the most eggciting meal of the day, and it'll be that bit extra special if you cook it for him! Made of fine english creamware.
Cufflinks – Breakfast
If you're not the best cook in the world and the idea of making your Dad breakfast in bed fills you with dread, this is the perfect alternative. It's still breakfast, sort of, just the type you wear, not the type you eat. It takes no cooking, will last much longer than a fry up and it will show him that the thought was there. Brighten up his day and his shirt!
H2gO Bag
Make the gardening just a little bit easier for Dad! When a watering can is too small and there is no hose pipe in sight this is the perfect solution for gardening needs. This simple H2gO bag can be filled with up to 80L of water, placed in a wheelbarrow, and transported around the garden or wherever it's needed. The fitted spout makes it easy to pour out the water, by gently tipping the wheelbarrow up, and the non slip mat means the bag won't move around during transportation.
This is a simple but highly effective solution for gardeners, builders and farmers and it can be used for many tasks such as watering plants and filling up buckets for animals to drink from.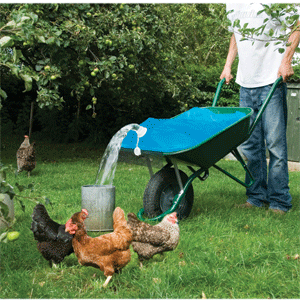 BBQ Sword
There aren't many things a Dad can call his own, but the barbecue is one of them. And it is very important that he dresses for the job with this almighty bbq sword and musketeer mask combo. Of course we wouldn't be encouraging the use of a real sword, but this has no blade, just a twin pronged fork, for the perfect steak stabbing tool. When teamed with black clothes and the free cut-out mask he will be transformed into a true musketeer, and prepared to battle with the burgers and defeat the drumsticks.
Will amusing you all he'll obviously be believing he is the coolest bloke in the land, and if, during all the excitement, the meat looks more massacred than mouth-watering, he can believe that his identity has remained a secret.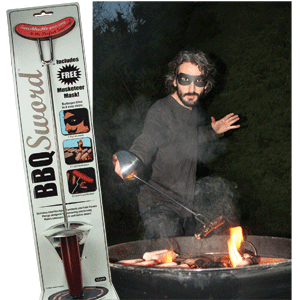 Omlet world
You may remember us telling you about the filming for a French documentary about Omlet. The camera crew filmed the eglu, the team and the chickens to show how fun and easy hen keeping is.
Well we struck fame in France last Tuesday evening when it aired on channel M6. If you live in France and you missed it you can watch it here, and if you live in the UK I'm afraid you'll just have to wait until we're on the telly here.
If you live in France you can now buy an eglu too.
This entry was posted in Pets
---