Omlet Newsletter June 30th 2009
Hello!
Roll up, roll up, get your Omlet newsletter…from foolish foxes to fabulous funshades to free range eggs, this week's newsletter is crammed full of all things fantastic. So put up your feet, enjoy the sunshine and take five minutes to read the latest!
You can Keep Quail too!
Have you ever thought about keeping quail? These little birds are great layers, make lovely pets and area good alternative to chickens as an introduction to egg laying pets. They can be kept in even the smallest of gardens and, even better, they will live very happily in an eglu.
You can buy an eglu package specifically for keeping quail. It is largely the same as the chicken eglu but it comes with the small bird set, to keep them safe and sound inside the run, and the small feeder and drinker. The twin walled insulation and draught free ventilation keeps quail warm in winter and cool in summer, and the 2m steel weld mesh run allows them to run around freely while keeping safe from foxes. The eglu can comfortably house six quail and now we can deliver these quails to you if you are within our van delivery area.
Omlet quail are Italian breed, known for their temperament, egg laying and attractive plummage. We only deliver mature females so they should start laying in a matter of weeks and as with chickens you don't need a male. However, you can happily keep male quails in urban areas without disturbing neighbours as they don't crow.
The quail package is available for £340 and quails are £8.00 each. Phone 0845 450 2056 nowto place an order.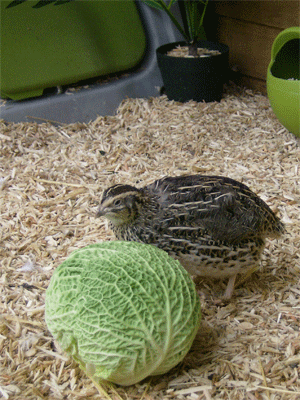 Cabbage-ball is a favourite past time for quails
The Fun of a Funshade
You may remember us announcing a very eggciting competition a few months ago…we asked you to get your paints and pencils at the ready and design us a funshade. Thankyou to all those that entered, we received some brilliant designs and some very colourful creations. It was a tough call but after months of deliberation our panel of eggsperts have finally come to a decision.
The overall winner is Debbie Thorne, with her design title 'A Few Chooks in the Garden'. We love her use of colour and the cheeky chicken design. Well done Debbie, a £50 voucher is on its way to you so you can buy all the funshades you like.
There were two other entries that we thought deserved prizes too. Emily Landale did a great design of cracked eggs which she named 'Splat' and Dominic Bourne's fun design of chickens eating and drinking from a glug and grub would look splendid aboard any eglu.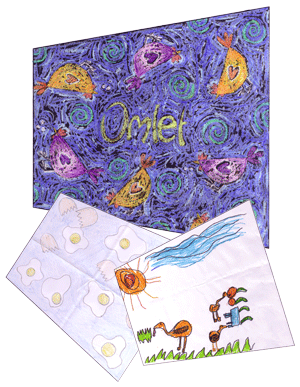 The Omlet Hall of Fame's favourite funshades
Caption Competition
Our latest competition has already had a great response but there's still time to send your entry in. Our Caption King is still on holiday and the photo on the right has been left with no funny one-liner to bring it to life. So if you think you're up to the job and you want to win a prize you need to get thinking. After all, Baby Mikey, Ash and their chick make a funny little team and they deserve a cracking caption, don't you think!?
Send your entry to stephanie@omlet.co.uk by Tuesday 7th July for your chance to win. The best captions will be published in the next newsletter. Good luck!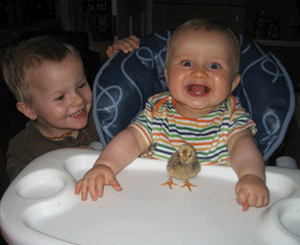 What's the caption? You decide!
Egg Cups Rating Sky High
It's no secret that we like a good egg cup here at Omlet and we are always on the look out for egg cups out of the ordinary. We strive to bring you the best selection in our online shop and our variety of these little marvels has recently been recognised by none other than Sky. No, regretabbly our egg cup collection has not been on the tv, because we admit that even our egg cups wouldn't make for a very eggciting programme, but it has featured on their website.
Suzanne Elliot has come up with the top 10 egg cups on the Sky Life and Style website. And we don't just feature once…oh no, our smashing egg cups feature no less than four times! Our highest flying egg cup is the VW Campervan at number 2 in the chart. This little beast has always proved popular with chicken keepers and van drivers alike, and at £3.42 it's a lot cheeper than a real VW. Perfect for holiday eggs!
Read where else we rated here.
Mr Fox
The eglu is a great way to let pets run around outside while keeping safe from foxes, and we have heard from two customers this month that have photos to prove how attack-proof it is.
Sarah spotted a fox trying to get to her chickens, Maud and Gertie, in their eglu, in London recently. Instead of running out to scare off Mr Fox she grabbed her camera and took some snaps of him attempting to break in from every angle. She said "Hoorah for the fox-proofness of the eglu and thank you for making something that enables us townies to keep hens in safety."
And it doesn't stop there…Jenni's guinea pigs have also been kept safe from foxes, having withstood four attacks in the last two weeks. She has had her eglu for a year and claims it is definitely fox proof, saying "The only casualty was the sun shade which was ripped in places. The foxes failed to get in even without the ground mesh & the ground pegs being in place. I'm sure they will try their luck again but I am confident the eglu will defeat them."
Now that's what we like to hear!
"Not by the hairs on our chinny chin chins, we will not let you in!"
Cooking corner
We are over run with eggs! I think it has something to do with the vast quantities of spinach and radish leaves that I am feeding the hens. Apart from a slight broody spell which was quickly nipped in the bud, we are getting a full house nearly every day. Not that I am complaining! They are drinking so much with the warmer weather, so we have put out extra water for them.
You may remember the deal with the vicar last month. A cake for the village fete in exchange for duck eggs? Well, it seems that one will not suffice. "Several cakes would be splendid". The Vicar announced at the Post office the other day. "Much appreciated Tom". Who am I to question a man of the cloth?
So here is my tried and tested method for the perfect sponge. Ideal for making use of fresh eggs and home grown strawberries, straight from the garden…no one can resist a slice! Make sure that all the ingredients are at room temperature and you can't go wrong.
Victoria Sandwich
168g Self Raising Flour






Jam, cream & strawberries to fill
1) Cream the butter and sugar until light and fluffy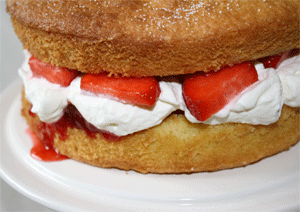 A victoria sandwich fit for a queen
Vegging out
All the hard work is starting to pay off as I start to harvest some of my fruits and veggies. It never seems quite real sometimes, but one night the produce fairy arrives and food appears in your garden just for you. At the moment we have a glut of strawberries all sweet, red and juicy. The thing I love about strawberry plants is they insist on giving you more every year. It's about this time that they start to produce runners, little plants with their own root system start wandering off to find a place to grow. If you're clever you provide them somewhere, a little pot full of compost underneath them with the "runner" pegged down will produce a lovely plant for next year or to give to a friend. Wait until Winter to sever it from the old plant.
We're also at the beginning of a courgette explosion. Another plant that is so generous, the more you pick the more you get. They need to be well watered at this time of year. Just don't leave them on the plant for too long. A week can be the difference between a courgette and a small marrow! Do cut them rather than twist them off, this provides a smooth surface that will scar quickly stopping any nasty bacteria or fungi to sneak in.
The rhubarb is also fantastic right now if you hadn't forced it. Just delightful!
Although it's great to enjoy the fruits of your labour it's time to think about Autumn and Winter crops. By next month I should have lifted my garlic and onions leaving me with a couple of empty beds. So now I'm sowing miniature pumpkins, pak choi, kale and winter cabbages in pots and modules. Once the beds are clear I can than plant these small plants and they'll be ideal to see me through those cold months that seem so distant now. Pumpkin seeds should germinate really easily now. Remember to sow them on their sides about 2cm deep so that they can turn shoot upwards once they've germinated. Keep them well watered, they're thirsty little chaps.
If you have spare beds the pak choi, kale and cabbages can all be directly sown into the earth. Make a shallow trench with your finger or a stick about 1-2 cm, scatter the small seed evenly along it spacing about 3-4 inches, fill the trench in with the soil you displaced and water well. In a couple of weeks you'll have healthy seedlings. Remove any that are weak or cramped. These are all members of the brassica family and can all be sown in the same bed, just remember to give them protection against the cabbage white butterflies using an insect netting or you'll lose the lot!
You can also sow more carrots and beetroot this month. They won't grow to massive proportions but are ideal for baby Summer veg.
Hopefully you're all starting to reap your harvest, however small and are starting to enjoy the results of your dedication. And if you're lucky enough to have a glut of strawberries like me, they make a delicious Victoria Sponge…see Tom's recipe!
Strawberries that just keep on giving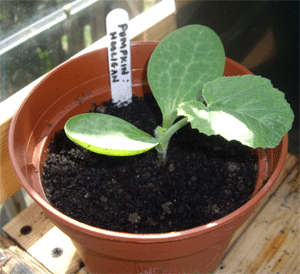 The veg guru begins halloween preparations early
Course host of the week
Julia & Alexander
Where and with who do you live? We live near Wigan, Lancashire, with Stuart (husband/dad) & Ethan (son/ little brother aged 5) & 3 cats.
How long have you been keeping chickens? Just over 2 years, since the beginning of May 2007
What made you decide to keep chickens? A whim- the eglu & hens were an early birthday present for me ( Julia). I did have some limited experience of chickens in the past, my great-uncle used to keep them. As a child I used to also chicken-sit for my parent's neighbour when she went on holiday. The Omlet forum has also proved invaluable to give us the confidence to even begin to think about keeping chickens, with superb chicken information & best practise ideas. It still amazes us how ingenius

How many chickens do you have and what are their names? We have 11 chickens.The hybrids- the Gingernut Rangers Buzz (Lightyear!) & Poppy, a Bluebelle Gertrude & a Speckledy Rosa. The bantams- a White-crested-blue Poland Petra & a white Silkie Ella. The Light Sussex chicks which we hatched ourselves- Nacho, Burrito & Tortilla (the boys) & Pippa & Kate-short-for-Bob ( the girls). The boys are destined to be our Sunday roast once they start to crow.
What's your favourite thing about the Eglu? The design is so funky & the eglu & cube are a doddle to keep clean & look after.
What do you like doing when you're not hosting hen parties? Julia- I work part-time, & when not at work I play the roles of housewife, mother & friend. Alexander- when I am not at school I like to play my bass guitar, football, with my friends & with the chickens.
Why did you decide to become a hen party host? Julia- previously I have had a couple of people visit my eglu informally & I found out then that I could chat about my chickens till the cows come home. It took me a while to make up my mind to decide to become a hen party host, but I'm glad that I did. Alexander- I help my mum as "payment in kind" for my bass guitar lesson costs! I also enjoy helping her.
When was your first course and how did it go? It was in June last year, we had 5 guests & it went really well, even though I (Julia) was very nervous before hand.
What do your courses include? We spend most of the time in the garden chatting about our experiences of chicken-keeping, handling the hens & then have a demonstration of how we clean the cube & the eglu. The course lasts for two hours, & for the final half hour or so we come inside to the warmth of the kitchen

Have there been any course disasters? None as such, unless you count the time we were demonstrating how to do the weekly check for lice on a hen, & found lice on ours for the first time. We were mortified, but the guests were quite happy about it, & pleased that they now know what to look for if their hens ever get lice. Also, at the last party it had a really heavy rain shower, so we sheltered in the walk-in chicken run & just kept on going regardless.
What's the best thing about being a hen party host? Meeting the guests, of course. We're always amazed at just how far people will travel to come to one our parties. When guests cuddle Buzz (our very friendly chicken) for the first time the look on their faces says all that we need to know.
Why should people attend a course? There's nothing like the real thing. Although you could learn all you possibly would need to know about chicken-keeping from a book, our guests tell us time & time again that having the hands-on experience is invaluable, rather than just having head knowledge & reading about

Course Review
"A fabulous morning with Julia, Alexander and their lovely chickens. It was very informative in a lovely, relaxed and social environment. Everything that you need to know to start you off as well as many more handy tips and ideas to make keeping chickens that bit more enjoyable, not to mention the excellent egg sandwiches. Well recommended! Thanks Julia and Alexander, the Gingernut Rangers, Speckledy, Silkie, Poland, Bluebell and Sussex' for a great time!" By Andrea White.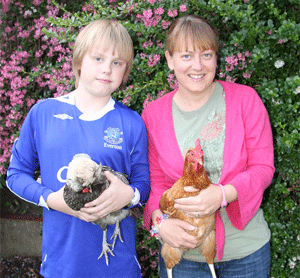 You're going to have to run quicker than that if you want those meal worms girls!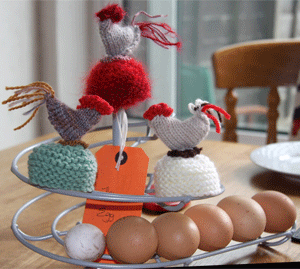 The skelter has been voted the #1 ride by eggs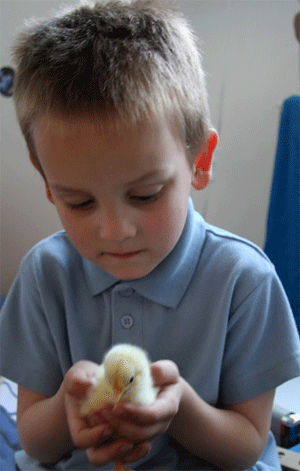 …and some very cute chicks
Upcoming Course
Summer Evening Hen Party for Beginners with eglu and cube


Omlet online shop
Star Products!
Here is just a small selection, go online to see the full range.
Earthenware Chicken Hanger
This charming, decorative hanging chick is entirely handmade at a small pottery in Shropshire, using the highest quality white earthenware clay and glazes. As each piece is individually hand cut, modelled and decorated no two are the same. Just like real chickens, each one seems to have its own personality and facial expression. Comes complete with wire hanger and legs.
Available in small (12″ x 6″) or large (15" x 8"), in black or cream.
Egg Cup & Egg Spoon Set Melamine – Pop
With the yolk from your softboiled egg and these four colourful eggcups you'll have a whole rainbow on your breakfast table. Now if that doesn't brighten up your morning what will?! Four solid melamine eggcups in pink, orange, red and yellow that will give great, long lasting quality.
And why not buy the set of matching spoons to complete the set? The perfect size and shape for eating your boiled eggs.
Buy egg cup set now for £10.00
Bowls Colourful Melamine Set of 6
A kitchen is incomplete without a set of mixing bowls and this set of six will ensure you are well prepared for all your baking needs. Ranging in size from 12cm – 30 cm they are great for all sorts, and because they stack together so easily they won't take up much room in your cupboard. They are made from melamine which is known to be a strong, hard wearing and really long lasting material. And we know you will love the selection of bright colours on offer – baking need never be dull again! Suitable for dishwasher use.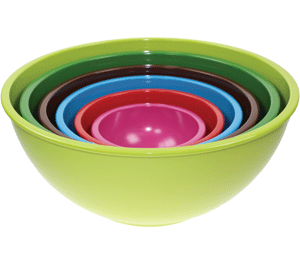 Keeping Bees by Paul Peacock
Keeping bees has become more popular than ever before, but if you don't get what the buzz is about, you may want to read this. Perfect for beginners, and the more experienced, this practical guide will tell you all you need to know about the venture of bee keeping. Not convinced? Three words – honey on toast!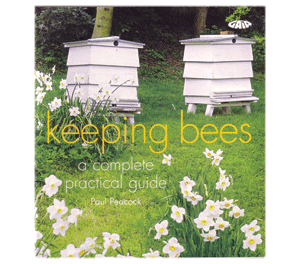 Omlet world
We've always said that chicken keeping isn't just for country folk, and it seems the people of New York have realised that they too can keep chickens in their city backyards. ABC News' Nightline recently highlighted that keeping chickens is becoming more and more popular in America during the recession. It seems that everyone would prefer to eat free range eggs from their own hens than buy battery farmed eggs from the supermarket. And it's easy to see why – they taste better, are more nutritious, and come from happy hens! And once you've bought your eglu and chickens you will be repaid with a life time of free eggs. If you missed it you can watch the news feature by clicking on the image, curtesy of ABC news.
This entry was posted in Pets
---