Omlet Newsletter July 2nd 2009
Hello!
Well according to the eggsperts it is officially summer, and with the promise of the hottest, driest summer in years we have plenty to look forward to.
With barbeques, sunbathing and tending to your hens to be done, you will probably be seeing a lot more of your back garden over the next few months, and now might be the time to get it looking gorgeous with a spot of gardening. Get those flowers blooming, get the lawn mowed and it's not too late to get some salad growing. And to get you into action we have some great products that'll make gardening a breeze.
Also in this newsletter, a show to inspire even those with not-so-green fingers and the story of a woman that teaches children how to grow their own food. So put on your gloves, get outside and enjoy the sun!
MP's Eggspences
The Omlet newsletter has been a veritable haven of eggspences free news recently but we couldn't resist this little sideways swipe spotted by the very sharp, owl like eyes of long time Omlet supporter Mr George.
As we're on the subject we have been eagerly awaiting the revelation that an MP used their eggspences allowance to buy an Eglu and some chickens. Something we would of course say was well within the spirit of the rules. Thank you also to Dr Bentley for the tip of using the Telegraph as a lining for the dropping tray to make cleaning that little bit easier.
Also in the papers, you can never be too careful when you're refilling the Eglu's grub and glug as there may be a paparazzi hiding behind the hedge waiting to swoop. The Daily Mail gets the scoop… click here to find out who.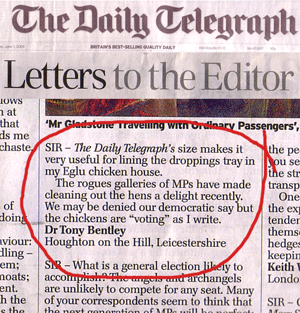 Gardeners World
Next stop for the Omlet tour bus, the NEC, for one of our most popular shows – Gardener's World Live. If you've ever been to this show before you'll know what a great summer day out it is, whether you are a gardening pro or a beginner wanting to learn some tips.
There are several different stages with talks, including one focused on growing your own which gives you all the advice you need for living the good life. The floral marquee is perfect for picking up some flowers to brighten up the garden, and there are 25 show gardens that will give you loads of inspiration.
There is lots to keep the kids amused too, including face painting, games and Punch & Judy, and they go free with a paying adult. And of course you are welcome to visit stand G706 to see the Eglu and Cube in all their glory and chat all things chickens! The show runs from 10th – 12th June and you can buy tickets in advance via the website. See you there!
Can you Beelieve it?
The honeybee, chief pollinator and provider of honey, is in danger. Pesticides, habitat loss and disease have all combined to cause serious problems for bees and their numbers are in decline. As people who keep chickens are generally very interested in all things tasty we're sure that some of you must keep bees and collect your own honey. We'd love to hear from you if you do, just email stephanie@omlet.co.uk and send a picture of your hive together with a few lines about what's brilliant about bees and we'll feature the best in the nextnewsletter.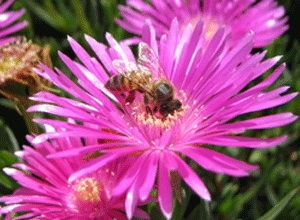 Eggs win Prizes!
There's still time to enter our Decorate an Egg Competition to win a £20 voucher to spend in the online shop. But even if you don't win, everyone that enters will receive a free matchstick garden to get you growing your own summer salads. Just decorate your egg to look like a face or character, take a snap and send to stephanie@omlet.co.uk, or Decorate an Egg Competition, Omlet Ltd, Tuthill Park, Wardington, Banbury, Oxon, OX17 1RR. And just think, you could use the voucher to buy an eggstra special egg cup to display your prize portrait egg! The closing date for entries is 9th June. Good luck!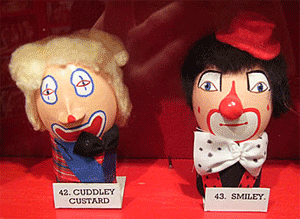 There's only so many bad yolks smiley can take before he breaks…
Compost Woman
If you haven't checked out the Omlet Planet yet you should give it a go because you never know what you might find. This month we have unearthed one blogger by the name of compostwoman. So called because she is a Master Composter ( a volunteer who encourages people in their local community to start composting at home, and offer support to people who are already home composting).
This lady is proud of her passion for gardening, recycling and, of course, composting, and she's been busy teaching one bunch of kids all she knows. When her daughter started school in 2005, the school had just joined the Eco-School movement, starting with the creation of a vegetable garden. When the school needed help with the project, compostwoman was keen to get involved, getting compost bins and organising a recycling system for every class. She helped out in classes, teaching kids to grow their own herbs and veggies and encouraging them to try all those green things they hadn't eaten before. She also began co-running an after school eco club that proved to be really popular with the kids. The club is fun and useful, teaching gardening skills and doing other 'green' activities such as making recycled paper. Her work with the school has continued to grow, leading to the development of a new career as an Environmental Educator and Forest School Leader.
We think it's great that she's encouraging kids to be healthy, active and aware of the environment. Click here to read her story in full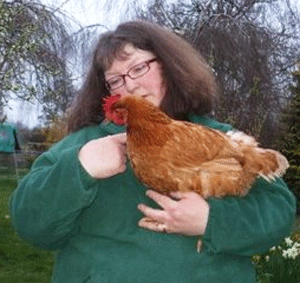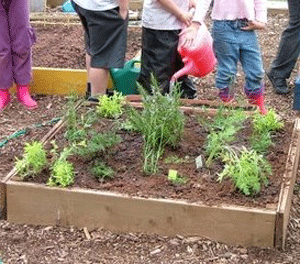 Cooking corner
Our hens have been laying very well lately and word quickly spread that we had eggs to spare. We were soon inundated with offers of quails eggs, tomato plants, seedlings, even 'light gardening duties' by the local Cub Scout group, in exchange for a dozen or so eggs. Slugs have invaded our brassica patch, so I traded a couple dozen of eggs for some cabbage and brussels sprouts seedlings.
That's the nice thing about this time of year, people come outside and conversations are had over the garden gate.
"Want Savoys? I've got plenty, I'll send our daughter over with some later".
Needless to say poor Milly arrived laden down with pots, poking out of her bicycle basket. Goods exchanged, she pedalled her way back down the lane with eggs, some freshly baked scones and a jar of home made strawberry jam. We now have more cabbages than we know what to do with!
Bartering is not just about the money, it is genuinely nice to swap things that we have too much of, for things we need. Barbara is a regular visitor to the local wool shop and often trades eggs and surplus vegetables for yarn, buttons and thread. It is how it was in the old days and gives you immense satisfaction in today's world.
Enough reminiscing, I can't help myself when it comes to chocolate. These brownies are crumbly and gooey, just the thing with a cup of tea after a hard morning digging the veggie plot.
Chocolate Brownies80g butter



50g plain flour




Preheat oven to 180C. Line a baking tray (18x28cm) with baking parchment.
Melt the butter and chocolate together over a pan of simmering water. Allow to cool slightly.
Whisk the eggs with the sugar until pale and fluffy.
Add the melted chocolate and butter mixture.
Sift in the flour, cocoa powder and baking powder and stir to combine.
Mix in the ground almonds and chopped nuts. Fold into the tin and bake for 15 minutes until the top is slightly cracked.
Cool in the tin and slice into pieces when completely cold. Will kept in a tin for at least a week. Unless Barbara spots them!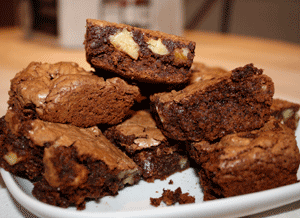 You won't get Tom swapping these for Savoys
Vegging out
Summer's just about here and there's still plenty to keep on top of in the veggie patch. There's no chance for resting as everything is now growing so quickly. There are some vital jobs this month which will ensure your veg grow to their maximum potential.
Weeding: Ok I know it's a rubbish, never ending job but weeding around your veggies will mean all the nutrients in the soil benefit your plants and don't get absorbed by hungry, fast growing weeds. Try picking them out when they're young and their roots are poorly developed. This ensures minimum soil disturbance for your crops.
Thinning out: This is a technical term for removing any cramped or poorly developed seedlings from the soil. It's very common, especially when you sow directly into the ground that too much seed gets dropped into one area. The greenest, largest and healthy looking ones should stay. Pull out any that are small, spindley or yellowing. Each plant will need room to grow so be brutal and start pulling!
Potting on: The plants that you transplanted a few months ago into their own pots should now have a strong root system established. If you check at the bottom of the pot you may even see the roots escaping out of the drainage holes! Now's the time to decide whether you're going to plant them outside or transfer them into a bigger pot. The method is really the same either way:
Either dig a hole in the ground twice the size of your pot or put a couple of inches of soil into a pot at least twice the size of the original.
Place your hand around the stem of the plant.
Turn the pot with the plant in upside down and gently squeeze the pot.
The root ball should now be free of the pot.
Place the free plant into the hole or new pot and fill the gap with compost.
Firm the compost around the top and water well.
Supporting: Anything that grows in a vine like manner such as tomatoes or peas need supporting. You can buy ready made support structures from a garden centre but it's really easy to make your own. There are two main types of supports:
The wig-wam is the easiest and is most commonly used for peas, beans and climbing squashes.
Take 4 bamboo canes.
Place them into the ground at a distance that suits your plot (realistically around 50-100cm away from each other).
Gather them at the top and tie with string or garden twine.
The 3 sided structure is more suited to tomatoes, aubergines and items grown in a grow bag but is commonly used for runner beans.
Take 8 bamboo canes.
Lay one on the floor horizontally and tie 2 more at each end to make the legs.
Place this either over your grow bag or into the ground where you plan to plant.
Stand 3 more evenly spaced canes against the horizontal support.
Tie with string at the top and stand into the soil at the bottom.
Feeding: All plants need nutrients, especially when they're flowering and fruiting. There are many feed products on the market. I personally favour a seaweed or basic tomato feed for the majority of my plants just bought from the garden centre. I have also had great results with "chicken poo soup". This is made by putting chicken poo in a muslin bag, or a pair of old tights tying it into a bag, and soaking it in water for a couple of weeks. Use the remaining "soup". The nitrates in the chicken poo really encourage growth. I found it's better to water onto the ground and not over the leaves as it can be quite acidic and cause burning of the leaves.
Well, that should be enough to keep us outside let's just hope the weather is kind to us!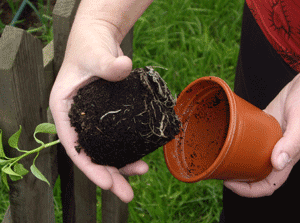 How to make music with pots and plants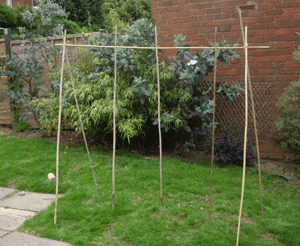 Course host of the week
Lisa Spendlove
Where and with who do you live?

How long have you been keeping chickens?

What made you decide to keep chickens?

How many chickens do you have and what are their names?

What's your favourite thing about the Eglu?

What do you like doing when you're not hosting hen parties?

Why did you decide to become a hen party host?

When was your first course and how did it go?

What do your courses include?

What's the best thing about being a hen party host?

Why should people attend a course?

Course Review
"When I told my work colleagues last week that I was going to a Hen Party, they had visions of me tottering off to the pub all dressed up, but instead, and so much more fun, I was going to Lisa's to see her hens and to learn about keeping chickens.
"Lisa is devoted to her chickens, is extremely well informed about hen keeping and although she was bombarded with questions was able to answer them all and gave so much more information besides. I learnt such a lot and enjoyed the lovely eggy sandwiches and cake she had made. Lisa's hens are lovely, and so entertaining, all with their own personalities. Her partner makes very good tea. If you get a chance, do go, I was glad I did." – Patricia Revill
Upcoming Course
Hen Party for Beginners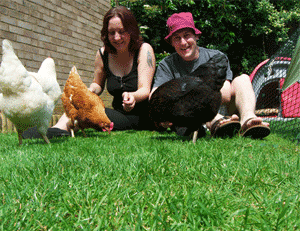 Lisa's hen party is a bring your own chair affair!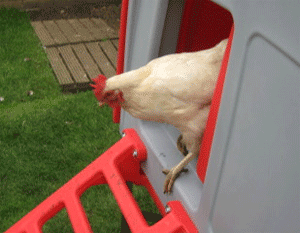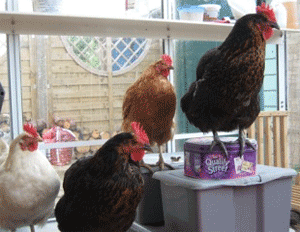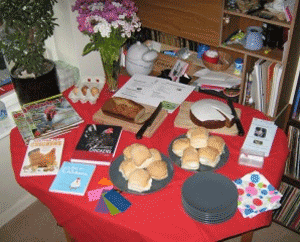 Star Products!
Here is just a small selection, go online to see the full range.
Watering Can Duo
Water your plants in style with this bright, modern, plastic watering can. Available in three vibrant shades that match the Eglu colours, you can look cool and coordinated while doing your gardening. Dual ended, you have the option to pour or shower water over your plants, and with a capacity of 2.5 litres it is will hold enough water to fill up your matching glug!
Flowerpot with Message Board
If you've ever been confused about what's what in your garden this nifty flowerpot may be the answer. With a black panel at the front like a chalk board, you can write exactly just what it is you have planted. Never confuse your basil with your coriander again! Alternatively, why not give this as a gift? Plant some pretty flowers and write a message on the front – a unique way to say 'happy birthday'.
Eggling Crack & Grow – Mint
Gardening is quick and easy with an eggling and everything you need to grow a fragrant array of herbs is in one little box. Simply crack the top of the ceramic egg gently by tapping with a spoon, place on the terracotta tray, water slowly until it begins to drain into the tray and pop in a bright, warm room. There are enough nutrients in the eggling to allow it to grow for up to five months, and all you need to do is ensure the soil is always moist. When the plant outgrows the eggling, transplant into a larger pot and shatter the ceramic egg to use as a fertilizer.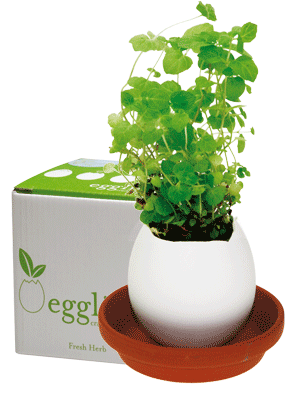 Garden Tool Set
This clever little set is just the thing for anyone that wants to get their hands dirty in style. The bright green bag is spacious enough for all your bits and pieces and it has pockets around the sides for smaller items that you don't want to lose. It contains all the essential tools for gardening: a fork, two trowels and a deep weed cutter; a pair of gardening gloves to protect hands in winter and a nail brush to clean grubby nails after a hard day's work.
This makes a brilliant gift for a beginner to gardening!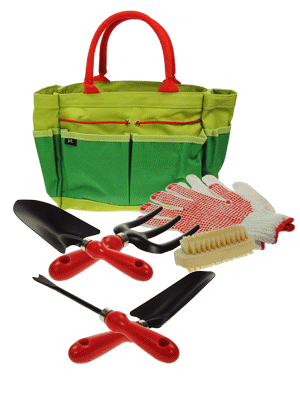 Omlet world
If you're unsure of the best way to clean your Eglu then help is at hand, in the form of an online video tuition. That's right, you can find everything on the internet these days, and this clip comes straight from the USA. This Eglu owner loves his chickens and what better way to show it than by keeping their home spic and span. Even if you have your cleaning routine down to a tee he has some really good advice. This little gem from the Omlet US forum, where you can get in touch with other Eglu owners in America.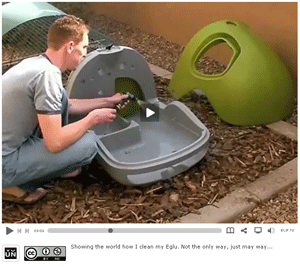 And that's how to clean an Eglu!
Omlet team
This entry was posted in Pets
---