Omlet Newsletter July 14th 2009
Hello!
With kids breaking up from school, the holiday season starting and and the weather deciding to be scorching one minute and stormy the next, it is important to remember the needs of your chickens over the next few weeks. Don't panic, help is at hand from Barbara this month, with lots of good tips for keeping hens happy during summer. See how chickens stay cool in Sri Lanka and learn why we are very proud of two of Omlet's very own hens. Plus there's a brand new competition to keep you hentertained and the results of the always popular caption competition. Enjoy!
Chickens at the Theatre
What are you going to be doing this summer? This year more and more of us will be choosing to stay in Britain instead of heading off for a week in the sun, to try and save some money, and although it is great to get away from it all, there's a lot of fun to be had that's closer to home. If you're looking for a few hours of entertainment that doesn't cost the world, a trip to the theatre is always a good choice.
Jerusalem is an entertaining and funny play that anyone with an interest in green living will love. Starring Mackenzie Crook, who you may recognise from the tv comedy The Office, this is bound to make you laugh. The play is based around the main character Johnny Byron, who's having a difficult time living the rural life – the council want him evicted, his children want him to take them to the fair and another fella wants to give him a kicking. Life's tough. But the real stars of the show, in our eyes at least, are the two Omlet chickens. They are brilliant actresses during the performance and they live in an eglu at the theatre during their time off. We are very proud!
Jerusalem is showing at the Royal Court Theatre, London, until August 15th, so you've got plenty of time to spot our famous hens and maybe grab an autograph. Click here to read the details and book your tickets.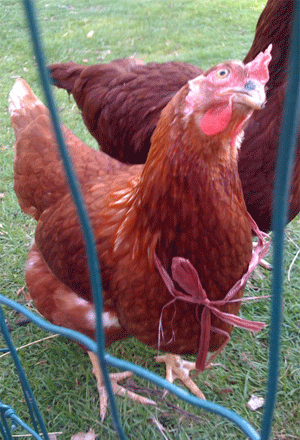 The little red hen has always dreamed of being on stage…
A Different Kind of Chicken House
A friend of Omlet recently took a trip to Sri Lanka and saw some amazing sights. Amongst the sandy beaches, waterfalls and coconut plantations Jess spotted something she knew we would be interested in: a chicken house…and what a chicken house it is. Made from brick , with windows and a full size door it looks plenty big enough for a flock of hens, and strong enough to survive those monsoons. It looks rather different to the eglu, but it's great to see how other cultures keep chickens.
If you've seen any hens or houses on your travels we'd love to see your photos. Send to Stephanie@omlet.co.uk.
Chickens livin' it up in Sri Lanka
The Line Up Continues
The Omlet Tour Bus has been very busy this year, and it's still got several stops to make over the summer. These shows make a great day out for all the family which is just what you need during the summer holidays.
This weekend is the Kent County Show which is the largest outdoor event in Kent. With a countryside area that includes fly fishing, birds of prey and duck herding; an agricultural zone that features cookery demonstrations and ideas of what to do with your home grown produce; and a huge range of stalls to everything from a hot dog to a holiday home. Not forgetting the eglu, of course, on stand 7, near the main entrance. Come and see the famous chicken house in the flesh and ask our friendly team any questions you have. The show runs from Friday 17th to Sunday 19th July at The Kent Showground, and tickets can be bought at the gate. For more information visit the website.
The following weekend we will be at the CLA Game Fair at Belvoir Castle, Leicestershire – the world's greatest country sport and countryside show. It is a great chance to experience what the countryside has to offer and with over 1000 exhibitors you won't be bored! Come and see us on stand A34. The show runs from 24th – 26th July and tickets can bought online now.
Not long after we will be setting up our stand at the New Forest and Hampshire County Show, Brockenhurst. This runs from 28th – 30th July and has been going for 88 years. It is rated as one of the top 10 agricultural and equestrian shows in the UK and there are stalls, a food hall and events such as pig racing. We'll be on stand 80 and we're looking forward to seeing you. Buy your tickets online here.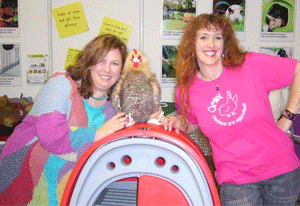 Don't Worry Bee Happy
A few newsletters back we asked you if any of you are keen beekeepers, helping to prevent the decline of chief pollinator the honeybee. Two days after that newly qualified bee keeper Mark Dewey was told there was a swarm waiting for him. Six weeks on and we asked him to tell us about his experience.
"I attended a three month course with my local bee keeping association, which started in January, with classes every Saturday morning for three hours. Practical courses started as soon as it was warm enough. I had been given the choice of four courses locally (to my surprise) and I chose purely on which day would best suit me.
I received my first Swarm, on June 4th, via the local association co-ordinator, and I would definitely recommend starting with a swarm as they are quite small and much easier to handle for beginners.
A month later, on July 8th, I received a full hive which, to be blunt, was a little scary compared to my first swarm. Moving a full hive with approximately 30,000 bees in the back of the car is quite exciting if you have never done it before! I have left the full hive alone for now, but there's quite a lot happening at the moment, as the new swarm is building up comb, food and brood. I have only taken a little honey so far as I didn't want to be presumptuous with the weather, but it tasted amazing."
A Colossal Load of Captions
Last month our caption king was away and we asked you to come up with a one- liner for a brilliant photo on his behalf. Lots of you entered, with some great captions for Ash, Baby Mikey and their chick. It was a tough one but we decided that Trish Hayman's entry was the best, which you can see under the photo on the right. Here are a few more we thought were crackers:
"Chicken! Egg! Who cares, just pass the soldiers…" – Elizabeth Mason
"Where do I dip my toast in, mum?" – Chriss Norton
"I know organic fresh baby food is best mum, but this is taking it a bit far!" – Liz Bolas
"That'll be a pint of lager for me and a babycham for my chick!" – Vicki Stencel
"Wahey! – this is much better than a boiled egg!" – Louise Wales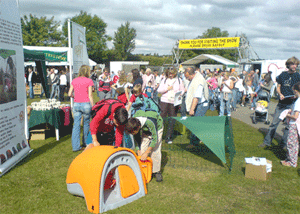 Win with a Wordsearch
If you weren't a winner this time don't worry, we've got another smashing competition for you this month. Everyone loves a good old fashioned wordsearch and this one has a summer theme, perfect for doing on your hols, or during one of the inevitable rainy days. It won't take you long and you will have the chance to win a £20 voucher to spend in the Omlet online shop. Just print out the wordsearch, circle the words and send to Wordsearch Competition, Omlet Ltd, Tuthill Park, Wardington, Oxon, OX17 1RR, or email your solution to stephanie@omlet.co.uk.
Words: Sun, Holiday, Ice Cream, Seaside, Sandcastle, Camping, Picnic, Festival, Barbeque, Chickens, Dustbathing, Moulting.
Good luck!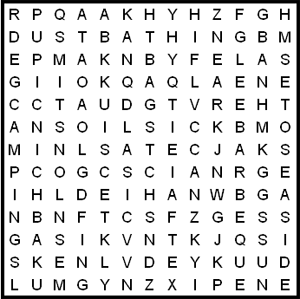 Could this be the quickest way to 20 quid?
Course host of the week
Justine Teeling
About You
Where and with who do you live? I live in a compact yet bijou, 2 bed town house, in Widnes, Cheshire with my husband, dog and 6 chickens.
Your occupation: I haven't worked for about 2 years now due to a medical condition I have, that's when we decided to get the chickens. I DO write poetry in my spare time though and have, of course, been inspired by my chickens!
What is your favourite outfit? I don't have a specific favourite but I do love hats!
What would you choose as your last supper? Now that's a tough one! I adore food; both cooking it AND eating It! I suppose it would have to be slow roasted beef with Yorkshire pudding, proper roast potatoes done in duck/goose fat, Parisian Market carrots and sweetheart cabbage, lightly boiled and then tossed in butter and a really creamy, home made horseradish sauce. A perfect crème brulee and a nice bottle of Muscat, followed by a selection of farm produced cheese and biscuits. Then perhaps a wafer thin mint! Well, you did ask :0)
What is the most important thing you have ever lost? I do get upset if I lose something that has been given to me, like presents. I once let go of a balloon my mum and dad had bought me and I remember feeling heartbroken as I watched it float away. I'm not really bothered about having "things" now that I've got older, but I still treasure gifts, just don't buy me a balloon!
Who would play you in a movie of your life? Someone quirky I hope, like Helena Bonham-Carter!
What song do you most like dancing to? Eek, I don't do dancing, but if you forced me I'd say The Timewarp; then it doesn't matter if you look silly cos you're meant to!
If you won the lottery what's the first thing you would do? Apart from being hysterical? Start planning our smallholding in the country!
About Your Chickens
What are your chickens called? Currently we have Fatima, Eleanor, Lucy, Martha, Prudence and Bea. My original 4 ex battery chickens were named after characters in Tennyson poems (Maud, Fatima, Mariana and Shalott but sadly we've lost 3 of them now). Then we started naming our subsequent girls after Beatles' songs, except for Bea who came to us already named.
What do your chickens like eating more than anything else? They all have different favourite treats, but they do all agree that mealworms are the best!
How many eggs do you get a week and what's your favourite way of preparing them? 14 normal and about 7 bantam eggs. I make a mean quiche with double cream!
Do you bake more cakes now you have your own chickens? Definitely! Most shop bought cakes use battery eggs, so I started making my own and now can't stop. In fact we've started growing fruit and veg in the garden and recently taken on an allotment. I love using our own produce in the kitchen. The chickens mean we get outside much more than we used to and the garden has been totally transformed. They've opened up a new way of life for us.
Do your chickens have a party trick? They're excellent at making meal worms disappear!
What's been the most surprising thing about keeping chickens? How relatively straightforward it is. At first I was very nervous and thought every movement meant something was wrong. When I first saw one of them dust-bathing, I thought she was having a fit! Then I got used to their little foibles and have never looked back. Also what individual personalities they all have, how entertaining they can be, and how friendly they are!
Can you imagine life without chickens? I'd rather not if you don't mind :0) My house would probably be tidier though, as I spend far too much time watching the chickens!
So, You Want Chickens?
I'm cultivating cobwebs



You see I have a reason



There are chickens in my garden



So, fair warning if you're pondering
And trying to bribe the spouse


Omlet online shop
Star Products!
Here is just a small selection, go online to see the full range
Egg Cup Set Round 4 Piece – Green
These egg cups have been delivered to Omlet by unidentified flying objects and we are lead to believe they are a product of the future. So if you're bored of the same old breakfast we suggest you add these to the equation. You can fly your boiled egg down to the table in one very funky egg cup and invite a fellow space cadette to join you.
Set includes two egg cups and two spoons. Also available in black and white.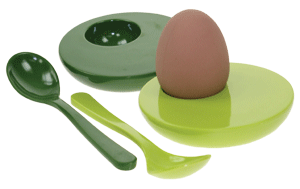 Egg cups in our favourite colour
Omlet World
Omlet team
This entry was posted in Pets
---