Omlet Newsletter August 11th 2009
Hello!
Same place, same time, new chickens
Over 100,000 people were in Regents Park last weekend to enjoy the music, slightly overcast weather, food, two chickens and a rabbit called Baked Beans.  Omlet were there for the second year running and along with our crowd loving chickens we took along our ace bunny Banked Beans!
Eglus on TV
You should be able to see an eglu next Thursday (the 18th August) on BBC2's new series called No Waste Like Home.  It stars a family who use a lot of energy and will try to improve things by keeping chickens.  Of course they do other things like washing less and adding insulation to their house – but the chickens are the best bit!
This Weeks Star Photos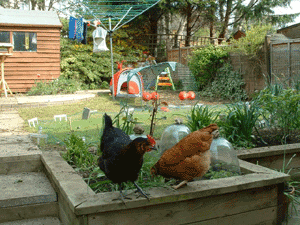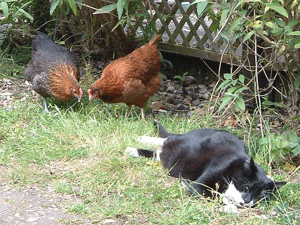 Send your photos to info@omlet.co.uk
Barbara's Weekly Diary!
Holidays with my Hens
Summer's here and it's holiday time. What on earth can you do with your hens? Quite a dilemma, isn't it? Well, no, not really. Hens aren't like cats and dogs. They can look after themselves to a point. So long as they are safe inside the Eglu run with the end door secured, they are safe from predators, which is the biggest worry for hen keepers. The peanut feeders will hold enough food and water for 2-3 days and if a kindly neighbour, friend or relative will pop in and fill up the feeders every few days, they will be fine left to their own devices. There's no need to collect eggs daily as they will just keep adding to the cache in the nest while you are away and while the weather's warm (ha ha!), you don't need to worry about shutting the pop hole door at night either. The hens will be quite happy stargazing as they enjoy the warm summer nights.
If you don't have the luxury of a hen-sitter nearby, another alternative is to take the hens for a holiday in someone else's garden. The Eglu comes to pieces easily and will fit into the back of a family car with ease. The hens can be transported in the comfort of their eglu to their holiday residence. All you need to do is to explain the necessaries of chicken care to their kind host then whizz off and enjoy your holiday while your hens have fun eating someone else's grass.
If all else fails, why not take your hens on holiday with you? It's not as daft as it sounds and I've heard of people who have already taken their Eglus on ferries or packed in the back of a car so that their hens don't miss out on the excitement!! There won't be a lot of room for your suitcases but hey, you'll have fresh eggs for breakfast every day instead!
Barbara
Whats on the forum?
Will chickens damage my lawn?
Isma visited the forum this week and asked about chickens and lawns – "I have been very keen to get chickens for a while now and as the building of the new extension plus the new garden is now complete I'm trying to convince my husband to say yes! However he has become slightly obsessed about the new lawn and says they will ruin it. Personally I think it's just grass and it will re-grow but I was wondering if any other owners with "grass obsessed" spouses could give me advice."
As usual, forum members were keen to help answer the query –
"If you move the eglu and run every couple of days it doesn't affect the lawn very much. We've had Syl and Marj 2 weeks now and the grass is still green." – Sara
"If you love your lawn, then allow the chickens on occasionally – the poop helps! – but keep them on bark rather than on the lawn, and be prepared to keep them off it more-or-less indefinitely during the winter."  Martin
"I had a fairly scrappy lawn anyway, so wasn't worried.

Andy (Night Nurse)
"If you can section even a small area which you can use for the chickens then they will be fine on bark or wood chippings as Omlet recommend." – Lesley
Trial Access To The Forum
You can have a weeks trial access to the forum by clicking this link here ->forum
The Eglu Refresher Kit
Want to give your elgu a spring clean? You can replace the eglu roosting bars and summer shade with this convenient kit and make your eglu look like new again
You can find out more here -> shop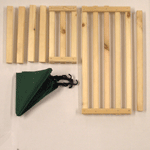 Refresh your eglu!
Have an eggcellent day,
Johannes and the Omlet team!
This entry was posted in Pets
---