Omlet Newsletter 20th August 2009
Hello!
The summer holidays are in full swing and parents, children and chickens are enjoying the sunshine, but if you're stuck for things to do we've got a list of shows coming up that are fun for all the family. Also, the results of the wordsearch competition, a brand new puzzle for you to solve and a story about the humble honey bee – Enjoy!
Beehaus Launch
We're sure you must have heard all about Omlet's latest product, the Beehaus, by now. Well we have certainly been busy bees ourselves over the last couple of weeks and you may have noticed our emporium of beekeeping products is starting to grow. We are going to have to start compiling a collection of bee puns to amuse (or irritate) you over the next few months and it makes a change from chicken talk.
So it all kicked off in London on August 4th when the Beehaus was revealed to the public. There were journalists and tv crews – even Tokyo TV turned up to get a first look at the urban bee hive. And by the next day most of the newspapers had published an article on it. We knew it was a great product but we didn't realise it was going to create that much of a buzz! The designers adorned in beesuits along with the beehaus and thousands of well beehaved honey bees appeared on BBC and ITV news too. You might have spotted Johannes sporting a rather fetching pair of pink marigolds on numerous news clips and showing off the beehaus on his London rooftop. If you missed it you can watch the Beehaus in action here.
Although keeping bees is completely different to keeping chickens we have had a great response and it sounds like a lot of you are keen to learn more. And just like with the eglu, you don't need a big country garden to have a beehaus; you can see from the footage that bees are very happy on rooftops or in urban gardens, and the more bee keepers there are, the more beeautiful the world will bee!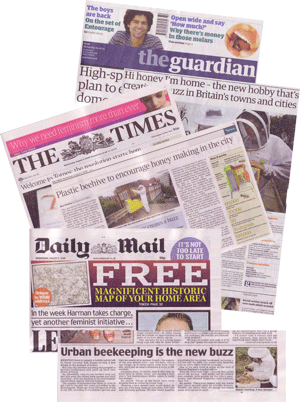 Wordsearch Results
Last month we set you an easy peasy competition to win a £20 voucher to spend in the Omlet online shop. And it seems that you can't go wrong with a summer wordsearch because loads of you entered. There could only be one winner though and the lucky lady was Rebecca Kirby. In case it had you scratching your head for answers you can see the solution on the right, and if this competition wasn't your cup of tea you can have a go at this month's!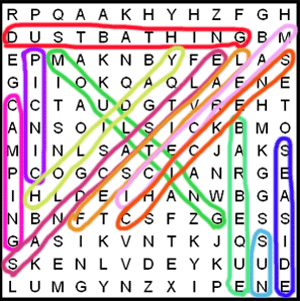 Lewis' Chicks
You may remember a couple of months ago we had a resident writer step in to tell us all about hatching chicks. Lewis is a chap that knows what he's talking about when it comes to incubation and he regularly gives advice on the Omlet forum as well as writing the newsletter guide for us. You may also remember he was planning on hatching some more chicks. Well we are pleased to announce the arrival of some gorgeous little Crested Cream Legbars and Brilley Whites.
The new chicks will all be going into school in the eglu in September for an open evening and we are sure they will cause some great eggcitement.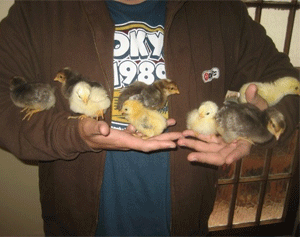 It's Showtime
It's coming towards the end of summer but the Omlet tour bus still has a few more stops before it rests for the winter.
Our next destination is the Bath and West Gardening Show, from Friday 4th – Sunday 6th September. This show has a variety of trade stands offering gardening tools, organic food and garden furniture. You can see some amazing sights in the National Giant Vegetable Championships, be inspired by the range of display gardens and buy some beautiful flowers to take home. And if you would like to buy an eglu to brighten up your garden you can come and talk to us on stand 158, in the main square. Tickets are available for £8.00 on the website.
The following weekend we will be at the Organic Food Festival at Bristol Harbourside. This is said to be Europe's largest showcase of all things organic. For more info visit the website
We will then travel to Berkshire for the Royal County of Berkshire Show. This show will be celebrating its 100th year so it's set to be a great event. This show lasts from Saturday 19th to Sunday 20th September and you can find more info or buy tickets here.
During the last weekend of September we will be at the Malvern Autumn Show. There you will find more giant vegetables, animals from around the world and the chance to sample some tasty food and drink. Visit the website for more information.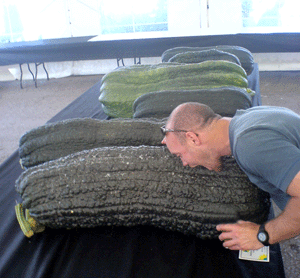 Spot the Difference
This month's competition is a bit more of a challenge. Hopefully you won't spend your whole weekend staring at the monitor with frustration, but we would be disappointed if you solved the puzzle in one minute flat! To the right are two photos taken during the excitement of the Beehaus launch. All you need to do is spot the difference! There are 10 differences in all and some may be easier to spot than others so have patience.
When you think you've solved it just send your answers to stephanie@omlet.co.uk and you could win an eggcellent prize! You can either send the image with circled 'spots' or simply send a list.
And here's a tip to get you started…unless you have phenomenal vision you may want to click here to find the full size image!
Cooking corner
Egg Cup – Silicone Octopus
If you're ever in need of an egg cup at the bottom of the ocean one of these creatures will come in handy. With eight tentacles to fend off predators, your boiled egg will be well protected and there'll be no fear of Mr Shark getting his fins on it. You don't have to be under water to enjoy this egg cup though, as it works just as well on dry land, on your plate. It is very different from traditional egg cups and it's great for making breakfast fun, especially for kids.
You will receive one egg cup in red, blue, pink or purple.
Vegging out
Beekeeping
I've always fancied keeping some bees alongside the chickens in the garden. It seems such a traditional way to head along our road towards self-sufficiency, or at least towards being more self-sufficient anyway as I can't really see our little garden becoming home to pigs, goats, geese and the like just yet! It took long enough to persuade Tom that we had room for chickens.
Times are changing and the recession which seems to be hitting us harder and harder each day and news of possible future world food shortages in the news recently are making more of us think about ways to save money and produce more of our own foods. The waiting lists for allotments are growing day by day with people hoping to produce food for the table. I read recently that somewhere in the region of 300,000 allotments are currently in use with another 100,000 people waiting for plots, but they are still nowhere near as popular as they were during the Second World War where a staggering 1.5 million plots had been created by 1945 in the campaign to "Dig for Victory". During the war, in an effort to produce more food in this country and save shipping foodstuffs in from abroad, poultry keeping became very popular as eggs were rationed, as did pig keeping clubs and bee keeping, as sugar was also heavily rationed. Many of the wartime gardening manuals had sections on keeping poultry and rabbits as well as having bee keeping advice such as how to make your own hives, harvest the honey and make the most of the by products of the hive. On an allotment or in a garden, the bees are also great pollinators of plants so were very valuable additions for the householder.
Going way back further in history, the ancient Egyptians are known to have kept honey bees and in Britain, they were kept in hives constructed from wattle and daub or twigs and dung from Roman times. For centuries, cottagers kept poultry and bees in their cottage gardens alongside the fruit, herbs and vegetables. Before the advent of the wooden hive, bees used to be kept in beautiful woven straw skeps which looked rather like upturned cylindrical baskets. These hives were unfortunately a death sentence
for the poor bees which inhabited them as the only way to get the honey out was to kill the bees and destroy the skep. Before supermarkets made sugar widely available, bees provided honey for sweetening foods in the kitchen. Honey was also used medicinally and as a preservative. The hives also produced beeswax to make the best quality candles as well as polish and cosmetics and honey also was the most important ingredient in the making of mead at home and its variations such as metheglin!
We seem to have come full circle in the current economic downturn and it's encouraging to see more people looking to supply as much food as they can in their gardens and allotments and enjoying buying local or British products in season instead of relying on things being brought in from abroad to satisfy our desire for strawberries and tomatoes at Christmas. Hopefully I can persuade Tom that bees would be a good step forward? We will have to see……
Course host of the week
About You
Your names and ages: Isobel (8), Evie (6), Hattie (5) & Daisy (2) Whittington
Your occupation: Small children
Where do you live? Uffington Oxfordshire
What pets do you have? Six Chickens and two Guinea Pigs
If you were stranded on a desert island what luxury item would you have? A very, very large cake and a mirror (Isobel), Sparkly shoes (Evie), My girl cowboy (Hattie), Milk and Cbeebies (Daisy).
What song do you most like dancing to? Waterloo – Abba (Isobel), Hot and Cold – Katie Perry (Evie), Baby I lied – Deborah Allen(Hattie), If you're happy and you know it …(Daisy).
What do you want to be when you grow up? A singer (Isobel), A vet (Evie), A princess (Hattie), A teletubby (Daisy).
What is your favourite flavour ice cream? Mint choc chip ( Isobel), All of them (Evie), Strawberry (Hattie), I don't like ice cream, It's too cold. (Daisy)
If you could have any more pets what would you have? A kitten (Isobel), A puppy (Evie), A bunny rabbit (Hattie), A pony (Daisy)
How many chickens do you have? Six
What are your chickens called? Florence, Henrietta, Mabel, Matilda, Dotty and Snowy
How many eggs do you get a week and what is your favourite way of cooking them? None yet our chickens are too little. When we get some we are going to use them to make an enormous cake
Do your chickens have a party trick? Catching flies while balancing on a bench.
What do your chickens like eating more than anything else? Our chickens are very greedy when it comes to sweetcorn and have been known to forget their manners in their hurry to scoff it.
Who is best at catching chickens? Mummy.
What makes chickens great pets? They waddle around all the time and they are very funny. They have lovely fluffy feet and run really fast to see us every time we open the front door. If we haven't got any sweetcorn for them they look terribly disappointed. We are looking forward to getting some eggs when our chickens are big enough.
About Your Guinea Pigs
How many guinea pigs do you have? Two baby Rex guinea pigs.
What are your guinea pigs called? Rosie and Racasie the third.
Who decided on your guinea pigs' names? Hattie, as they were her birthday present. They came wrapped in a shoebox with a big pink bow.
What are your guinea pigs' favourite food? Our guinea pigs are even greedier than the chickens and spend all day eating grass. Their favourite snack is cucumber.
Why are guinea pigs good pets? Guinea pigs are good pets because they are cuddly and fluffy and friendly and never bite unless they mistake your finger for a carrot. They make lovely squeaky noises when they are excited.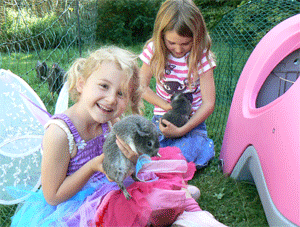 Omlet online shop
Star Products!
Here is just a small selection, go online to see the full range.
For the birds
Nature's Feast – Dried Mealworms 110g
Dried mealworms are the less wiggly alternative to live mealworms but will still go down a treat with your chickens. They are the larvae of the Flour Beetle, a native British insect which eats flour, meal, grain and other crops. They are made up of over 48% protein and 40% fat, making them tasty to eat and in their dried state very unlikely to escape a hungy chicken.
Mealworms are also a great treat for wild birds, particularly because of the protein content which is especially important during breeding and fledging. They attract a variety of birds and can be added to bird seed, on a bird table or in a feeder, all year round.
This small tub of 110g dried mealworms is ideal for clean and easy storage and the easy pour lid is perfect for sprinkling a few on the ground for your hens.
For the bees
Bee Suit Full Body
Every beekeeper needs a suit to give full protection when handling their bees. This full body suit is perfect for head to foot protection, giving you the confidence to get close to and handle your bees.
The suit has a number of great features which make it both safe and practical:





For the chef
Egg Timer Dotty – Various Colours
Has this dotty little item sprouted from magic beans? Has it been laid by a rare breed of chicken? Whatever it is or wherever it came from it wouldn't look out of place surrounded by pixies and fairies in a mystical forest. But surprisingly, it is most at home in the kitchen, amongst the saucepans and the wooden spoons.
This is in fact nothing more than an egg timer…but a totally cool egg timer at that. Make your kitchen more colourful and your cooking more fun with this essential gadget. Cook cakes to perfection every time and never over boil an egg again. How did you live without one?
A range of colours available so you can choose one to match your bowls, your apron or even your eglu!
For the kids
Live Butterfly Garden
The transformation of a caterpillar into a butterfly is one of the most impressive of nature's magic tricks. Even kids that have no interest in science find this a fascinating process, and this kit will show them the magical metamorphosis of caterpillars to butterflies closer than ever before.
First, your caterpillars will eat their own food, growing to ten times their original size. Next, they'll hang upside-down and shed their skins to form chrysalides. Finally, see them emerge as beautiful butterflies, completing their metamorphosis! Observe them for a few days and then release them!
Science and nature has never been so much fun!
Suitable for 4+
Omlet World
It wasn't just the UK that got excited at the launch of the Beehaus, there was a buzz in the air in New York too! The New York Times published an article all about the decline in bee numbers in both Europe and the United States and it mentioned the 'new and improved' beehive perfect for city dwellers. All those city rooftops could soon be providing homes for bees and helping their numbers grow.
One person commented: "My mother and I have been keeping bees in Cambridge, MA for 8 years now, and we love it! The looks on people's faces when you give them a jar of homemade honey are totally priceless, and they pollinate our apple trees beautifully. Hooray for city bees!"
Rumour has it the Obamas will be keeping bees on the lawn of the Whitehouse soon – we haven't received an order from them yet, but we've got our fingers crossed.
This entry was posted in Pets
---