Omlet Newletter September 3rd 2009
Hello!
Kids are back to school this week, the holiday season is coming to an end, and before you know it the shops will be putting up their Christmas decorations and you'll be running around like a headless chicken again. So enjoy the peace while it lasts. It is a great time for your chickens as they will be enjoying the last of the fallen summer fruit and the temperature is a little cooler for them to handle.
It's not too late to plant some salad as our veggie guru explains, and there's still time for a picnic or two with Tom's recipe for the ultimate egg sandwich. So there's lots of celebrate in September!
Flying Omelettes
You've heard of flipping pancakes before but have you ever heard of a flying omelette? No, neither had we, until a customer of ours got in touch. Jamie Campbell, proud eglu owner has just been paragliding in Slovakia, and what better attire to wear during his flight than an Omlet tshirt?
We've seen the forum thread of Omlet tshirts around the world, but this one is very impressive. So if you've bungee jumping, sky diving or absailing in one of our tees send us in a pic to stephanie@omlet.co.uk.
Say Hello!
Nothing brightens a rainy day like a display of colourful flowers, a giant marrow or two and some tasty, organic food. So instead of hiding in your house this weekend why not come and join us at the Bath and West Gardening Show. There is lots to see and some great things to buy, and it makes a fun day for all the family. We will be on stand 158, in the main square, so if you're thinking about keeping chickens in your back garden you can come and have a chat. Visit the website for more information.
Hen Hypnosis
Thousands of criminals end up in prison for theft every year and the usual targets for thieves are cars, cash and jewellery. But someone in Poland has been charged with 10 years imprisonment for stealing something a little more uneggspected…Chickens! Antoni P, a 60 yr old from Wielkopolska would creep into chickens coops at night where he would hypnotise the unsuspecting hens. Police spokesman Mateusz Marszewski said "the hens look at him and something strange happens because they never make a sound."
Now that's what you call fowl behaviour.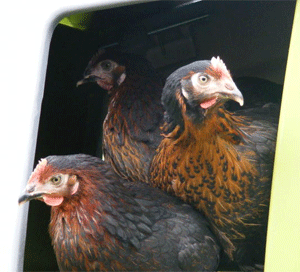 Courses for Everyone
Now that the holidays are over September is the perfect month to go on a course and learn all about keeping chickens. Hen parties are run all over Britain, from Edinburgh to Portsmouth so there is probably one nearer to you than you think. Our courses are a great opportunity for you to see an eglu or cube, to learn about looking after your hens and to eggsperience a chicken cuddle or two.
And if it is bees you're interested in we have a range of courses for you aswell! It is a great idea to go on a course before deciding to keep bees to learn all the basic skills you'll need and to give you confidence in handling a brood.
Here are a few courses over the next couple of weeks:
Omlet Advanced Poultry Keeping by Clare Taylor – Sat 12th September 2009- Banbury, Oxfordshire
Hen Party for Beginners by Fenton Simpson – Sat 12th September 2009 – Alderley Edge, Cheshire
Chicken Keeping for Beginners by Barbara Baker – Sun 13th September 2009 – Upper Dean, Cambridgeshire
An Introduction to Beekeeping by Robert Bell – Sun 6th September 2009 – Helston, Cornwall
Beginners Beekeeping by Paul Peacock – Wed 9th September 2009 – Wythenshawe Park, Manchester
Beehaus Party -Beekeeping Taster Session by Ian Sherwood – Sat 12th September 2009 – Swaffham, Norfolk
Alternatively, if you would like to become a course host please email johannes@omlet.co.uk.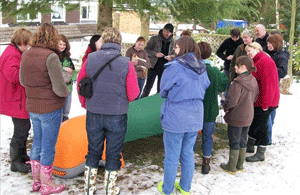 Visit the website to find a course near you
Spot the difference Competition
We've already received lots of entries for this month's Spot the Difference competition, and there's been an interesting bunch of answers so far…but don't worry if you missed the last newsletter (or if you've been staring at the screen for the past week) because you have until next Thursday to enter.
Click here to see two images taken at the Beehaus launch. There are 10 differences, some of which are more obvious than others. When you think you've spotted them all send your answers to stephanie@omlet.co.uk. You can either send the image with circled 'spots' or write as a list.
Can you spot the 10 differences?
Good cluck and we apologise if you spend your entire weekend searching for answers.
Cooking corner
Although it's coming towards the end of summer it's not too late for going on a picnic to make the most of being outdoors. The hens are still laying whoppers and the salad is doing really well, and picking the salad leaves when small, means that you can continue picking for weeks.
So what better way to make the most of all this fresh salad and eggs than by making the ultimate egg sandwich – perfect for packing up for those final picnics.
The Ultimate Egg Sandwich
2 hard-boiled eggs






1) Mash the egg with the mayonnaise, onion, tomato and paprika, season to taste.

Vegging out
I love salad leaves. From the humble butterhead lettuce to the mustardy Mizuna leaves. They all have their own specific tastes and textures. Mixing them all up into one big bowl of salad with a yummy dressing is my idea of heaven in this warm weather. The nice thing about salad leaves and lettuces is they're the easiest and quickest of all produce to grow. In fact if you've never grown anything before these are best seeds to start with and you can do it right now…or once you've finished reading the newsletter.
There are various types of lettuces and the terminology can be confusing but you see them all at the supermarket. Cos, butterhead, romaine, loose leaf. Sowing lettuce seeds is really simple and can be done by anyone and into practically anything. I grow mine in grow bags but you can use a window box, plant pots, ice cream tubs or any patch of ground you have bare. All you need is some soil or compost, your chosen seed(s) and water.
– Fill your receptacle with soil and firm down gently. You want to form a crumbly but firm bed.



In just a few days you will see the seeds germinate. Keep them well watered and within 2 or 3 weeks you'll be enjoying your very own home grown lettuces to eat in your lunch box or sunny picnic.
If you want to vary the flavours in your salad why not try some unusual leaves such as Rocket, Mizuna or mustard leaf. They all just as easy to grow but add amazing flavours.If you have two batches of lettuces sown two weeks apart you can enjoy one whilst the other grows and then re-sow into the first pot whilst you're eating the second batch. You should never run out of lettuce leaves!
It's not just salad leaves that make a tasty salad. In my garden I'm growing some lovely summer treats. Peppers, tomatoes and cucumbers. Sadly, it's too late to grow these from seed but most garden centres have ready grown plants for you to grow on at home. They're really simple to care for too. They do need watering well during the heat of summer and adding some simple tomato feed to their water once a week will help their fruiting. You can grow most varieties outdoors too. Once they've started to flower bees and other pollinating insects will help to create your fruit. If you find the flowers are dying but there's no fruit behind them it may be worth misting them with water or using a small paintbrush to brush over each of the flowers and transfer pollen manually like a bee would.
I hope, if you've never planted anything before you'll give salads a go. They're healthy, tasty and could be right on your doorstep.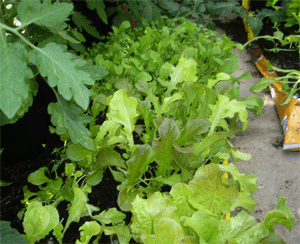 Course host of the week
Paul Peacock
About You
Where and with who do you live?  Manchester with Diana, Rebecca, Joel and Anouchka.
How long have you been keeping bees? 11 years.
What made you decide to keep bees? As part of being self suffiencent, and because they're fun.
How many bee hives do you have? Five.
What plants in your garden do your bees like the most? It depends on the time of the year – at the moment it's lavender, the rest of the time it's nasturtum.
What is your favourite thing about the Beehaus? It can be used in different ways.
What do you like doing when you're not hosting beekeeping courses? I'm busy writing, pottering in the garden and looking after the hens.
How long have you been running the bee courses? One year.
What made you decide to teach others about beekeeping? As part of my work with Manchester Council encouraging people to grow their own food. We're putting bees on allotments sponsored by the CO-Operative. Next year we're going to do the same in London.
What do your courses include? There are two types of course –
Beginners beekeeping: You will get an introduction to bees and look at the various tasks a beekeeper needs to master. You will learn how to use a bee suit, smoker, and hive tool, how to open a hive and remove frames and how to find the queen and recognise brood and honey. And you'll be able to see the world famous Beehaus up close and personal!
Beginners beekeeping theory: You will receive a copy of the book Keeping Bees: A Complete Practical Guide by Paul Peacock. You will learn about the bee year and the importance of varroa and disease control, about the castes of the bee, their functions and life cycles and about swarming.
Have there been any course disasters? I think one pupil killed a queen – just sorting this out.
What's the best thing about being a course host?  It's fun and good to interact with like-minded people.
Why should people attend a course? There is no better way of finding out if it's for you. It's cheap and fun.
Example Review:
"Thank you for the very relaxing, informative and highly interesting session you delivered on Saturday morning. Although I was not necessarily scared of going into the hives, I was a little apprehensive. The very calm and relaxed way you presented yourselves however, was very reassuring and gave me a lot of confidence. I even remember noting part way through the second inspection that I had almost forgot the presence of the several thousand bees flying about. Once again, thank you very much for the experience, you have given me the confidence to pursue this hobby further." (By Tyler)
Upcoming Course Dates:
Wed 9th September 2009, 11:00am – 1:00pm
Co-operative apiary in Wythenshawe Park, Manchester
Beginners Beekeeping Theory Course No 1
Sat 12th September 2009, 1:30pm – 3:30pm
Co-operative apiary in Wythenshawe Park, Manchester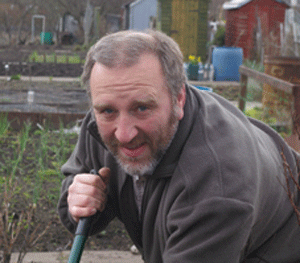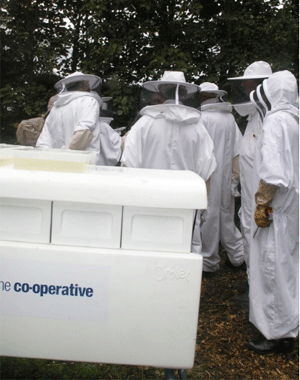 Omlet online shop
Star Products!
Here is just a small selection, go online to see the full range.
Egg Cuber
Have you ever sliced a hard boiled egg for your sarnie only to discover it's a challenge to cover the bread perfectly? A bit of sandwich with no filling is very disappointing so you need to make sure you get full coverage. Well help is at hand with the egg cuber. Yes, we know it sounds a bit wierd and you're probably asking yourself why eggsactly you would want a cube shaped egg, but just think – perfect square slices with straight edges that fit into corners.
Just hard boil your egg as you normally would, remove the shell and pop it into this gadget. Place the square of plastic on top and screw the lid on gently, as it compacts the egg into the cube chamber. Leave for a few minutes, preferably in the fridge, then remove your amazing egg cube.
Chalkboard Chicken
If you've got orders flying in for free range eggs from here, there and everywhere you will need somewhere to note them down so you don't get muddled. This wooden chalkboard chicken is just the ticket for tallying your egg production and sales and it will look great in your kitchen. And if you'd rather make the most of your eggs by doing some baking a la Delia, you can note down all the ingredients you'll need so that you don't forget.
At approx 30cm this is a decent size chicken to cover in chalk and the rafia string makes hanging it up a doddle. Give it pride of place but don't be surprised if your hens get jealous when they see it in the kitchen while they're stuck outside.
Farm Animal Hooks Set of Four
Every household needs a hook…or four (because one's never enough). They save the house from becoming a dumping ground for coats, keys and handbags and they create a bit of good old fashioned order. Have you ever wondered what your floor would look like without the existence of the all mighty hook?
These handy hooks are perfect for all your hanging needs. Whether it's coats in the cloakroom, keys in the kitchen or bananas in the bedroom (in case you get peckish in the night), they will not let you down. Made from wood and each one handpainted with a farm animal they are perfectly suited for every chicken keeper and they look much more colourful than those horrible big brass things. Don't you agree?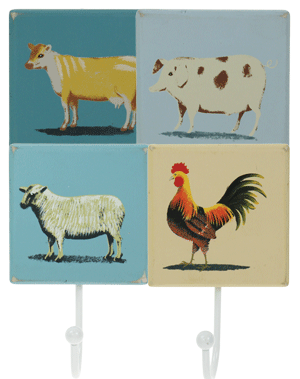 Nyokki Egg Pet Plant – Chick
Fresh from Japan, the Nyokki egg pet plant is a cool little creature that will live and grow wherever you like. The handmade, glazed ceramic egg is painted to look like a chick, and its dangly, fabric legs will happily hang over the edge of a table or windowsill. The inside is filled with growing medium and rye grass seeds, which will grow into a lovely head of grass hair within a couple of weeks.
When the hair has grown the fun begins, as you get to act like Charles Worthington and cut and style its barnet to your heart's content. Tie it up, trim it and cut it into funky shapes…a great boredom buster for adults and children alike. The grass will grow back, time and time again, giving you weeks of fun, and when you are finished with it you can use your egg pet to hold bits and pieces.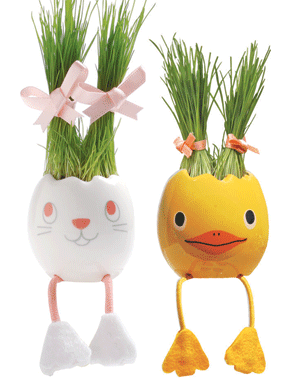 Omlet world
This month the eglu has featured in the French magazine Exterieur Design. Although lots of you living in France already own an eglu it keeps on popping up in magazines as a new and cool way to keep chickens. According to the mag the eglu is made 'in the country of egg and bacon' and they say it's the perfect size for an urban garden and for starting your own little farm. They love the eglu's 'pop design' and it appears amongst a selection of other cool, new techy products.
So if you live in France and you also fancy keeping chickens, so you can start breakfasting like the British every day, you can buy an eglu too.
Omlet team
This entry was posted in Pets
---