Omlet Newsletter September 23rd 2009
Hello!
Summer has gone and the Autumn is here and although that means it's getting darker and that little bit chillier this season is great for chickens; It's not too hot or too cold for them, there's fallen fruit to be enjoyed and they will love raking through the autumn leaves to find a juicy bug. And while they're busy in the garden here's another newsletter for you to enjoy in the comfort of your home, including a very eggciting competition.
Spot the Difference Results
We had a great response from last month's Spot the Difference competition. Some of you correctly spotted the 10 differences, some of you didn't quite make it and a few of you found differences that weren't really there! It was a great test of patience and eyesight so well done to all of you that were correct, and commiserations to the rest…don't worry, most at Omlet HQ didn't get it either!
Fiona Shaw was our lucky winner! But here are the answers so you can see how you did:
1) There is an extra sweetcorn leaf
2) The Beehaus is a different colour
3) The bees in the Beehaus are missing
4)The microphone boom cover has gone
5) The centre fence post has lowered in height
6) The cameraman's watch is missing
7) The cameraman's shirt is a different colour
8) The logo on the back of the camera case has gone
9) The man is holding a bee guide instead of his noteboo
10) The camera cable between the two men is missing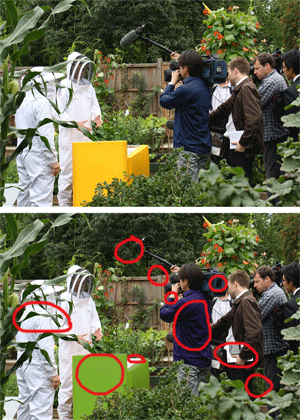 Star in our Calender
Now for an Omlet first, and a very eggciting competition indeed… we are currently making the finishing touches to our 2010 calender. This will be the first ever Omlet calender and we are giving you the chance to be a part of it. How would you like to be the star of one of the 12 months of Omlet? Each month will feature one of you – an eglu, cube or beehaus owner. We are looking for people that keep chickens, rabbits, guinea pigs, ducks, quail, bees…or whatever else you might keep in your eglu!
If you want to be one of the 12 featured faces just email stephanie@omlet.co.uk. Send us a photo of yourself, tell us what you love most about your pets and tell us your top seasonal tip. Please ensure that images are 300 dpi and at least 20cm x 20cm.
And if we choose to feature you not only will you be a sensational star but we will send you a copy of the calender. We'll even sign it for you if you like, although you may be signing copies yourself for friends and family.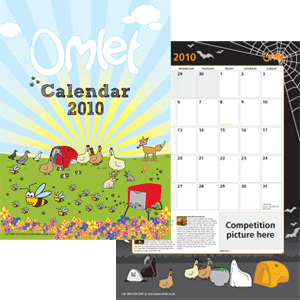 The coolest calender of 2010
Coming Soon…
We know it's a bit early to be thinking about next year already, but some shops have been selling 2010 calenders since August! And as we are currently producing our first ever Omlet calender (in case we didn't already mention that) we want to let you all know early to avoid disappointment. With cool cartoons, dates to remember, funny photos and top tips the must have item of 2010 will be available in October but you can let us know now if you would be interested in buying one by emailing stephanie@omlet.co.uk – just put "I like to keep up to date" – in the subject line. There will be limited stock so tell us now to avoid disappointment.
Special Delivery
Last week turned out to be very exciting for some keen Beehaus owners and it was pretty exciting for us too. Now, Omlet are pros at delivering our good old girls the Gingernut Rangers and Miss Pepperpots but this time Johannes had the task of making a rather special delivery. They fly, they lay eggs but their not chickens…yes the Omlet delivery van was full of bees!
Excited customers waited all over the country for the arrival of their new beehausmates and they weren't disappointed. The bees loved their new homes and after having a Winter break they will be busy pollinating plants, collecting nectar and making lots of yummy honey. Hoorah!
Last Chance to get on a Course
The new bee courses are proving to be really popular with people new to beekeeping. These courses give beginners the guidance they need to get started with this fascinating hobby and they offer the perfect chance to see if you can handle the buzz.
With Autumn in the air and Winter creeping up on us the beekeeping season is coming to a close, and this will be your last chance to go on a bee course before next year. After all, those busy bees will need a rest over the Winter. Visit the courses page to see the last few courses which are running over the next month. If you already keep bees this could be an opportunity to learn about Winter health care, so they are well worth attending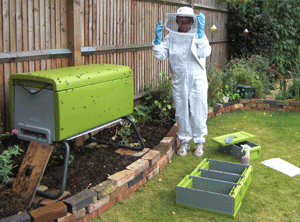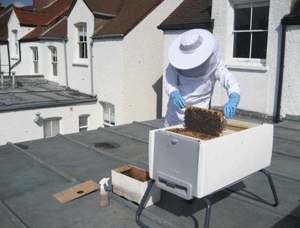 Cooking corner
Egg Cup Set Melamine – Pop
With the yolk from your softboiled egg and these four colourful eggcups you'll have a whole rainbow on your breakfast table. Now if that doesn't brighten up your morning what will?!
Four solid melamine eggcups in pink, orange, red and yellow.
(Matching spoons available)
Vegging out
Maybe it's just me but isn't this year speeding past? Summer had a final fling last week but there's a real nip in the air when I get up to let the hens out each morning now and in the garden, the leaves are beginning to turn on the trees and the apples, pears and plums are almost over. It's been a funny old summer. Not quite the heat wave "barbecue summer" we were promised but at least it hasn't been the washout last year was! The egg situation has been a bit hit and miss thanks to a couple of broody hens becoming all hormonal in that lovely hot spell in early June and now we have one hen after another moulting feathers all over the garden and that really takes its toll on egg production. Fortunately, we've still had enough for Tom to barter with for any fruit and vegetables we're unable to grow at home which is always a bonus. I wonder whether we could barter all the feathers for something?! The run is absolutely full of them!
We have been really lucky in the garden because the vegetables and fruits have done amazingly well this year and we have spent more time in the kitchen making jams, chutneys and fruity tipples ready to store away for winter this year than most others. The hens have done very well from the vegetable garden too with cabbages, wasp bitten plums, partially slugged tomatoes and bolted lettuce and they have wolfed down everything they've been given with gusto! I managed to sneak in a few extra rows of cabbages especially for the chickens so that we don't have to buy them from the market for a few months. As the hens spend much of their time in the large run where they are safe if we aren't at home during the day, this means that they don't have access to grass as much as they would like so giving them a nice fresh cabbage makes up for this and provides them with the vitamin C they need.
This summer has been a bad one for skin parasites. We've had to treat the hens for lice again but a lot of people getting in contact have also had big problems with red mite which can be pretty tenacious. It's important to be vigilant where skin parasites such as lice and mites are concerned as they can quickly weaken a hen if an infestation is bad, so regular checks and prompt action if any are found is definitely the best way forward. There are a couple of good topics on our forum which help with the identification and treatment of these wee beasties so if you think you may have stowaways, have a look at these :
Course host of the week
Peta Stanley
About You
Your name and age: Peta Stanley, 41.
Your occupation: Dog walker.
Where do you live? Aynho, Nr Banbury. Live with my husband Nick, Golden Labrador Jack, Bengal Cat Egli and my 6 lovely chickens.
What pets do you have? Chickens, 1 Bengal Cat, 1 Golden Labrador and lots of fish.
If you were stranded on a desert island what luxury item would you have? An Eglu Cube full of chickens!
Which is your favourite season?

What is the most daring thing you have ever done? Absailed, the scariest bit was the beginning bit going over the edge. I was petrified, but so thrilled when I did it and was back on solid ground.
Who would play you in a movie of your life?m Lisa Kudrow (Phoebe from Friends).
What song do you most like dancing to? Slow dance, anything by Gabrielle (80's stuff). Silly dance, has to be the Birdie Song doesn't it?!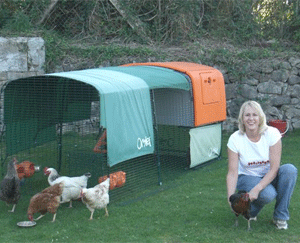 Peta loves to pamper her pets!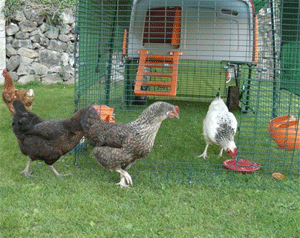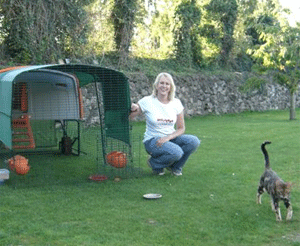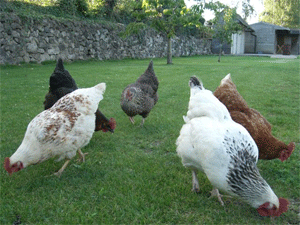 About Your Chickens
What are your chickens called? Aggie, Chuffa, Dot, Dash, Emily and Fred.
How many eggs do you get a week and what is your favourite way of cooking them? Approx 36, boiled or poached for breakfast or hard boiled in a sandwich.
Do you bake more cakes now you have your own chickens? No, I'm not one for cooking, but all my family and friends love the eggs and bake for me which is much better!
Do your chickens have a party trick? Chasing the cat!
What do your chickens like eating more than anything else? Mealworms, they just can't get enough of them, and they are rather partial to spaghetti.
What's been the most surprising thing about keeping chickens? How friendly they are and how comical they are to watch.
Can you imagine life without chickens? No not at all. Never really thought about chickens much until I got mine, but now I just love spending time with them, pampering to their every need and basically chilling out with them in the orchard. I would love to get more chickens soon, maybe some battery hens to give them a new, well deserved start to life as it should be!
Omlet online shop
Star Products!
Here is just a small selection, go online to see the full range.
Egg Cup and Salt Shaker Set
Have you ever sat down for breakfast, taken the top off your boiled egg and gone in for the dip before realising you forgot the seasoning? By the time you've gone into the kitchen and located the shakers all sorts of events could have taken place; the yolk's set, the soldiers are cold, or, worse, some greedy trespasser has gobbled it! You need to ensure you are prepared for all possibilities! This may look like a normal egg cup, but the base holds a special secret – salt. As long as you keep it filled you will never again need to abandon your egg to find the seasoning.
Made from porcelain and comes as set of two, boxed.
Teapot – Busy Bumble Bee
When friends pop round for tea it is nice to serve them something really special and a gorgeous teapot makes all the difference. Made from fine bone china and with a beeauty of a bumble bee print, this is a splendid teapot that will get the conversation buzzing. Sourced and made in potteries in Stoke on Trent it is of lovely quality and would make a gorgeous gift for someone else or a treat for yourself, and it is completely safe to use in the dishwasher. Matching items are available so you can put on a tea party to impress!
Has a capacity of 660ml. Comes packaged in a gift box.
Every gardener needs a good fork, and this one ticks all the boxes. The ashwood handle looks smart and is smooth to hold, and the stainless steel fork is strong and hard wearing. It even has a loop so that you can hang it up after use. A brilliant tool that will last you ages!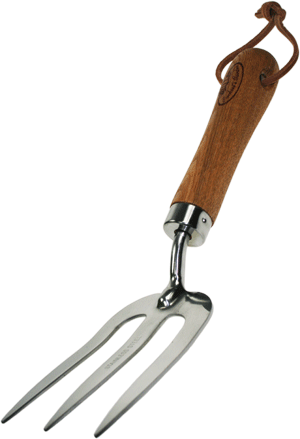 Nature's Feast – Wild Bird Food 1.5kg
Attract some fascinating wildlife to your garden with this tasty, tempting food. With black sunflowers, kibbled maize and yellow millet this is a varied food that wild birds, such as robins, woodpeckers and collared doves, will love. Just pour into a seed feeder or sprinkle on a bird table regularly.
Omlet world
A woman in Buffalo has just held a welcome party for her chickens after a year of being without them. Monique Watts lost her hens Buttercup, Minnie, Meg, Tilda and Mama Effie a year ago after someone had reported her for keeping them illegally. She hadn't realised that there had been a recent city ordinance banning residents from owning chickens.
Monique started keeping chickens in her backyard as she was conscious of where her food came from. She was upset to have them taken away from her and decided to fight for a change in law and to get her pets back. With the help of her councilman she managed to get a new ordinance passed allowing residents of Buffalo to keep up to five chickens as long as their neighbours agree to it.
After welcoming her hens back Monique plans to continue her fight as she believes the ordinance is still restrictive. She believes that everyone deserves to have fresh eggs and she wants keeping hens to be completely legalized.
And if you live in Buffalo, or anywhere else in the USA you can buy an eglu for your backyard. Click below to visit the online shop!
This entry was posted in Pets
---