Omlet Newsletter October 10th 2009
Hello!
We have been busy bees at Omlet HQ this year… having only just launched the Beehaus we have a brand new product to share with you. It's called the Eglu Go – and it's the brand new eglu with loads of cool features.
Go, Eglu Go!
The Eglu Go is really easy to use and perfect for first time chicken keepers. It has a large door at the back which gives easy access to the roosting bars, droppings tray and nesting area to collect your lovely eggs. The run is also great – you can have the door anywhere you like (except the roof!), making getting to your chickens easier. And finally, you can transform your Eglu Go by changing the coloured panels which simply click on and off.
The brand new Eglu Go from Omlet is available for £295 for a complete kit, including run, glug and grub, shade and egg boxes. Delivery is £20 but as a special introductory offer we are offering free delivery. Hurry though, this offer won't last! (Please note this offer does not apply to the Eglu Go package with chickens.) Click on the link above to take a closer look and if you have any questions remember you can always give us a call on 0845 450 2056.
The new Eglu Go has been tried and tested by our harshest critics and the verdict is 'eggcellent'!
Beehaus in Jerusalem
It's not only Britain that's buzzing about the Beehaus! As well as a recent articles in the New York and the LA Times we have appeared in a very surprising newspaper – the Jerusalem Post. It seems that even they are fascinated by our latest venture.
Charlie, a happy eglu and cube owner, found the article while on holiday in Jerusalem recently and sent it to us. We wonder if we should be setting up beesness there too!?
If you spot us in the news anywhere unusual let us know – it's always a nice surprise!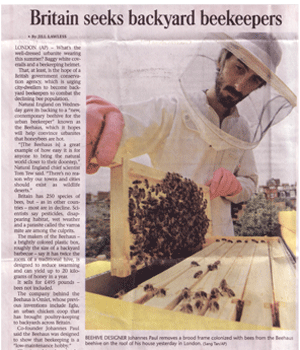 Search for a Star
There's still time to enter our latest competition, and it's a good one! … Star in our 2010 calender and be one of the 12 faces of Omlet. Each month will feature one of you – an eglu, cube or beehaus owner. We are looking for people that keep chickens, rabbits, guinea pigs, ducks, quail, bees… or whatever else you might keep in your eglu!
If you want to be one of the 12 featured faces just email stephanie@omlet.co.uk. Send us a photo of yourself, tell us what you love most about your pets and tell us your top seasonal tip. Please ensure that images are 300 dpi and at least 20cm x 20cm.
You've got until the witching hour on Sunday to enter so why not give it a go.
Chicken Mentors
Keeping chickens is becoming more popular in schools over the country. It has lots of benefits for kids, and we don't just mean getting an egg to take home. Graeme Slate, a learning mentor, recently got in touch to tell us about the Eglu Cube at Forster Park Primary School in Lewisham.
Teachers in his area were given the challenge of coming up with an interesting way to teach maths and Graeme came up the the unusual idea of an Eglu project. Their red Eglu Cube is being built by mentees…but how do chickens relate to maths eggsactly? In lots of ways apparantly : understanding invoices and delivery notes, checking parts and prices, understanding basic numbers and matching of parts, comparing prices of chickens feed and selling the eggs. Complicated stuff!
The school's Eco Council will monitor the health and happiness of the chickens as part of their membership to Lewisham's Clean & Green schools programme. A local farm will soon be involved too, setting up an incubator to hatch some chicks. Although Forster Park Primary School haven't got any chickens yet the children are very eggcited about the arrival or their new pets.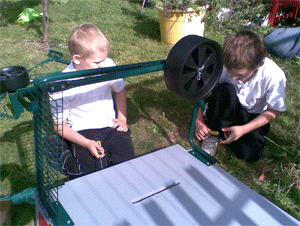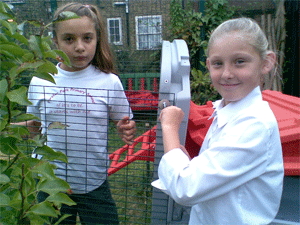 Cooking corner
When I was a boy, September always felt cold, the sign that it was time to go back to school for another year. The leaves were turning red and Autumn was well and truly on it's way. Pumpkins, gourds, beetroot and the odd tin of beans, from the "non gardening' family, were taken to class to celebrate Harvest festival. How things have changed, the weather for starters. At this time of year the veggie garden is doing so well. The Courgette plants are looking slightly worse for wear, but still producing marrows if left for a day too long. Potatoes have been dug up and stored in old pellet sacks and the runner beans are accompanying every meal!
The wild birds are attacking the spent sunflower heads, preparing for winter and our own hens are dropping feathers everywhere. Some have stopped laying but we are still getting several eggs a day. A pinch of poultry spice added to their pellets helps them get over a moult more quickly. The hedgerows are dripping with free bounty. Elderberries, blackberries, sloes, wild plums, rosehips and crab apples a-plenty. It would be a shame to let nature's efforts go to waste, so here is a way to preserve the sweet tasting harvest. Don't be put off by jelly. It really is simple. Once you have cracked it, there will be no stopping you!
Hedgerow Jelly
2 kilos of fruit (blackberries, elderberries, sloes – not too many, damsons, plums) – Prepare the elderberries by stripping the small black fruit from the stalk with a fork
1 Kilo cooking apples or crab apples, chopped up, stalk, seeds and all
The juice and rind of 1 lemon
Place the fruit in a large pan, the biggest you have.
Add enough water to cover and cook on a medium heat until it is dark red and pulpy.
Strain through a jelly bag or muslin cloth, suspended from an upturned chair. Allow the liquid to drip through over night into a large bowl. Place a couple of saucers into the fridge.
The next day, measure the liquid and pour back into the clean pan. For every pint of liquid, add 1 lb of sugar. I use granulated, sugar with added pectin or jam sugar can also be used but costs more.
Stir until the sugar has completely dissolved, taking care to scrape the edges.
Bring to a rolling boil and continue boiling for 10-15 minutes.
Drop a small amount of the jam onto the cold saucer and pop it back in the fridge for a minute or two. When the jelly has reached setting point, a skin should form when you push your finger through it.
There will be bright pink 'scum' around the edges of the pan. Skim this off and ladle the jelly into warm jam jars. Screw the lid on and allow to cool overnight. Label and enjoy within 12 months.
Tip – wash your jars in warm soapy water, rinse and allow to dry. Place in a hot oven for 15 minutes to sterilise. Or pop them in the dishwasher on a hot cycle. If using old recycled jars, use new lids. These are available from good cookware shops.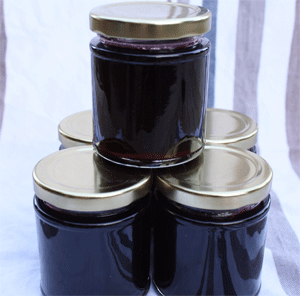 Vegging out
Well Autumn's here and you would think there would be nothing to do on the veg plot. In fact there's plenty to keep you busy all through the Autumn season to give you a head start on next year's crops.
There are a few veggies that actually benefit from being exposed to a winter in the ground. If you want to grow great onions and garlic for next Summer now is the time to get sowing. If big tasty onions are something you'd like to grow you'll need to buy yourself some onion sets, these are partially grown onions from seed. They are cheap and easy to find. For over winter growing you need a variety that is not heat treated. They are extremely easy to grow and need very little looking after. They are very space occupying though so if you are strapped for room you may want to wait until spring and grow a spring onion variety instead.
To plant your onion sets:
Make a small hole in the earth with your finger about 2 inches deep
Place the onion set in the hole pointed uppermost
Fill the hole with earth until the onion set it mostly covered, leaving just the tip protruding
Repeat with the other sets about 6-8 inches apart
Water well
Garlic being from the onion family is planted in very much the same way but you cover the whole clove with soil. Instead of growing from sets you buy whole garlic bulbs and separate them into cloves and plant these. Try to buy ones for growing as opposed to supermarket bought as the result you will get will be much better.
You can also get a head start on your peas and beans too. From now until early Winter you can plant early varieties of peas such as Feltham First and broad beans such as Aquadulse. Dependant on where you are in the country and how water retaining your soil is depends on whether you start your seed growing indoors or out. Pea and bean seed doesn't like to be water logged so if your ground is very wet start your seed indoors and transplant when the plant is strong. Either way the sowing method is still the same –
Make a small hole ½ inch deep, place your seed into it, fill with soil and water well.
If you're not planning to grow anything until next Spring make sure you take care of your soil. Start digging in some well rotted manure or grow a "green manure" such as clover to dig into the ground later. This all helps to replace the nitrogen used up by this years crops. If you have bare earth cover it up with black polythene or old carpet to prevent weeds taking hold and using up all the nutrients in the soil.
So wrap up warm and get in the garden. The more you put in now the less you have to do in Spring.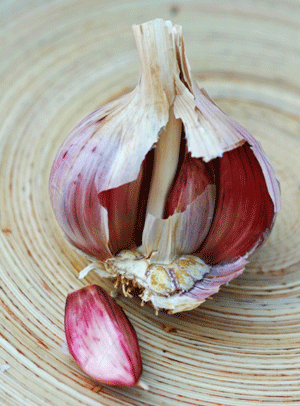 Course host of the week
Clare Taylor
Your name: Clare Taylor
Where and with who do you live? I live in Banbury with my daughter Rosie, my bantams, two cats, two bunnies and a lurcher pup. Rosie helps out on my courses and is chief chicken wrangler.
How long have you been keeping chickens? All my life – my Italian grandfather had a smallholding and kept chooks and bunnies. I fulfilled my dream to have some of my own 5 years ago when I started collecting pure breeds; I had to remind myself of all the details.
What made you decide to keep chickens? I am fascinated by the different breeds (the eggs are a bonus for us) I also wanted Rosie to grow up understanding the lifecycle and how it affects the food on her plate; she's now my very own eco-warrior.
How many chickens do you have and what are their names? We have 11 at the moment, some of the names are from songs of my youth, others are just family favourite names. We have Sadie, Ruby-chook, Jude, Lily, Lavinia, Dolly, Betty, Dizzy, Bunty, Fleur and Roxanne. I also board holiday hens, so we regularly increase by a few and end up drowning in eggs.
What's your favourite thing about the eglu? I like the practicality and the styling.
What do you like doing when you're not hosting hen parties? We're (still) renovating our Victorian house, so that takes up a lot of time, we both like baking and jam-making too. Rosie has a little business going selling extra eggs and her jams and cookies to friends and enjoys swimming and I do circuit training and walk the hound to keep fit. I also work full time.
Why did you decide to become a hen party host? I became involved at the very start. I am passionate about the subject and love helping out people who are at the start of their hen-keeping careers. We then evolved to the advanced course and a junior version for 5-11 year olds.
When was your first course and how did it go? I can't remember the date now, but probably about 2 years ago when I first started out and was hosting them at home. It went brilliantly, so well in fact that I now use larger facilities at Cotswold Chickens and have 20 people on each course.
What do your courses include? The beginners course is an introduction to the Eglu and chicken keeping. Advanced is for people who have had their chooks for a few months and need more knowledge about ailments and chicken physiology. All the courses include lots of hen handling, tea and homemade cakes and a bulging goodie bag including my own notes.
Have there been any course disasters? Only thick snow and escaping hens! I nearly didn't get to the course I ran in Yorkshire as we were under 6″ of snow at the time.
What's the best thing about being a hen party host? Catching the enthusiasm of those new and potential chicken keepers, then hearing how they progress as they come to the advanced courses.
Why should people attend a course? I think that it's important to embark on chicken ownership well prepared and informed; these courses are ideal for that.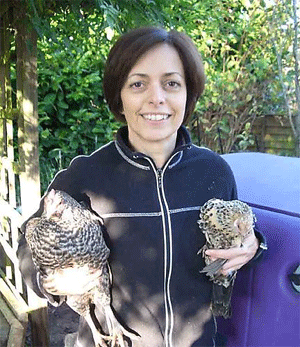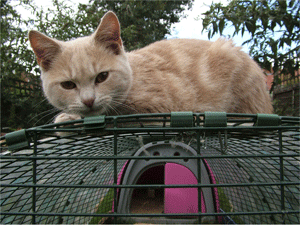 Clare's clever cat stays out of reach of the chickens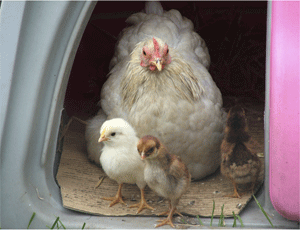 ..while the chickens stay well away from the cat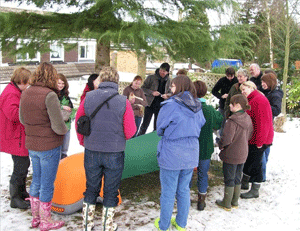 Clare's hen parties go ahead come rain or snow.
Example Review:
"What a fantastic course – an eggcellent way to be introduced to chickens and the Eglu. Clare is a fantastic hostess and imparts great common sense and so much knowledge. Although we were already pretty sure we wanted to start keeping chickens this beginners course enthused us so much we put the order in with Omlet the same night! Thanks Clare – see you on the advanced course in a few weeks time." By Mike and Jess.
Omlet online shop
Star Products!
Here is just a small selection, go online to see the full range.
Silicone Egg Rings – Clover & Star
Whether you want to cook up a good luck breakfast or a celebratory snack these clover and star shaped egg rings will do the trick. Perfect for for cooking fried eggs, mini omelettes or pancakes into funky shapes these will make breakfast even brighter and tastier. All you need to do is put the shape in your frying pan and crack your egg into it or add your batter. Leave until cooked et voila – It's over easy!
Made from silicone they are heat proof, suitable for freezing and safe to use in the dishwasher.
Cookie Cutter Set – Wings
Is it a drink? Is it a biscuit? Is it a chicken? Well, it's a bit of all three really. Long gone are the days of serving a mere mortal of a of a digestive on the side of your cup of tea…these wing shaped cookie cutters will turn your tea into a tasty piece of art.
Although they are meant to be angel wings we think with a bit of imagination and a cluck here and there, your tea and biscuits could quite easily transform into a chicken. With these clever cutters you can be sure of a cracking good cuppa everytime.
Plaque – I Love my Chickens
Give visitors a pre-warning that you a) keep chickens, b) love your chickens and c) are likely to chat eggcitedly about chickens whether they share the same poultry passion or not. Attach to your door or gate to tell people just what they're letting themselves in for.
A great little gift for anyone that treats their hens better than their husband!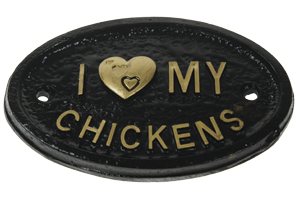 Egg Boxes – Multi Pack of 18
If your generous enough to give away your lovely fresh eggs to neighbours, friends and family, why not go one step further and use lovely colourful egg boxes. With a flat top for adding your own label these are perfect for giving eggs as gifts or for selling your eggstras outside your front door.
Each box holds half a dozen eggs and you will receive six yellow, six green and six blue boxes in this pack.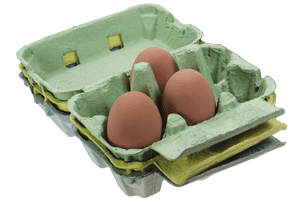 Omlet team
This entry was posted in Pets
---