Omlet Newsletter October 23rd 2009
Hello!
The clocks have gone back, the nights are drawing in and Halloween is almost here once again. But while you're dressing up, apple bobbing and trick or treating don't forget your hens might not be enjoying the dark as much as you and you should put them to bed earlier.
We are still offering free delivery on the Eglu Go until the witching hour on the 31st as our Halloween treat to you!
Omlet Calendar
A few weeks ago we let you in on a little secret that we were designing our first ever Omlet calendar and we offered you the chance to get involved. You had the once in a lifetime opportunity to star as a face of Omlet and a whole bunch of you were keen to get your mug on one of the months. Unfortunately we only had 12 spots available though, so thanks to all who entered, and sorry to those that weren't selected…but there's always next year!
The eggciting news is that the calendar is now complete, looking terrific and available to pre-order in the online shop. It makes an eggcellent choice of calendar for 2010, even if we do say so ourselves. With cool graphics, funny photos and clever tips it is a handy item to have in the kitchen and it looks cracking too! Each month features one of you, with top tips for chickens, rabbits, guinea pigs, ducks and bees. The quirky cartoons feature the whole gang of Omlet characters doing everything from throwing snowballs to toasting carrots on a camp fire – surely enough to make you smile, even on a Monday morning. And we couldn't make a calendar without all the important dates to remember, as well as a few more unusual ones…
Make this your one calendar for 2010 and you'll bee prepared for the year… so no more forgetting the date of Take your Chicken to Work Day!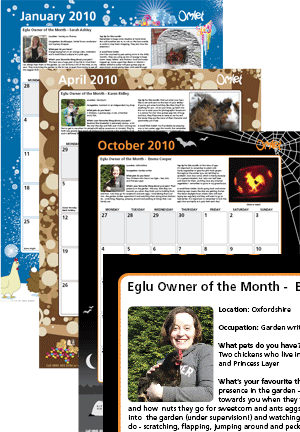 Spooky Competition
It's that time again when we are priviliged to launch one of our favourite competitions of the year – Omlet's Pumpkin Carving Competition! This is one of our most challenging competitions and it's a chance for all of you to show off your style, flare and imagination. Every year you amaze us with your skill and make us laugh with your weird and wonderful ideas, and we eggspect nothing less this year. So get your thinking caps on, plan your design and get trialling – you've got until Wednesday 4th to enter.
Anything goes when it comes to your carving…frightening faces, ghostly ghouls and spooky spiders. Or how about a portrait of your pet? Whatever your design and however good or bad please send a photo to stephanie@omlet.co.uk. The best will win a spooktacular prizeand we might even award something to the worst too!
Last year's winning pumpkin from Krysia
Beehaus Bags Award
Forget the Oscars and the Brit Awards, Omlet has just received a very special award that you may not have heard of – The Horners Award. This prestigious award is given for the most innovative and imaginative use of plastic in the UK every year, and this time the Beehaus was chosen as the winner.
James, Johannes, Simon and William attended the annual banquet at the Mayor of London's Mansion House looking spruced and dapper. However, it was the Beehaus, not the bow ties, that stole the show.
The award now sits safely in Omlet HQ, alongside the 2004 award for the Eglu…Did we mention we are the first company to win this award twice!?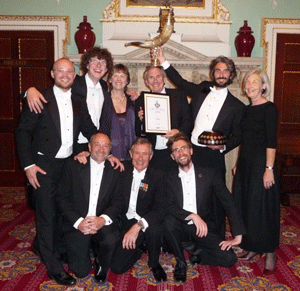 The National Honey Show
Now from one award to another as the Beehaus will be entered into another competition this weekend. We have been invited to the 78th National Honey Show at St George's College, Surrey, to display the Beehaus. This is a prestigious event in the world of beekeeping and these guys really know their honey! We are entering a couple of our own jars into one class and the Beehaus will be entered into another class for product innovation. There are also workshops in everything bee related from candle making to painting with wax to making mead.
Members of the public are welcome to come along and bee inspired so why not visit the website for more info.
Cube in the Country
Despite our latest products, the good old Eglu Cube has made its appearance in another magazine recently. The Cube in green features in the October issue of Country Living, as one of the 'Inspiring buys to brighten your home and garden'.
It certainly is a great product to brighten up your garden during the winter months and chickens are very comfy and cosy in the cube during the cold weather. So if you've always thought about keeping chickens why wait until Spring? Now is the perfect time to start – they'll cheer up your winter a treat!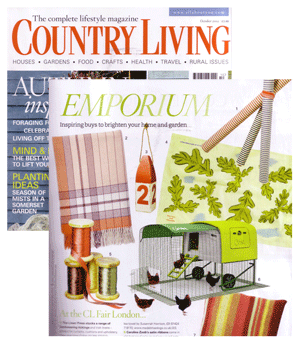 Chocolate for 'Cheep'
Calling all chocaholics! Our chocolate eggs and egg cups are popular at Easter, Christmas and every other day of the year, but have we got a treat for you…they are now reduced! Hoorah! What better to treat someone you love (or yourself) to a taste of chocolate heaven? These make great little gifts for anyone that keeps chickens, likes eggs, or just loves chocolate. They are best eaten by the end of this year but we doubt you can resist eating them as soon as you've got your hands on them!
Chocolate Eggs – Box of Four – £2.50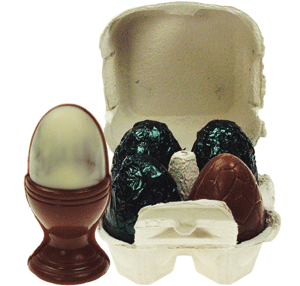 Cheep chocolate
Egg cup of the month
The Owl and the Pussycat
For wizards –
If you've watched any of the Harry Potter films you'll know that no wizard is complete without a wise owl to deliver his post and keep a lookout. Now the likelihood of you catching a real Hedwig is pretty low, so this egg cup makes a cheap and less dangerous alternative. Granted you may look a little odd if you sit it on your shoulder! Buy now for £5.30
For witches –
Every witch needs a cat at her side to help her cast spells and creep out the neighbours. Although this one looks like it wouldn't scare a mouse it would still make the perfect companion for any Hermione this Halloween. Perfect for a spooky breakfast. Buy now for £5.30
(Please note we cannot be held responsible for these egg cups choosing to sail away in a beautiful pea green boat!)
Ask Antie Barbara
Barbara is our agony aunt for chickens and she can answer all of your chickeny questions. Every month we will be featuring a commonly asked question and answer, but if you have something you'd like to ask just email barbara@omlet.co.uk.
Dear Barbara,
My hens are losing feathers all over the place at the moment. Is this something I should be concerned about? Do they need to see a vet?
At this time of year, hens usually go through a moult to replace worn or damaged feathers. In their first year, the head and neck feathers are the only ones they lose and it's often hardly noticeable. The second year can be more drastic though, especially with hybrid hens which can suffer a very heavy moult leaving them looking positively ready plucked and very untidy indeed. Some birds have total body moults where almost all the feathers can fall out over a very short period. I watched one of my hens the other day get up looking quite normal but throughout the morning she was literally dripping feathers. By lunchtime, the poor girl had enormous bald patches all over, leaving very few feathers still in place! It takes around 3-4 weeks for the process to finish and the new feathers to have unfurled completely. Once the moulted feathers have fallen out, if you look closely, you should start to see and feel little quills like porcupine spikes poking through the flesh which gradually grow and open out into lovely new feathers.
When your hens are moulting, make sure you provide a good quality layers meal for them because the moult really takes a lot out of them. They have very low energy and won't be very active at all so at this time, it's better not to give too many treats as these don't really provide enough nutritional value. However, things like wheat and oats are very good as a scatter feed in the afternoons or mixed with some warm water to make a porridge as they release energy more slowly to help keep their bodies warm overnight. Adding Poultry Spice to their layers meal or a Chicken Tonic to their water should help correct any mineral imbalance caused by losing and growing new feathers as they contain lots of minerals and will help the hens over the moulting process. It is also said that adding protein to the diet can also help so things like hard boiled eggs or live mealworms are good, protein rich foods. Egg production often takes a break during the moult as so much energy is put into growing the new feathers but once they are fully feathered again, the eggs should return.
There are other causes for feather loss though so don't always put it down to the moult. Another cause of feather loss is bullying by another hen. The neck, head, back and vent are the most commonly affected areas for feather pulling and you can get sprays to use on the bullied bird which make her feathers taste unpleasant to the others and this should help deter pecking. If there are any red areas or broken skin, it's important to remove the injured bird quickly as hens are horribly attracted by the colour red and will peck at wounds until they are in a truly dreadful state. Only re-introduce the injured bird when the wound has healed up completely to prevent her from being attacked again.
Not so common at this time of year but in the warmer months, you may find a broody hen plucking the feathers from her breast and abdomen to line the nest to help protect her eggs, so if your balding hen is also sitting clamped to the nest or making strange noises she is probably broody!
Very occasionally, hens can show an allergic reaction to nesting material so it's worth changing to something non-allergic such as straw or pet quality wood shavings to see if this leads to any improvement.
Another common cause of baldness is skin parasites. Dirty vent feathers, lots of scratching and dust bathing, hunched or withdrawn hens and soft shelled eggs are often indications that your hen has an infestation. Mites are very difficult to see with the naked eye but they leave the skin looking sore, red and featherless. However, lice can be spotted quite easily and the hot spots where they tend to hide are around the vent, under the wings, round the abdomen and chest and the neck area. Ruffle the feathers against the direction of growth and look for little scuttling creatures or tiny cream eggs stuck to the feather shafts. If you come across any, there are lots of powders and sprays available which will remove these effectively but remember to repeat the treatment a week after the initial one to catch any eggs which might have hatched in the meantime and treat all nesting material and dust baths too.
There are some super topics on the identification of skin parasites on our forum:
External Parasites by Lesley-Jean
Red Mites by Claret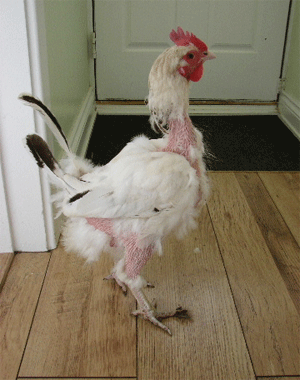 Barbara prepares her Christmas chicken early.
Beekeeper of the month
Catherine Larke
About You
Your name and age: Catherine Larke, 40.
Your occupation: HR consultant.
Where and with who do you live? Cookham, Berkshire with my husband Bill.
What pets do you have?  1 dog, Cedric, 3 free range chickens, who of course live in an eglu – Mrs Ming, Daisy and Banana, and out latest addition Stig, a rescue puppy.
What is your favourite season? Autumn.
What would you choose as your last supper? Difficult – either an Indian or my husband's fried rice.
What is the most daring thing you have ever done? Absailed down a cliff. I was terrified and was beaten down by a 70 yr old nun.
Who would play you in a movie of your life? Probably Imelda Staunton but I'd prefer Rene Russo.
What song do you most like dancing to? I know it's a bit strange but I can't help myself dancing to Eminem, Lose Yourself.
About Your Bees
How long have you been keeping bees? About 6 weeks.
How many bees do you have? Approx 10,000.
Which plants in your garden do your bees like most? I live in the middle of National Trust land on the outskirts of a beautiful village so they have so much to chose from, wild plants to allotments and country gardens.
What's been the most surprising thing about keeping bees? That I haven't been stung yet.
What advice would you give to anyone that is considering beekeeping? I kept putting off getting the hive as it never seemed the right time, and that was just a waste of time, so, just do it.
What's your favourite thing about the Beehaus? The bee's front door – its so easy to just sit and observe the bees.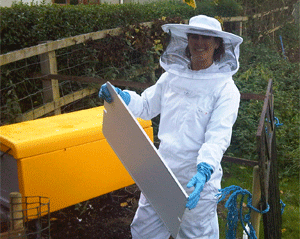 An excited beehaus owner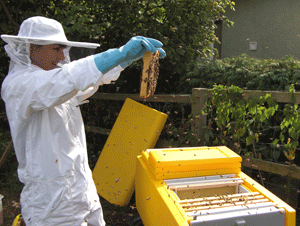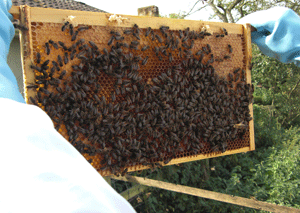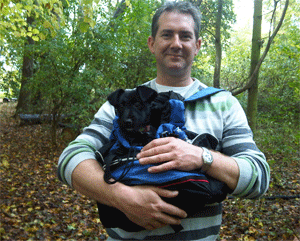 Online omlet shop
Star Products!
Here is just a small selection, go online to see the full range.
Live meal worms are a special treat for your chickens. They are the larvae of the Flour Beetle, a native British insect which eats flour, meal, grain and other related crops. Their athletic and streamlined appearance is misleading – they are made up of over 48% protein and 40% fat making them not only tasty to eat but also very bad at escaping a hungry chicken.
Your mealworms are delivered in a bed of bran and can be kept in a cool space for a couple of weeks, they are odourless. If you want to store them for longer you can transfer them to the warmest part of your fridge, away from the icebox, (if you put them in a clean pot of your partners favourite yoghurt this is also quite a good practical joke.)
Silicone Chocolate Bug Moulds
Kids aren't always keen when it comes to cooking, but this item will make the kitchen seem much more exciting to little chefs. After all every child loves chocolate…and chocolate in the shape of bugs tastes even better. This silicone mould can be used to make solid chocolate bees, frogs and butterflies. Just fill the mould with melted chocolate, allow it to cool and then pop it in the fridge to cool completely. The mould is flexible so the chocolates are easy to pop out when they're ready.
It can also be used to make ice bugs. Simply fill the mould with water and place in the freezer – just like you would to make ice cubes. Great for floating in drinks, especially in your cauldron of witches brew.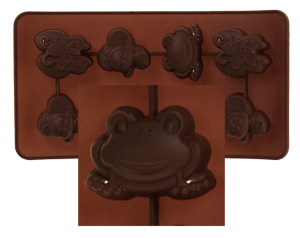 Bouncy Bantam Eggs – Pack of 4
Is it a bird? Is it a plane? No…it's a brilliant bouncy egg (obviously). Perfect for the chicken lover who has everything, this pack of four rubber bantam eggs can be used for throwing, juggling and 'cracking' practical jokes. They are also useful for encouraging your chickens to lay their eggs in a particular place. The eggs come packaged in an omlet egg box – be careful not to mix them up with the real things as they don't take too kindly to being boiled!
Set of Four Animal Masks
Kids find it great fun running around pretending to be animals, and this set of masks will really help to get them into character. Be warned though, if you are used to chickens roaming around the garden, you may not notice that the masked creature flapping it's arms and bellowing 'bok bok bok' is in fact your child. Set includes chicken, pig, cow and mouse. And please note, as fun as these are, they are meant for children. Perfect for halloween!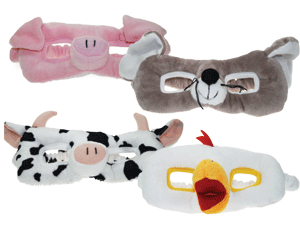 Omlet team
This entry was posted in Pets
---