Hello!
With just three days to go until we can open the first doors on our advent calendars it is definitely time to get into the festive spirit. Feel free to indulge in mince pies, mulled wine and Christmas films, but make sure you are on your best behaviour so that Santa pays you a visit this year. Why not start making your list now from our online shop?
While you're enjoying the holiday season don't forget about your pets. The weather has been horrible recently, so make sure you always remember to shut your hens in the eglu when it gets really blustery. They will be safe and sound and you won't need to worry about them being blown away!
 Grab it while you can!
Omlet's first calendar is selling quickly and there are only a limited number available. Remember, you won't find this 2010 calendar in any shops so it makes a unique and unusual gift for someone this Christmas. Every chicken, rabbit, guinea pig and bee keeper would be delighted to find this under their Christmas tree as it will give them loads of top tips and advice for the year ahead.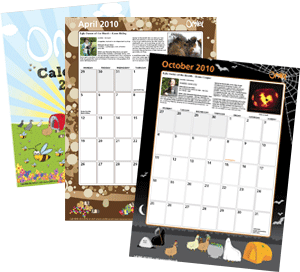 Catch a copy of the calendar while you can!
These are now in stock and ready to send so get your mits on them before they sell out.
Christmas Gifts Galore!
Our elves have been busy all year making lots of wonderful toys and gifts, and now with less than one month to go until Christmas we have switched on the festive category. Click here to see our choice of favourites suitable for everyone…even the pets.
From chocolate chickens to brilliant bookmarks to eggstraordinary egg cups you will find that perfect gift for the person that has everything. And with stocking fillers starting from just 40p there is something to suit all budgets. So with only a few weeks of shopping time left, why not get started now.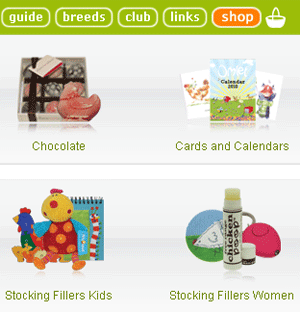 Introducing the new Christmas gift section
Spot the Van!
We have had a very eggciting new arrival at Omlet HQ this month, and a few of you may have had the honour of meeting it. It's not a new member of staff, a baby or even a chicken, but something just as special…the new Omlet van. What a beauty, even if we do say so ourselves! The new van is the first to feature the Beehaus and a very happy beekeeper.
Our vans travel up and down the country delivering eglus and beehauses to eggcited customers every day. You've probably seen one even if they haven't delivered to you so the next time you do, take a photo of it and send it to us. The best photo we receive before the end of the year will be awarded a very special prize, but for every entry we receive we will send you a free car sticker, so you too can drive around and spread the Omlet word.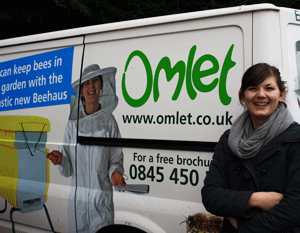 Hayley couldn't beelieve she was on the side of the van!
Email your pics to stephanie@omlet.co.uk
Mmm Marmite!
In the last newsletter we asked you to vote whether your chickens love or hate marmite. So far it seems that there are no hens that hate the british breakfast spread, in fact, most can't get enough of it. Apparantly it has some health benefits too – it works as a great appetite booster for some chickens when they go off their food.
Do you love marmite? Take a peak at our Egg Cup of the Month…it's sure to be a winner!
Rachel's Roosting Cats!
The Eglu is available for chickens, rabbits, guinea pigs and even quail, but as of yet there is no versian for cats. Demand grows daily for the Catlu though, and hens all over the country are being pushed out by jealous felines.
Rachel recently told us about her three new cats' reaction to the eglu and its resident chickens.
"My 3 persian cats are new to the chickens from Omlet, as they only arrived a few weeks ago. Miss Money-Penny is far too posh to even venture outside to take a look incase she gets dirty! Garfield thinks he is a chicken and trys to roost anytime the eglu run door is open! Twinkle copies Garfield but she also likes to do egg inspection! They both enter the eglu via the run and first have a drink from Glug. Then they roost, or egg collect, then finally they check out the Grub!"
The photos are proof that the eglu is the accommodation most preferred by posh pussycats!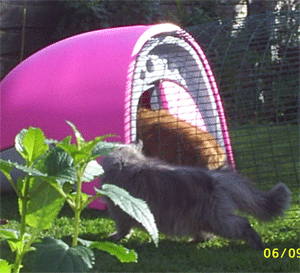 Garfield's gingernut ranger disguise works every time…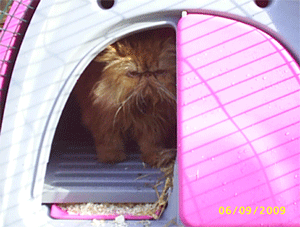 and he hopes that if he nests for long enough he'll lay an egg too!
Cooking corner
Egg Cup Set Marmite
It's true what they say about Marmite – you either love it or hate it, but even if you can't stand the stuff we think you'll love these egg cups as much as we do.
Mix the retro marmite logo with a splash of colour in the pop art style and you have an iconic image of british taste, perfect for the breakfast table. Choose from four cool colours to brighten up your morning and make your boiled egg taste even better.
Presented in a gift box this makes a great set for giving away to fans of marmite, boiled eggs or all things funky!
Made from fine porcelain and dishwasher safe.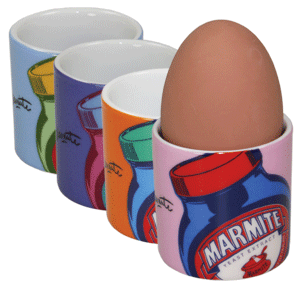 The coolest egg cups this christmas
Vegging out
"Dear Barbara,
I keep finding strange white flakes on my hens and in the nest and droppings tray. What are they? Do my hens have lice?"
If your hens have been moulting over the last few weeks, you've probably noticed that your hens developed porcupine like spikes as the new feathers come through the skin. The feathers are protected by a sheath rather like a plastic drinking straw and as the feather emerges, this flakes away, allowing the feather to unfurl. I think that you're finding little pieces of these protective sheaths which have fallen off when your hens have been preening themselves. There is no need to worry at all as it is just part of the moulting process. However, it is always a good idea to check your hens regularly all year round for skin parasites. Mites can't be seen easily with the naked eye but they leave the skin looking sore, red and featherless. Lice can be spotted quite easily. The hot spots where lice tend to hide are around the vent, under the wings, round the abdomen and chest and the neck area. Ruffle the feathers against the direction of growth and look for little scuttling creatures or tiny cream eggs stuck to the feather shafts. If you come across any, you can get louse/mite powders from the Omlet Shop.
"Dear Barbara,
My hens insist on sleeping in the nest and every morning, they leave it full of droppings. Is there anything I can do to stop them please?"
Some hens do like to sleep in the nest and while this isn't necessarily a problem, it can mean that the eggs get very dirty as you've already discovered, chickens produce copious amounts of droppings overnight and these can
accumulate in the nest, making it very dirty indeed. Also in
warm weather, the nest is a wonderfully cosy, warm place and this can encourage a hen to go broody as this is triggered by a rise in body temperature. If the hens sleep in the nest and get warm overnight, they may like being there so much that they refuse to get off the nest! A good way to
encourage them to roost on the bars where it is cooler and their droppings will fall into the tray beneath the bars is to put something in the nest to block it overnight. I've used a bag of barbecue charcoal in the past to keep them out but a football, brick, upturned plant pot or even a garden ornament will do the job nicely. This should do the trick and they'll learn that the roosting bars are for sleeping on. Do make sure that you remember to remove it in the morning to allow them to lay eggs though.
Barbara's Star Photo of the Month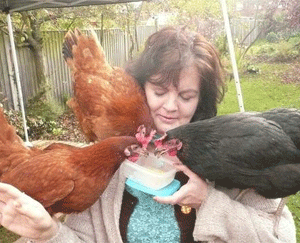 Forget scarves, hens are this season's must have eggcessory!
Course host of the week
Matthew Rollason
About You
Your name and age: Matthew Rollason and I am 13 yrs of age.
Your occupation: Egg producer (4 the neighbours).
Where do you live? I live in Whitefield, Manchester with my parents and sister.
What pets do you have? Chickens and a sheep called Delia.
Which is your favourite season? Spring.
What would you choose as your last supper? Fish and chips.
What is the most important thing you have ever lost? My digital camera (it's still lost).
Do you have a hobby or a hidden talent? Looking after my hens is my hobby.
What song do you most like dancing to? Poker Face by Lady Gaga.
About Your Chickens
What are your chickens called? Aggie, Lily, Hyacinth and Lizzy.
What do your chickens like eating more than anything else? Corn.
How many eggs do you get a week and what's your favourite way of preparing them? Three and I like em boiled served with toast.

Do you bake more cakes now you have your own chickens? Yeah I love to bake with my own hens eggs.
Do your chickens have a party trick? All 4 of them attempt to sit on the eglu nest box at once.

What's been the most surprising thing about keeping chickens?
Their intelligence and watching them play in the garden.
Can you imagine life without chickens?
No they are fantastic.
Star Products!
Here is just a small selection, go online to see the full range.
Chocolate Glittery Eggs – Box of 9
Chocolate eggs are for life, not just for Easter! This box of 9 pretty, glittery, chocolate eggs makes a gorgeous gift anytime of the year. Handmade from the finest belgian chocolate these sweet treats are the perfect way to show someone how much you care. Just try not to eat them first.
A perfectly posh stocking filler!
Doormat – Beware of the Bees
Forget guard dogs, bees are the way forward to protecting your home. No burglar will dare step inside your house if they think they might get attacked by a swarm of stingers, and this doormat will warn unwanted guests early what they are letting themselves in for. They'll cower away before you can say 'buzz off'!
Measures approx 75 x 45 cm
Mini Magnetic Cookery Bookmarks
Anyone with a love of cooking will know that there are times in the kitchen that can turn out more chaotic than calming and these crazy times usually involve numerous different dishes being cooked at once. Flick to your Coq au Vin recipe whilst preparing your Creme Brulee and you could end up with a diabolical dessert…anyone for chickeny custard? We thought not!
With this nifty set of mini bookmarks you can eliminate confusion in the kitchen. Use to mark multiple recipes in one book and make flicking between them as easy as pie.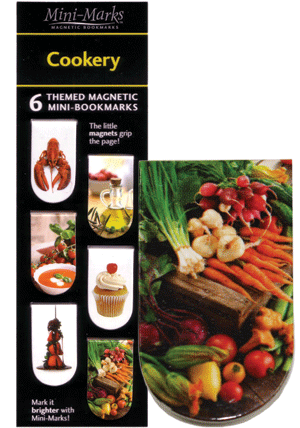 Soft Toy Chicken with Sound
It's never too early to introduce children to chickens, but real hens aren't always the best for cuddling. This soft toy chicken is a safe bet for tiny tots and it will put up with all the squeezing and cuddling a toddler can muster. Babies will love the bright colours and the soft fabric, and the best bit is the wonderful chirping sound it makes when you squeeze it's tummy.
After a few days the noise may drive you mad but your child will love it!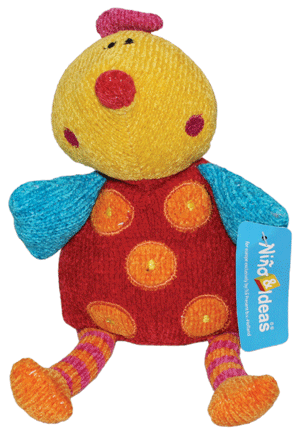 Omlet world
The eglu cube is starring in this month's 'Living the Country Life' holiday gift guide. This American magazine features articles on raising goats, growing christmas trees and keeping cattle, but if that sounds a bit too much for you there are also some fabulous, festive cookie recipes too. And homemade cookies taste so much better when made with eggs from your own happy hens.
If you live in the USA and you'd like to buy someone a cube as a gift to last a lifetime, just visit the website below.
Omlet team
No comments yet - Leave a comment
This entry was posted in Pets on November 27th, 2009 by admin
---