Omlet Newsletter November 11th 2009
Hello!
There are still two days to go until the weekend so we thought we'd send you a midweek newsletter to cheer you all up. With lots of weird and wonderful news, a fun new competition for you to enter and another tasty recipe from Tom you should be smiling by the end of it. So enjoy!
Pumpkin Queen
Our Halloween was made even more spooktacular this year by your entries to the Pumpkin Carving Competition. Our judges were eggstremely impressed with your efforts and it was a tough decision to choose a winner. However, after hours of frighteningly fiendish deliberation they concluded that Sarah Bryan should be crowned Princess Pumpkin 2009. Although her imaginative design of a fox would be enough to frighten the feathers off most chickens, you can see from the picture that Sarah's silkie hen has grown quite fond of the pumpkin.
Beware! Foxes are finding even craftier ways to get into the hen house.
Click here to see some of the entries we received.
The National Honey Show
A couple of weeks ago we eggsibited the Beehaus at the highly acclaimed 78th National Honey Show. You might remember us telling you that we were entering the competition and we had high hopes. After some extremely serious looking judges dressed in white lab coats and waving torches discovered a small piece of wax in our honey it was instantly disqualified. But better news for the Beehaus which was commended in the Innovative product section narrowly missing out on the top prize to a hand protector made from a piece of skirting board to be used when uncapping your honey. We will bee sure to add the certificate we received to the ever growing shelf of awards at Omlet HQ.
Hopefully next year there'll be lots of Beehaus owners entering the competitions, but beeware, this is seriously competitive stuff.
Marmite
Everyone knows that when it comes to Marmite you either love it or hate it. Well, Tony Keatley sent us this photo that proves it is a definite favourite in his household…not only do the family love it but so do the dog and chickens. It is certainly an unusual choice of food for hens but if these girls like it, yours might too.
If you fancy sharing your breakfast with the pets one morning make sure you let us know what the outcome is – vote Love or Hate by emailing stephanie@omlet.co.uk We're publish the results in a future newsletter!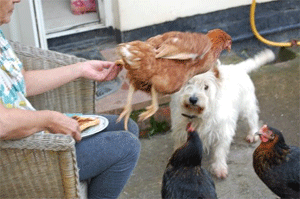 One taste of marmite sends this chicken Gingernuts!
Omlet Badges Around the World
It's always fun and hentertaining to look at the 'Omlet T-shirts around the world!' thread on the forum and see all the weird and wonderful places you have worn your t-shirts with pride. And the locations just seem to get better and better. We love the latest pic of Dani on a camel in Tunisia, sporting the bright pink Omlet T splendidly!
As well as T-shirts we now stock a range of cool and quirky badges on the online shop. These have proved to be popular so far, so following the T-shirts theme this month's competition is called 'Omlet Badges Around the World'. Whether your badge journeys to school everyday on your rucksack or has ventured to more eggsotic places we would love to see a photo. Send to stephanie@omlet.co.uk by December 2nd 2009 and you could win an eggstra special £20 voucher to spend in the online shop. Just think of all the badges that could buy you!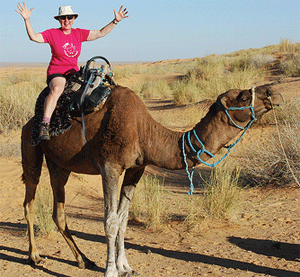 The News about Bees
The Beehaus has been spotted in more magazines this month… Somehow we managed to get featured in Pcelarski Zurnal. Now from the the photos and illustrations we can conclude that this is a beekeeping magazine, and we think the language is Polish but we're not 100% sure. There's no chance of us working out what the article actually says about the Beehaus, but let's beelieve it's all good! Is anyone any good at translation?
Moving back to Britain, the Beehaus has also featured in the November issue of Which Gardening. Luckily, we have no problem in understanding this article about keeping bees. The Which test panel got hold of a Beehaus a few months ago and they confirm 'the bees have happily settled in' and 'the colony seems to be thriving'.
Well that's bee-rilliant!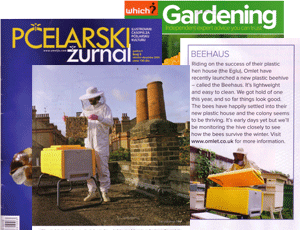 The Beehaus is proving popular with the press.
Mad Max
Now for some more strange news in the world of chickens. A cockerel in Poland has been called a hero after scaring off burglars. The bird called Max protected his 83yr old owner's home when the thieves attempted to break in, squawking and yelling at them as they crept up the garden path. When home owner Stanislaw Grzelak went downstairs to see what all the fuss was about he saw Max chasing the three men and pecking at them furiously.
Forget guard dogs, we think everyone needs a Mad Max to keep them safe at night!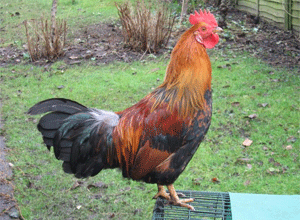 This cockerel rules the roost as well as taking on the robbers!
Cooking corner
At this time of year, everyone tries to avoid the Vicar. It is nothing personal, but he is on a recruitment drive to boost numbers for the Carol service. I am lucky usually, being tone deaf and good at making mince pies gets me off the hook most years. I am slightly worried though, as Barbara mentioned he was on the lookout for more Baritones!
A few cold mornings have taken their toll on the runner beans, tomatoes and chilli plants. The veggie garden is now shutting down for the winter. The swiss chard, spinach and parsnips are looking good and will be covered with fleece to give them some protection from the biting wind and cold.
The hens might have slowed down, but we are in fourth gear with garden clearing, storing of vegetables and generally preparing for Winter. We are getting eggs, but the hens are losing feathers at an alarming rate. Their new, bright feathers are growing through but egg production is down. Barbara assures me that when they have finished moulting, they will start laying again. Will put the roasting tin away for now.
We don't have a partridge in our pear tree, but when the last leaf falls, I know it is Christmas cake season. You may be staring at this, thinking I have lost my mind, but baking a cake now and 'feeding' it for a few weeks makes a huge difference to the taste and texture.
Christmas Cake
800g dried fruit










Start by adding the fruit, juice and zest, to the rum or brandy. Mix well and leave covered for 24 hours.





(You could makes several small holes in the cake at this point and pour more brandy/rum over the top – a fine metal skewer works well).
6) Store well wrapped in baking parchment in a tin somewhere cool and dark until ready to ice. You can continue spiking with a skewer and drizzling brandy/rum for a few weeks.
To ice the cake
I use shop bought marzipan and icing as I find it easier than making my own.
7) Turn the cake upside down and remove the paper from the bottom. You should now have a nice, flat surface.







Store in a tin until needed.
Had better dash, I can see the Vicar walking up our path!
Oh my goodness, is it winter already? Where did that year go? If you're anything like me I have to have a nice bright, frosty day to get me out and working in the garden. Admittedly it can be the time of year my poor allotment patch gets very little attention but it's the best time to give it some well earned TLC after all the hard work it's done over the last six months.
First of all don't let any of your harvest go to waste. Just because you don't want to run up the garden in the rain to pull carrots for tea doesn't mean they should be left to rot. The easiest way to store your root veggies is in a modern day "clamp". Basically you want to keep your carrots, parsnips, turnips and beetroots moist, frost free and dark. The easiest way to do this is to remove all the roots' leaves and lay them in a box (preferably wooden) and layer them in moist sand or soil. Keep the box somewhere dry and frost free like a shed or garage.
If you've still got potatoes to lift, choose a week where the weather forecast is dry. Lift your spuds out of the ground and remove as much soil as possible. Leave them for the skins to toughen either on top of the ground or in a greenhouse for a couple of days. Then they can be stored in hessian sacks over winter, somewhere dark. Remember, green potatoes are poisonous!
Onions are really easy to store. I find stuffing them in a few pairs of tights or an old string shopping bag ideal. As with all veg storage keep them in a cool, dark, frost free place.
Now you should have a lot of your plot empty so it's a good time to keep digging in that manure. The more nitrogen you can get into your soil now the better your crops next year. If you've got nice clear plots you'll want to keep them that way and prevent weeds taking over. I find the black plastic sheeting works wonders and has several advantages. It stops the light getting to any weed seedlings so prevents their growth. I keeps the soil warm and frost free which helps your added manure to rot into the soil and means you can plant a few weeks earlier in Spring!
Course host of the week
Fenton Simpson
Where and with who do you live? I live in Alderley Edge, Cheshire, with my wife Catherine.
How long have you been keeping chickens? Getting on for nearly 3 years, since May 2007.
What made you decide to keep chickens? We read about the Eglu when we lived in South Wales about 4 years ago. We couldn't have any hens at the time as we had no garden. When we moved to Cheshire and got settled the question came up again, should we get an Eglu? Catherine badgered me in to it but now I would never not have hens in the garden!
How many chickens do you have and what are their names? We currently have 3 girls: Phoebe who is a Gingernut Ranger, Sugar a Rhode Island Red and Missy who is a Light Sussex. We want more so we are looking into getting a Cube sometime next year.
What's your favourite thing about the eglu? The Eglu is so easy to keep clean & look after. It is also ideal for the garden and the run is expandable if you need to give the girls more room during the day, if like us, you work full time. Catherine thinks it is a thing of beauty in its own right.
What do you like doing when you're not hosting hen parties? I like to plan world domination in my shed down on my allotment. Only kidding! I do like to grow my veg and get involved in the running of our three allotment sites in the village. I'm also chief taster of the cakes Cath bakes for the hen parties.
Why did you decide to become a hen party host? I wanted to spread the word about chickens! They're so easy to keep and make great pets plus the eggs are so good. All my colleagues rave about the taste of my girls' eggs. It's not surprising they taste so good when they get treats like grapes, sweetcorn and blueberries…
When was your first course and how did it go? My first course was in July. I was pretty nervous but the guys who came were really into it so I soon calmed down. It's great to teach people about how to keep hens. I wish we had this opportunity before we got our girls. People always have different questions on each hen party. On my second course I had to explain twice why the eggs were not fertile if you didn't keep a cockerel….
What do your courses include? All the basics really: how to clean the Eglu; where to site it in the garden; what treats to use to lure them into the run. I also use our 'demo hen' Phoebe, who is very patient and calm, to show people how to hold a hen. Everyone gets a hold unless they don't want to. But Phoebe is so gorgeous that there are not many people who don't want a cuddle with her.
What's the best thing about being a hen party host? Showing people how easy it is and that it's not at all eccentric to keep chickens. You can usually tell by the end if someone is going to keep hens or not. I've had some really good feedback which I was really pleased to get.
Why should people attend a course? If you have any doubts about if you should or shouldn't keep hens, book on a course as you will get the chance to ask all the questions you like. On my courses you get lovely cakes, tea and coffee, you might also end up finding someone to look after your girls if you go away.
Example Review:
" I attended the Hen party for beginners on 25th July 2009. The course was really helpful and informative and Fenton's love and enthusiasm for his hens was infectious. Fenton's manner was very friendly and capable and I didn't feel stupid acting what could possibly have been 'daft' questions.
We were made welcome by Fenton and his wife and it was interesting to see what a huge part of family life the chickens were. I had previously considered chicken-keeping as a hobby and source of fresh eggs and did not realise just how much you can bond with them.
My husband and I are now getting ready for our new adventure. I highly recommend this course to anyone who is new to chicken-keeping or just considering it was I was – you will become hooked. Thanks Fenton." By Glynis.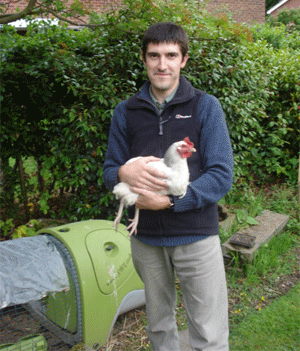 Fenton can teach you how to be an eggspert chicken handler in no time!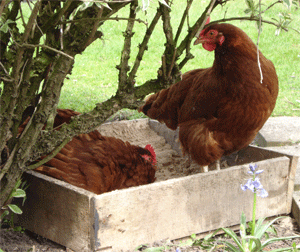 The archeological dig had so far unearthered three worms.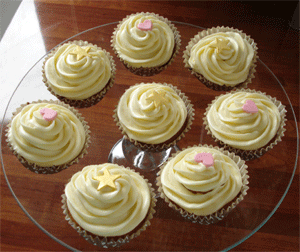 It's worth a visit to this hen party just for one of these cakes.
Omlet online shop
Star Products!
Here is just a small selection, go online to see the full range.
Calendar – Omlet 2010 – Preorder
Omlet's first ever calendar is now available to pre-order, to be despatched mid November. This calendar is an eggcellent choice for 2010, even if we do say so ourselves. With cool graphics, funny photos and clever tips it is a handy item to have in the kitchen and it looks cracking too!
Each month features a different Eglu, Cube or Beehaus owner, with a top tip from them and a bit of advice from us. The quirky cartoons feature the whole gang of Omlet characters doing everything from throwing snowballs to toasting carrots on a camp fire – surely enough to make you smile, even on a Monday morning. And we couldn't make a calendar without all the important dates to remember, as well as a few more unusual ones…
This is certainly not just a calendar for chicken keepers; it's full of rabbits, bees, guinea pigs and ducks… and even Mr Fox makes an appearance. You won't find it in the shops and it is far more fun than your usual calendar so get it while you can. It makes a great Christmas gift for that eggcentric eglu owner you've got living next door!
Christmas Cards – Cosy at Christmas & Christmas Rush
Looking for a christmas card with a difference? Look no further than this Cosy at Christmas design- this pair of gorgeous geese will suprise any recipient. Dressed in woolly hat and scarf they are well prepared for the Winter weather…not the oven.
Cute, colourful and characteristic, this card may just make you re-think that goose you had planned for christmas dinner!
Or for the chicken keeper, the Christmas Rush design proves that hens and chicks are certainly not just for Easter; when adorned with baubles, bows and woolly hats they look just the part. These festive, feathered friends are enough to make anyone smile and it will stand out a mile from other cards.
Each cards measures 16cm square, comes complete with envelope and is blank inside for your own message.
Egg Timer Kitchen Clock
When it comes to egg timers this is the real mccoy! Forget the small timer that lurks in your drawer and hides itself every time you need to use it – they'll be no losing this beauty. And when it looks this good you certainly wouldn't dream of hiding it away to start with.
As well as being useful for timing your all important boiled egg it makes a great kitchen clock; the large clock face makes timing your breakfast even easier. Our favourite part is the vibrant, barbie pink colour which will brighten up your kitchen beautifully…you'll probably even start to do more cooking just so you can keep admiring this cool and funky gadget!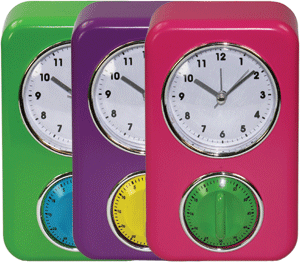 Measures 17cm high. Requires 1 x AA.
Available in three colours.
Tiny Torch Keyring
As we have yet to invent a glow in the dark eglu you may have trouble locating your chickens at night, and although it can be a fun game to follow the clucks until you find your darling hens, sometimes you just don't have the time. A bright torch is all you need to solve this problem and many more…but you need to be able to find the darn thing when your need it.
Attach this tiny torch to your keys and you should always have it to hand. And just because it's tiny doesn't mean it's not a brilliantly bright light for finding your eglu, your car door or your marbles in no time at all. Just hold down the button to operate the LED light and Bob's your uncle!
Available in two bright colours to match your eglu this is probably the best looking torch you'll find too. A great stocking filler for anyone that keeps chickens, loves gadgets or is a bit scared of the dark.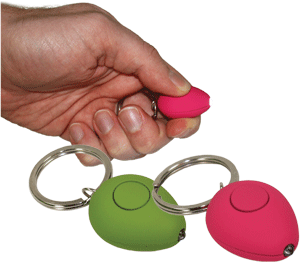 Omlet world
Thanksgiving
It won't be long until Christmas now but America have another holiday to celebrate first – Thanksgiving. On the 26th of this month families and friends will get together to eat, drink and be merry in celebration of all the good things in life. Just like Christmas it's traditional to eat a big turkey dinner, but with corn instead of sprouts and pumpkin pie instead of christmas pud. Sounds tasty! There are also parades, shows and the annual football game between the Detroit Lions and the Green Bay Packers is always popular.
So from everyone at Omlet, Happy Thanksgiving!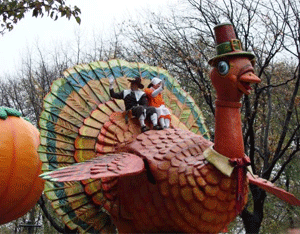 Omlet team
This entry was posted in Pets
---