Gift Guide – For Kids

Whether you're a mum or dad, a favourite uncle or a generous friend, we have the gifts that will make this Christmas extra special for the younger pet lovers out there! 
Are you a parent who can't really see the point of pets, but tiring of the constant nagging from the children? Would breakfast made with fresh eggs from the garden every morning possibly convince you? Suitable for approximately 3 chickens, the insulated and fox resistant Eglu Go is the ultimate coop for first time chicken keepers. The coop is so easy to clean that the kids will almost be able to do it themselves, and the daily and weekly tasks involved with keeping chickens are so fun and quickly done that split between a few family members it won't get boring.  
If you feel that chickens might not be for you, but like the idea of an Eglu, have a look at the Eglu Go hutch. It has got the same amazing features as the coop, but instead of roosting bars and a nesting area, it comes with smooth slide-out bedding tray and a hay rack, and will be an amazing home for rabbits and guinea pigs alike.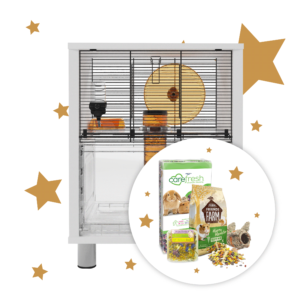 If you're looking for the perfect first pet for your child, a hamster or gerbil is a great start. They create strong bonds with their owners, and kids of all ages will enjoy playing with them, but they don't require training.

With the modern and stylish Qute hamster and gerbil cage, having a pet could not be easier. Cleaning the cage takes literally minutes, all you need to do is lift and twist the tube to keep the pets on the upper level while you empty the bedding tray and wipe it clean before you refill it with fresh bedding. 
As an added bonus the Qute will look great in your house, so unlike other cages for small animals you will actually be proud to have it on display! 
Get the Qute without storage and everything you need to be ready for your new hamster with this star buy bundle, now just £84.99, (RRP £94.17.)
With the Zippi tunnel system for rabbits and guinea pigs, tunnels and playpens can be connected to build an amazing warren which kids can move around and customise when they play with their pet. Additional accessories such as the hayrack and lookout tower further customise the system. The playpens also make it easier for kids to sit in with their rabbits and guinea pigs, so they can play without fear of escape!
Start your system with our best sellers, the Zippi Tunnel Single with Hutch to Run Connection Kit, and Zippi Rabbit Run with Roof and Underfloor Mesh – Single Height. Now just £149.99 in this star buy bundle (was £189.97!)
If your child is showing an interest in bird keeping, budgies and finches is where you should start. They are fun to train, not overly fragile, bond strongly with their owners, and are relatively easy to care for, especially if you have a cage that minimises spillages and is super easy to clean, like the Geo Bird Cage. 
A brilliant piece of engineering, the central food station not only makes refilling food and water extremely simple, it also cleverly collects husk that the birds discard while they're eating, so that you don't have to get the hoover out every day! The Geo is the perfect Christmas gift for all young bird lovers! 
If your child already has a pet

, new toys that they can enjoy together will be a great gift!
The Grumpy Cat Christmas Light Wand will have the cat running around the living room, these squeaky crackers will be perfect for a Christmas Day tug-of-war session with the dog and you can enjoy seeing your smaller pets chew away at this Festive Pine Cone Snowman. You'll find these, and plenty of other festive treats and toys in our Christmas Shop!

This entry was posted in Christmas
---