How to Incorporate Your Dog's Bed in Your Home Interior
Ever feel like your dog's bed is just 'plonked' at the side of the room, standing out like a sore thumb? Or do you put their bed out of sight so as to not ruin your home's interior style?
This needn't be the case. It's actually very easy to incorporate your dog's bed into any room, like it's part of the furniture. 
Utilise the space above your dog's bed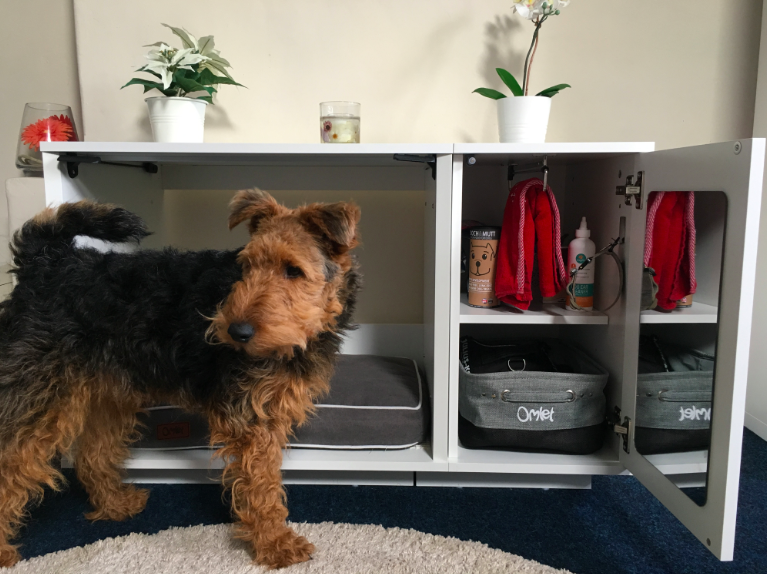 If your dog's bed is positioned near a walkway they could be regularly disturbed by people walking past and even tripping over them. Building up around your dog's bed can ensure they have an enclosed space which is safe and secure from knocks and spills, while also allowing you to make the most of the wasted space that is usually above a dog's bed.
You can easily utilise the space above the bed better by installing shelves or coat hooks, however, this doesn't protect your dog from passer's by accidentally standing on the corner of their bed or knocking them with the hoover. Installing a complete unit which completely encloses your dog's bed with walls like a den, while also raising the bed off the ground is much more effective and beneficial to your pet. 
The Fido Nook Luxury Dog House does just that. The stylish piece of furniture complements your home while also providing a cosy space for your dog's bed. The top of the Nook is an ideal surface for decorative or functional items such as plant pots, candles, photo frames and key bowls, and it is also available with an integrated wardrobe, perfect for storage of all your dog's favourite things, including treats, toys, collars, leads and more. You can even accessorise the wardrobe with a sweet clothes rail and mirror to really make your dog's new home their own. 
Match your dog's bed to your soft furnishings
If it's the look of your dog's bed that is putting you off placing it pride of place in your lounge, kitchen or bedroom, it might be time to upgrade to a more stylish bed that matches your own sofa, bed sheets and cushions. 
Plus, dog beds are naturally prone to getting very hairy, dutty, muddy and smelly. You can be forgiven for preferring to hide that from visitors to your home. A bed with a removable and washable cover allows you to keep the bed smelling fresh and looking as good as new, all the time. 
The new Bolster Beds from Omlet are available in 3 stylish colours, with a subtle, woven, diamond geometric pattern, to suit all homes. The grey is the most simple and classic of the colours, while still being super stylish, guaranteed to fit in any home interior. The rich, forest green is perfect if you like a subtle hue, in your warm toned interior, while the vibrant, rose pink will be a hit with any lover of colour! 
Add the new Luxury Super Soft Blanket for extra comfort for your dog. 
A stylish upgrade
If you're already happy with the positioning and look of your dog's bed, but want something to tie it in with your home interior and really make it part of the room, why not give it a stylish upgrade with the Fido Sofa Frame? Available in 2 sizes to suit most beds, the Fido Sofa Frame turns any dog bed into a contemporary piece of furniture that blends into any room. 
Plus, it is effective in raising your dog's bed off the ground; reducing disturbances and draughts for your pet. 

This entry was posted in Dogs
---