Give your budgies a chance to see their own beauty – NEW Geo Bird Mirror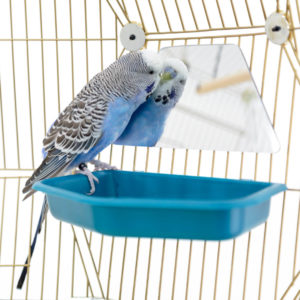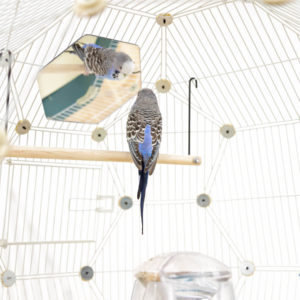 Like lots of other birds, budgies absolutely love sparkly things. They will prod, peck and pick anything that shines, and will love having something in the cage that reflects light and creates enticing glares. The new
Geo Bird Mirror
will give them exactly this!
Modern and stylish with a large shiny surface, the mirror fits beautifully and securely to the Geo Bird Cage, and is available in two convenient sizes matching the geodesic shape of the cage. Additionally, it makes a brilliant splash guard for the Geo Bird Bath, minimising mess in and around the cage. 
Budgies are incredibly curious and sociable birds, and the main reason your budgie will be mesmerised by a mirror in the cage is because they think the reflection is in fact another bird. This new "friend" can be a great addition to your birds' life.  
Once you have two or more budgies in your cage, mirrors will normally not be given more attention than other toys, but it's a wonderful and stimulating addition to your setup that your birds will love. 
Although it's recommended to always keep budgies in pairs or larger groups, there are circumstances when it's just not possible. Maybe one of your budgies has recently passed away, and you're in the process of finding a new cohabitee for your bird, or your bird has some health issues that require them to be separated for a while. 
If your budgie lives by themselves, you will need to be their main source of social interaction, but a mirror in the cage can be a great backup while you're not around. Budgies can spend hours preening with and chatting to their handsome roommate, and for many, this has long lasting positive effects. Lone budgies should be let out of the cage and played with for a substantial amount of time every day, but a mirror mate will make the hours when the bird is left alone fly by!
This entry was posted in Budgies
---