50% of the Nation's Dogs Sleep in Dirty Beds – NEW Topology Dog Beds


Topology Dog Beds give all dog's that 'clean sheet' feeling.
There are an estimated 8.5 million dogs in the UK, and a recent survey suggests that over 1 million of them sleep on beds that haven't been washed in 6 months! 
We're known as a nation of dog lovers, but it has become clear that many owners do not give their dogs the sleeping experience they deserve. In fact, the survey showed that only half of Britain's dog owners wash their dog's bed as frequently as dog and hygiene experts recommend: at least every other week. 
The survey found the main reasons people struggle to keep their dog's bed clean is that it's time consuming and it leaves their dog without a bed while the cover is being washed and dried.
So how do we make it easier for the owners, and more comfortable and hygienic for the dogs? Enter Omlet's newest innovation: Topology, the dog bed evolution our pets have been craving!
Topology Dog Beds feature patented, machine washable toppers that easily zip on and off a sturdy and supportive memory foam mattress. This allows owners to quickly swap to a new topper when the dirty one is in the wash. A range of designs from luxurious sheepskin to highly absorbent microfibre and even a beanbag version mean that you can find a topper that suits your dog perfectly, and looks great in your home.
After many days of rigorous play and nights of deep sleep, a worn topper can also be replaced without the need to throw away the rest of the bed. Economical, hygienic and kinder to the environment!
Another exciting feature of the Topology Dog Bed is the possibility to raise the bed with stylish designer feet. Not only does this make the bed blend beautifully in with the rest of your furniture, it also improves airflow around the bed without creating nasty drafts, minimising dust and debris as well as unwelcome disturbances. Yet another improvement to dog bed hygiene, thanks to Omlet!  
Omlet's Head of Product Design, Simon Nicholls, says: "We wanted to combine all the things dogs and their owners find important into one ultimate dog bed, and what we ended up with was Topology. The combination of the base, the toppers and the feet provides extreme comfort and support, cleanliness and hygiene, and durability. It's been really nice to see how different dogs tend to go for different toppers and how their favourites match their personalities!"
---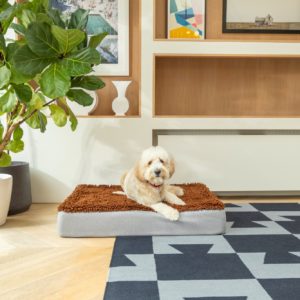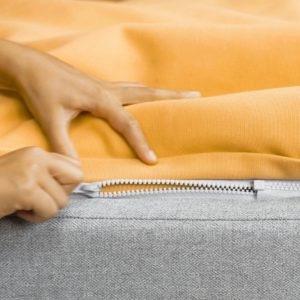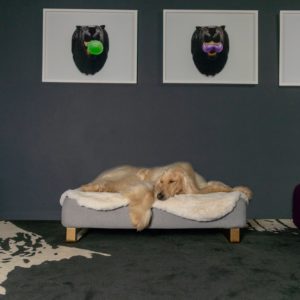 This entry was posted in Dogs
---