Up to 20% Off in the Black Friday Sale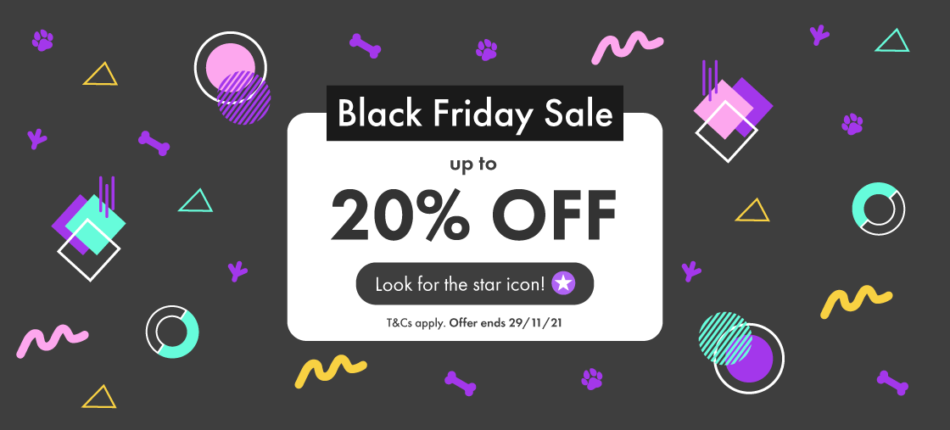 Terms and conditions
The Black Friday Sale promotion is only available from 17/11/21 – midnight on 29/11/21. No promo code needed – discount has already been applied to relevant products. Only available while stocks last. Discounted products will display with a star icon on the Omlet shop. 10% discount applies to Eglu Go UP Chicken Coop, 12m Omlet Chicken Fencing, Autodoor – Green, Coop Light, Rabbit and Guinea Pig Zippi Shelters, Play Tunnels and Locks, Omlet Cat Litter, Luxury Super Soft Dog and Cat Blankets, selected Extreme Temperature Jackets and Blankets. 20% discount applies to pre-configured Walk In Chicken Runs and Outdoor Pet Runs, Maya Cat Litter Boxes, Maya Indoor Cat House, Eglu Cube Chicken Coop, Eglu Go Hutch – Leaf Green, Maya Donut Bed, Eglu Go Chicken Coop, Qute Hamster and Gerbil Cage MK2, Bolster Dog and Cat Beds, including covers and feet, Topology Dog Bed, including feet, Geo Bird Cage, Caddi Treat Holder, Peck Toys, Chicken Perch, Chicken Swing, Freestyle Indoor Cat Tree, Freestyle Outdoor Cat Tree and Fido Sofa Frame. Promotion excludes 21, 32 and 44m Omlet Chicken Fencing, Autodoor – Grey, Extreme Temperature Blanket Eglu Cube Mk2 – Green, Extreme Temperature Blanket Eglu Go – Green, Walk in Chicken Run and Outdoor Pet Run extension packs, Eglu Go Hutch – Purple, Qute Hamster and Gerbil Cage MK3, PoleTree Chicken Perch Tree, Outdoor Pet Run Porches and Partitions, Zippi Platforms, Fido Studio, Fido Nook, Fido Classic, Fabric Cat Shelves, as well as all other products. Subject to availability. Omlet ltd. reserves the right to withdraw the offer at any point. Offer cannot be used on delivery, existing discounts or in conjunction with any other offer.
This entry was posted in Offers and promotions
---