12 Interesting Facts About Hamsters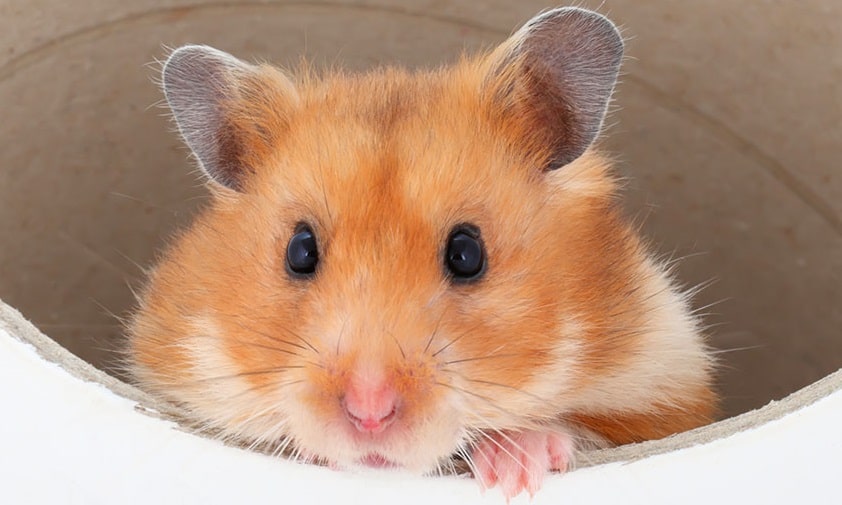 1)
Hamsters are rodents from the subfamily Cricetinae. They were brought to the United States from Syria in 1936
2)
There are approximately 25 species of hamster. There are 4 basic breeds of hamsters, namely the Syrian, Russian Dwarf, Chinese and Roborovski hamsters
3)
Hamster comes from the German word hamstern," which means "to hoard." Even domesticated hamsters will hoard, despite the fact that they don't need to.
4)
After hamsters are born, it's nearly two weeks before they'll open their eyes.
5)
Hamsters do not have good eyesight, they are nearsighted and also colour-blind.
6)
Hamsters rely on scent to find their way. They have scent glands which they rub on objects along a path.
7)
Syrian hamsters live 2 – 3 years in captivity, and less in the wild. Other popular pet types such as Russian dwarf hamsters live about 2- 4 years in captivity.
8)
Hamsters range in size from the largest breed, the European hamster at 13.4 in (34 cm) long, to the smallest, the dwarf hamster at 2 – 4 in (5.5 – 10.5 cm) long.
9)
Hamsters' incisor teeth never stop growing and they have a 'self-sharpening' system where the incisors grind against each other while gnawing, which wears the teeth down.
10)
Hamsters breed in the spring & summer and will produce several litters per year. The average litter size is around 7 pups (babies), however, it is possible for some hamsters to have up to 24 in one litter!
11)
Hamsters have large cheeks in which they carry food back to their burrows. Full pouches can make their heads double or sometimes triple in size!
12)
The typical hamster diet consists of seeds, nuts, grained, cracked corn, and certain kinds of fruits and vegetables. Hamsters in the wild may eat other small animals like lizards and frogs, but not pet hamsters!
This entry was posted in Hamsters
---