You've come to the right place if you're getting a gift for the chicken keeper in your life! The Omlet shop is, as always, packed with practical and fun things for all hens and their owners. Make the most of our Black Friday Sale by snapping up some of the great offers in good time before Christmas. 
Hentertainment 
One of the greatest gifts you can give your chickens this winter is some proper fun! We have got plenty of engaging hentertainment that will have your hens clucking with excitement. 
The Poppy and Pendant Chicken Peck Toys release feed, treats or grit as your chickens go in for a peck, so will add both stimulation and snacks in times when there are not as many bugs to dig out of the flower beds. 
Or why not make your chicken run more of a play park with the amazing Chicken Swing? Perching comes natural to hens, and adding an element of movement will add some extra excitement to their day.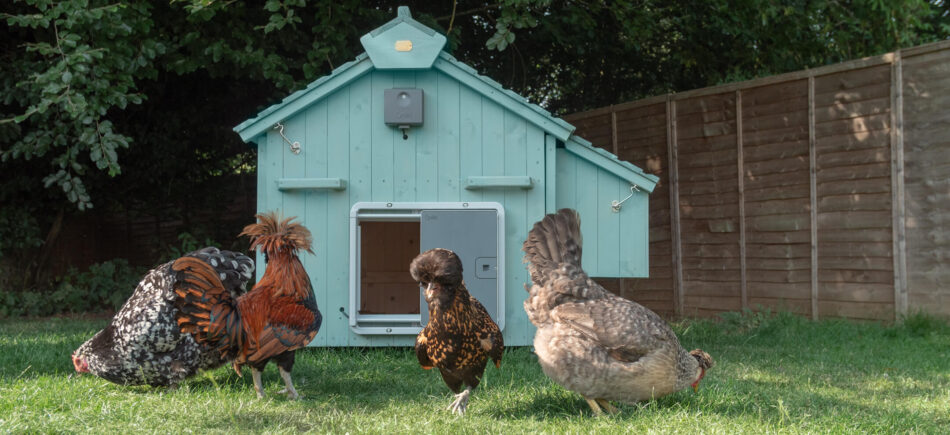 Autodoor
Omlet's Automatic Chicken Coop Door makes life for chicken keepers just that little bit easier, and will go down a treat with tech lovers! The door can be programmed to open and close automatically at certain times of day, or chosen levels of daylight, so that the chickens will be safely tucked in as soon as the sun goes down, even if their owners are still at work. The Autodoor can also be fitted to any wooden coop or run, so makes a great gift for all proud (but busy) chicken owners. 
PoleTree
Give your chickens their own Christmas Tree with our new PoleTree chicken perch system. Perfect for a Walk in run or other chicken enclosure, this perch tree can be customised to fit your flock with long or short perches at different heights and orientations. 
The stable poles attach to the roof and/or wall of your run, and you can then add as many perches as you like and arrange them in a way that will suit your chickens. Create a spiral perch staircase for your hens to climb up, or add longer perches for the chickens who like to watch the world go by in company. Why not accessorise further with a treat dish for snacking up high? 
Caddi with Feldy Seaweed Sprout Pecker Balls
Another way of treating your pets this winter are the NEW Feldy Sprout Pecker Balls with a tasty and nutritious hint of seaweed. These high energy balls fit perfectly in the Caddi Chicken Treat Holder, and are a high energy snack that will help the flock stay warm, healthy and laying throughout winter. 
The firm texture of the balls in combination with the swinging motion of the Caddi means the hens will only be able to get small bits at the time, making them a long lasting and entertaining treat.
Egg Skelter
Lucky chicken keepers will have more eggs than they can eat in a day, so will need a way of storing them. Egg skelters allow you to keep your hens' beautiful eggs on display in the kitchen, and will make it easy to know in which order to crack them open, as new eggs can simply be added at the top as they come in fresh from the coop.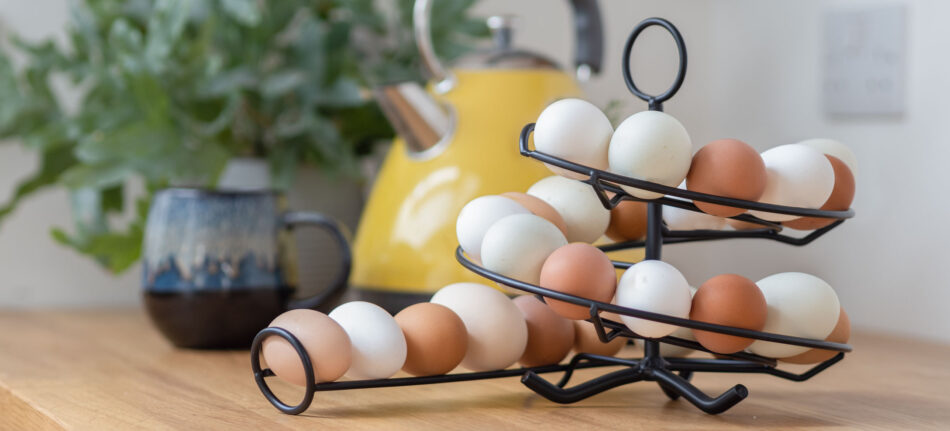 No comments yet - Leave a comment
This entry was posted in Chickens
---