Gift Guide – For the Crazy Cat People

Is your friend or someone in your family what some might refer to as a crazy cat person? These people will no doubt appreciate gifts for their cats just as much as something meant directly for them. So if you're struggling to find something to get for a feline fancier, here are some purrfect gifts!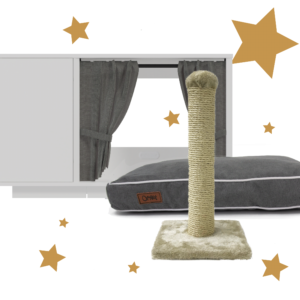 Does your mum come down to breakfast in the morning complaining about how the cat kept her up all night moving around on the bed? If you treat her to the luxury indoor cat house Maya Nook this Christmas, the cat will get a secure den of their own to sleep in, and your mum's beauty sleep won't be disturbed. The optional curtains are not just a beautiful decorative touch, they also provide the cat with a secluded space to fully relax in. Choose the stylish charcoal grey fabric, or use our custom made pattern and a Christmassy fabric of your choice to add a festive touch to the home.
The practical wardrobe for the Maya Nook can be used to store all things cat, like toys, food, treats and grooming products, so that clearing up for that Christmas party will be quicker than ever. 
Star buy! The Maya Nook Curtains and Bed ( 24″) plus a small Igloo scratching post makes a great bundle for a new Nook. Was £57.98, now £45.99. Buy it here!
Urban cats rarely get to roam the streets at their leisure, due to all kinds of city dangers. Does your cat loving friend however still want their cat to breathe fresh air, hear bird song and feel the breeze in their fur? Then the Cat Balcony Enclosure might be the best gift they have ever received. This balcony run provides a fully secure and escape proof space for the cat to enjoy, fits all types of balconies, and is big enough for your friend to spend time together with their cat outside in the sunshine.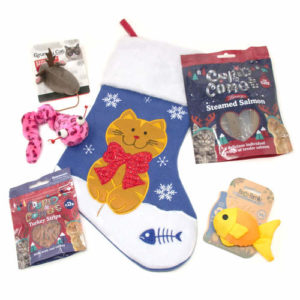 The perfect present for that cat lover who already has everything! The deep filled Maya Cat Bed is the ultimate bed for the Nook, but we have plenty of other beds to choose from. The Dream Paws Cosy bed combines maximum comfort with effortless style, and the Banbury & Co Luxury Cat Cosy Bed is the ultimate place for cats to curl up in on those chilly December nights.
Cat people will love any chance to include their furbabies in the festivities, and a perfect way of doing this is giving the pets their own stocking on Christmas morning. This luxurious stocking with a cute cat design can be filled with a fun selection of goodies from our Christmas Shop that will get all notoriously grumpy cats purring with festive joy!
If you got the cat in the office for Secret Santa, we've got you sorted! We have cat toys for all budgets and occasions. Get them moving with a wand toy, or see them transform under the influence of catnip, ideal for keeping four-legged friends entertained during the holidays. 

This entry was posted in Cats
---