Christmas Gift Guide – For the Chicken Keeper

Eglu Cube / Eglu Go / Eglu Go UP
This is the ideal time to treat yourself to that chicken coop you have been dreaming about! If would like to start keeping chickens in the new year, the Eglu Go or Eglu Go UP are brilliant starter coops for 3-4 hens. If you currently have a smaller Eglu, or keep chickens in a coop that is starting to look a bit worse for ware, you might want to consider investing in an Eglu Cube, our largest chicken coop with space for up to 10 small bantam hens.
All Eglus are super safe, very easy to clean and can be moved around the garden as often as you like. This makes life easier and more relaxing for both you and your pets!
Eglu Chicken Coops are currently discounted by up to 20% in our Winter Sale!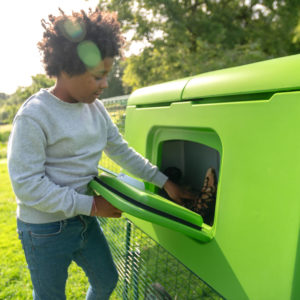 Chicken Accessories
Omlet's amazing range of Chicken Toys and Accessories make great Christmas gifts for chicken keepers of all ages. Interactive food toys like the Poppy and Pendant Peck Toys and the Caddi Treat Holder that can be filled with fresh veg and hung from the roof of the run will entertain chickens during the cold winter months, as will the super fun Chicken Swing and the more traditional Chicken Perch.
All these accessories are currently significantly discounted, so why not take the opportunity to get the whole hentertainment bundle?
Boughton
If you're planning to treat a traditionalist that prefers to keep their hens in a wooden chicken coop this Christmas, we've got just the house for you. The timeless, yet practical, design of the Boughton makes it easier to keep chickens happy and healthy, and any chicken keeper will enjoy seeing the coop in the garden every morning. It also comes untreated, so that the person getting this very generous gift can decide what look they would like to go for!
The Boughton is now 15% off in the Omlet Winter Sale!
---
Click here for full terms and conditions.
This entry was posted in Chickens
---