Gift Guide – For Dogs & their Owners

Are you struggling to find something to give a dog, or a dog owner, for Christmas? Fur-tunately we have some paw-fect gifts for all budgets! 
Everyone knows that a dog is for life, not for Christmas, but if you or someone close to you are introducing a four-legged friend to the family in the new year you will be able to give the dog the warmest of welcomes with a Fido Nook, the world's most luxurious dog bed. The Nook will be a safe spot for your dog to return to for a nap or just some peace and quiet, and you can add the removable crate if you're planning to crate train your puppy. 
The neat freak who gets stressed about mess in the house will fully appreciate the Nook's integrated wardrobe, which allows you to store all your dog's things in one place. No more treats in kitchen drawers, tennis balls under sofa cushions or leads on the hallway floor! The pawfect present for both human and canine!
Are you buying for someone who's already got a Nook for their dog? Fill the wardrobe with any of the Nook accessories: the bed, clothes rail, storage box, shelf, bowl or mirror, now all with 25% off! 
You could also get them some other bits and bobs to decorate the den for Christmas, such as fairy lights or a mini wreath.

Any dog owner knows what dogs will not settle for anything but extreme comfort. If their bed is old and smelly, or just not comfortable enough, there will be no stopping them from napping on the sofa or under the covers in your bed. So why not take the opportunity to upgrade your pup's bed in time for Christmas? From Cloud7 to Buster & Beau, we stock luxurious beds from all your dog's favourite brands.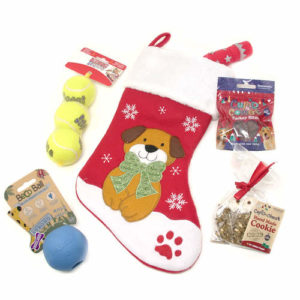 Christmas is the perfect opportunity to treat your dog to some new toys, but also to get those things that you have put off getting for ages. Maybe your dog's collar is looking a bit worse for wear after hundreds of walks and a few dips in the mud? We have plenty of collars, harnesses and leads in our Christmas shop that will make your doggy the most stylish canine in the neighbourhood. How about a new Christmas Jumper to complete the outfit? 
Fill this super cute dog stocking with treats, toys and more for your own dog this Christmas, or as a thoughtful gift for a friend and their pup. You will find lots of great bits and bobs to put in the stocking in our Christmas Shop, such as this Christmas Cookie or the luxurious Candy Cane Rope Toy. 

This entry was posted in Christmas
---