Transfoming the Lives of Ex Commerical Hens
Read this account from a British Hen Welfare Trust volunteer and Omlet customer who recently rescued two ex battery hens. If you want to volunteer or rehome hens, please visit the BHWT website.
---
As I watched my flock potter about in my garden leading the blissful life and giving me so much in return, from their glorious eggs to laughter at their non-stop antics, I knew I wanted to give back something to these wonderful creatures.
That evening I registered my interest at the British Hen Welfare Trust to become a volunteer. I'd heard stories and seen posts online about ex-battery hens but I don't think I really had any idea what I was going to face, and the life I was about to see thousands of beautiful ladies live day in and day out.
Picking up my new hens
Volunteer day saw an early rise at 6:30am to get to the farm. The first sight I had was a row of massive windowless barns and I could hear the faint whisper of thousands of voices inside.
I rallied off with the other volunteers who were already carrying out bewildered little faces and loading them into the crates that would be taking them onto their forever homes, where they would finally be loved and get a name.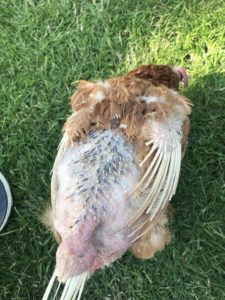 Upon entering the reality was far worse than I could've imagined. So many cramped bald fragile bodies lined in cages five high, as far as the eye could see. Dust and ammonia filled the air, andall I wanted was to get them all out from the dark, away from the bare wires cages as quickly as I could.
Working with other like-minded volunteers was an inspiration, everyone worked so hard. I knew I had to be strong so that I could get some of the girls out of there; that day we got two thousand out of their prisons, all who'd seen nothing but that life for 18 months. At this young age their bodies are nutritional depleted causing them to no long produce eggs to the standard or frequency the industry wants, therefore they are not deemed commercially viable. The harsh reality is that they are then sent for slaughter. Yes, the sad truth is we had to leave some girls behind and really we only make a small drop in the ocean but for those few that do go on to a loving family its means the world.
I personally carried out my two hens, and they happened to be two of the baldest of the lot. One girl, who I called Tess, only had a few feathers on her entire body. I cuddled her in my arms as we drove home, where she shut her little eyes after such a long day realising she could now finally rest.
First few days at home
Once I got Tess and Gloria (named after the song 'I will survive') home I let them settle in the cat carrier until the evening with some food and water. They were terrified of me as the only human touch they'd ever previously had was never filled with love.
Even though I have a large walk in run for my flock I knew the girls needed to adjust to every day life at their own pace. They'd never even seen daylight before, instead having 20 hours of artificial light and four hours of darkness to get them to lay as many eggs as possible.
I treated them to their own luxury apartment with a view – a lovely new Eglu Go UP with a 2 meter run and wheels so I could easily move it around the garden and they could snack on as much fresh grass as they wanted. The Eglu is so easy to clean, and another main factor was to keep the dreaded red mite at bay as I did not want anything hindering my precious girls recovery whilst so weak. Looks trendy in the garden too.
Later that evening I gently placed them into the Eglu coop with the door closed so that they could get used to it and get a good night's sleep. It's important to allow them time to imprint on their sleeping area, as this will encourage them to go to bed at night on their own.
In the morning I let them out and even though not the most gracious of the descents both came out to explore and dive straight into the Glug and Grub containers. And so began my bonding, greatly helped by their appetite for yummy grapes.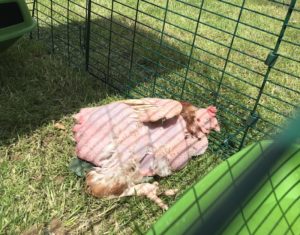 I think my favourite sight in the first few days was them laying in the sun completely at ease and finally acting out natural behaviours like having a dust bath.
They both adapted better each day and I marvel at their ability to take on new situations. It took a little while to understand the concept of a ladder, more so due to the fact they had to build up the strength in their fragile legs, but now that they understand night and day they run up and I find them both snuggled in the coop before lock up when I say sleep tight.
Getting better
Now six weeks on in their freedom journey they are flourishing. They have massive personalities which continue to shine each day: Tess is bold and Gloria is cheeky. Both are growing lots of feathers each day and they fill my heart with such love that I know they feel back.
As I write this both are running around enjoying summer with my other girls in the garden, casually going back to their Eglu run for a bite to eat and a drink before stepping out and having more adventures, because they know thats their forever home.
I want to thank Omlet for giving my girls such an amazing coop to grow old in and enjoy retirement – they love it!
For more information on battery hens and maybe opening up your home to some check out the 'British Hen Welfare Trust' for upcoming rehoming dates.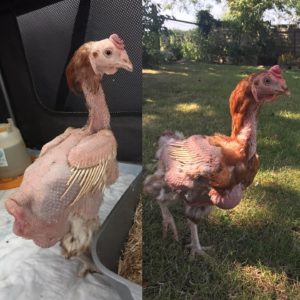 This entry was posted in Chickens
---