How the Zippi Lock makes your life easier
If you have a Zippi run or playpen, the new Zippi Locks can make your life much easier, but how do they work?
If you've ever needed to get inside your Zippi run to refresh food and water, or pick up your pet, you will likely have noticed the smaller openings make it difficult to reach inside, and removing a whole panel is rarely worth the hassle. The Zippi Locks have been designed to solve this problem.
Available in varying pack sizes to suit your needs, the Zippi Locks allow you to replace clips between mesh panels on three straight edges of any panel you wish to open up.
The Zippi Lock encases the edge of two mesh panels and secures them together in the same way as a run clip, however, once unlocked both mesh panels are still held in position until all locks are opened to lift open the panel you wish to use as an entry point, without it collapsing into your run and endangering your pets.
You can even use multiple Zippi Locks to convert adjoining panels of larger runs so you can open up a larger door or run roof. Simply follow these handy diagrams to see how many Zippi Locks you need to create your desired run opening.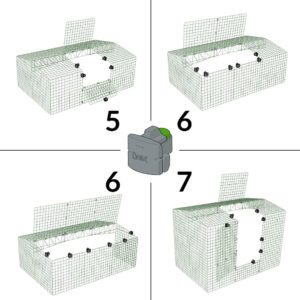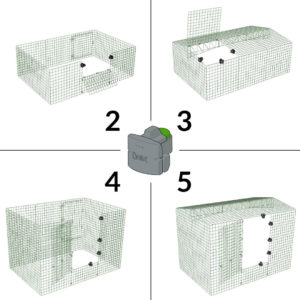 With this improved accessibility to your run it is much easier to reach or climb in to feed your pets, tidy and clean the run floor and accessories, pick up your pet to take out of the run, or play with them inside. Making it easier for adults and children to access the run and play with their rabbits and guinea pigs inside ensures pets get as much playtime as possible to be happy, healthy and closely connected to you.
The Zippi Locks are durable, predator resistant and super simple to operate – even little hands can do it! The integrated safety button requires you to push and turn simultaneously in order to open the lock, making it harder for unwanted visitors to gain access.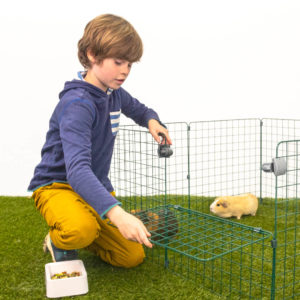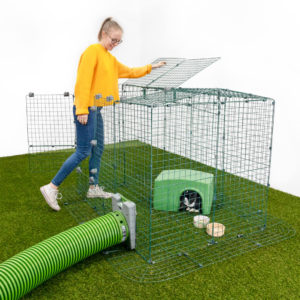 Watch the Zippi Locks in action in this YouTube video…
The new Zippi Locks are now available online, from £2.75 each.

This entry was posted in Guinea Pigs
---