Platforms: benefits of exercise across multiple levels

Like humans, rabbits and guinea pigs need exercise! If your doctor recommends 30 minutes of exercise a day, know that the same goes for your small pets. So rabbits and guinea pigs, get your little paws ready, it is high time to get back to sport! First, let's take a look at why exercise is so important for rabbits and guinea pigs. 
Physical and mental well-being
Exercise is necessary to keep your rabbit and/or guinea pig healthy. Movement contributes to your animal's mental and psychological balance. It is therefore essential, in addition to the balanced food you provide, to devote time to physical exercise.
The muscles of your rabbit or guinea pig need to be trained. Your pet should be able to test their abilities, their limits, practice, have fun, and jump around. A stimulating environment will offer your animal dynamic days, without monotony, allowing it to flourish. Why not personalise your rabbits' play area; add toys, create several spaces for it on raised platforms? They will thank you for it!
When your pet starts to play and run, it is a sign they're happy and having fun. Get involved and engage with them in play to stimulate their senses and reflexes.
Prevent the risk of injury and obesity
Unlike a life in the wild, full of twists and turns, life for our domestic pets is a little different, with less movement and activity, rabbits and guinea pigs are at risk of becoming ill. Obesity is a common example of this. In the wild, they tend to run, to flee dangers, to fight against bad weather and to test their reflexes. They have to work hard to get food, dig a shelter, watch out for predators that are both high up (raptors and other birds) and on land. Their metabolism is used to such conditions, so they naturally have less weight problems.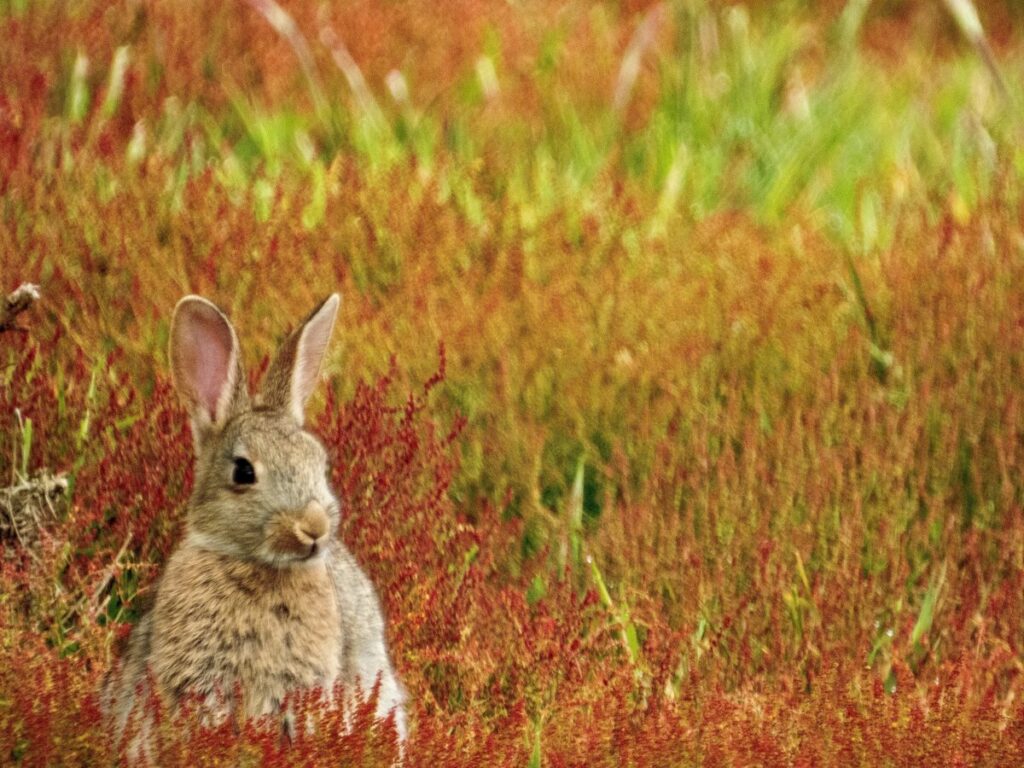 Photo by Nick Fewings on Unsplash
Domestic rabbits and guinea pigs sometimes live in small places. As well as their daily feed, pets are also given extra treats throughout the day. Without exercise, they can easily gain weight. They must therefore be stimulated, otherwise a vicious circle sets in. By not exercising, your pets gain weight and the more weight they have, the harder it will be for them to engage in play and movement. Exercise is therefore recommended as soon as your rabbit or guinea pig arrives in your home.
A little tip to find out if your rabbit or guinea pig is the ideal weight: you should lightly feel your animal's ribs by pressing on its belly.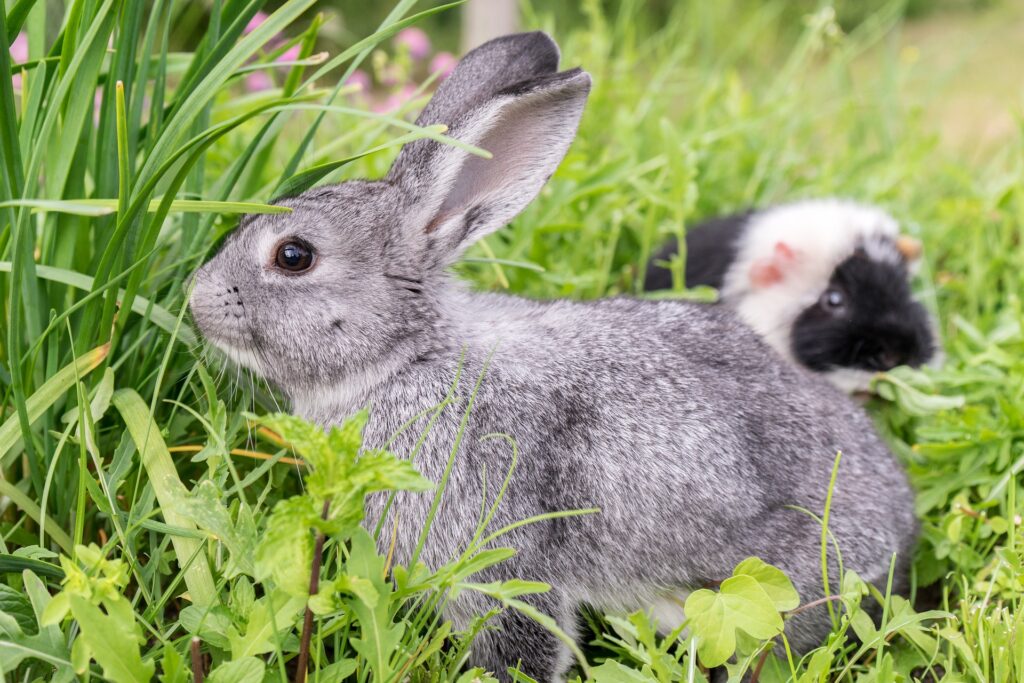 In addition to obesity, a lack of exercise could lead to urinary problems, osteoporosis or even fractures. Rabbits and guinea pigs are therefore more fragile when raised in apartments and homes. By training your rabbit or guinea pig you are helping to strengthen its heart and to reduce the risk of injury from lack of movement. It's not about overtraining, but allowing it to let off steam and move their bodies! Like humans, rabbits and guinea pigs experience problems relating to old age: strained muscle, wear and tear of the skeleton. The solution to try to get around your problems: exercise!
How do I keep my rabbit and my guinea pig occupied? What exercises are recommended to keep my pet in good health?
Platforms: a multitude of possibilities
Platforms are the ideal solution for keeping your pet healthy. They allow you to create different levels and customise your pet's play environment as you see fit. By jumping up and down on organised level platforms, your rabbit or guinea pig will keep their bones and muscles in good shape. The platforms allow adaptation to the natural behavior of rabbits and guinea pigs.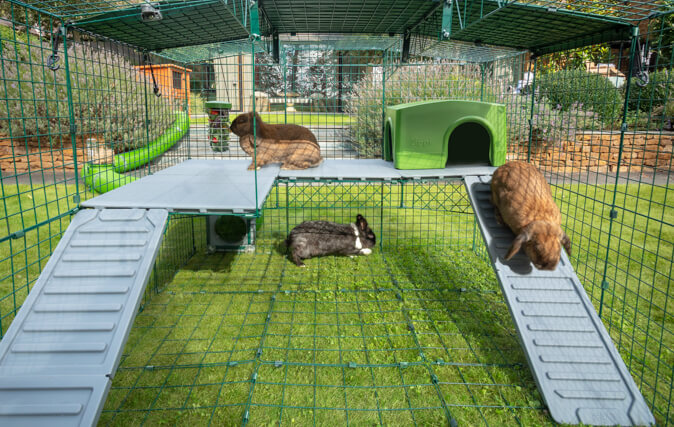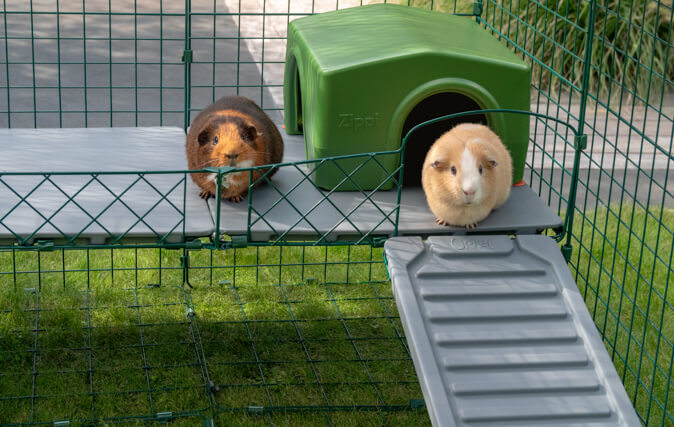 The levels allow your rabbits and guinea pigs to exercise their muscles, jumping up and down the ramp. By reproducing natural climbs and descents, just like in the wild, your animal can, in complete safety, strengthen their core muscles and stimulate their minds.
The creation of a platform on several levels, allows you to vary the daily exercise of your pets, keep them in good health and in addition to that, it allows you to optimise the space. Completely modular and customisable, the Zippi Platforms from Omlet offer your pets new sensations and allow them to experience new adventures.
Vets and animal experts also recommend the use of different levels to stimulate small pets. Your rabbit or guinea pig may need some encouragement to begin with, but if you choose a sturdy and safe structure, your pet will soon realise taking their playtime to new heights is a lot of fun!
Zippi Platforms from Omlet are non-slip and allow your beloved pet to hop without fear of slipping. Always be sure to choose platforms that ensure your pet's safety.
This multi-functional play area is suitable for all breeds of rabbits and all breeds of guinea pigs. It's up to you to organize the space and platforms as you see fit according to your pet's preferences.
Here
are some ideas for setting up the platforms in the Zippi runs.
Nothing prevents you from adding many accessories to further personalize your pet's play area: tunnel, shelters … You have endless possibilities! Your rabbit or guinea pig will feel comfortable to indulge in their favorite activities: jumping, running, skipping over obstacles and hopping around!
Perching high up, your animals can see the world around them from a new perspective. Curious by nature, they can finally enjoy their environment.
Platforms: an easy way to have fun together
What could be more important than enjoying this new play environment together? Your animals love to be admired and encouraged, and will love to spend time with you!
The height of the platforms will allow you to enjoy your animals from a new angle. Platforms allow you to sit down and be at their eye level, making interaction much easier. Comfortable for your back, of course, but also a new way to spend time and have fun with your rabbit or guinea pig. The possibilities to stimulate your pets will be diverse and you will be able to teach them how to use their new platforms.
Your children will be able to enjoy their pet in complete safety. This will make it much easier for them to play together. Interaction will be easier thanks to a height that will suit your pet as well as your children.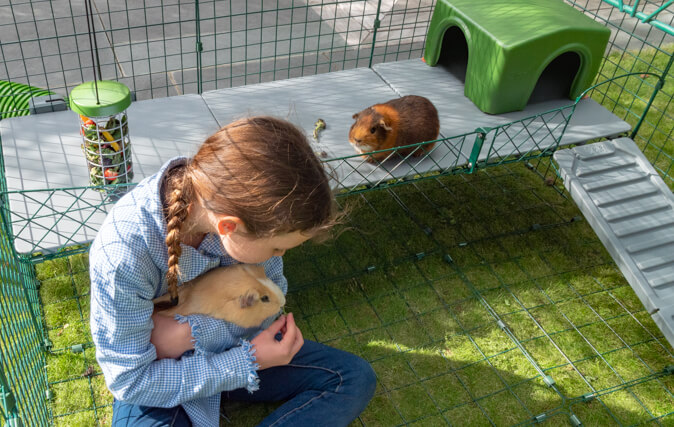 Exercise is essential for your pets. Don't neglect this aspect of their lives: making an exciting playground they will love, can be great fun for you too!
This entry was posted in Guinea Pigs
---