Pride of Omlet: Brave Bunnies

This article is a part of our Pride of Omlet series, a collection of amazing stories which shine the spotlight on extraordinary pets and share their selflessness, bravery, talent and compassion with the world.
-Written by Anneliese Paul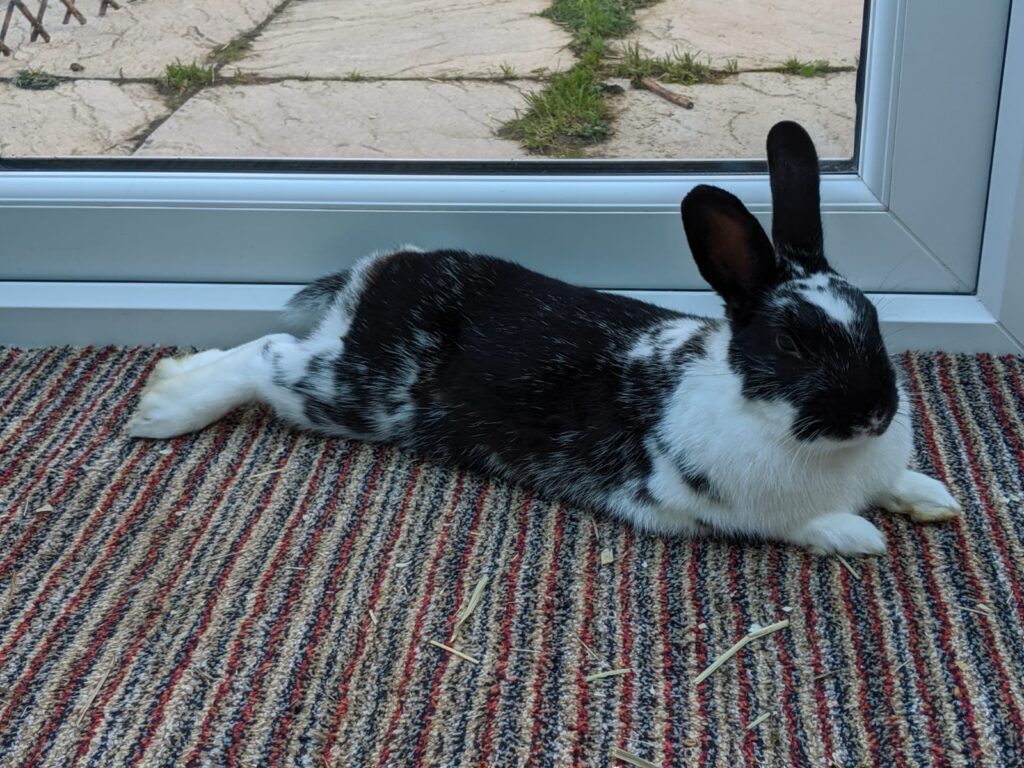 It's hard to describe how frightened Pixie the rabbit was when the RSPCA rehomed her with an experienced rabbit owner. Eighteen months on, cheeky little Pixie lives in the lap of luxury and is learning to be loved by her adoring human, Wendy.
Wendy had two beautiful rabbits, which she adored. A jet black male Rex rabbit called Jensen and his chocolate brown partner, Havana. But in 2019, Havana died suddenly of pneumonia, and Jensen grieved so severely that he wouldn't leave his bed. He was the most miserable, unhappy rabbit.
Wendy wanted him to bond with another rabbit, so she went to the RSPCA Canterbury and found Pixie, who had been severely neglected. Pixie was rescued with her partner, but sadly, this rabbit didn't survive. Pixie was close to starvation, she was skin and bones and had to be fattened up before she was ready to be rehomed. Wendy wanted to give her the loving home she deserved.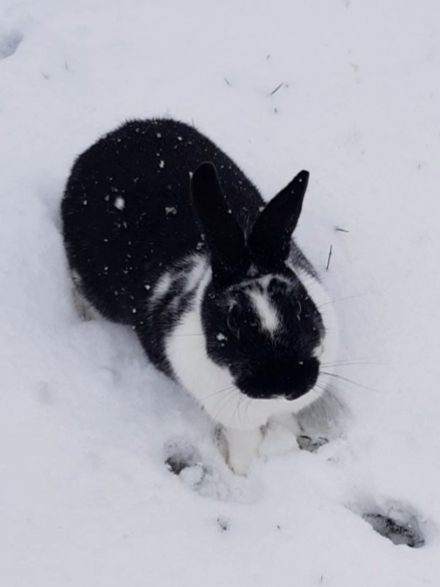 Thinking she would be a perfect match for Jensen, Wendy took Pixie home. She had divided the rabbit house so that she could slowly introduce them. After about a month, they were lying next to each other, separated only by the wire, so Wendy decided it was time. But Pixie was traumatised and her fear presented in aggressive behaviour. She couldn't handle it and bit Jensen. She was agitated and frightened of everything. For a while, even putting food down for her was tricky. She would lunge at the hands that fed her. It was a terribly sad time for Wendy to see Pixie so distressed.
Wendy kept Pixie on her own, and slowly slowly, Pixie began to trust her. Now, 18 months on, she puts her nose up to be stroked, and she'll hop alongside Jensen. Their Omlet runs, run parallel, so she's got her space, and he's got his. They also have a shed divided in two with three levels, windows, balconies, and a flap to their outside Omlet runs, which are connected with tunnels to the conservatory. The gate system on the Omlet runs means Wendy can let them both have time in the house. What was once Wendy's dining room is now a rabbit playroom with a box, some steps and tunnels so they can just mess around and do bunny stuff.  They take turns to come in, and Wendy leaves the door open, so they don't get too warm.
Before she starts work in the morning, she makes the rabbits a little salad. Kale, Cavalo Nero or Spring Greens are the staples, mixed with herbs like parsley, mint and basil. And in the summer, she'll pick fresh leaves and rose petals. They have 3 or 4 different kinds of hay to choose from in their runs, and for a treat, Wendy likes to give them bunny biscuits, or strawberries which they absolutely love.
From her sad beginnings, Pixie has blossomed with a loving owner who understands her past, builds up her confidence and feeds her a delicious diet. And Jensen has a new partner, Tinkerbell, a blue-eyed white mini Rex. Wendy simply adores all three of her beautiful rabbits, but especially Pixie. She's a survivor.
"Almost every day, she could reduce me to tears. She's so loving and responsive. I'm just absolutely amazed that this little rabbit found it in her heart to actually forgive humans."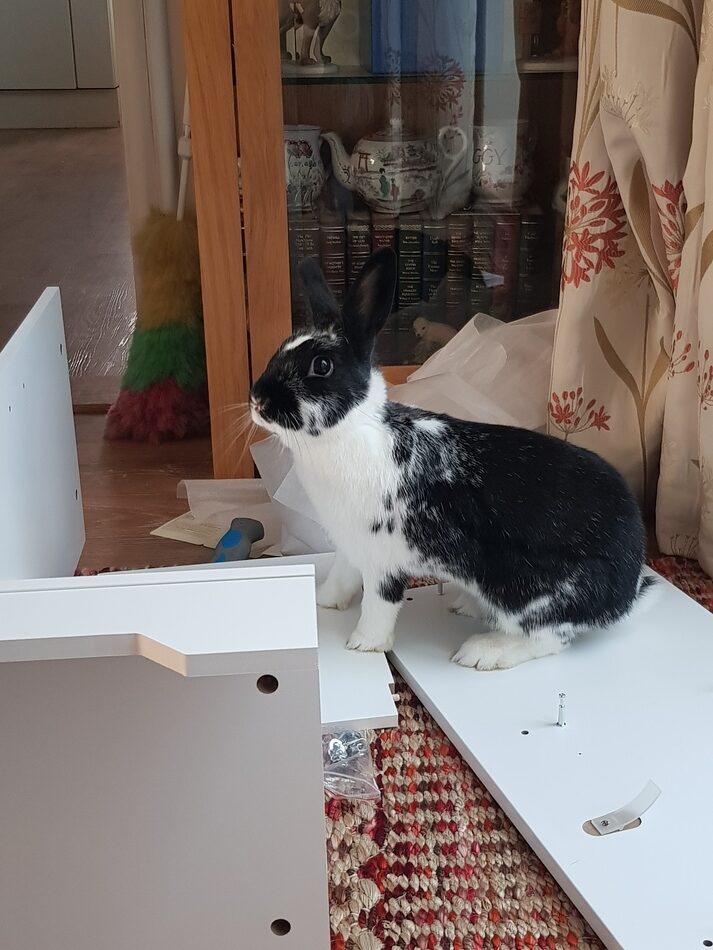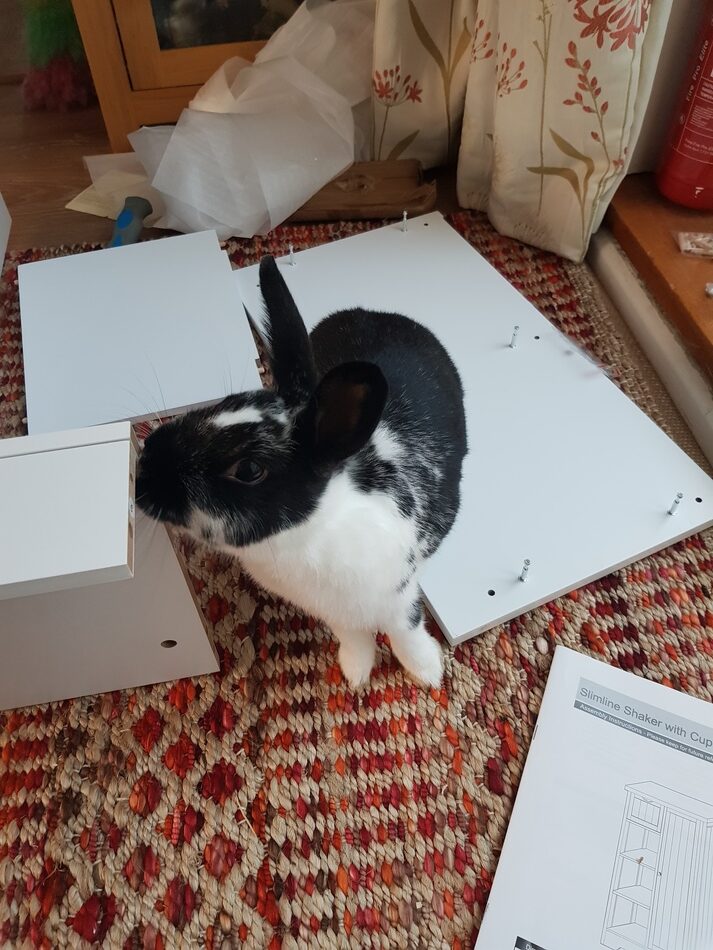 This entry was posted in Pride of Omlet
---