5 Dog Friendly Interior Tips for Your Home
If you share your home with a dog, it's important to make sure the space is just as comfortable, hygienic and safe for them as it is for you. These 5 simple tips are a good first step to a dog-friendly home…

Choose strong, easy clean materials
This is a simple idea but one that will save you a lot of cleaning time and expense in the long run. Opt for washable sofa covers wherever possible and steer clear of materials that can easily be scratched or will likely attract loose fur. The same goes for flooring – choose something easy to mop or wipe after a muddy walk! A machine washable dog bed like Topology will also help to minimise dirt and fur in your home, as you can quickly unzip and machine wash the topper, making maintaining hygiene much easier.
Remove temptation
Most owners of excitable dogs will be well practiced in drink-saving reactions to prevent a whipping tail causing carnage. It's important to keep breakable or potentially harmful items up high, like candles and glasses, not just for your sake but also your dog's safety. Opt for higher side tables rather than low coffee tables for tea and snacks to move the temptation out of sight!
Built in, discreet crates
Crates aren't the most attractive pet item but puppies, rescues and anxious dogs often really appreciate the calm, safe space to relax. Consider a built-in crate or pen under the stairs or in a side unit with surface above to better utilise the space in your home, like the Fido Studio – the optional wardrobe is also handy storage for their dog toys and treats.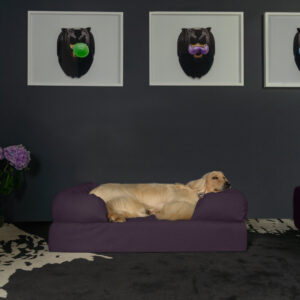 Match their bed to your other home furnishings
Your dog's bed doesn't have to stand out awkwardly in your home, and matching the colour of the dog bed to an accent colour in the room can be a great way to integrate their bed with your interior style, and really make it part of the home. From bright Cherry Red to deep Plum Purple, sunny Mellow Yellow to soft Sky Blue, you can find a memory foam bed to match your home in the Bolster Dog Bed range. Plus, why not raise your dog's bed with designer feet for an impressive, stylish touch?
Safe house plants out of reach
You can still enjoy house plants, but make sure they're a safe species for dogs, for example, spider plants or boston ferns. If your dog loves mud, you might also prefer to keep houseplants up out of reach of digging paws! 
What are your top dog-friendly interior tips? Tag us in your home pet pics on
Instagram
!
This entry was posted in Dogs
---