Care and Hygiene of Your Guinea Pig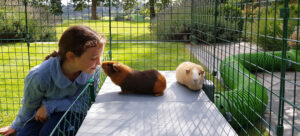 Keeping your pets and their homes clean and hygienic is one of the best ways to prevent illness or distress. It's obvious when your Guinea Pig is happy and in good health, as they will be running, playing, chattering and acting as they usually do. However, if your Guinea Pig seems to be under the weather, but a trip to the vet has identified no underlying problems, this could be a sign that better hygiene in the hutch and run is required. 
A healthy Guinea Pig is a relatively clean animal that relies heavily on the nature and safety of their habitat. The cage, hutch and enclosure are the best places to start when looking at ways to improve your pets' environment. Depending on the the material your enclosure is made of, you will need specific products to clean it. Using the right sort of cleaner will ensure you get the most out of every home and piece of play equipment you buy for your Guinea Pig.
How should I clean Guinea Pig hutches?
If your Guinea Pigs live in a cage or caged hutch, a pet-safe liquid spray disinfectant is perfect for cleaning the cage and any plastic base or play equipment. It's a good idea to soak the cage in water and let it dry before disinfecting, as this will loosen any large pieces of dirt and allow the spray to do its job! If regular disinfecting isn't doing the trick and the hutch retains unpleasant odours, try using hutch cleaning granules, which have been specifically designed to eliminate smells from your pets home. Omlet has a selection of suitable products.
How should I clean wooden hutches?

 
If your Guinea Pigs lives in a wooden hutch, you need to disinfect it as you would with a regular cage, and it's also a good idea to clean it every month or so with hot soapy water and scrub the wooden surfaces. Try to minimise soaking the wood by squeezing out most of the water from your sponge before cleaning. If the hutch contains any fleece liners, these are usually machine washable, and it's good practice to give them a clean more regularly than you would the rest of the hutch. Regardless of which type of hutch you use, always let it dry thoroughly after cleaning before reintroducing the Guinea Pigs. 
Does my Guinea Pig need a bath?

 
If your Guinea Pig's coat is in need of a good clean, there are some important things to bear in mind. Bathing Guinea Pigs in water can actually be bad for their health – Guinea Pigs naturally maintain a good level of cleanliness through self-grooming or group-grooming. As a result, they can develop dry skin if they are bathed in water. Instead, you could invest in a grooming kit. This is a particularly good idea if your Guinea Pig lives alone, as you can take the place of their fellow Guinea Pigs in maintaining their lovely coats. 
If a Guinea Pig coat becomes matted with dirt, you may need to use a chemical-free wipe to slightly wet the fur, enabling you to clean it thoroughly. If your Guinea Pig's coat gets wet in the process of cleaning, make sure they have plenty of blankets and warm toys to surround themselves with afterwards. 
How often should I replace Guinea Pig equipment?

 
Everything you buy for your Guinea Pigs has a different lifespan, but it is often a good idea to replace items before they deteriorate completely. A typical pet's water bottle could last many years without breaking, but replacing it every year or so is a good idea. This is because repeated wear and tear of the plastic bottles can result in the animals ingesting plastic, in small pieces or as microplastics in the water itself.
Likewise, if you feel that any piece of equipment is no longer possible to fully clean, even after a thorough attempt, it is a good idea to replace it. Your pet would appreciate having something new to play with – although you might want to think twice before throwing out a favourite toy that the Guinea Pigs have had since they were very small, as sentiment is just as important to Guinea Pigs as it is to us! 
Should Guinea Pig teeth be brushed?

 
Guinea Pig teeth are naturally either yellow or orange, so there is no need to worry about struggling to find the smallest possible toothbrush to get them white! However, if you notice that your Guinea Pig's teeth have grown very long, or they're having trouble eating, it's a good idea to check with your vet if any action needs to be taken. Equally, you should consult the vet if you're concerned about the length of the toenails on your Guinea Pigs. 
Although there is no way to ensure your Guinea Pigs will always stay healthy, paying attention to their hygiene and nutrition will set your pets up for long and healthy lives. Doing plenty of research on your Guinea Pigs is one of the best things you can do as a pet owner. Guinea Pigs, for example, need lots of vitamin C, and they have been known to lack this essential nutrient in their diets. They will benefit from the occasional use of supplements.
---
Keeping up to date with the latest research and advice on Guinea Pig health has never been easier than on the Omlet Blog, so be sure to keep checking back in for new articles!
This entry was posted in Guinea Pigs
---